17 Celebrities Whose Parents Aren't Ridiculously Famous Actors But Are Still Famous In The 'Biz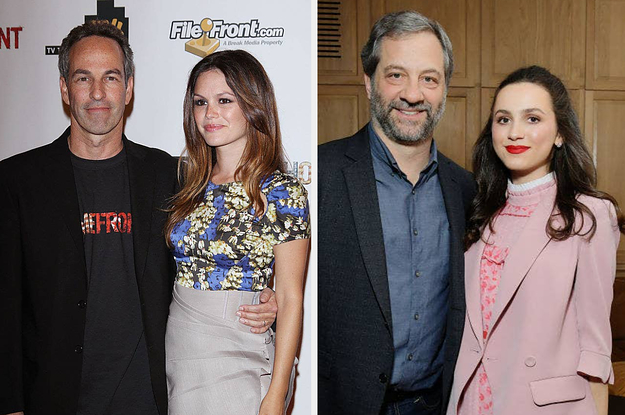 To make it in Hollywood, you gotta know someone.
2.
Maggie and Jake Gyllenhaal's parents are Stephen Gyllenhaal and Naomi Foner. Stephen is a director and Naomi is a Golden Globe–winning sceenwriter.
3.
Ben Platt's dad is big-time movie producer Marc Platt. He produced Legally Blonde, La La Land, and sooo much more.
4.
Actor Lucas Hedges's dad is Peter Hedges. He's a novelist, producer, and director whose work includes the book-turned-movie What's Eating Gilbert Grape and About a Boy.
5.
Troian Bellisario's dad is TV producer Donald P. Bellisario. His work includes NCIS and Quantum Leap.
6.
Rachel Bilson's dad is Danny Bilson, a producer, writer, and director. His father/her grandfather is Bruce Bilson, a television director. She's third-gen showbiz!
7.
Kristen Stewart's parents are John and Jules Stewart. Her dad is TV producer and her mom is a script supervisor.
8.
Zosia Mamet's dad is Tony-nominated playwright David Mamet. He also has many screenwriting credits.
9.
Tony Goldwyn is the son of producer Samuel Goldwyn Jr., who is the son of Samuel Goldwyn (the OG) — he basically cofounded the literal making of feature films.
10.
Maude Apatow's dad is comedy writer/director/producer Judd Apatow (and her mom is actress Leslie Mann).
11.
Bryce Dallas Howard's dad is very famous director Ron Howard.
12.
Max Minghella's dad is Anthony Minghella. He was a sceenwriter whose work includes The Talented Mr. Ripley and The English Patient.
13.
Jason Bateman's dad is Kent Bateman. Honestly, it's really hard to find a pic of Kent BUT he was a producer/director.
14.
Cruel Summer's Harley Quinn Smith is the daughter of filmmaker Kevin Smith, creator of Clerks and Jay and Silent Bob.
15.
Rebecca Hall's dad is Peter Hall. He was a director. He founded the Royal Shakespeare Company among many other things.
16.
Allison William's dad is broadcast journalist Brian Williams.
17.
And while not related by blood, Dr. Arizona Robbins aka Jessica Capshaw's stepdad is Steven Spielberg. You've heard of him.
BuzzFeed Daily
Keep up with the latest daily buzz with the BuzzFeed Daily newsletter!
Chrissy Teigen Issues A Public Apology After Her Cyberbullying Scandal Resurfaces  – The Shade Room
For the past few weeks, a few brands have made the decision to end their business relationship with Chrissy Teigen after some of her previous tweets resurfaced and exposed her cyberbullying past. Chrissy remained silent about the matter, but that ended on Monday when she released a lengthy apology.
As we previously reported, back in May, Macy's and Bloomingdale's announced that they would be ending their business relationship with Chrissy after her old tweets about Courtney Stodden from 2011 and 2012 came to light. At the time Courtney was only 16 years old, and Chrissy's  tweets from that time suggested that she should have killed herself.
Chrissy had taken to Twitter to formally apologize about her past remarks, to which Courtney said she accepted, but also acknowledged that Chrissy didn't make the effort to apologize until the tweets resurfaced.
On Monday, Chrissy shared a more detailed apology about the whole matter and said, "I've apologized publicly to one person, but there are others — and more than just a few — who I need to say I'm sorry to. I'm in the process of privately reaching out to the people I insulted. It's like my own version of that show My Name is Earl! I understand that they may not want to speak to me. I don't think I'd like to speak to me. (The real truth in all of this is how much I actually cannot take confrontation.) But if they do, I am here and I will listen to what they have to say, while apologizing through sobs."
Chrissy continued to say, "I was a troll, full stop. And I am so sorry. I want to go a little further here, thinking of those I've hurt and friends I've disappointed."
Read her full statement below:
Back in March, Chrissy made a departure from Twitter, and before deactivating her account she cited so many "2-follower count punches" while on the platform, as one of the reasons for her leaving, as she worked to block out the negativity.
Want updates directly in your text inbox? Hit us up at 917-722-8057 or click here to join!  
TSR STAFF: Jade Ashley @Jade_Ashley94
Katie Holmes Rocks Baggy Jeans In 1st Photos Since A-Rod Left Her Apartment Building
Katie Holmes looked fashionable in oversized jeans while shopping in NYC one day after A-Rod was spotted exiting her apartment building.
Katie Holmes was spotted strolling through NYC one day after Alex Rodriguez was photographed exiting her apartment building on June 13. The 42-year-old Batman Begins star enjoyed some shopping in Soho after meeting with a friend as news broke that the ex of Jennifer Lopez was seen leaving the luxury Manhattan address.
Although Katie lives in the building where A-Rod was seen, it is not clear whether or not he was there to visit the brunette beauty. the reason he was at that location. Snapshots reveal the retired New York Yankees player walking out of the building lobby in a white t-shirt and khaki pants. It is not confirmed why he was in the apartment building.
The Dawson's Creek alum went boho chic for her outing in a pair of oversized dark denim, high-waisted jeans with a white tank, and matching sneakers. She swept her brunette locks up in a high bun and stayed hidden beneath dark movie star shades. Katie completed her low-key look with a brown leather handbag and a few dainty necklaces for some added sparkle.
Katie's outing comes on the heels of news that things seem to be getting pretty serious between J.Lo and Ben Affleck. For the first time since rekindling their romance in April, Ben and Jen were spotted packing on the PDA in a new paparazzi video — oh, and her twins Max and Emme, 13, were right there, too!
The former exes didn't shy away from making out during a romantic dinner at Nobu in Malibu on June 13. Jen can even be seen rubbing Ben's face before leaning in for a kiss. He then nuzzles her neck and whispers something in her ear as she giggles uncontrollably.
Woman Dragged by Hair Out of D.C. Bar, Chaos Caught on Video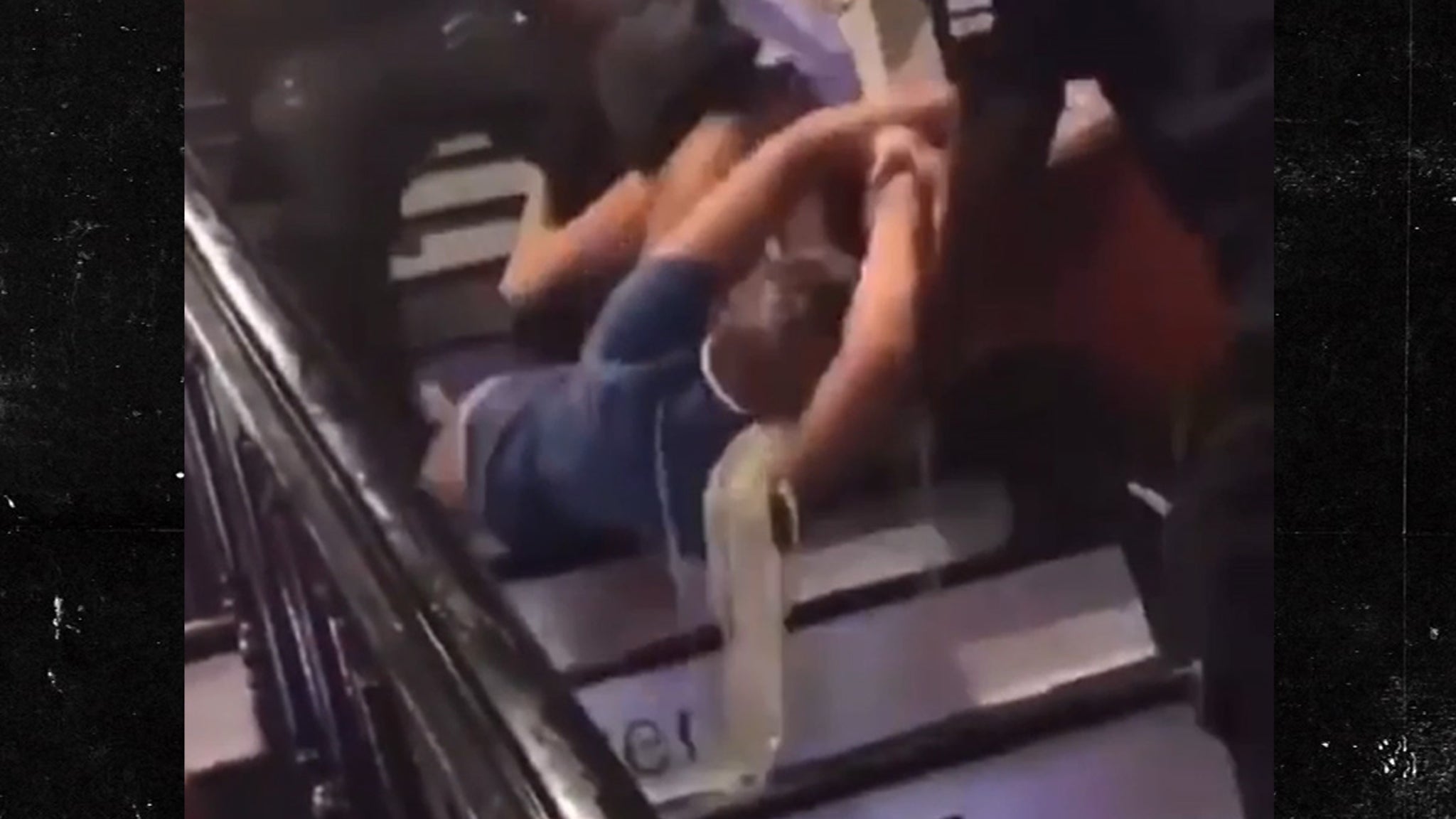 A woman was dragged down a flight of stairs by her hair at a bar, and the horrific act — carried out by a security guard — is sparking outrage and protests.
The ugly incident went down Saturday at Nellie's Sports Bar in Washington, D.C. … a popular LGBTQ+ bar that had been packed following the city's Pride parade earlier in the day. In the video, you hear bar patron's shocked to see the security guard dragging a Black woman, and that shock quickly turned to anger.
Several bystanders started pummeling the security guard, who is Black, and all hell broke loose. A woman named Keisha Young says she was the victim, and told WUSA9 the trouble started when the bar staff mistook her for someone else.
She said, "[Security was] trying to get some other people out because somebody else brought a bottle in there. Somehow I got mixed up in an altercation because I look like somebody else and I got hit and dragged down the steps."
Protests erupted Sunday outside of Nellie's … with dozens of protesters seen holding signs. Nellie's released a statement Sunday saying, "We were incredibly upset and disturbed to see the unfortunate event that took place at Nellie's last night."
Nellie's management says it's going to conduct a full investigation into the matter. They added, "At Nellie's we foster an inclusive and safe environment, so events like this are completely unacceptable to us."
A spokesperson for Metro PD said they didn't get any calls related to the incident.