All About Aubrey Plaza's Husband, Jeff Baena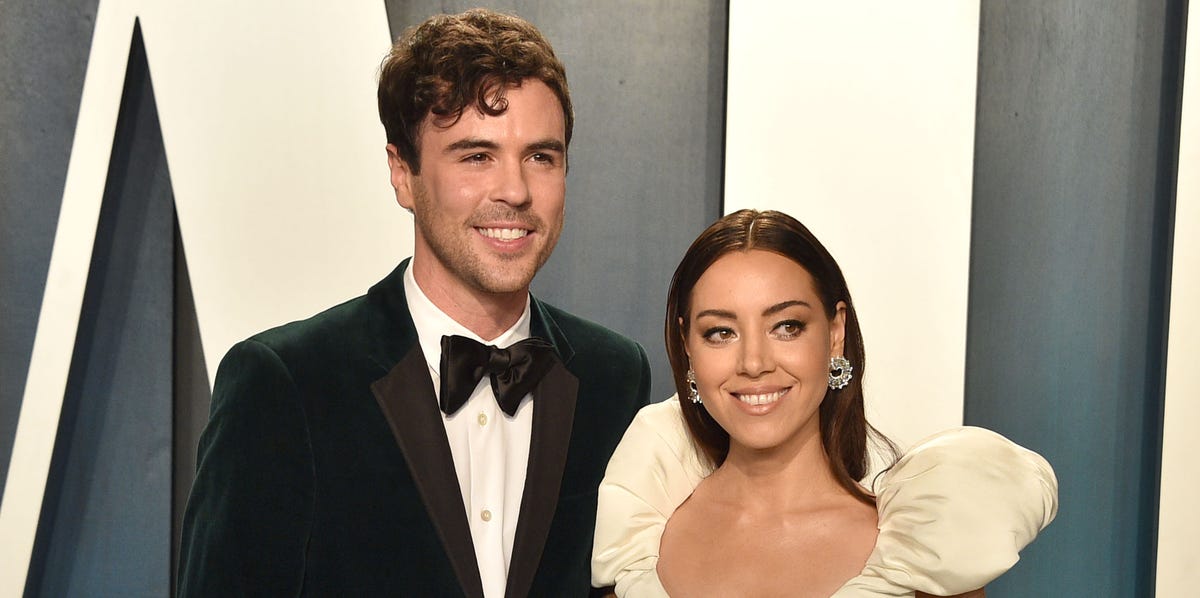 When she's not dazzling the hearts and minds of queer women everywhere in Happiest Season and making it cool to be the weird girl in Parks and Rec, Aubrey Plaza has been carrying on her own personal life with her longtime partner, Jeff Baena.
On Friday, Plaza dropped the news that she and Baena had gotten married when she referred to him as "my husband" in an Instagram post.
"So proud of my darling husband @jeffbaena for dreaming up another film that takes us to italia to cause some more trouble 😈 excited to be reunited with the amazing @alisonbrie (who also co-wrote this one!) and @theofficialsuperstar @sordociego @lauren_weedman and so many more fun people in this. Preparati!! 🇮🇹 ❤️," she wrote.
She did not confirm when, exactly, she and Baena tied the knot. The two have been together for about 10 years. Plaza and Baena seemed to have kee their marriage secret from even the Hollywood circle. "Whoa!!!!," wrote actress Mary Steenburgen. "Just took in the word husband and I am sending you both love and congratulations and blessings!!!!!!" She continued: "❤️❤️❤️and JEALOUS!!!!!😍"
"Let's gooooooo!!," her Happiest Season co-star Alison Brie commented. She was probably referring to the fact that she co-wrote this picture with Baena and will be starring in it alongside Plaza, but maybe it was a blanket congratulatory "let's gooooooo."
People confirmed with Plaza's rep that she and Baena got married. In her post, Plaza is referring to her latest project with Baena, which is called Spin Me Round. Per The Hollywood Reporter, the film is about a restaurant manager who wins an all-expenses-paid trip to Italy, where she can meet the restaurant company's owner. The film also stars Fred Armisen, Ego Nwodim, and Alessandro Nivola.
The usually private Plaza isn't one to talk about her relationship on social media, so this might be the first time many of her fans realize she was even with Baena.
Let's get to know him.
He's from Miami.
Per IMDB, Baena was born in Miami in 1977 and is 43 years old.
Spin Me Round is hardly his first directorial endeavor.
He's been making films for more than 15 years. He co-wrote the 2004 film I Heart Huckabees, directed by David O. Russell and starring Lily Tomlin, Dustin Hoffman, Jude Law, Mark Wahlberg, Isabelle Huppert, and more.
His previous directing credits include 2016's Joshy, The Little Hours (2017), starring Brie and Dave Franco, and Horse Girl starring Brie and Molly Shannon.
It's also not the first time he and his wife have worked together.
Baena created the 2021 TV series Cinema Toast, starring Plaza, and Plaza played the main character in Baena's directorial debut, Life After Beth (2014).
Plaza has spoken about him in the past.
Some celebrity couples, including Nick Jonas and Priyanka Chopra, have spoken about how quarantine has strengthened their relationship. Plaza said something similar about her and Baena to People.
"We were quarantined for months and months like everybody else," she said. "And we did enjoy it. I think it was, obviously other than all of the catastrophic things happening in the world, just on a personal level, relationship level, was kind of nice to just be forced to be in one place for that long. Could have gone either way, I guess."
In 2019, she also told People about what it is like to be in a relationship with someone else in the entertainment business.
"I think that when you're with someone that is in your field, they understand what you're dealing with on a deeper level," she said. "So obviously you are able to support each other and really understand kind of the journey that we're both on."
This content is created and maintained by a third party, and imported onto this page to help users provide their email addresses. You may be able to find more information about this and similar content at piano.io
Jodie-Turner Smith Is the Face of Gucci's New High Jewelry Collection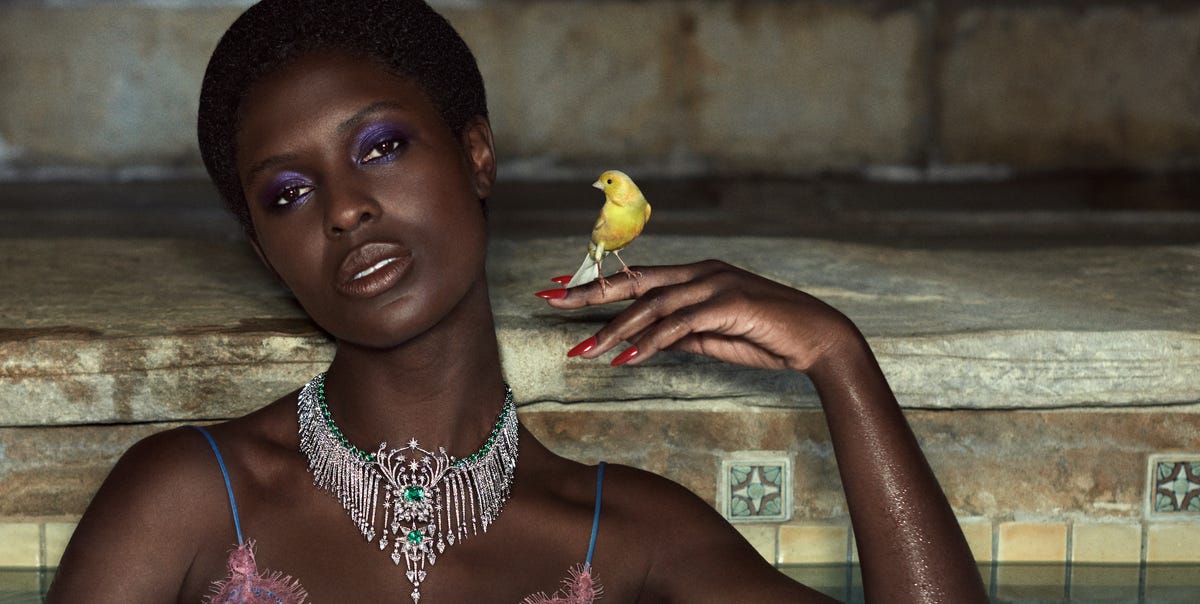 Gucci is leaning deeper into decadent maximalism–and Mother Nature motifs—with the second entry in the brand's High Jewelry collection, named Hortus Deliciarum, or "Garden of Delights." And the Eve draped in such Biblical imagery is none other than actress Jodie Turner-Smith, whose turn in the 2019 film Queen & Slim propelled her into a starring (yet frustratingly controversial) role in the 2021 British period drama Anne Boleyn. As the new face of the Hortus Deliciarum collection (and an ELLE cover), she evokes a natural Hollywood romance that takes cues from mythology and proverb alike.
In video and imagery for the High Jewelry release, Turner-Smith is showcased draped in jewels as she takes a midnight dip accompanied by a snake and bird; Diana Ross's "Love Hangover" pumps through the speakers. Shot by Glen Luchford with beauty by makeup artist Thomas de Kluyver and hair stylist Paul Hanlon, Turner-Smith is a vision in millennial pink, submerged in turquoise waters and accented by the silver shock of Gucci fine jewelry pieces—including a butterfly-inspired bracelet and tiara-reminiscent neckpiece.
Designed by Creative Director Alessandro Michele, the Hortus Deliciarum collection includes more than 130 pieces, many of which are one of a kind. Using what Gucci calls its "kaleidoscopic palette" and a gleeful obsession with the natural world's excess, the jewelry includes rings, bracelets, necklaces, solitaries, and even a selection of bedazzled timepieces. With this newest campaign, Gucci seems bent on a whole-hearted embrace of summery indulgence—and, as Ross sings in the video, if there's a cure for this, we don't want it.
Watch the full campaign video below.
This content is created and maintained by a third party, and imported onto this page to help users provide their email addresses. You may be able to find more information about this and similar content at piano.io
The 'Never Have I Ever' Season 2 Trailer is Here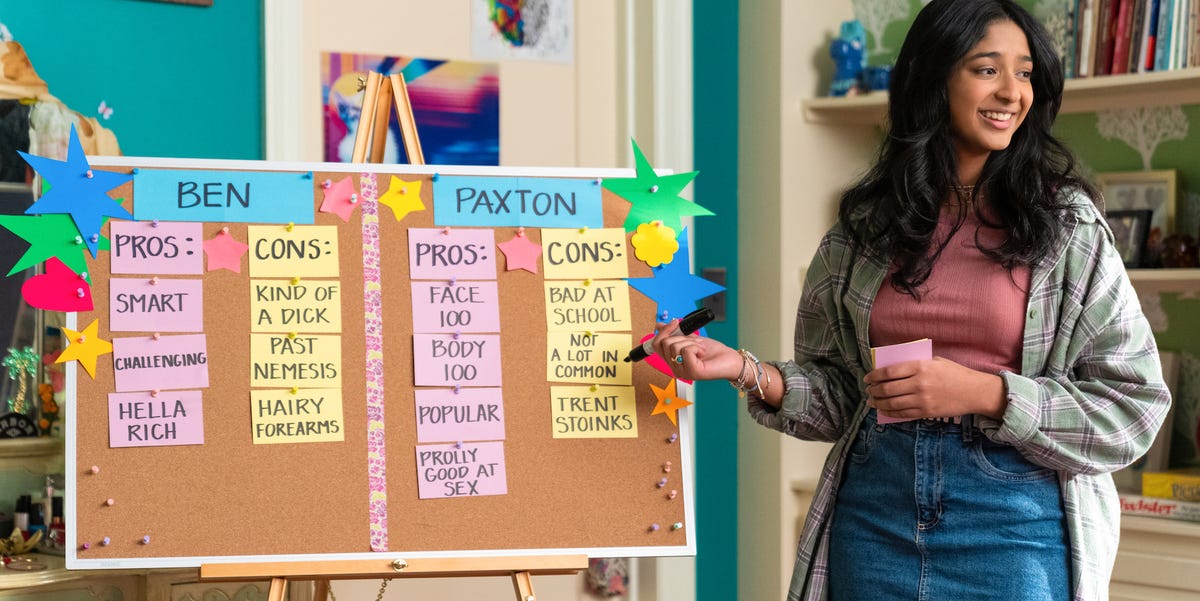 Netflix's Never Have I Ever premiered on Netflix in late April and instantly became the must-watch of quarantine. The coming-of-age comedy from co-creators Mindy Kaling and Lang Fisher follows a first-generation Indian American girl growing up in Southern California. Eighteen-year-old Maitreyi Ramakrishnan plays our heroine Devi Vishwakumar, and will return for a second season.
The series joins Sex Education, Atypical, and The End of the F*ing World as another teen show gripping the attention of audiences looking to relive (or not) their long-ago days of angst, puberty, and general anger and confusion about the world. Speaking as a full adult woman living in the middle of a pandemic, a lot of my feelings right now mirror those I dealt with as a 13-year-old in a landlocked state. When will I ever see the ocean? When can I leave this isolation?
Anyway. A lot of those same feelings were channeled into uncertainty about when Never Have I Ever season 2 would begin filming. Now, the cast is officially back to work and welcoming a few new members to the fold. So, what will the new installment look like, and which cast members are returning? We unpack it all, below.
The trailer is out.
The trailer, which released on Thursday, brings us up to date with Devi (Maitreyi Ramakrishnan), who is trying to figure out which of her crushes, Ben Gross (Jaren Lewison) and Paxton Hall-Yoshida (Darren Barnet), she should date before she has to move to India.
This content is imported from YouTube. You may be able to find the same content in another format, or you may be able to find more information, at their web site.
Or, she decides, she could just have two boyfriends. While she is trying to figure out how she is going to handle two secret relationships, a girl Devi describes as an "Indian girl who's prettier and cooler" transfers to her high school, effectively ruining her teen life.
Who doesn't miss high school?! What we did miss, though, was this show—and Devi—here's to counting down the days until we get them both back.
Never Have I Ever season 2 will premiere in July.
The series is slated to return on July 15.
Here's how Netflix describes the new season: "Indian American teenager Devi (Maitreyi Ramakrishnan) continues to deal with the everyday pressures of high school and drama at home, while also navigating new romantic relationships."
Netflix announced it renewed Never Have I Ever for a second season in July 2020. The cast shared the news on a scripted Zoom call, which was posted to the show's social media accounts. Kaling shared on Instagram, writing, "It's official, people! @neverhaveiever Season 2 is happening @loulielang and I are incredibly grateful for our entire cast, crew, and the team at @netflix. Thank you for watching, sharing and connecting with this show."
This content is imported from Twitter. You may be able to find the same content in another format, or you may be able to find more information, at their web site.
Kaling had been repping the show hard on Instagram, and she's clearly delighted to see it get renewed. "I felt lucky to be able to do a show about an Indian nerd who's also badly behaved, to show that because I'm deeply familiar with it," Kaling told Newsweek in April 2020.
All your favorite cast members are returning.
Netflix confirmed that Maitreyi Ramakrishnan will reprise her leading role as Devi Vishwakumar, with other returning cast members including Poorna Jagannathan as Nalini, Richa Moorjani as Kamala, Jaren Lewison as Ben, Darren Barnet as Paxton, Lee Rodriguez as Fabiola, and Ramona Young as Eleanor.
Sendhil Ramamurthy will return as the Internet's Favorite Father™ Mohan in flashbacks, as revealed by Kaling in an ELLE.com interview. "One of the things people were responding to in the first season was that [Devi] is a really flawed character, but she's relatable because she's been through a lot of stuff, like losing a parent at a young age," the creator explained. "But also, she has a big personality: She wants to have sex and wants to have a boyfriend. Seeing what people liked, Lang and I went into our second season [knowing] we're still going to see flashbacks of her father. I think people really loved that relationship, and we're going to see if they end up moving to India or not."
No word on if a new celebrity cameo will top John McEnroe's season 1 narration.
The theme of the new season is "moving on."
If the first season of Never Have I Ever was about coming to terms with grief, season 2 is about finding a path forward, showrunner Lang Fisher explained to Entertainment Weekly. "Both Nalini and Devi had pushed it off and not dealt with their feelings about Mohan dying," he said. "And this season, it's about moving on. It's about life without him and how to bounce back."
Four new characters are joining Never Have I Ever season 2.
The series confirmed that filming had resumed in a November 23 social media video. It was also revealed Megan Suri would be joining the second season as a student. "The cast of Never Have I Ever is hard at work on Season 2 and want to introduce you to their newest co-star: @megansuri! She plays a new student at Sherman Oaks High, whose confidence and radiance will pose an immediate threat to Devi," the official Netflix account tweeted.
This content is imported from Twitter. You may be able to find the same content in another format, or you may be able to find more information, at their web site.
Suri is a newcomer who has appeared in other Netflix shows including Atypical and 13 Reasons Why. Suri tweeted shortly after news of her casting was revealed: "I couldn't have imagined being welcomed into a new show and family any better – you all are so sweet and I wish I could hug you all this support means the world to me, THANK YOU @neverhaveiever."
Another new addition to the cast is American Vandal's Tyler Alvarez. He reportedly joins Never Have I Ever in a recurring role as Malcom, a teen actor who returns to school after being cast in a Disney Channel show. The outlet describes Alvarez's character as "a 'Young Hollywood' type" who "went to elementary school with Devi and her friends but left when he was cast in a Disney Channel show. He's recently returned to Sherman Oaks High whilst continuing his acting career."
This content is imported from Instagram. You may be able to find the same content in another format, or you may be able to find more information, at their web site.
By mid-December another pair of actors was announced for season 2. Utkarsh Ambudkar (The Mindy Project, Brittany Runs a Marathon) will play Mr. Kulkarni, who is described as "the coolest teacher on staff at Sherman Oaks High" by Deadline. Kulkarni teaches English and reportedly forges a bond with Devi.
P.J. Byrne (The Boys, The Wolf of Wall Street) will also join the second season, Deadline reports. He'll play Evan, head research assistant of Kamala's Caltech program, and will reportedly feel threatened by her.
Common will romance Nalini in season 2.
Devi's mom is getting in on the dating game this season—with a rival dermatologist. Common will play the role of Dr. Chris Jackson, a derm who conducts business a little different than Nalini. Netflix describes the character as "a suave and debonair dermatologist who works in Nalini's building. His high-end practice and celebrity clients are impressive to everyone—except Nalini."
And as Dr. Jackson woos Nalini, Devi is sure to view it as a threat, Fisher told Entertainment Weekly. "It becomes a real chasm between Nalini and Devi, because Devi feels like it's a betrayal."
Devi will continue working on her anger issues in season 2.
Kaling also opened up about Devi's journey to finding herself in the second season, telling ELLE.com, "[Devi's] figuring out how not to rage out, because that's her problem. She has this really bad temper. And seeing if she actually does end up having a boyfriend, or whether she can even be a good girlfriend to these guys."
Maitreyi Ramakrishnan has hopes and dreams for Devi's future.
The show's star has very clear ideas about what her character should explore next season.
"Three main things—understanding that she needs to be more appreciative of her family and her friends because her friends do a lot for her," Ramakrishnan told Variety. "Her friends really are her day ones. And also understanding where her mother's coming from. That is something that we'll be able to have a lot of audiences relate to, understanding where our parents are coming from even though they might not go about doing certain things the best way possible."
Ramakrishnan continued, "Then also the idea of approaching that grief—confronting it, having that battle, even though it's something uncomfortable to think about, [but] actually just running toward it and facing it, dealing with it head on. And then number three, of course, embracing her culture because that is so important in a world where identity is everything. It's how you portray yourself. It's how you show yourself to the world and how everybody will view you, but also how you accept yourself. And I think if Devi does those magic three, she might be a little bit more at peace with herself."
This content is created and maintained by a third party, and imported onto this page to help users provide their email addresses. You may be able to find more information about this and similar content at piano.io
Demi Lovato Says Their 'Family Has Done an Incredible Job' Using Their Pronouns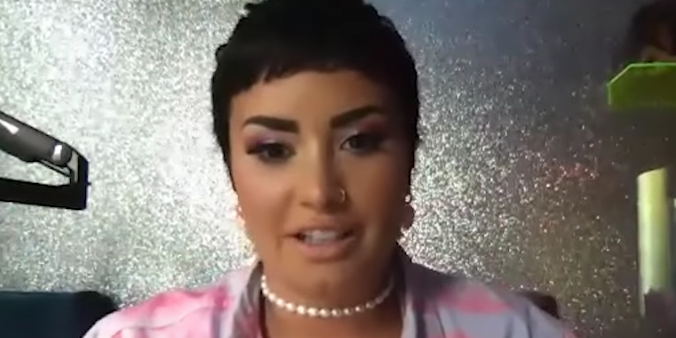 In an interview with Audacity, Demi Lovato shared what life has been like for them since they came out as non-binary this spring.
"You know, my family has done an incredible job, actually," they said. "Especially my older sister, Dallas, I've noticed…her using 'them' and 'they' and it really does warm my heart up to see people trying."
Lovato continued: "My friends have had a little harder time to get used to it, actually. Just because I think your friends are the ones who you're more likely to be like, 'Biiitch! "I'm like, look, you can still call me 'bitch.'"
They also spoke to something those of us in the LGBTQIA+ community love to talk about, especially in Pride month: chosen family.
"I used to identify family as blood-related, and now my queer family has become more of a family than friends. I feel like I now have two families. I have my blood relatives and I have my queer family, and that family to me is the chosen family…that, my soulmate looks different than your typical soulmate. My soulmate is my best friend, Matthew Scott. And him and I have never been romantic and never will be. But that is my person…my ideas and perspectives have totally shifted as I've gotten older and since I've found a safe place to be myself. "
Watch the full interview here:
This content is imported from YouTube. You may be able to find the same content in another format, or you may be able to find more information, at their web site.
In May, when Lovato posted about their non-binary identity, they wrote the following:
"Over the past year and a half, I have been doing some healing and self-reflective work. And through this work, I've had the revelation that I identify as non-binary," Lovato said in a video they posted to Instagram. "With that said, I'll officially be changing my pronouns to they/them. I feel that this best represents the fluidity I feel in my gender expression and allows me to feel most authentic and true to the person I both know I am and still am discovering."
This content is imported from Instagram. You may be able to find the same content in another format, or you may be able to find more information, at their web site.
Happy Pride, Demi!
This content is created and maintained by a third party, and imported onto this page to help users provide their email addresses. You may be able to find more information about this and similar content at piano.io