Billy Crudup to star in 'Hello Tomorrow!' dramedy series on Apple TV Plus
Billy Crudup is coming back for a whole other series on Apple TV+.
As reported by Deadline, Apple has given a ten-episode series order for "Hello Tomorrow!", a half-hour dramedy series starring the Emmy Award-winning actor. Crudup, who also stars in the Apple TV+ series "The Morning Show," will also executive produce the show. It will be directed by Jonathan Entwistle, best known for "The End of the Fing World."
VPN Deals: Lifetime license for $16, monthly plans at $1 & more
"Hellow Tomorrow!" follows the story of Jack, a salesman whose unshakeable optimism "threatens to leave him dangerously lost in the very dream that sustains him."
Created and written by Amit Bhalla and Lucas Jansen (Bloodline, The Money), Hello Tomorrow! is set in a retro-future world. It centers around a group of traveling salesmen hawking lunar timeshares. Crudup stars as Jack, a salesman of great talent and ambition, whose unshakeable faith in a brighter tomorrow inspires his coworkers, revitalizes his desperate customers, but threatens to leave him dangerously lost in the very dream that sustains him.

Entwistle, Bhalla and Jansen serve as executive producers alongside Crudup. Blake Griffin, Ryan Kalil and Noah Weinstein will executive produce through their banner Mortal Media.

Hello Tomorrow! marks the third series at Apple for MRC Television, which is also behind the streamer's upcoming thriller Shining Girls, starring Elisabeth Moss, and limited series The Shrink Next Door, in association with Civic Center Media, which stars Will Ferrell, Paul Rudd, Kathryn Hahn and Casey Wilson.
It is currently unclear when "Hello Tomorrow!" will begin production or premiere on Apple TV+. If you want to ensure you experience it in its best quality, check out our list of the Best Apple TV in 2021.
Exclusive content
Apple TV+
100% exclusive content for the price of a cup of coffee.
With TV+, you can watch well-produced, big-budget TV shows from famed directors, and starring award-winning actors and actresses across all your Apple devices and with up to six members of your Family Sharing group.
We may earn a commission for purchases using our links. Learn more.
Unlocked
Your AirTag has a secret hidden developer mode
A frustrated AirTag user has accidentally discovered a secret hidden developer mode after furiously tapping on their iPhone screen. The hidden overlay reveals real-time diagnostics and a slew of background information.
How to Turn off a PS5 Controller When Paired Using Bluetooth
If you pair the Sony PlayStation 5 DualSense controller with your smartphone, tablet, or PC using Bluetooth, you need to manually switch off the controller when you're done playing to save battery life. Here's how.
Even though the DualSense works perfectly well using Bluetooth, it doesn't power itself down when you're done using the PS5 controller. If you shut down your PC or switch off your phone, the DualSense will keep trying to connect to the device that it was paired with. This leads to battery drain, which you can avoid by manually switching off the PS5 controller.
To turn off the PS5 DualSense controller, hold down the PlayStation button for around 10 seconds.
You can confirm that it's turned off by looking at the lights around the touchpad. If they're no longer lit, then the DualSense has been successfully turned off.
To turn it back on again later, just hold the PlayStation button down for a moment until it lights up.
RELATED: How to Use a PS5 Controller on Windows 10
Maybe we can manifest our way to a pink iPhone 13. What do you think, Apple?
iPhone 13 rumors are coming fast and furious, especially those that pertain to the phone's alleged design. Two new color rumors have especially got the internet in a tizzy: pink and matte black. Dreams of a bubblegum pink iPhone 13 all started with an Instagram post. Artist and Instagrammer Ali Sayed Ali, who specializes in 3D models and renders (mostly of iPhones), posted a photo back in February showing a very ~aesthetic~ pink iPhone surrounded by what appears to be other pink Apple accessories (AirPods, AirPods Max and an iPhone case). "Should we start seeing these colors more often?" the caption said. 
It was only a matter of time before the great algorithm in the sky brought millennial pink and iPhone leaks together in capitalist matrimony. 
Read more: Here's how we think the iPhone 13 will compare to the iPhone 12
On May 5, a Twitter account called Peng Phones created a frenzy when it tweeted the same photo without sourcing, referring to it as a "Rose Pink" iPhone 13 Pro Max render and teasing a December 2021 release date for the color option. (Subsequent tweets from the same account also mention November 2021 releases for "Pink," "Rose Pink" and even "Rosegold Pink" iPhones.) The tweet netted over 40,000 likes and more than 30,000 retweets, causing searches for "pink iPhone 13" to spike. The photo has since been removed from the tweet for copyright violation.
Much of the Twitter reaction was of the skeptical variety:
But still, many Twitter responses expressed hope (or at least a capitulation to capitalism that one could interpret as buying intent): "Capitalism is bad but the pink iphone is so sexy," one person tweeted. Another just tweeted "manifesting" between two candle emoji with an image of not only a pink iPhone 13, but a pink Nintendo Switch, too. 
This rumor is actually more of an iPhone wish list item since the original creator of the image says she created it just for fun. But that doesn't stop us (and the aesthetic devotees of social media) from wondering about its plausibility anyway. Could Apple actually make the pink iPhone happen?
The veracity of the alleged release dates and color names tweeted by Peng Phones is pretty hard to vouch for, not having originated or been corroborated by notable leakers with solid Apple-leak track records, and especially because the photo in the tweet was merely fan art.
But the variation in color and release dates actually isn't outside the realm of possibility. Apple's iPhone 12 release schedule was almost as complicated as its price structure, with the iPhone 12 and 12 Pro arriving earlier than the iPhone 12 Pro Max and Mini. And Apple's Pro line, the iPhone 12 Pro and Pro Max, come in different colors than the iPhone 12 and 12 Mini, too:
iPhone 12 Pro and Pro Max colors
Silver
Graphite
Gold
Pacific blue
iPhone 12 and 12 Mini colors
Black
White
Blue
Green
Product red
Purple
Apple hasn't officially said anything about either a release date or any color options for the iPhone 13 (if that's even what it's called), so right now we can only speculate. But the odds of a pink iPhone 13 coming out in 2021? They're not terrible. 
First, this wouldn't be the first time Apple has released a pink iPhone. The iPhone 5C, released in 2013, was available in pink. 2018's iPhone XR came in coral, and the iPhone 6S from 2015 was sold in rose gold. Pink has been a popular color for tech ever since. Just this past February, Samsung also released phantom pink and phantom violet models of its flagship Galaxy S21 phone, with a more metallic sheen than the iPhone 13 render.
And second, Apple just released a new purple color option for the iPhone 12, another bone thrown to the aesthetic crowd. In fact, Apple also unveiled a redesigned iMac at an April virtual event available in a variety of throwback hues to match the company's rainbow logo of yore. One of those iMac colors is, you guessed it, pink.
Apple does usually swap out one iPhone color from generation to generation, leaving the rest consistent. So it's possible that a candy-colored pop of pink could oust the iPhone 12's deep blue or mint green (or even the new purple). 
We won't find out for sure until Apple announces the iPhone 13 (likely in September). Until then, follow along with all the juiciest iPhone 13 rumors here. And in the event that Apple doesn't make our aesthetic dreams come true? You can always just buy a pink phone case.
Western heat wave threatens health in vulnerable communities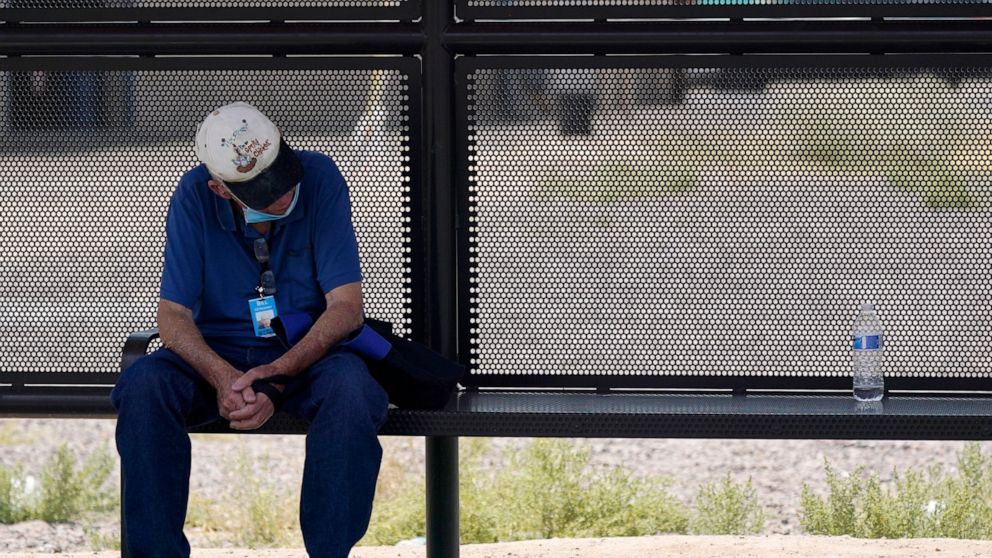 PHOENIX — Extreme temperatures like the ones blistering the American West this week aren't just annoying, they're deadly.
The record-breaking temperatures this week are a weather emergency, scientists and health care experts say, with heat responsible for more deaths in the U.S. than all other natural disasters combined. With more frequent and intense heat waves likely because of climate change and the worst drought in modern history, they say communities must better protect the vulnerable, like homeless people and those who live in ethnically and racially diverse low-income neighborhoods.
"This heat has an important effect on people and their health," said Dr. Suganya Karuppana, chief medical director at the Valle del Sol community health clinics in Arizona.
People — along with plants and animals — need cooler temperatures at night to recover from the stress of high heat, scientists and doctors said. But with overnight temperatures in the 90s, that's not happening.
Karuppana noted that many people she sees may have no car and have to take public transportation in the Phoenix heat, walking through neighborhoods with few trees and waiting at bus and light rail stops with no or little shade. Some people live in poorly ventilated mobile homes or without air conditioning. Or they may work outside in the sun as construction workers or landscapers.
Phoenix has been baking in temperatures above 115 degrees (46 Celsius) all week. The high Friday hit a record 117 degrees (47 Celsius) after breaking another Thursday at 118 degrees (48 Celsius). Daily records also were set this week in places across the U.S. West, such as Nevada and California, including 128 degrees (53 Celsius) in Death Valley on Thursday.
Those who are vulnerable to high temperatures include the very young, the very old and people with heart or kidney disease, ailments that disproportionately affect communities of color.
"We are activated for Phoenix and monitoring it closely," said Nicolette Louissaint, executive director of the Washington nonprofit Healthcare Ready, which was founded after Hurricane Katrina to help communities deal with natural disasters.
Louissaint said her organization has helped in heat emergencies by funding cooling centers that offer bottled water and shade or arrange transportation for older people without cars who need dialysis or heart checkups.
"Extreme heat really exacerbates those kind of serious medical conditions," she said. "It's tough on people who don't have a lot of money."
Phoenix and other local governments around the Southwest remind people on social media to drink lots of water, stay out of the sun if possible and take frequent breaks on hot days. They warn people to not leave children or pets in vehicles, and they work with nonprofits like the Salvation Army to open facilities that allow people to cool off.
The rising risks of the heat became painfully clear three years ago when 72-year-old Stephanie Pullman died at her Phoenix-area home after Arizona's largest electric utility turned off her service for failure to pay $51. A coroner listed "environmental heat exposure" as one of the causes of her 2018 death.
It led to a series of moratoriums on overdue electrical bills in Arizona that continued through the end of last year amid the coronavirus pandemic. The utility, Arizona Public Service, says it has suspended service disconnections and waived late fees through Oct. 15.
The county that includes Phoenix has reported three heat-related deaths as of Saturday, with an additional 20 fatalities being investigated as possibly caused by high temperatures.
Heat-related deaths in Maricopa County have been rising dramatically in recent years, with 323 reported last year, the highest ever recorded. The highest rates were reported among Black people and Native Americans. About 80% of those who died were men.
People living on the street are especially at risk. The Maricopa County medical examiner has said heat was a primary or secondary cause in the death of 146 homeless people last year, when the summer was the hottest ever recorded in Phoenix.
Scientists say the number of heat deaths in the U.S. West and the world over were only expected to rise.
As average temperatures rise worldwide, heat is becoming more extreme, said Gerald Meehl, senior scientist with the National Center for Atmospheric Research in Boulder, Colorado.
"As the average climate warms up from increasing human-produced greenhouse gases, we are seeing more intense, more frequent and longer lasting heat waves," Meehl said.
A study last month estimated the number of heat deaths each year that can be attributed to human-caused global warming. It included about 200 U.S. cities and found more than 1,100 deaths a year from climate change-caused heat, many of them in the East and Midwest, where many people don't have air conditioning or are not acclimated to hot weather.
Joellen Russell, climate science professor at the University of Arizona in Tucson, said the Southwest is an early example of what will hit the rest of the nation later when it comes to the dangers of heat extremes caused by global warming.
"I think we'd better hurry up," she said. "Our kids are counting on us."
———
Associated Press Science Writer Seth Borenstein contributed from Washington. Follow Snow on Twitter at https://twitter.com/asnowreports and Borenstein at https://twitter.com/borenbears.