David James reveals the novel way he keeps fit involving a gym bike and DJ decks
The former England and Liverpool goalkeeper, 50, on iPad painting, using his decks to keep fit and the reason he quit gaming.
Do you consider yourself to be tech savvy?
Not overly, no. One of the things I struggle with is the idea that while I'm doing things people are collating loads of data on me.
Because my interests are primarily painting and DJing, my life doesn't really demand much beyond a phone. It's not that I don't care but I do like to do things myself, even the washing-up.
Have you tried painting digitally on an iPad?
I toyed with it. I have a phone that can do all that and it was fascinating but when it comes to painting I think it all depends on whether you're interested in the process or the outcome.
The outcome with digital painting can be whatever you want and therefore the process arguably becomes a bit easier.
I like painting in acrylic and oil and half of the battle is mixing colours. Digitally, the apps do all that for you.
What does your DJ set-up look like?
I was a decks-and-vinyl man for many years and would never cross over to digital but this is one area of my life where technology has taken over. I got my first MP3 mixer about 15 years ago.
It was about 30cm wide like a mini-deck and I could sit there in the living room and mix while everyone else was watching TV.
I bought a Pioneer DJ controller just before lockdown so I used it out once and then everything was shut down. Carrying one under your arm is a lot easier than carrying two boxes of records. Now you've got 10,000 tracks on a memory stick.
You once blamed a poor game against Newcastle in 1997 on playing too much Tomb Raider and Tekken 2 on your PlayStation. What's your relationship with gaming like now?
It was about nervous energy as opposed to being obsessed. I stopped because I didn't want to play anymore.
I actually played some computer games yesterday with a friend of mine. We ventured down memory lane and played Fifa '96.
I understood why I stopped playing them because they're so unrealistic — although it might have been something to do with the fact that I lost.
Do you use any gadgets to help you stay in shape?
I use tech to help me exercise without using exercise tech. One thing I will do is set my decks up on my gym bike, which gives me a reason to use it.
I'm not fussed about using heart-rate monitors. I've exercised enough in my life to know that if I'm going too hard I can slow down.
There's a lot of tracking tech in football now. How would you have fared with that?
I'd have been all over it. They started using tracking systems to measure distance covered and whatever else when I was playing.
Occasionally, I would run around the box just to get my numbers up. I loved it.
James teamed up with England and FA sponsors LG Electronics to mark the squad announcement and launch of the England FA4 earbuds — available from lg.com
MORE : Cancel culture: The best noise-cancelling headphones you can buy right now
MORE : The best home entertainment systems to watch all the unmissable sports this summer
MORE : Moby on Teslas, electric blankets and a rave blackout
How to get your Metro newspaper fix
Metro newspaper is still available for you to pick up every weekday morning or you can download our app for all your favourite news, features, puzzles… and the exclusive evening edition!
Download the Metro newspaper app for free on App Store and Google Play
Get your need-to-know latest news, feel-good stories, analysis and more
https://www.emultimediatv.com
Free games including GTA V have infected 222,000 PCs with cryptojacking malware
In brief: Once again, we're being reminded of the inherent dangers that come with free cracked games from forums and other sketchy sources. Malware called "Crackonosh," which installs cryptomining software on a device, has been found in 220,000 computers, a result of downloading games such as GTA V for nothing.
Security researchers at Avast write that Crackonosh, which has been around since 2018, has been found in free games given away on forums and torrent sites. They include Grand Theft Auto V, NBA 2K19, Far Cry 5, and Pro Evolution Soccer 2018.
Once infected, the malware surreptitiously installs cryptomining software that mines Monero without a user's knowledge. It's thought to have earned over $2 million for its authors, who are believed to be from the Czech Republic—Crackonosh means "mountain spirit" in Czech folklore.
Avast writes that Crackonosh installs itself by replacing critical Windows system files and abusing the Windows Safe mode to impair system defenses. It's able to avoid detection by disabling security software, operating system updates, and using other anti-analysis techniques, making discovery and removal very difficult.
Diagram of Crackonosh installation
As with all cryptojacking, users often only discover something is wrong when their system slows down, components wear out quickly, and electricity bills skyrocket.
Crackonosh has been found in more than a dozen countries, including:
Philippines: 18,448 victims
Brazil: 16,584 victims
India: 13,779 victims
Poland: 12,727 victims
United States: 11,856 victims
United Kingdom: 8,946 victims
Being even more difficult to trace than cryptos such as Bitcoin, Monero, which launched in 2014, is a digital currency popular among cybercriminals. JavaScript-based Monero miners, usually provided by Coinhive, were found to have been planted on several services a few years ago, including The Pirate Bay, Showtime, Kodi, and more. Coinhive itself, a legitimate service, closed down in 2019, though Monero cryptojacking hasn't gone away, as this discovery proves.
This is the second example this month of malware being spread in free games. A report revealed that millions of PCs had been infected using pirated games. Once compromised, the trojan stole data and even hijacked webcams to photograph users.
Windows 11 is free, but your CPU might not be supported
Windows 11 is arriving later this year as a free upgrade for Windows 10 users, but many are discovering that their hardware isn't compatible. Microsoft has altered its minimum hardware requirements, and it's the CPU changes that are most surprising here. Windows 11 will only support 8th Gen and newer Intel Core processors, alongside Apollo Lake and newer Pentium and Celeron processors.
That immediately rules out millions of existing Windows 10 devices from upgrading to Windows 11, and even devices like Microsoft's own Surface Studio 2 which the company is still selling right now for $3,499.
Windows 11 will also only support AMD Ryzen 2000 and newer processors, and 2nd Gen or newer EPYC chips. You can find the full list of supported processors on Microsoft's site, but here's the basic breakdown:
Windows 11 support for Intel
Intel 8th Gen (Coffee Lake)
Intel 9th Gen (Coffee Lake Refresh)
Intel 10th Gen (Comet Lake)
Intel 10th Gen (Ice Lake)
Intel 11th Gen (Rocket Lake)
Intel 11th Gen (Tiger Lake)
Intel Xeon Skylake-SP
Intel Xeon Cascade Lake-SP
Intel Xeon Cooper Lake-SP
Intel Xeon Ice Lake-SP
Windows 11 support for AMD
AMD Ryzen 2000
AMD Ryzen 3000
AMD Ryzen 3000
AMD Ryzen 4000
AMD Ryzen 5000
AMD Ryzen Threadripper 2000
AMD Ryzen Threadripper 3000
AMD Ryzen Threadripper Pro 3000
AMD EPYC 2nd Gen
AMD EPYC 3rd Gen
Many Windows 10 users have been downloading Microsoft's PC Health App (available here) to see whether Windows 11 works on their systems, only to find it fails the check. As Microsoft now requires a TPM (Trusted Platform Module), this has led to some additional confusion around hardware support.
Windows 11 will require a TPM capable of 2.0 support, and UEFI Secure Boot. Both of these technologies are designed to improve the security of Windows, and prevent malware and ransomware from tampering with encryption keys and other secure elements of the operating system.
While Microsoft has required TPM support for OEM hardware certification since Windows 10, it hasn't actively required Windows to have this fully enabled. That's changing in Windows 11, and it means if your laptop or PC shipped without these BIOS options enabled then you're going to have to go searching for a setting to switch on.
"Almost every CPU in the last 5-7 years has a TPM," explains David Weston, director of enterprise and OS security at Microsoft. Weston is recommending that Windows 10 users failing Microsoft's Windows 11 upgrade checker requirements should ensure BIOS options for "PTT" on Intel systems are enabled, or "PSP fTPM" on AMD devices. As every BIOS has different settings, you might need to refer to your laptop's manual if you're struggling to find the option.
If you've enabled TPM support but you're still not passing the Windows 11 upgrade checker, it's likely because your CPU isn't supported. Intel has confirmed Microsoft's Windows 11 CPU requirements. "A broad range of Intel-based platforms are expected to support Windows 11: 8th Gen and newer Intel Core processors, as well as Intel Pentium processors and Intel Celeron processors from the 'Apollo Lake' generation and newer," says an Intel spokesperson in a statement to The Verge.
This is the first significant shift in Windows hardware requirements since the release of Windows 8 back in 2012, and the CPU changes are understandably catching people by surprise. Microsoft is also requiring a front-facing camera for all Windows 11 devices except desktop PCs from January 2023 onwards. It's another change that will shape the hardware that Windows 11 will run on in the coming years.
3 dead, hundreds injured by rare tornado in Czech Republic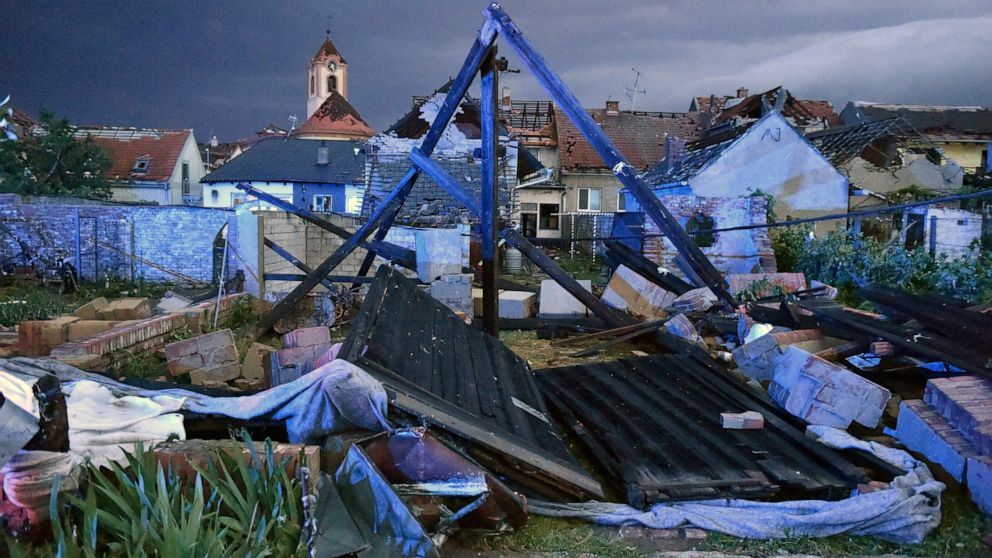 A rare tornado has torn through southeastern Czech Republic, killing at least three people and injuring hundreds of others
PRAGUE — A rare tornado tore through southeastern Czech Republic, killing at least three people and injuring hundreds, rescue services said on Friday.
The tornado formed late Thursday as strong thunderstorms hit the entire country. Seven towns and villages have been badly damaged, with entire buildings turned into ruins and cars overturned. Over 120,000 households were without electricity.
Some 360 extra police officers were sent to the area, together with the military. The rescuers from many parts of the country who came to help were joined by their counterparts from nearby Austria and Slovakia.
They were using drones and helicopters to search the rubble.
The regional rescue service said at least three people have died.
"It's a huge tragedy," Prime Minister Andrej Babis said. Babis was in Brussels to attend an EU summit and was planning to visit the damage-hit region on Friday.
Marek Babisz, deputy mayor of Hrusky, told Czech public radio half of his town was almost completely destroyed.
"The church is without the tower, the elementary school has no roof and insulation any more, only walls remained from what were houses. There're injured, it's really terrible."