Dr Pimple Popper has her own skincare range, and it's about to launch in the UK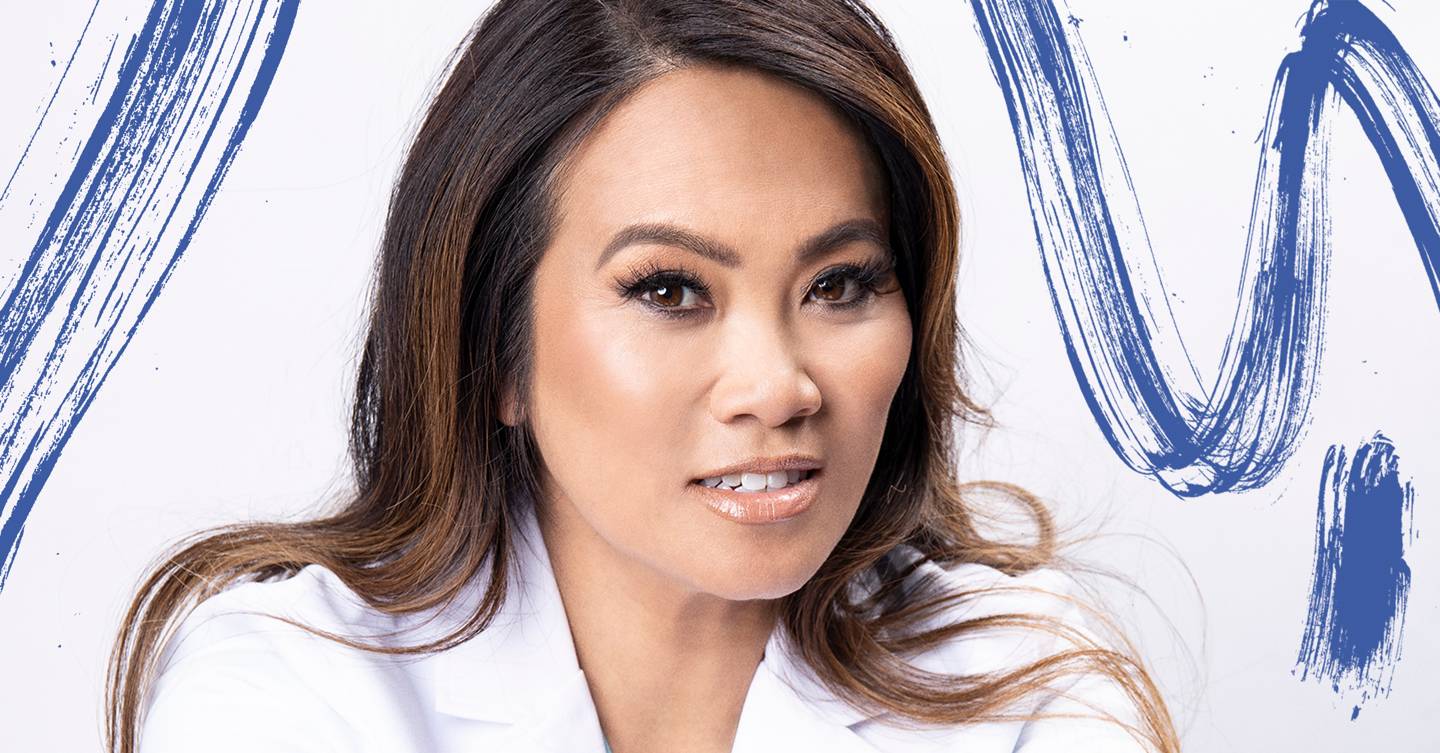 If you've been on social media at any point in the past few years, it's likely you will have come across at least one of board-certified dermatologist, Sandra Lee's videos. Otherwise known as Dr Pimple Popper, Lee rose to fame through sharing educational videos on the internet of her extracting, squeezing and, you guessed it, popping a whole bunch of different spots.
From blackheads to bacne, Lee's strangely satisfying videos have landed her a staggering 7.1million subscribers on YouTube, 4.2million followers on Instagram, 9.6million followers on TikTok and even her own TV show.
Top tips for clearing up spots, plus the best acne treatment products that we promise *really* work
And while a huge amount of her success comes from the somewhat strange satisfaction we get out of watching HD videos of spots get squeezed, over the years, it's Lee's in-depth knowledge of skincare, as well as the fact that she's a really great dermatologist, that kept us coming back.
Sure, spot extractions make for great content, but as a dermatologist, Lee's job is to help diagnose a plethora of skin conditions and help her patients understand what exactly it is and how to treat it. In short, she's a fountain of knowledge when it comes to skincare and knowing what sort of ingredients and products our skin needs.
It's safe to say, therefore, that when Lee launched her own skincare line in the US, SLMD (that's Sandra Lee MD) Skincare, back in 2017, we were a bit jealous that we couldn't get our hands on it. But finally, we can announce that a UK launch soon come. In fact, eight of SLMD's most in-demand products will be available to buy in the UK from 14th June (yes, that's next week!)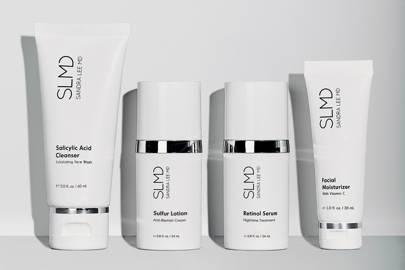 So, what can we expect? Understanding that not all of us have the ability to book in monthly visits to see a dermatologist, Lee was keen to create products that address skin concerns in the same way that a doctor would. Harnessing some of skincare's most efficacious active ingredients, such as glycolic acid, retinol and salicylic acid, SLMD Skincare products were created to encourage us to take our skin health into our own hands with products that really show results.
As for the products themselves, prices start at £26 and the line-up will aim to address a number of key skin concerns including blemishes, ageing and dryness. Think a salicylic acid cleanser that aims to deliver gentle exfoliation and reduce breakouts, a spot-blitzing sulphur lotion, a glycolic acid body lotion to target rough, bumpy skin and also a hydrating squalene and hyaluronic acid serum for daily use.
While we still have to sit tight for another week until we can get our hands on the products, we suggest marking this launch in your diaries.
SLMD Skincare will be available from 14th June via www.SLMDSkincare.co.uk.
Our beauty editors have tried thousands of moisturisers and these are the 25 best of all time
Channing Tatum Shared A Rare Pic Of Him And His Daughter Enjoying A Magical Beach Day
"You are my world and my heart."
"You my littles are everything!" he wrote on Instagram. "You are my world and my heart."
"You were looking at the full moon in this pic and telling me the prophecy of the full moon mermaid," Tatum continued. "And then we ran into the water and looked for her and played with glow sticks in the night water calling out to the mermaids."
"You said you touched a bald headed mermaid and saw a tail," he joked. "Haha one day you will read this and I hope laugh. We have fun 🤩 hehehe."
In the beautiful pic, Tatum adorably stood behind his daughter as she looked off into the night sky.
"I learned how to braid hair," he said. "The hardest thing, though, is my daughter has really straight, fine hair. I have to do this every night, or she wakes up with a rat's nest. It's like a giant knot back there."
Tatum goes above and beyond for his daughter, and it's so nice when he shares pictures of them together on social media.
BuzzFeed Daily
Keep up with the latest daily buzz with the BuzzFeed Daily newsletter!
Britney Spears Apologizes To Fans For 'Pretending To Be Ok' (Update) – The Shade Room
Just a day after #BritneySpears gave a heartbreaking testimony about her conservatorship, the singer took to Instagram and apologized to her fans.
Posting a photo, Britney captioned it with transparency of her experiences.
Apologizing for pretending to be ok, she stated, in part, "just want to tell you guys a little secret 🤫 … I believe as people we all want the fairy tale life and by the way I've posted …"
She continued, "I apologize for pretending like I've been ok the past two years … I did it because of my pride and I was embarrassed to share what happened to me … but honestly who doesn't want to capture there Instagram in a fun light 💡🤷🏼‍♀️ !!!!
As you know,  Britney Spears personally asked to speak to Judge Brenda Penny and explained why she desperately wants her almost 15-year conservatorship under her father terminated. Speaking by phone for almost 20 minutes, she detailed horrific claims of abuse, being forcibly drugged with lithium and also being made to keep an IUD in place so that she doesn't have any more children. At one point, Britney stated "The control he had to hurt his own daughter, he loved it. I worked seven days a week … it was like sex trafficking. I didn't have a credit card, cash or my passport."
She spoke about the horrors of being put on lithium against her will, which is a drug commonly used to treat bipolar disorder, Britney dropped a bombshell. She went on to say: "It's a strong drug. You can go mentally impaired if you stay on it longer than five months. I felt drunk, I couldn't even have a conversation with my mom or dad about anything. They had me with six different nurses. My family didn't do a God damn thing. Anything I had to do, [my dad] was the one who approved all of it. My whole family did nothing." She also detailed her wish to expand her family that has been stopped, "I want to be able to get married and have a baby. I was told I can't get married. I have an IUD inside me but this so-called team won't let me go to the doctor to remove it because they don't want me to have any more children. This conservatorship is doing me way more harm than good."
She also said that her mental health continues to be in jeopardy.
Britney Spears' next court hearing on the matter is set for July 14th.
Want tea directly in your text inbox? Hit us up at 917-722-8057 or click here to join!
'Mary J. Blige's My Life' Director Praises Singer For 'Destigmatizing Depression' As Must-See Doc Premieres
Vanessa Roth explains why she thinks the singer from The Bronx is an 'inspiration,' a model of triumph over pain.
From "Be Happy" to the title track "My Life," when Mary J. Blige's second album was released in 1994 it became an instant classic. Raw and unflinching, through her lyrics the New Yorker stripped away any pretense that, at that time in her life and career, she was OK.
"My Life is probably my darkest album, at one of the darkest times I've had," the 50-year-old says in the trailer for Amazon Prime's new docufilm, Mary J. Blige's My Life, which premieres on June 25. "Most of the times I was just depressed and I didn't want to live," she adds.
Vanessa Roth, the Oscar-winning director behind the Amazon Prime doc, thinks that's exactly why fans should watch the film. "Mary is just a really beautiful model, an inspiration to feeling what you feel, and destigmatizing depression," she says. "Destigmatizing those painful parts of life that we all go through and need each other, in order to heal from."
Vanessa tells HollywoodLife what it was like revisiting the most painful parts of Mary's life with her in this searing documentary that features interviews with Diddy, Alicia Keys and Taraji P. Henson:
HL: What drew you to this project?
Vanessa: "Mary drew me to the project. She really wanted to make a film that… [is] not a biopic about her whole life, that is a much bigger, different kind of story. This is about one album. It's her second album. It was a time in her life that she describes as her most difficult, struggling time and it was an album that healed her [and] at the same time then connected her to audiences that became her fans for the rest of their lives. And so, to me, it was the mix of being able to tell a story about an icon and have that incredible music and influence, with this very human story of pain and longing and healing."
HL: Why do you think Mary is so beloved?
Vanessa: "I think it's that mix that she's able to harness this human part of herself and really dig deep no matter what and really feel things. And then she has this gift of being a writer and an artist and a singer. So, she get to express the things that so many of us feel, but don't know how to necessarily say and she says it for us."
HL: In the film she talks about really painful things like feeling suicidal, molestation, domestic violence. How did you get her to open up?
Vanessa: "That really came from her. She's an executive producer on this film as well and she wanted to tell that story. She wanted to give that to her fans. It was painful for her to revisit that time, but she was willing to because I think that's just a testament to where she's willing to go to places that aren't comfortable in order to kind of excavate them."
HL: She was so open but was there anything that she refused to discuss?
Vanessa: "There's a part of the film that we actually kept in the film. I did that on purpose. Where she says that, when she was writing the My Life album it brought back all this pain, including that she was molested as a child. And then she says in the interview, 'And a lot of other things that I'm not going to discuss.' I respected that. That's for her to decide what she shares and doesn't share and what stays private. I just respected those boundaries and that's how we continued to have conversations."
HL: What surprised you the most about Mary's story?
Vanessa: "The thing that struck me really the most about Mary's story is something also that she says in the film, which we talked about a lot. This concept of, 'I didn't know I was me.' This feeling that she didn't feel successful, even with all the success of [her first album] What's The 411? She was in her early 20s and she just had no self-love and she still was successful and still had her gift of singing and songwriting and being famous, making an impact. But it wasn't really until she faced her own demons and pain – [to] go through that and heal that and connect with people – that she started to actually love herself.
"I think that concept of, 'I didn't know I was me,' so many of us could relate [to]. Other people sometimes can see the gifts that you have and the talents you have before you see it or accept it yourself. Self-love might be easy to say, but it's really hard to achieve. I just love that comment and I think about that a lot."