Drought ravages California's reservoirs ahead of hot summer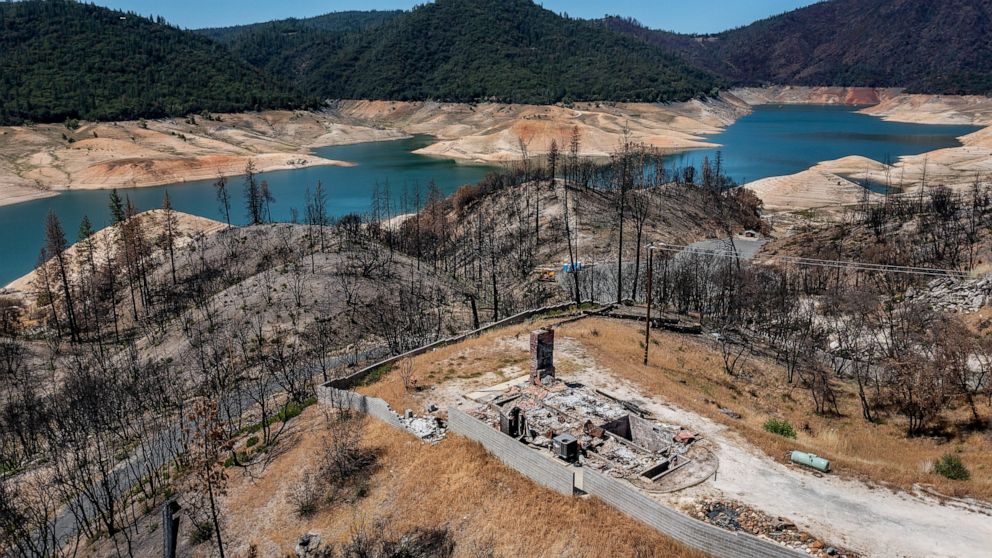 OROVILLE, Calif. — Each year Lake Oroville helps water a quarter of the nation's crops, sustain endangered salmon beneath its massive earthen dam and anchor the tourism economy of a Northern California county that must rebuild seemingly every year after unrelenting wildfires.
But now the mighty lake — a linchpin in a system of aqueducts and reservoirs in the arid U.S. West that makes California possible — is shrinking with surprising speed amid a severe drought, with state officials predicting it will reach a record low later this summer.
While droughts are common in California, this year's is much hotter and drier than others, evaporating water more quickly from the reservoirs and the sparse Sierra Nevada snowpack that feeds them. The state's more than 1,500 reservoirs are 50% lower than they should be this time of year, according to Jay Lund, co-director of the Center for Watershed Sciences at the University of California-Davis.
Over Memorial Day weekend, dozens of houseboats sat on cinderblocks at Lake Oroville because there wasn't enough water to hold them. Blackened trees lined the reservoir's steep, parched banks.
In nearby Folsom Lake, normally bustling boat docks rested on dry land, their buoys warning phantom boats to slow down. Campers occupied dusty riverbanks farther north at Shasta Lake.
But the impacts of dwindling reservoirs go beyond luxury yachts and weekend anglers. Salmon need cold water from the bottom of the reservoirs to spawn. The San Francisco Bay needs fresh water from the reservoirs to keep out the salt water that harms freshwater fish. Farmers need the water to irrigate their crops. Businesses need reservoirs full so people will come play in them and spend money.
And everyone needs the water to run hydroelectric power plants that supply much of the state's energy.
If Lake Oroville falls below 640 feet (195 meters) — which it could do by late August — state officials would shut down a major power plant for just the second time ever because of low water levels, straining the electrical grid during the peak demand of the hottest part of the summer.
In Northern California's Butte County, low water prompts another emotion: fear. The county suffered the deadliest U.S. wildfire in a century in 2018 when 85 people died. Last year, another 16 people died in a wildfire.
Walking along the Bidwell Canyon trail last week, 63-year-old Lisa Larson was supposed to have a good view of the lake. Instead, she saw withered grass and trees.
"It makes me feel like our planet is literally drying up," she said. "It makes me feel a little unsettled because the drier it gets, the more fires we are going to have."
Droughts are a part of life in California, where a Mediterranean-style climate means the summers are always dry and the winters are not always wet. The state's reservoirs act as a savings account, storing water in the wet years to help the state survive during the dry ones.
Last year was the third driest year on record in terms of precipitation. Temperatures hit triple digits in much of California over the Memorial Day weekend, earlier than expected. State officials were surprised earlier this year when about 500,000 acre feet (61,674 hectare meters) of water they were expecting to flow into reservoirs never showed up. One acre-foot is enough water to supply up to two households for one year.
"In the previous drought, it took (the reservoirs) three years to get this low as they are in the second year of this drought," Lund said.
The lake's record low is 646 feet (197 meters), but the Department of Water Resources projects it will dip below that sometime in August or September. If that happens, the state will have to close the boat ramps for the first time ever because of low water levels, according to Aaron Wright, public safety chief for the Northern Buttes District of California State Parks. The only boat access to the lake would be an old dirt road that was built during the dam's construction in the late 1960s.
"We have a reservoir up there that's going to be not usable. And so now what?" said Eric Smith, an Oroville City Council member and president of its chamber of commerce.
The water level is so low at Lake Mendocino — a reservoir along the Russian River in Northern California — that state officials last week reduced the amount of water heading to 930 farmers, businesses and other junior water-rights holders.
"Unless we immediately reduce diversions, there is a real risk of Lake Mendocino emptying by the end of this year," said Erik Ekdahl, deputy director for the State Water Board's Division of Water Rights.
Low water levels across California will severely limit how much power the state can generate from hydroelectric power plants. When Lake Oroville is full, the Edward Hyatt Power Plant and others nearby can generate up to 900 megawatts of power, according to Behzad Soltanzadeh, chief of utility operations for the Department of Water Resources. One megawatt is enough to power between 800 and 1,000 homes.
That has some local officials worrying about power outages, especially after the state ran out of energy last summer during an extreme heat wave that prompted California's first rotating blackouts in 20 years. But energy officials say they are better prepared this summer, having obtained an additional 3,500 megawatts of capacity ahead of the scorching summer months.
The low levels are challenging for tourism officials. Bruce Spangler, president of the board of directors for Explore Butte County, grew up in Oroville and has fond memories of fishing with his grandfather and learning to launch and drive a boat before he could drive a car. But this summer, his organization has to be careful about how it markets the lake while managing visitors' expectations, he said.
"We have to be sure we don't promise something that can't be," he said.
Low lake levels haven't stopped tourists from coming yet. With coronavirus restrictions lifting across the state, Wright — the state parks official for Northern California — said attendance at most parks in his area is double what it normally is this time of year.
"People are trying to recreate and use facilities even more so (because) they know they are going to lose them here in a few months," he said.
———
Associated Press writer Brian Melley in Los Angeles contributed to this report.
Steam Summer Sale: 10 discounted PC games to buy now
Amazon Prime Day is out, Steam's annual Summer Sale is very much in. There are tons of PC games with huge discounts on the Steam store at the moment, such that the store has a choose-your-own-adventure style menu to help you browse through them all. It's worth taking time out to explore it all, especially if you're into indie games. 
To help get you going, we've picked out 10 fantastic games that are discounted on Steam. This include brand-new titles like Mass Effect Legendary Edition as well as games that are slightly older but still great. 
Steam Summer Sale lasts until July 8th, and we'll update this post as new titles are added or new gems unearthed. 
Valve
Half-Life: Alyx isn't just a new Half-Life game — which is like purified air at this point — it's also the best reason to invest in VR yet. A fully-fledged AAA developed from the ground up for virtual reality platforms is exciting, especially when it comes with a pedigree like Half-Life. 
BioWare
Mass Effect Legendary Edition is just over a month old, yet here it is in Steam's Summer Sale. It's $10 off, a 17% reduction, at $49. That's some amazing bang for your buck when you consider the hours and hours and hours (and hours) of content here, which includes the three main Mass Effect games plus all their DLC content. 
Supergiant Games
Hades won many Game of the Year Awards in 2020, and now is a fabulous time to see why. It's a stylish game in every sense, from the art to the combat, and includes many memorable characters. It's absolutely worth playing — especially for just $17.50. 
EA
Battlefield V is the most recent game in the storied franchise, launching back in 2018. It's gotten a bunch of expansions and DLC content, which is all included in the Definitive Edition. It's massively discounted, at just $12.50, and will serve as good target practice ahead of Battlefield 2042. 
Capcom
Video game remakes are very hot right now, and Resident Evil 2 is arguably the best one yet. It's a faithful remake of the PlayStation 1 original (unlike Final Fantasy 7 Remake, which is more of a reimagining), and it's a fantastic one. Racoon City is horrifying, but worth a visit — especially at $16. 
Square Enix
Final Fantasy was a console exclusive for many years, so many PC diehards probably missed out. If you're curious about the franchise and looking for an in, Final Fantasy X is as good a place as any. The remastered combo of X and X-2 are 50% off.
Microsoft Studios
Forza Horizon 4 is on Xbox Game Pass, so you should play it through that service if you haven't already. If you're not into subscriptions though, the excellent open-world racer is 50% off right now. 
Giant Sparrow
What Remains of Edith Finch is a narrative-based game that you can breeze through in about three hours. It explores the traumas experienced by the Finch family and the story of its eponymous character through a series of minigames. That may not sound too exciting — but it's a three hours you won't forget. 
Windows 11 will change how you use your PC
People who want to jump between entirely different desktops can do that, too. Not only can you have different desktops for home, school and work, but they'll also follow you around to whatever Windows 11 computer you're using. Your different computers can sync up over the cloud: Leave work, open your laptop at home, and your screen should be just how you left it — windows, tabs and all. The Start menu even saves your most recent files, so you don't have to click around to reopen them.
BuzzFeed Confirms Plan to Go Public
BuzzFeed, the digital publisher known for viral content, announced on Thursday its plan to go public through a merger with a special purpose acquisition company, signaling a shift in the business strategy of the once high-flying media start-up.
BuzzFeed said it planned to merge with a publicly listed shell company, 890 Fifth Avenue Partners, in what is known as a SPAC deal. It will be valued at $1.5 billion, a decline from its 2016 valuation of $1.7 billion. As part of the proposed transaction, BuzzFeed will raise $438 million, with $150 million of that coming as debt financing.
BuzzFeed also announced that it would acquire Complex Networks in the deal for a total of $300 million, with $200 million in cash and the rest in stock. Known primarily for its pop culture coverage, Complex also hosts events on food, sports and sneaker collecting.
Jonah Peretti, the founder and chief executive of BuzzFeed, announced the merger at a news conference at the company's Manhattan headquarters. "This is a very exciting day for BuzzFeed and a great day for our employees and our partners," he said.
Once seen as the future of the media, BuzzFeed has become something of an outlier in an industry that has lately rewarded subscription-driven publications and newsletter platforms. If the investors in 890 Fifth Avenue vote in favor of the transaction, BuzzFeed expects to close the deal by the end of the year, and the shares will trade under ticker symbol BZFD.
Adam Rothstein, the executive chairman of 890 Fifth Avenue Partners and a venture investor known for investments in Israeli tech start-ups, will join BuzzFeed's board. Made up of veterans from the worlds of finance and media, the board includes current and former executives at ESPN, NBC, Playboy, Martha Stewart Living Omnimedia, Subversive Capital and the A&E cable network.
BuzzFeed's institutional shareholders, which include media giants like NBCUniversal and venture capitalists, will be subject to a six-month lockup period after the deal closes, preventing them from selling shares immediately. But former BuzzFeed employees should be able to cash out any shares they may own as soon as the company goes public. Mr. Peretti said in an interview that he would have majority control over the new BuzzFeed once the merger closes through a special class of shares.
"To me it was important to have the ability to really focus on the long term of the company and balance all the constituencies and stakeholders and to have founder control was a way to do that," he said. Other publicly traded media companies, including The New York Times, have similar arrangements.
Mr. Peretti's growth strategy appears to hinge on acquiring companies — in part to gain leverage over major distributors like Google and Facebook, but also because BuzzFeed has yet to achieve the kind of needed scale on its own.
In 2018, he quietly sought possible mergers with competitors such as Vice Media, Group Nine and Vox Media. In November, Mr. Peretti orchestrated BuzzFeed's acquisition of HuffPost, the site he helped found in 2005 with Arianna Huffington and the investor Kenneth Lerer.
With the addition of Complex, BuzzFeed expects revenue to grow 24 percent to $521 million this year with pretax profit of about $57 million. Next year, it estimates revenue will hit $654 million and pretax profit $117 million.
Still, that may not be enough.
"We'll have opportunities to pursue more acquisitions, and there are more exciting companies out there that we want to pursue," Mr. Peretti said during the news conference on Thursday.
When asked which companies he might look to acquire, he responded: "I don't know. You have any ideas?"
Hatched out of a small office in New York's Chinatown in 2006, when Mr. Peretti was the chief technology officer of The Huffington Post, BuzzFeed started as an experiment in creating content meant to be shared on the web. He left what is now HuffPost in 2011, after AOL bought it for $315 million, and ended up transforming his project into a stand-alone media company with the help of $35 million from investors.
BuzzFeed soon became one of the fastest-growing digital publishers, eventually raising $500 million, and was hailed as the future of news media. But in recent years, it has missed ambitious revenue targets, and some of its investors have agitated for a sale.
After a series of layoffs in 2019, BuzzFeed started to diversify its business, selling branded cookware and ramping up its product recommendation section, garnering a commission on each sale through affiliate agreements with Amazon and other companies. "Our model evolved," Mr. Peretti said in an interview last year.
SPAC deals, once an arcane Wall Street maneuver, have become more common over the last year. Special purpose acquisition companies — shell corporations that list on a stock exchange — are usually created with the goal of buying a private business and taking it public.
Group Nine, the BuzzFeed rival, has gone a different route. It created a SPAC of its own in December, with the aim of finding a company to acquire before going public.