Sports
Emmitt Smith: Career retrospective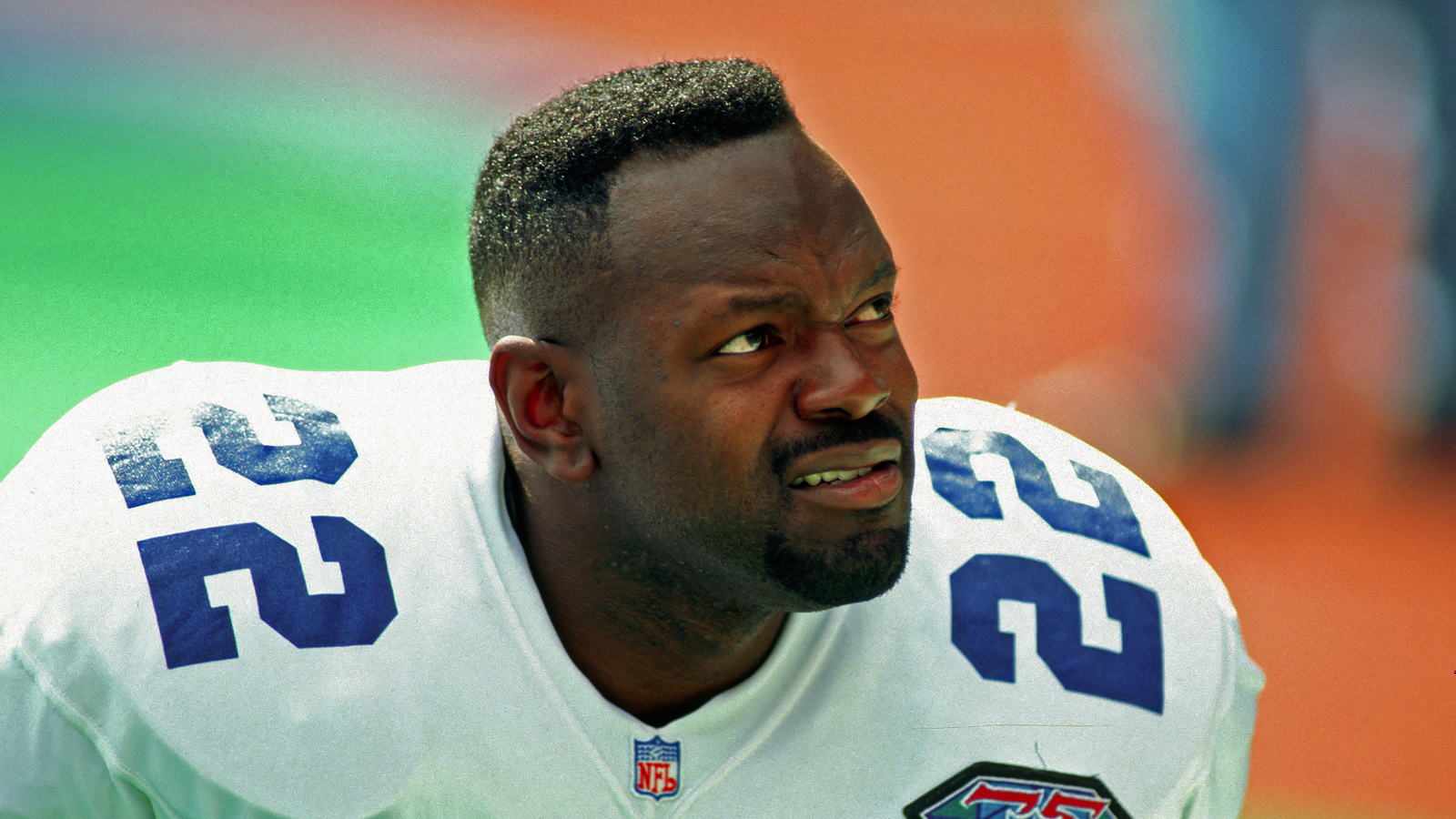 There have been quite a few notable "triplets" in the modern NFL, but none quite like the trio from the Dallas Cowboys in the early 1990s. The nickname was coined for quarterback Troy Aikman, wide receiver Michael Irvin and running back Emmitt Smith.
All three are members of the Pro Football Hall of Fame, but it's hard to argue Smith wasn't the most talented of them. Smith led the league in rushing four times and posted 1,000 rushing yards in 11 straight seasons.
With Smith now in his 50s, it seems like a good time to look back at his NFL career and life after football.
Collegiate Images/University of Florida/Collegiate Images/Getty Images
At Escambia High School, Smith was a two-sport star, rushing for nearly 9,000 yards and more than 100 touchdowns while also competing in the 4×100 meter relay. At the time, Smith's 8,804 rushing yards was the second most in American high school football history.
2 of 26
Breaks Florida single-game rushing record in first college start
Focus on Sport/Getty Images
After not starting in his first two games as a freshman at Florida, Smith was in the starting lineup in the 1987 SEC opener against Alabama. Smith didn't waste any time, rushing for 224 yards and two touchdowns on 39 carries in his first-ever college start. That rushing total broke the Florida single-game record, which had stood for 57 years.
3 of 26
Earns SEC and National Freshman of the Year honors in 1987
Allen Dean Steele/Getty Images
Smith continued to blossom during his freshman year and reached the 1,000-yard mark during the season's seventh game. That was the fastest any running back reached that total to begin a college career. For his efforts, he earned the SEC and National Freshman of the Year honors.
4 of 26
Sets records at Florida as junior
Allen Dean Steele/Allsport/Getty Images
After an injury ruined his sophomore season, Smith came back with a historic junior campaign. In 1989 he gained 1,599 rushing yards and accumulated 3,928 career yards on the ground, both of which were new school records. Against New Mexico in October, he broke his own record with 316 rushing yards in a single game. He also set records with a 96-yard run against Mississippi State and 36 career rushing touchdowns.
5 of 26
Becomes the No. 17 overall pick of the Dallas Cowboys in 1990
Focus on Sport/Getty Images
Despite a tremendous college career, NFL scouts still doubted whether Smith was big enough or fast enough to play in the NFL. The Cowboys reportedly wanted to draft linebacker James Francis, but the Cincinnati Bengals selected him before Dallas had the chance. Therefore, the Cowboys traded up four spots to No. 17 to grab Smith. 
6 of 26
Wins 1990 NFL Offensive Rookie of the Year Award
Kevin Reece/Icon Sportswire
Similar to the way he began his college career, Smith became the Cowboys starting running back after one game and excelled. He reached the Pro Bowl as a rookie and earned the 1990 NFL Offensive Rookie of the Year Award. Smith rushed for 937 yards and 11 touchdowns while also posting 24 catches for 228 receiving yards in 1990.
7 of 26
Leads NFL in rushing for first time in 1991
Kevin Reece/Icon Sportswire
In his second year, Smith carried the ball 124 more times than in his rookie season and saw his rushing average jump from 3.9 to 4.3 yards per rush. That led to his first of four rushing titles. He ranked first in the league with 365 carries and 1,563 rushing yards during 1991. Behind Smith, the Cowboys went 11-5 and earned a playoff berth for the first time since 1985.
8 of 26
Sets Cowboys single-season record with 1,713 rushing yards in 1992
Cliff Welch/Icon Sportswire
In 1992 Smith earned a spot on the NFL All-Pro team for the first time in his career. He would hold that honor from 1992-95. Smith surpassed all of his marks from 1991 during his third season and posted a new franchise record 1,713 rushing yards. That led the league, and he was also first in the NFL with 18 rushing touchdowns.
9 of 26
Helps Cowboys win first Super Bowl in 15 years
Focus on Sport/Getty Images
Dallas won its first of five straight NFC East titles in 1992 with a 13-3 record. It was the first time in team history the Cowboys won 13 games, and that's a mark they have matched only two other times (2007 and 2016). But most importantly, Dallas reached the Promised Land again, routing the Buffalo Bills in Super Bowl XXXVII, 52-17. Smith rushed for more than 100 yards in all three playoff games, including 108 yards in the Super Bowl.
10 of 26
Famously holds out and misses first two games of 1993
Cliff Welch/Icon Sportswire
Following the Super Bowl win and three straight rushing titles, Smith was in search of a bigger payday. Therefore, he began one of the most famous holdouts in NFL history. He missed all of training camp and the first two games of the regular season. The Cowboys lost both contests and were in danger of losing their chance at a title defense.
11 of 26
Becomes highest-paid running back in NFL after Week 2 in 1993
Rich Graessle/Icon Sportswire
But after the 0-2 start, Cowboys owner Jerry Jones admitted he was wrong by opening his wallet and making Smith the highest-paid running back in the league. The labor rules were different back then, so Smith and Jones negotiated his new deal during the season. Despite missing the first two games of 1993, Smith still led the league with 1,486 rushing yards and posted a career-best 5.3 rushing yards per carry average.
12 of 26
Sets franchise record against Eagles on Oct. 31, 1993
Kevin Reece/Icon Sportswire
No game helped that average more than on Halloween when Smith rushed for a franchise record 237 rushing yards and a touchdown against the Philadelphia Eagles. That record stood until 2011 when DeMarco Murray broke it.
13 of 26
Wills Cowboys to NFC East title with 229 total yards in Week 17
Kevin Reece/Icon Sportswire
Statistically that may have been Smith's best game in the NFL, but the signature moment of his career came in Week 17 against the New York Giants. The Cowboys needed a win on the road to secure the NFC East and a first-round bye, but during the first half Smith suffered a separated shoulder. However, he never left the game and posted a season-high 42 touches. He rushed for 168 yards with 32 carries and added 61 receiving yards on 10 receptions, as he willed the Cowboys to a 16-13 overtime victory.
14 of 26
Earns first NFL MVP
Kevin Reece/Icon Sportswire
While he was tremendous in that game, Smith was just downright outstanding for the entire month of December in 1993. During the final five regular-season games, Smith rushed for 688 yards, averaging 6.0 yards per carry. He also posted 24 receptions for 142 yards. With 1,486 rushing yards and nine touchdowns in just 14 games, Smith won his first and only league MVP.
15 of 26
Wins Super Bowl XXVIII MVP
Focus on Sport/Getty Images
Smith wasn't as dominant in the first two playoff victories, but with Troy Aikman nursing a concussion from the NFC championship game and no bye week between that contest and the Super Bowl, the Cowboys once again turned to the league MVP. Against the Bills in the biggest game of the year again, Smith rushed for 132 yards and two touchdowns on 30 carries and added 26 receiving yards on four receptions. For his efforts, Smith won Super Bowl XXVIII MVP.
16 of 26
Leads league in rushing for fourth time, in 1995
Cliff Welch/Icon Sportswire
In 1994 Smith returned to leading the league in rushing attempts, but for the first time since 1990, he didn't lead the NFL in rushing yards. However, in 1995 Smith once again led the league in rushing attempts, yards and touchdowns. During the 1995 season, Smith posted career highs across the board with 1,773 rushing yards, 25 touchdowns and 377 attempts.
17 of 26
Helps Cowboys win third Super Bowl in four years
Kevin Reece/Icon Sportswire
With 150 rushing yards from Smith in the 1996 NFC championship game, the Cowboys beat the Green Bay Packers, 38-27, to return to the Super Bowl for the third time in four years. The Pittsburgh Steelers held Smith to 49 rushing yards in Super Bowl XXX, but he did score two touchdowns to capture his third ring.
18 of 26
Reaches 100 career rushing touchdowns and 10,000 rushing yards in 1996
Cliff Welch/Icon Sportswire
In 1996, Smith didn't make the Pro Bowl for the first time in his career because he rushed for a then career-low 3.7 yards per carry. However, he still ran for 1,204 yards on 327 attempts. During the 1996 season, he also reached 10,000 rushing yards and 100 career rushing touchdowns. At the time, Smith was the youngest back in history to reach 10,000 yards.
19 of 26
Becomes Cowboys' all-time leading rusher in 1998
Drew Hallowell/Icon Sportswire
In 1998 Smith was still a workhorse, accumulating 1,332 yards on 319 rushing attempts at 29 years old. That's unheard of in today's NFL. Smith certainly didn't have the same explosiveness, but in 1998 he surpassed Tony Dorsett for the most rushing yards in Cowboys history.
20 of 26
Becomes first player with 11 straight 1,000-yard seasons
Drew Hallowell/Icon Sportswire
As is true for most running backs, Smith's carries and rushing average continued to decline after he turned 30. But he continued to amass at least 1,000 rushing yards every year until 2001. He became the first back to rush for 1,000 yards in 11 consecutive seasons. In 2002 he broke his streak by just barely missing the 1,000-yard mark. Smith rushed for 975 yards that year.
21 of 26
Passes Walter Payton for No. 1 on all-time rushing list
Cliff Welch/Icon Sportswire
Despite snapping his 1,000-yard streak in 2002, Smith made history that year by passing Walter Payton for the most rushing yards in NFL history. Smith broke the record with 109 rushing yards against the Seattle Seahawks on Oct. 27.
22 of 26
Signs two-year deal with Arizona Cardinals in 2003
Cliff Welch/Icon Sportswire
After breaking the NFL rushing record, new Cowboys head coach Bill Parcells elected to sign younger running backs in 2003. That led to Smith leaving Dallas for the Arizona Cardinals. Smith suffered an injury during his first season with the Cardinals in a game against, ironically, the Cowboys. That cost him several games, and Smith finished 2003 with a career-low 256 rushing yards.
23 of 26
Retires with the Dallas Cowboys in 2005
Cliff Welch/Icon Sportswire
Smith rebounded to rush for 937 yards and nine touchdowns with the Cardinals in 2004, but following the season he elected to retire. Three days before Super Bowl XXXIX, he announced his retirement from the NFL. Following the announcement, he signed a one-day contract with the Cowboys.
24 of 26
Wins "Dancing with the Stars"
Don Bartletti/Los Angeles Times via Getty Images
Just two years after his last NFL season, Smith starred on "Dancing with the Stars," becoming one of many NFL players to experience success on the show. In the show's third season, Smith finished in first place.
25 of 26
Begins brief broadcasting career in 2007
Cliff Welch/Icon Sportswire
The former All-Pro running back took a stab at broadcasting, beginning his television career as a studio analyst for ESPN. But he lasted just two seasons. After an unsuccessful attempt as an analyst on "Monday Night Countdown" in 2008, ESPN didn't renew his contract.
26 of 26
Elected to Pro Football Hall of Fame in 2010
Cliff Welch/Icon Sportswire
Not surprisingly, Smith became a first-ballot Pro Football Hall of Famer in 2010. He was part of a historic class that included himself and wide receiver Jerry Rice. Smith finished his career with an NFL record 18,355 rushing yards and 164 rushing touchdowns. With a shift toward passing in today's NFL, it's hard to foresee either record being broken.
Dave Holcomb began working as a sports writer in 2013 after graduating from Syracuse University. Over the past six years, he has covered the NFL, NHL, MLB, fantasy sports, college football and basketball, and New Jersey high school sports for numerous print and online publications. Follow Holcomb on Twitter at @dmholcomb.