GOP lawmakers slam EPA chief over firing of science advisers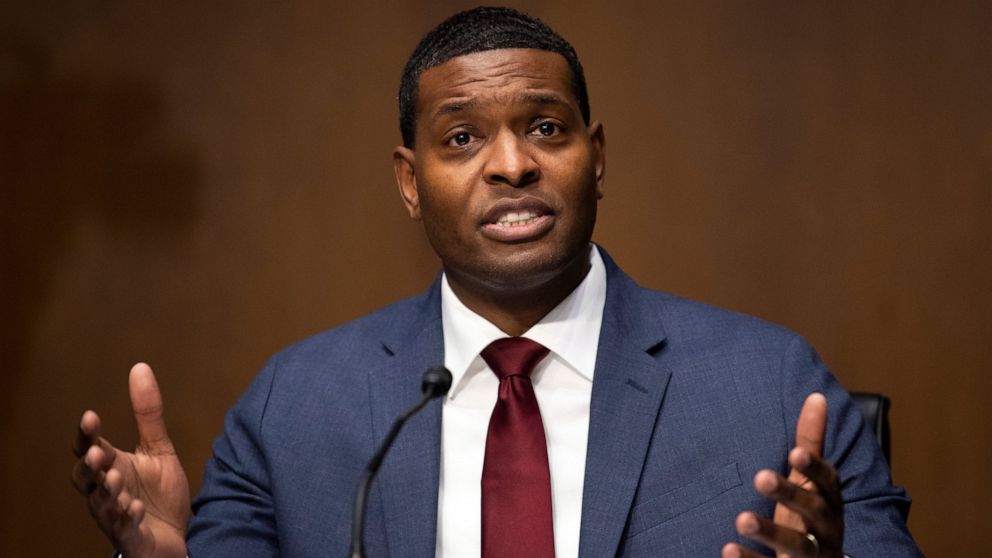 Two House Republicans are demanding that the Environmental Protection Agency provide records related to an action by the agency's leader removing dozens of scientists and other experts from two key advisory boards
WASHINGTON — Two House Republicans are demanding that the Environmental Protection Agency provide records related to a decision by the agency's new leader to remove dozens of scientists and other experts from two key advisory boards.
EPA Administrator Michael Regan has said the advisers appointed under the Trump administration were overly friendly to business and that his March 31 "reset" of the Science Advisory Board and Clean Air Scientific Advisory Committee would return EPA to its practice of relying on advice from a balanced group of experts.
Regan's overhaul removed more than 45 members of the two science advisory boards, including some whose terms do not expire this year. The panels provide scientific expertise and recommendations for air quality standards and other policies intended to protect public health and the environment.
But GOP Reps. James Comer of Kentucky and Ralph Norman of South Carolina criticized Regan for what they called an unwarranted "purge" based more on politics than science. Comer is the senior Republican on the House Oversight Committee, while Norman is the top Republican on the panel's environment subcommittee.
"Traditionally science advisory boards are bipartisan panels used to provide advice to the administrator. Unfortunately, it appears the Biden administration is continuing to purge officials in the government who do not share its political beliefs," Comer and Norman wrote Wednesday in a letter to Regan.
"The midterm firing of science advisory board members within the first months of a new administration …. raises serious concerns about the politicization of the EPA," they added.
Regan told The Associated Press in an interview late last month that while he was clearing out the two important panels, ousted members can apply for reinstatement.
"Scientific integrity is a foundational value for EPA,″ Regan said. "And I am committing to ensuring that every single decision we make meets rigorous scientific standards.''
Democrats have said a 2017 decision by Donald Trump's first EPA administrator, Scott Pruitt, to remove many academic scientists from the advisory panels tilted them in favor of the chemical and fossil fuel industries. Pruitt barred scientists from serving on the advisory boards if they had received EPA research grants. Pruitt later resigned amid ethics scandals but his policies were largely continued under his successor and former deputy, Andrew Wheeler.
John Graham, the former chairman of the Science Advisory Board, said last week that Regan's "radical action″ disrupted his service and that of every board member. The Indiana University professor said he will not reapply "because I respectfully protest the entire process that Administrator Regan has concocted.″
Regan, 44, was sworn in March 11 as the first Black man to run the EPA. He served as North Carolina's top environmental regulator for four years before that and also worked at the EPA during the Clinton and Bush administrations.
He told the AP that the reset of the two advisory boards — and the removal of all members of both boards — "are indicative of how serious we are about repairing the scientific integrity at EPA.″
The EPA also will be part of a White House effort to investigate Trump-era political interference in science across the executive branch, Regan said.
In their letter, Comer and Norman asked the EPA to provide by April 21 all documents and communications — including any with the White House — from Jan. 20 on related to the ouster of the advisory board members.
Where to find a PS5: All you need to know about buying Sony's new gaming console
If you've been trying to get your hands on the PlayStation 5 for months — but still miserably failing — you're not alone. Even though Sony launched the new console five months ago, it's still extremely hard for anyone to get their hands one. The pandemic and the global chip shortage have definitely contributed to this lack of inventory, but demand for the PS5 has also been sky high. In fact, it was recently named the fastest-selling console in US history. 
As of April 11, both versions of the PS5 — the $500 model with Blu-ray and the less expensive $400 digital-only edition with no optical drive — are out of stock at every major retailer, including Target, Best Buy, Amazon, GameStop and Walmart, but that shouldn't stop you from trying to find one. Those retailers are restocking the PS5 console on a fairly consistent basis.
If you're willing to shell out far more than the sticker price, you can get a PlayStation 5 or PS5 bundle at a reseller like eBay or StockX, but our advice is to wait for PS5 availability at other retailer options. PS5 inventory drops are starting to happen on a more frequent basis, so be sure to check back here often for the latest updates on when retailers might have restocks.
You can monitor PS5 stock updates on your own; Twitter, for example, is a good source for restock rumors. But we occasionally get word directly from retailers and tipsters about upcoming PlayStation 5 console inventory restocks, and we update this post immediately. Again, be aware: It likely could be months before anything approximating normal inventory levels appears in stores, so getting your own PS5 gaming console is likely to be a challenge until summer, at the earliest. Below you'll find a list of all the major retailers (and a few high-profile resellers) where you can monitor the video game console's stock and availability. 
More on next-gen consoles
PS5 restock options at major retailers
You can check out Amazon's page for the $400 Digital Edition via the button below, or, if you'd rather, get in line for the PS5 with Blu-ray for $500.
When in stock, Target offers the PS5 with Blu-ray for $500, in addition to the PS5 Digital Edition, which you can find by clicking the button below.
You can check on availability of the $400 Digital Edition at Walmart by clicking the button below, or you can try to snag the pricier PS5 with Blu-ray for $500.
When in stock, Best Buy offers the PS5 with Blu-ray for $500 along with the $400 Digital Edition (which you can find by clicking the button below). The retailer is also offering a slew of accessories on its PS5 landing page.
We don't recommend spending more than retail to get a PS5, but if you must have a console right now, eBay is your shortcut to getting a console. That said, expect to pay hundreds over list; the average PS5 price on eBay is about $800. 
If you've exhausted all of the usual retail options and you're willing to pay hundreds over list price, you might want to check out StockX, an eBay alternative that made its name in the secondary market for sneakers and designer clothing. Last time we checked, prices for the PS5 were hovering just below $650. We don't think it's worth it, but let your conscience (and your wallet) be your guide). 
More PS5 coverage
This article is regularly updated with the latest PS5 stock news.
---
CNET's Cheapskate scours the web for great deals on tech products and much more. For the latest deals and updates, follow the Cheapskate on Facebook and Twitter. Find more great buys on the CNET Deals page and check out our CNET Coupons page for the latest promo codes from Best Buy, Walmart, Amazon and more. Questions about the Cheapskate blog? Find the answers on our FAQ page.
Brazil's virus outlook darkens amid vaccine supply snags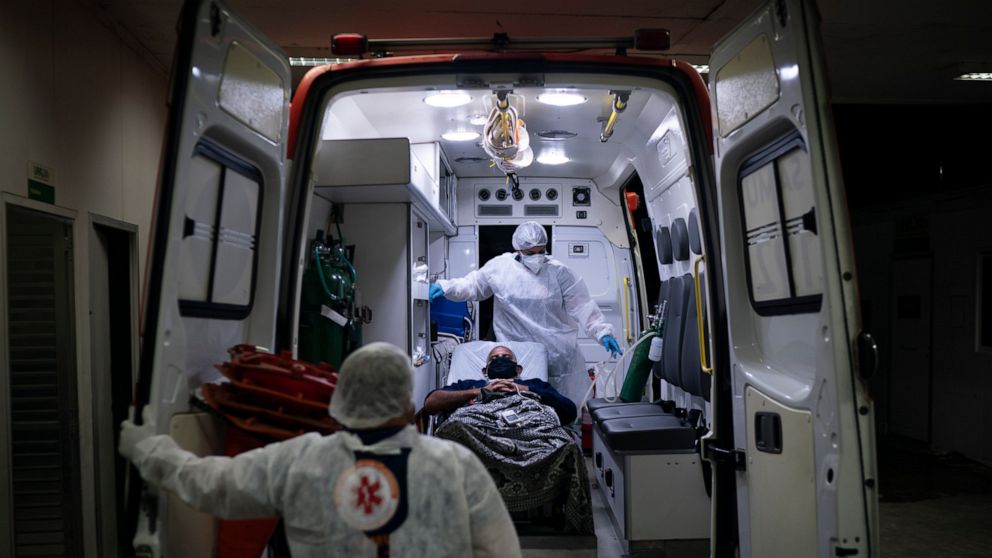 RIO DE JANEIRO — April is shaping up to be Brazil's darkest month yet in the pandemic, with hospitals struggling with a crush of patients, deaths on track for record highs and few signs of a reprieve from a troubled vaccination program in Latin America's largest nation.
The Health Ministry has cut its outlook for vaccine supplies in April three times already, to half their initial level, and the country's two biggest laboratories are facing supply constraints.
The delays also mean tens of thousands more deaths as the particularly contagious P.1 variant of COVID-19 sweeps Brazil. It has recorded about 350,000 of the 2.9 million virus deaths worldwide, behind only the U.S. toll of over 560,000.
Brazil's seven-day rolling average has increased to 2,820 deaths per day, compared with the global average of 10,608 per day, according to data through April 8 from Johns Hopkins University.
The death toll is forecast to continue rising in the next two weeks to an average of nearly 3,500 per day before receding, according to the University of Washington's Institute for Health Metrics and Evaluation.
Public health experts blame President Jair Bolsonaro for refusing to enact strict measures to halt infections and for clashing with governors and mayors who did.
Failure to control the spread has been compounded by the Health Ministry betting big on a single vaccine, AstraZeneca, then buying only one backup, the Chinese-manufactured CoronaVac, after supply problems emerged. Authorities ignored other producers and squandered opportunities until it was too late to get large quantities of vaccine for the first half of 2021.
With extensive experience in successful, massive vaccination programs, Brazil should have known better, said Claudio Maierovitch, former head of Brazil's health regulator.
"The big problem is that Brazil did not look for alternatives when it had the chance," he said. "When several countries were placing their bets, signing contracts with different suppliers, the Brazilian government didn't even have vaccination on its agenda."
For months, Bolsonaro's administration ignored pleas to sign more than one contract for vaccines. The president publicly questioned the reliability of other shots and scoffed at contractual terms, suggesting that recipients of the Pfizer vaccine would have no legal recourse were they to transform into alligators. He insisted he wouldn't force anyone to get vaccinated and only recently said he might get a shot himself.
Denise Garrett, vice president of the Sabin Vaccine Institute that advocates for expanding global vaccine access, said she despaired at the government strategy. Brazil has been far and away Latin America's immunization front-runner, so much so that she hadn't seen it in the same league as the region's other countries.
Given the problems in vaccine development and distribution, "it's definitely not a good idea to put all your eggs in one basket," she said from Washington.
Stalled supplies of the AstraZeneca vaccine in January amid pressure for Brazil to begin its vaccination campaign prompted the Health Ministry to acquire tens of millions of shots from Sao Paulo state's Butantan Institute, which is mixing an active ingredient from China with a sterile solution and bottling it. The shots were the fruit of the state's negotiations with Chinese company Sinovac and went ahead despite Bolsonaro's criticisms.
Brazil's government also dragged its feet in signing on to the World Health Organization's COVAX initiative providing vaccines to poorer nations. It ultimately bought the bare minimum — enough for 10% of its population of 210 million.
"I was so anxious when that was going on; I couldn't believe they weren't going to sign it," said Garrett, who is Brazilian. "When I heard they signed, I was relieved. We were all relieved. But they signed for the minimum amount possible. … Brazil isn't in a better vaccination position now because of the incompetence or inactivity of the federal government."
In February, Brazil began signing contracts with other pharmaceutical companies, but none of their shots have been administered. Of the 10% of people who received one dose so far, the vast majority received Butantan's shot and the rest got the AstraZeneca shot, which government health institute Fiocruz is bottling.
Both Brazilian labs face supply problems. Butantan said Wednesday it was suspending production while it awaits shipments of the active ingredient from China. Fiocruz has produced only 4 million of the 50 million doses it agreed to deliver by the end of April.
That threatens to reduce the speed of vaccinations, which finally hit 1 million doses per day last week, according to a consortium of local media that compiles data from state health secretariats.
Intensive care units for COVID-19 patients in most Brazilian states are above 90% capacity. Seven of every 10 hospitals in the country risk running out of supplemental oxygen and anesthetic in the next few days, the newspaper Folha de S. Paulo reported April 8.
At the municipal hospital of Sao Joao de Meriti, a city in Rio de Janeiro's metropolitan area, the ICU ward is almost full, with many patients sharing space and oxygen bottles while being treated. Hospital director Altair Soares Neto said health professionals scarcely find time to sleep.
"Will we have the medicines, the oxygen, the conditions to care for this patient accordingly? Today we do. But, if cases keep growing, sometime we will fight chaos," he said.
The surge of deaths has brought widespread outcry. Brazil's Association of Collective Health, which has nearly 20,000 members including doctors, nurses and health experts, published an open letter this week demanding a three-week national lockdown, echoing increasingly urgent calls from others.
Bolsonaro has refused proposed lockdowns, arguing their economic impact would be even more devastating than the virus. He even took three states to the Supreme Court last month for adopting such restrictions.
"If we just wait for the vaccine to reach all risk groups, many people will die," said the health association's president, Gulnar Azevedo e Silva. "There is no national coordination. And if we don't have that, what happens? Chaos."
An agreement for FioCruz to acquire AstraZeneca's technology would allow Brazil to produce an entirely locally made vaccine and make the nation less vulnerable to constraints on imported active ingredients. Fiocruz forecasts deliveries will start in September. But that date could be pushed back due to the complexity of the process and strict quality control, its press office said in an emailed response to questions.
While visiting Fiocruz on Friday, health minister Marcelo Queiroga told reporters there are other countries that are also experiencing problems with their supply of active ingredients, and that vaccines won't remedy Brazil's high level of COVID-19 deaths in the short-term. He said the government doesn't have a "magic wand to fix all the problems."
Carla Domingues, former coordinator of Brazil's national immunization program, praised the country for approaching 1 million doses per day but said it had the infrastructure for a stronger campaign if only the government had secured the vaccines.
"Of course, we would like to vaccinate more, like in the U.S., but we can't," she said. "We're going to have to live with this virus for a long time." ——— Associated Press photographer Felipe Dana contributed to this report.
ByteDance's Ohayoo has published more 150 games with 500 million downloads
Join GamesBeat Summit 2021 this April 28-29. Register for a free or VIP pass today.
---
Ohayoo is the new kid on the block in Chinese games. The company is a division of ByteDance, the owner of TikTok, and it has published more than 150 games since 2019. Ohayoo's games have been downloaded more than 500 million times, and eight games have hit No. 1 on the Chinese free game download list.
That's a pretty spectacular result in games, and one that I wasn't aware of until recently. Ohayoo isn't known well in the West as the company hasn't focused much on press to date, said Yufan Wang , head of global marketing and partnerships at Ohayoo, in an interview with GamesBeat. But it's worth knowing because Ohayoo is helping casual and hypercasual game developers break into the Chinese market, which is the biggest in the world. And it has natural synergy with social media networks like TikTok.
"The mission is to enable creativity and happiness for the smaller game developers via publishing services that we provide," Wang said.
To raise its profile and find more games, the company recently held its first Global Game Developer Competition, where more than 200 games from 22 countries were submitted. The company selected 10 winners from among 125 small and indie game developers. The finalists are competing for a Final Four awards with a grand prize of $100,000 and a publishing contract for first place.
For the contest, Ohayoo convened a group of publishing experts to select the winners based on gameplay, art style, creative, and market potential. Six of the winning games were submitted by developers in Korea, with the top 10 rounded out by games from developers spanning Malaysia, Indonesia, Israel and France.
The winners included Circuroid (Malaysia, shooter), Cat Killer (France, ARPG), Theme Solitaire (Korea, solitaire puzzle + simulation), Crush the Block: Tap Tap Fly (Korea, side-scrolling + sliding tile), Hamster Village (Korea, simulation), Meow Jump: Boxcat (Korea, stacking block), Cargo Car (Israel, racing), Hunters of Tower (Korea, parkour+puzzle), Cute Balls (Indonesia, hypercasual), and Farmtory (Korea, simulation).
"We encouraged developers of all sizes and games in different stages," Wang said. "We opened the competition early this year and opened it to developers around the world. We weren't expecting to get that many submissions."
Ohayoo has had successes on the top 10 lists in China for months at a time. In 2019, at one point, six out of the top 10 games on iOS in China were Ohayoo-published games. About 40 of the games have been big hits in terms of monetization, Wang said.
"Given that there are so many smaller developers and indie developers around the globe, we should help them to achieve the same level of success getting to the Chinese audience," she said. "There's such tremendous growth in local market. And we see a lot of new innovative gameplay from outside of China. We are here to bridge the gap and provide both sides with value."
Wang said the company tries to serve developers well by sending them feedback and data on games quickly. Asked about whether Ohayoo is concerned about the privacy changes in the Identifier for Advertisers (IDFA) initiated by Apple, Wang said the company is still watching that.
"We always wanted to be a platform to help lower the barrier for content creation and interactions for all people," Wang said. "We saw a lack of supply of casual games and great demand in the regional market. We saw hardcore games were dominant, but some people might not want to spend so much time and money. So we saw this as a great option."
The team has hundreds of employees, with many of them based in Beijing. There are teams working on internal game development, but most of the resources are being dedicated to the development of global games.
"We provide value for global developers," Wang said. "We publish both in the Chinese market, bringing global developers into the market, and we have a small team exploring global publishing."
While many game companies focus on paid ads to promote mobile games, Ohayoo understands how key content creators and opinion leaders can help with game distribution with short-form videos on platforms like TikTok, Wang said.
"We have a pretty good team and constantly exploring this strend, and also a good marketing team that can push games in the market," Wang said.
One successful Ohayoo game was Jade Master, where players have to guess whether a stone has a lot of jade in it. It's easy to understand and took off as a hypercasual game.
During the pandemic, one game called Combat Hero did well in Japan for months, and it was a sign that people are willing to spend more time with games as a distraction from COVID-19 challenges, Wang said. Combat Hero has turned out to be the most successful Ohayoo game to date. Another popular title is dubbed Killing the Virus (dubbed Virus War globally), which is popular for obvious reasons.
"More people are willing to play games," she said. "They're picking up the habit of playing games."
The company is also starting to look at more midcore games, which are hardcore in nature but can be played in short game sessions.
GamesBeat
GamesBeat's creed when covering the game industry is "where passion meets business." What does this mean? We want to tell you how the news matters to you — not just as a decision-maker at a game studio, but also as a fan of games. Whether you read our articles, listen to our podcasts, or watch our videos, GamesBeat will help you learn about the industry and enjoy engaging with it.
How will you do that? Membership includes access to:
Newsletters, such as DeanBeat

The wonderful, educational, and fun speakers at our events

Networking opportunities

Special members-only interviews, chats, and "open office" events with GamesBeat staff

Chatting with community members, GamesBeat staff, and other guests in our Discord

And maybe even a fun prize or two

Introductions to like-minded parties
Become a member