Here's Kourtney Kardashian and Travis Barker Passionately Kissing on the Street in California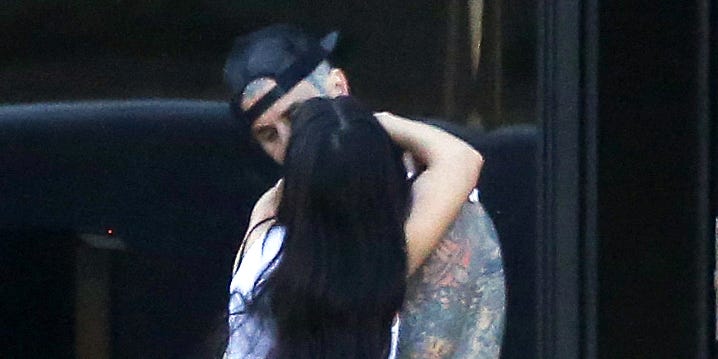 Megan Fox and Machine Gun Kelly aren't the only couple publicly making out in L.A. this month. Kourtney Kardashian and Travis Barker also couldn't help themselves on the street in Burbank, California on Saturday. Paparazzi caught the two passionately kissing.
This kind of PDA is hardly new for Kardashian and Barker, who have been dating since the beginning of this year. The two have shared pretty graphic photos of their past makeout sessions and other extremely couple-y activities, such as Kardashian giving Barker an "I love you" tattoo, on their Instagrams.
This content is imported from Instagram. You may be able to find the same content in another format, or you may be able to find more information, at their web site.
This content is imported from Instagram. You may be able to find the same content in another format, or you may be able to find more information, at their web site.
This content is imported from Instagram. You may be able to find the same content in another format, or you may be able to find more information, at their web site.
A source spoke to Entertainment Tonight in mid-May about how Barker hopes to marry Kardashian someday. She isn't quite ready for that step yet, the source said.
"Getting engaged and married one day has definitely been a topic of conversation between Kourtney and Travis," the source said. "Travis would absolutely love to tie the knot with Kourtney, but Kourtney hasn't been sure that's the step she wants to take in their relationship right now. She is extraordinarily happy and doesn't feel the need or want the pressure of getting married.
"There are a lot of other factors that concern her if they were to take their relationship to that next level, one of them being Scott [Disick, who has been struggling with the relationship because of his own feelings for Kardashian] and more importantly, her kids [with Disick] and what that adjustment would mean for them. It could be a lot to process, even though everyone sees that Kourtney is undeniably in love with Travis. Kourtney sees herself loving this moment and is just taking everything one day at a time and enjoying their time together."
This content is created and maintained by a third party, and imported onto this page to help users provide their email addresses. You may be able to find more information about this and similar content at piano.io
This Trendy Skirt Will Work Flawlessly With All the Basics You Own
The fashion crowd has been embracing pleated miniskirts and dresses for the last few seasons now. As style-setters have been showcasing recently, the tennis-like or plaid silhouettes are actually some of the chicest skirt options you can go for at the moment. It's a classic look and is quite forward in nature, especially when styled with of-the-moment pieces. In fact, we actually highlighted how influencers are wearing the skirt trend. We thought we'd take it one step further and call out the specific modern and fashionable basics that work flawlessly with pleated miniskirts.
In reality, just about any top or sweater could work with this skirt or dress, but there are a few key next-level items that seem to be front-runners for many. We're talking about pieces like cute T-shirts and relaxed knitwear. Keep scrolling for ideas on how to wear this trendy skirt trend, whether you've been wearing the look already or want to try it once and for all. There's also a bunch of inspired shopping picks coming your way.
I'm a Dedicated Mango Sale Shopper and Think These Items Are the Most Special
Not sure if you've noticed but there are so many sales happening right now. That's mid-summer for you. Retailers need to start making room for fall collections, and we customers get to reap the benefits of that via steep markdowns. And of the may sales, one that's standing out to me right now is happening at Mango. 
This time of year, my main objective when shopping on Mango is to find chic vacation pieces that also work day-to-day. And now, Mango has all that and more marked down by up to 50% off. And now that there are actually places to go (unlike last summer), you might be in need of some subtly trendy new pieces that won't eat up all of your vacation funds.
I carefully selected 28 on-sale items that will help to ensure you live your best life this summer. Scroll to shop them all from the comfort of your couch.
For the Most Natural-Looking Glow, There's Only One Product That Cuts It
I used to be strictly all about powder bronzers, but I recently tried some cream formulas and instantly became obsessed. The creamy consistency makes my skin look even more radiant and dewy. Some powders can look cakey or can crease, especially when it's hot out, but with cream bronzers, I get that effortlessly blended finish.
I normally apply it very lightly with my fingers or a brush on my cheekbones, temples, nose, and chin. Lightly is key here for me so it seems more natural and not like I overdid it. It also gives me more room to build on the color if I want a little bit more.
Take a look at some cream bronzers I love plus other editors' and readers' favorites below.