Here's When Every Episode of 'Loki' Will Drop on Disney+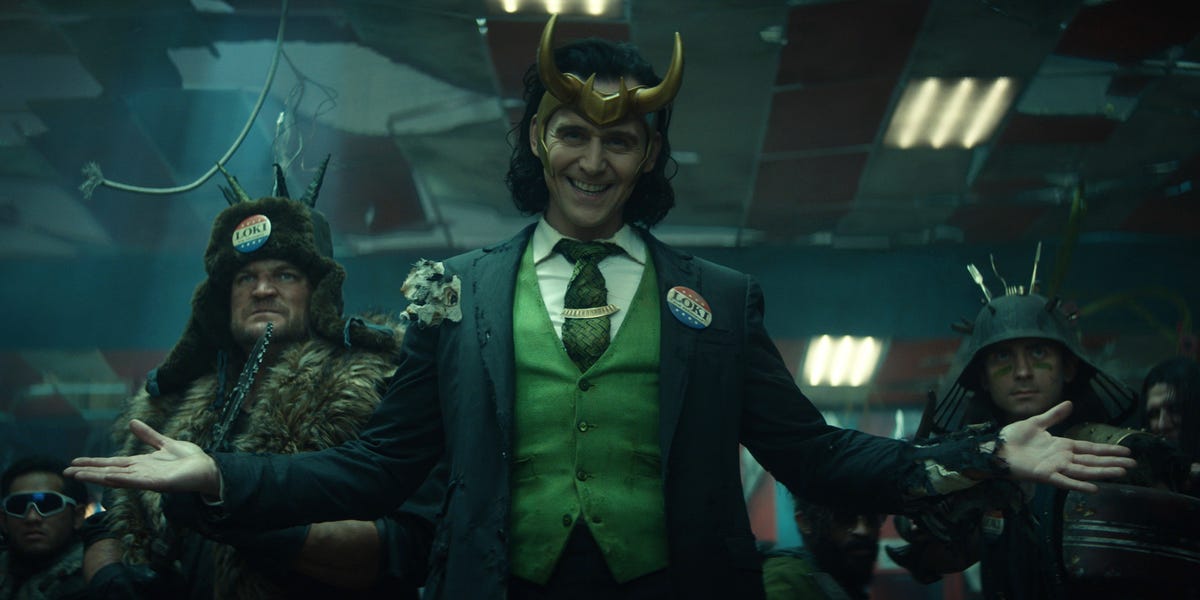 After his tragic death at the hands of Thanos, the God of Mischief has been resurrected. Loki (Tom Hiddleston), the deceptive demigod and younger brother of Thor, has landed his own spinoff series after stealing the Tesseract (again) in Avengers: Endgame. Loki premiered the first of its six episodes on Wednesday, June 9, and a new episode will air every Wednesday on Disney+ at 3 a.m. ET/12 p.m. PT until the finale drops on July 14.
Here's what the release schedule looks like:
Episode 1: "Glorious Purpose" streaming as of June 9
Episode 2 streaming June 16
Episode 3 streaming June 23
Episode 4 streaming June 30
Episode 5 steaming July 7
Episode 6 streaming July 14
In a recent interview with Empire, Marvel's Chief Creative Officer, Kevin Feige, spoke about Loki's impact on Marvel's Cinematic Universe. "[Loki] is tremendously important. It perhaps will have more impact on the MCU than any of the shows thus far," he said. "What everybody thought about WandaVision and was sort of true, and The Falcon And The Winter Soldier, which was sort of true, is even more sort of true for Loki," Feige continued.
For his part, Hiddleston was excited about Loki's lack of control within the Time Variance Authority, or TVA, where the demigod lands after his grand Endgame escape. "In the other films, there was always something about Loki that was very controlled," Hiddleston told Entertainment Weekly. "He seemed to know exactly what the cards in his hand were and how he was going to play them… And Loki versus the TVA is Loki out of control immediately, and in an environment in which he's completely behind the pace, out of his comfort zone, destabilized, and acting out."
Along with Loki, Disney+ is gearing up for the highly anticipated premiere of Black Widow, which will also hit theaters on July 9.
Watch Loki On Disney+
This content is created and maintained by a third party, and imported onto this page to help users provide their email addresses. You may be able to find more information about this and similar content at piano.io
For the Most Natural-Looking Glow, There's Only One Product That Cuts It
I used to be strictly all about powder bronzers, but I recently tried some cream formulas and instantly became obsessed. The creamy consistency makes my skin look even more radiant and dewy. Some powders can look cakey or can crease, especially when it's hot out, but with cream bronzers, I get that effortlessly blended finish.
I normally apply it very lightly with my fingers or a brush on my cheekbones, temples, nose, and chin. Lightly is key here for me so it seems more natural and not like I overdid it. It also gives me more room to build on the color if I want a little bit more.
Take a look at some cream bronzers I love plus other editors' and readers' favorites below.
Zara's Semi-Annual Sale Is Here, and These 45 Pieces Are Too Good to Be True
If you're a Zara fan, you're probably aware of how few big sales it has per year. There are basically just two—one on December 26 and one today. The great thing about this sale is that summer has only just begun, yet tons of pieces from Zara's summer collection are included. So if you still have vacations to go on, picnics to plan, and weddings to attend (some of which I'm sure you do), you might want to take advantage of this opportunity and do some shopping.
Zara sales typically last quite a while—until stock is slim pickings—but it's best to place your order(s) during the first few days of the sale to get the most robust selection. To save you some time, I spent a good chunk of my day devouring the sale and selecting the pieces you'd be smart to snag. I honestly can't believe these 45 pieces are on sale and still in stock. I probably shouldn't waste any more of your time. You need to shop this epic sale. Scroll to do just that.
Lily James Just Re-Created Pamela Anderson's Bikini Wedding—and It's Epic
In case you haven't heard, Lily James and Sebastian Stan are currently filming a Hulu series about Pamela Anderson and Tommy Lee. Thanks to paparazzi photos, we don't have to wait until the show's release to get a sneak peek into the actors' transformations—and they're pretty impressive. 
James looks particularly unrecognizable in new images of her playing Anderson in an iconic scene: her 1995 Cancún beach wedding, in which she wore a white string bikini and a tiny sarong. Oh, and don't forget the fun fact that Anderson and Lee had only met a mere four days earlier. Scroll down to see how James re-created the infamous wedding, complete with a spray tan and a wig, and to revisit the OG version.