International Insider: Sister Earnings Revealed; Farewell Prince Philip; Cannes Caves; Bollywood On Lockdown; BAFTA Verdict
Happy Friday all, and welcome to the latest edition of International Insider. Jake Kanter with you as usual, as we reflect on another week of international film and television news. I'm on jkanter@deadline.com if you want to write, or my DMs are open on Twitter. And sign up here to get this delivered to your inbox every Friday.
Sister Earnings Revealed
A scoop to start you off: We can bring you an exclusive look at the first 18 months of trading for Elisabeth Murdoch-backed Chernobyl producer Sister. The company posted a loss of $7.7M after expanding its empire and being hit by the coronavirus production shutdown. It was expecting to deliver The Power, BBC/AMC series This Is Going To Hurt, and Sky/HBO series Landscapers last year, but the shoots were disrupted by the pandemic. All three shows are now in production and will deliver in 2021. The earnings also break down Sister's investments, revealing the level of its holdings in company's including LeBron James' Springhill and Olivia Colman's South Of The River Pictures. Go deeper.
Related Story
International Insider: MipTV's Covid-Compounded Conundrum; BAFTA Film Awards Preview; RIP Paul Ritter
Farewell Prince Philip
The Duke remembered: The world will bid farewell to Prince Philip on Saturday in what will be the TV event of the weekend. The funeral of Queen Elizabeth II's husband begins with a short procession at 2:45PM local time in the UK, before a 50-minute service at 3PM. In line with his wishes and UK Covid-19 guidelines for funerals, the Duke of Edinburgh will receive an intimate send-off, attended by 30 members of the royal family. Expect plenty of subplots, not least Prince William and Prince Harry being kept apart in the procession amid ongoing tensions over the Duke of Sussex's split from the royal family. You might call them brothers at arm's length.
Bringing out the big guns: In a sign of U.S. viewer appetite to watch the funeral, the major networks are all planning special live coverage of the formalities. Gayle King, who has become synonymous with team Meghan Markle and Prince Harry following their bombshell Oprah Winfrey interview last month, will anchor CBS's broadcast from 9:30AM ET. Fox News and NBC News are also preparing special broadcasts. Meanwhile, over in the UK, top news presenter Huw Edwards anchors the BBC's coverage, which will be beamed around the globe on BBC World News.
All eyes on the BBC: The BBC's coverage is notably not ubiquitous, with its live broadcast commencing at 12:30PM and running until 4:20PM, when BBC One's advertised schedule largely resumes. It follows the broadcaster receiving a record 109,741 complaints about its blanket output on the day of Prince Philip's death last Friday. The BBC brushed off the disquiet and pointed to its role as a "national broadcaster during moments of national significance." The trouble for the BBC, as always, is it's damned if it does and damned if it doesn't. Director general Tim Davie clearly decided that he was on safer ground having a fight over too much coverage rather than too little. Saturday's plans tread a careful middle ground.
Cannes Caves
June's just the job: A seeming outbreak of commonsense at the Cannes Film Festival on Wednesday, when Cannes Marché moved its May pre-screenings event to June 21-25. It follows our Andreas Wiseman reporting on industry plans for a splinter sales event in late June amid little appetite for the May screenings. The official and unofficial gatherings will now coalesce around June 21-25, two weeks before the main fest on July 6-15. Read more here.
But but but: With France in national lockdown, the industry is still wondering if the festival will be able to follow through with its plans to hold both the Cannes Film Festival and a Cannes Market on the Croisette in July. The fest staunchly maintains that the in-person gathering will be well attended.
MipTV's moment: While the unofficial virtual Cannes market in 2020 and online EFM did host some impressive deals, you need only look at MipTV to see why film fest organizers are desperate to bring people together on the French Riviera. The buzz around this week's television event has been significantly dimmed by the pandemic. In a virtual-only setting, MipTV failed to generate any giant news, and it was quite hard to establish if there were any shows that really set tongues wagging. Check out our Q&As with 10 studio sales chiefs to see their reflections on the market.
Bollywood On Lockdown
Industry on hold: Two months ago, India appeared to have its Covid outbreak largely in hand, with cases low enough for the economy to re-open and cinemas to return to full capacity. Flash forward to now and a devastating second wave has hit the country with more than 200,000 cases being recorded per day. The government has been forced to react, and in Mumbai, a de facto lockdown has been imposed, including putting a stop to all film and TV production. Read our story.
When will shoots resume? These measures will last until at least May 1. There is hope that a strict, short lockdown will cause a sharp halt in cases and, combined with the vaccination program, things could look better within a couple of weeks. That timeframe looks optimistic at present, with infection numbers still on the up, but Deadline has spoken to local industry who say they are hopeful for a return in the not too distant future. Cinemas are also closed again in Mumbai, which has led to the film slate being pushed back. The knock-on effect will no doubt continue to be felt long into 2021 and potentially beyond.
Streamers Score Soccer Series
The beautiful game: It was a good week to be a soccer player looking for TV work after Disney+ and Amazon unveiled projects with David Beckham and Paul Pogba respectively. Former England captain Beckham will front soccer mentoring show Save Our Squad for Disney+ out of Europe, while Pogba has done an overall deal with Amazon in France and will let cameras into his life for The Pogmentary. What's more, Beckham confirmed at the virtual MipTV that he will also document his life in an access series, which is reportedly set at Netflix, though the streamer has not commented.
The end goal: Getting under the skin of English soccer is a smart thing to do if you're a streamer. The Premier League is a truly global brand, with legions of adoring followers. Spotlighting the game's greatest names in glossy documentaries is a good way of getting sports fans to part with their cash. And, as we've seen with the likes of The Last Dance, these series are capable of being a slam dunk.
And talking of Disney+, the streamer unveiled its first slate of UK scripted originals on Thursday, teaming on projects with the producers behind Killing Eve, Gentleman Jack, and The Night Manager. You can read all about them, right here.
BAFTA Film Awards: The Verdict
The big winner: Our chief film critic Pete Hammond remarked on Nomadland's "predictable" sweep at the BAFTAs on Sunday. On another good night for Chloe Zhao, her Searchlight pic took home Best Film, Director, Actress, and Cinematography at the virtual ceremony. Looking ahead to the Oscars on April 25, Hammond notes: "A run like the Chloé Zhao movie has been having would be a very rare bird to stop in this day and age. Voters, by and large, tend to like to go with what they think is a winner, and Nomadland is clearly holding that card." Read Pete's take in full, while all the winners are here.
A polished show: The BAFTAs themselves were staged with some elegance in difficult circumstances at the Royal Albert Hall. As my colleague, Tom Grater, pointed out: It was a night of highs — notably supporting actress winner Yuh-Jung Youn calling the Brits "snobbish" and a pitch-perfect transatlantic duet between Leslie Odom Jr and Corinne Bailey Rae — and no real notable lows, unless you have a particular aversion to One Direction alum Liam Payne.
Having a laugh? One minor snag was complaints from baffled viewers about the apparent canned laughter laid over the BBC BAFTA broadcast. Except, it wasn't contrived chuckles at all. It was, in fact, a virtual audience of 1,000 reacting in real-time to the events during the pre-recorded show. The tech has been used on more than 100 BBC entertainment shows to date, but away from a raucous studio show environment and in a stripped-down, largely straight-faced ceremony, the digital reactions stuck out like a saw thumb.
A TV turn-off: In keeping with other virtual awards bashes, notably the Golden Globes, television audiences failed to spark to the ceremony. Its UK rating of 1.9M viewers is likely to be among BAFTA's lowest on record. That doesn't bode well for ABC's Oscar broadcast later this month.
The Essentials
🌶️  Hot one of the week: Hugh Laurie has signed up to write, direct, and executive produce an adaptation of Agatha Christie novel Why Didn't They Ask Evans? for BritBox in North America. It's hoped he will also take a role in the three-part series. We had the scoop.
🌶️  Another one: Oscar nominee Hugh Jackman and Oscar winner Laura Dern have been set to star in blue-chip feature drama The Son, writer-director Florian Zeller's follow-up to his Oscar-nominated movie The Father. Go deeper.
🍿  International box office: Warner Bros/Legendary's Godzilla Vs Kong continues to dominate the global and international box office, now with an estimated $288.3M offshore cume for $357.8M worldwide. Nancy Tartaglione has the details.
🆓  Film fest director freed: Tatsiana Hatsura-Yavorska, the director of the Watch Docs Film Festival in Belarus, has been released from prison and charges against her dropped after an international outcry. Read our story.
👀  First look deal: The Personal History Of David Copperfield star Dev Patel has set a first-look deal with production house ShivHans Pictures under which he will produce, develop and create features. Full story.
🇰🇷  Riding the streaming Wavve: Tom Grater went inside Korean streamer Wavve's plans to spend $900M by 2025 on further expanding its originals strategy. Read his interview with CEO Lee Tae-hyun here.
🇮🇹  Venice Film Fest: Italian actor and director Roberto Benigni will receive the Venice Film Festival's Lifetime Achievement Award. He has been one of Italy's most popular film figures since making his debut in the 1970s. Andreas had the story.
🇪🇸  Netflix's Spanish slate: Netflix announced on Thursday a crop of upcoming projects in Spain, including three new drama series, two original films, and a pair of reality shows. Find out more. 
🚚  On the move: Sky Studios has promoted Chernobyl commissioner Gabriel Silver to director of drama commissioning following the departure of Cameron Roach. More on the move here.
🎦  Trailer dash: Here's the exclusive first trailer for under-the-radar music documentary What Drives Us, the second feature film directed by rock legend Dave Grohl. The feature is a love letter to a rock and roll rite of passage: touring in the back of a van. Watch it here.
And Finally…
A boat's life for Chiwetel: Who knew that Chiwetel Ejiofor spends some of his time living aboard a humble houseboat moored on London's River Thames? Not International Insider, who learned about the Oscar-nominated 12 Years A Slave actor's Dutch barge abode while chatting to him about his latest venture: Narrating water shortage crisis documentary Day Zero. You see, his boating experience prepared him well for a film extolling the virtues of preserving water, and Ejiofor is keen for the world to learn more about a crisis that is not fully understood. "Everything is from a tank, so there's a certain amount [of water to use] before it needs to be refilled. You're always constantly engaging with how much water there is, how much is being used, especially if you're moving the boat around," he told us. Ejiofor will be hoping its full steam ahead for international sales after Fremantle took the film to MipTV this week. Go deeper here.
Tom Grater contributed to International Insider.
Receptionist Excluded From Pizza Order At Work Sued And Won $32,000 In Court – The Shade Room
TSR Cut The Foolery: Sometimes it pays to be petty, $32,000 to be exact for a car dealership receptionist who was feeling a way when she apparently got left out during the office pizza order.
A court recently described Malgorzata Lewicka's experience as a "campaign of victimization," and that she had been deliberately excluded from "Pizza Fridays" at the car dealership she worked at before being laid off in January of 2019, Newsweek reports.
Managers at Hartwell, a Ford car dealership in Watford, U.K., would ask their staff which takeaway food they would like to order every month, but Lewicka told the court that she was not asked what she would like to eat.
Sis explained that "other employees were asked but she was not asked if she wanted to order food or participate." Lewicka added that this occurred after she had accused one of the staff members of sexual discrimination back in March of 2018.
Her colleague was investigated following the complaint and Hartwell found that gross misconduct had been committed. The colleague was issued a written final warning.
That wasn't the only issue Lewicka had with her former employer. She also complained about her working hours and pay.
After speaking out, Lewicka says she was left out of the office festivities including the company-wide lunch, which took place on the last Friday of every month.
Hartwell claimed that Lewicka was not invited to the lunches because she was a part-time worker, finishing daily at 1 p.m., but the court ruled that this was not a reasonable excuse.
Judge Jennifer Bartlett said: "We accept that the lunches may have been ad hoc and they were informal. However (Lewicka) gave clear evidence that at Hemel a manager went around the site taking lunch orders and that she was included. However when she moved to Watford she was not asked if she wanted to order or participate whereas other colleagues were…She could have been asked if she wanted to join in."
The judges added: "We find that her exclusion was victimization which continued until around the time of her dismissal."
It's bigger than the pizza though, y'all. The court also heard testimony that some of Lewicka's colleagues would not speak to her and hang up the phone if she picked up their call.
The judge ruled that she received less favorable treatment as a part-time employee because she is a single mother, and this amounted to sexual discrimination.
Lewicka was awarded the £23,079 ($32,078.31) for loss of earnings and injury to her feelings.
We can all benefit from being kinder, and if you're not, Ms. Lewicka just taught us it might cost ya!
Want tea directly in your text inbox? Hit us up at 917-722-8057 or  click here to join!
Jill Biden Shows Support For Melania Trump After Posting A Photo Of Her Rose Garden – See Pic
First Lady Jill Biden took to Twitter to show off a gorgeous pic of the White House's Rose Garden that Melania Trump controversially renovated last summer.
Jill Biden, 69, is appreciating the renovated Rose Garden that Melania Trump, 51, left behind after leaving the White House earlier this year. The First Lady shared a new pic of the flower-filled area to her Twitter page on May 7 and added an exciting caption to it. "Spring is here at the @WhiteHouse!" the caption read.
Spring is here at the @WhiteHouse! pic.twitter.com/n87JOlJ7NN

— Jill Biden (@FLOTUS) May 7, 2021
Although she didn't mention Melania directly, the tweet could be seen as a sign of support for the wife of former President Donald Trump, 74. After she renovated the garden in Aug. 2020, it received a lot of controversy from critics. Private donations were used to return the garden back to its roots and honor the original design by Bunny Mellon, which President John Kennedy requested in 1962, but people spoke out against the results once they noticed Melania got rid of the crabapple trees that were originally put there during Kennedy's time at the White House.
Some online users also complained that Melania's chosen flowers were too pale compared to the brightly colored ones that were there during the Obama administration and an online petition on change.org even garnered more than 75,000 signatures to try and get the Biden administration to undo her changes. Former first lady Jackie Kennedy was the one to originally restore the garden in the early 1960s after years of neglect and the description of the petition states that the late political figure's "legacy was ripped away" when Melania renovated the garden. At the time of the changes, the White House responded and explained that the flowers just needed time to grow before they would eventually flourish.
After Jill shared her latest photo of the Melania-approved Rose Garden, some followers brought up the ongoing controversy and asked her to change it back to the way it was prior to Melania's changes. "Sadly scarred by concrete and the loss of beautiful trees. Please restore our Rose Garden," one follower wrote while another urged her to "take out the wretched cement and return the rose garden to its former glory!" A third pleaded, "Please replace the beautiful rose garden & crabapple trees that were horrendously & callously destroyed. Return it to the beauty it once was."
Please restore Jackie Kennedy's rose garden. It would make many of us very happy. It's such a same someone felt the need to destroy it.

— Native (@802Vermont59) May 7, 2021
Despite the command for changes, there's no confirmation that the Rose Garden will undergo any renovations anytime soon. The South Lawn of the White House, however, is currently undergoing a massive renovation which is reportedly part of a security and infrastructure upgrade.
'SNL' Broadcasting Elon Musk Episode Globally with YouTube Stream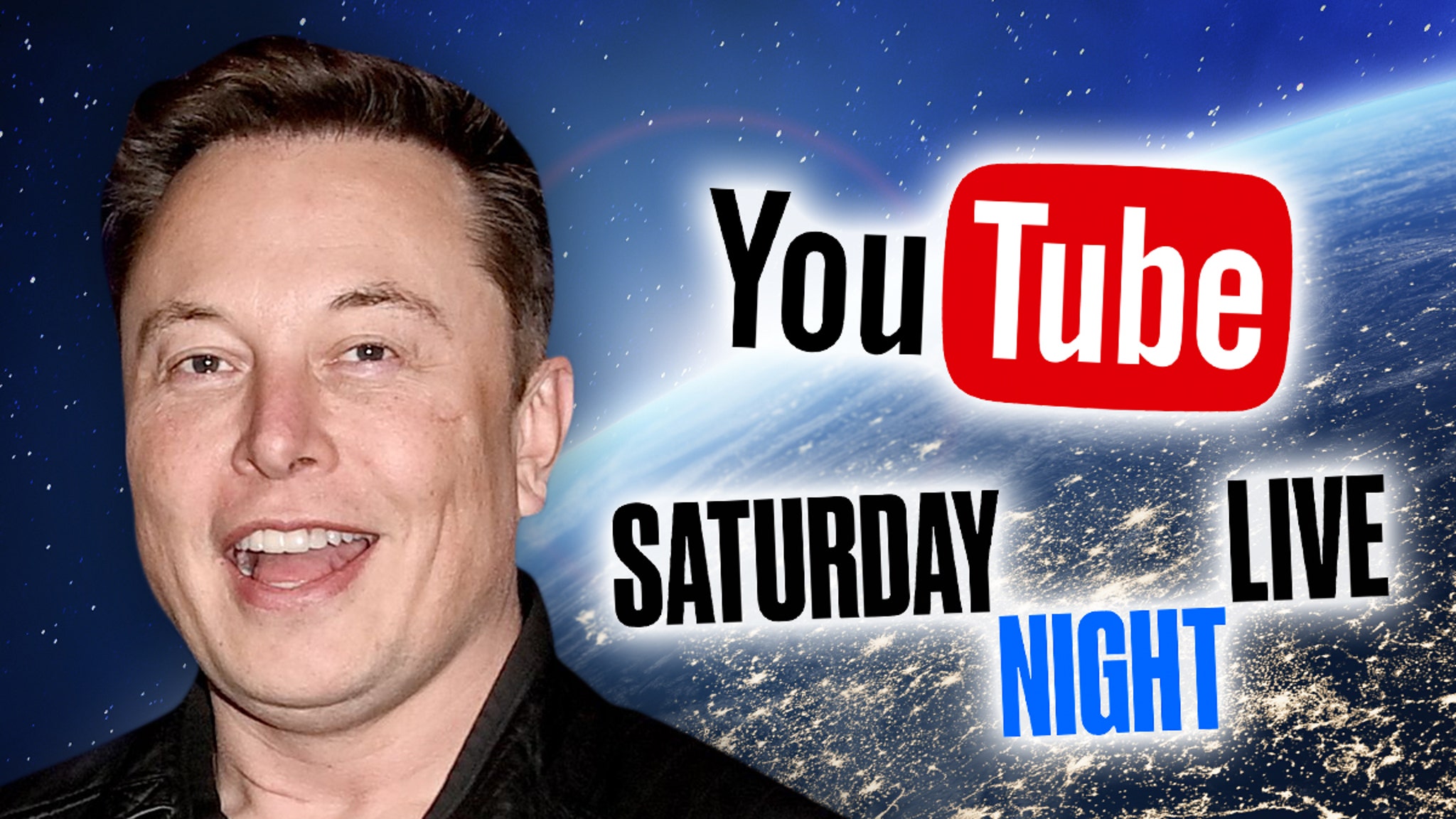 "Saturday Night Live" thinks Elon Musk hosting is an international affair — they're doing something brand new to get as many eyeballs as possible watching … around the whole dang world.
NBC made a massive announcement Saturday … saying that tonight's episode — starring Musk — would be live streamed on YouTube, so different countries could tune in altogether. This appears to be the first time the network has done this, BTW … so it's a big deal.
This stream will be available to over 100 countries, from down under to Africa … and presumably, everything else in between. NBCU's chairman, Frances Berwick, says 'SNL' is a global phenomenon … and this move highlights that.
She adds, "It's incredibly exciting to create this worldwide event with host Elon Musk and musical guest Miley Cyrus." Unclear if this is the start of a regular thing, or just a one-off — it appears to be the former, though. If that's the case … talk about pressure, huh?!?
Elon's episode already promised to be one the most watched episodes in a long time … as many think it'll either be a home run or a train wreck. Either way, people wanna watch.
Now … it looks like that hype has been multiplied by 10, since there'll be potentially hundreds of millions (maybe even billions?!?) of people tuning in. And, of course, that means the skits better be damn good too … maybe even a little better than Baby Shark Tank, a brainchild of Elon's.
Waiting for your permission to load the Instagram Media.
There's no telling what's in store as far as content — but a lot of folks are anticipating a major Dogecoin plug from the Tesla wiz … who's kinda stepped in as a shepherd of sorts for the meme cryptocurrency, which many think is "going to the moon" with more exposure.
Looks like there's definitely gonna be some Doge-themed material … at least based on Miley's not-so-subtle tease earlier Saturday. She posted a throwback clip of herself speaking gibberish … which she said is what Elon sounds like trying to explain Dogecoin to her.
Waiting for your permission to load the Instagram Media.
Welp, if they wanted publicity and fanfare … they got it and then some. 'SNL' is set to begin at 8:30 PM PT, with a live broadcast on the East Coast as well. So if you're on the other side of the world and sleeping at that time … ya better wake your ass up.
Live from New York … it's high expectations!!!