Jane Fonda Looks Back On Her Best Beauty Moments From Over The Years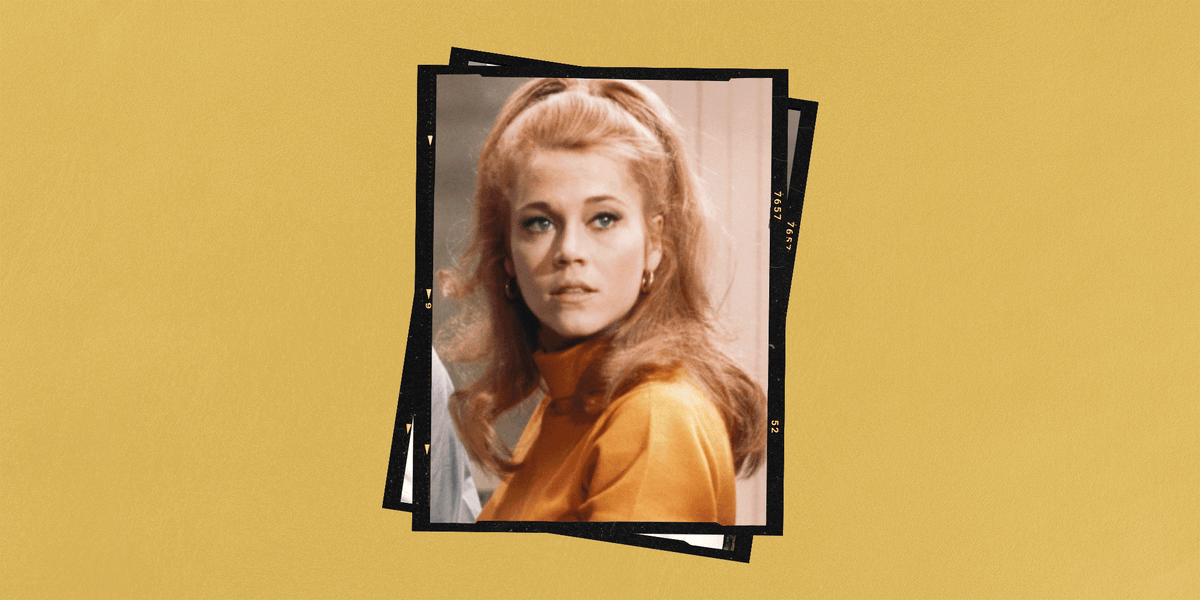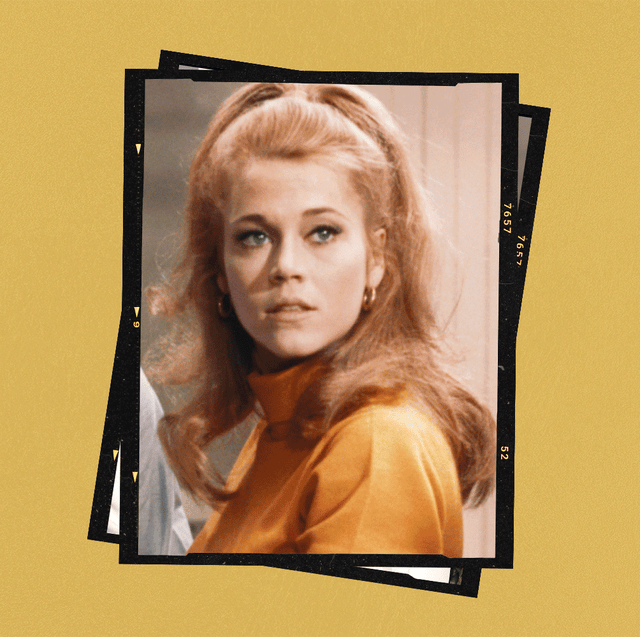 Courtesy
Jane Fonda doesn't feel like she's ever had "a look." And if you're a fan of the actress/activist/exercise icon (ahem, me), you probably agree with her. Every "look" that Fonda has donned— whether it's the flipped out curls of
Golden Pond
or the mullet that will forever be emblazoned in our hearts, minds, and the United States legal system when it was captured in her 1970-year mugshot (for carrying vitamins)— has been an all caps L-O-O-K.
Her more than sixty-year career is bursting with beauty, fashion, and life inspiration— Fonda has inspired generations of women to use their voices to stand up and fight for their beliefs. The pandemic didn't slow Fonda down. This year, she's been hosting virtual Fire Drill Fridays, accepted the Golden Globe Cecil B. DeMille Award, and become an ambassador for CBD and hemp brand Uncle Bud's. "Don't knock CBD until you try it," Fonda says to anybody out there who may be a skeptic. "I like to use the Hemp Roll-On after a long, hard, stressful day or a grueling workout routine." (Sounds perfect post-Jane Fonda Workout, original pressings can still be found on Etsy. Shop it and the rest of the site at 30% off with the code 'JANE30')
Below, Fonda breaks down some of her most iconic looks in a way only Jane Fonda can.
Advertisement – Continue Reading Below
Barefoot in the Park, 1967
"This was all my natural hair, and I wasn't coloring it back then. I don't know what color to call it—though now I'm all gray. The honey blonde was so subtle and unique. My brilliant colorist at the time, Negin Zand, is the only one who could do it."
Academy Awards, 1972
"I had my husband's barber, Paul McGregor, cut my hair because I didn't want to have to deal with the blonde Barbarella mane as an activist. I kept the look for Klute. I didn't realize this haircut was going to be so iconic—I just thought, 'I can handle this on the front lines.'"
Academy Awards, 1979
"I've always liked a strong, black eyeliner that's softly blended with a line on the inside of my lower lid. I may wear no other makeup other than eyeliner and light concealer under my eyes. I've learned from experience that it's best not to get complicated with the hair when it comes to red carpet dressing. Do a smokey eye for sure, wear comfortable shoes, and if possible a comfortable dress (hey, I can dream, can't I?)."
The Jane Fonda Workout Book, 1982
"The first workout video we did had such a small budget. We did everything ourselves. It was very rag-tag. But in later videos, we had a hair and makeup team who would come in with lambskin soaked in ice water to put on our necks to cool us off, pat us down, and repair the damage while we were filming."
Fire Drill Friday, 2019
"I always wore full makeup to Fire Drill Fridays. I would laugh at myself for wanting to look good in detention, but there was always a lot of press!
Your lip definition goes out the window when you're my age, so the one product I won't leave the house without is lipstick and lip liner. But drawing a lip line is like driving down a washboard dirt road. Bumpity bump. All those wrinkles! I never use glossy lipstick anymore. I keep it matte. Shine isn't good on older skin."
Golden Globes Red Carpet, 2021
"My approach to beauty during shelter-in-place didn't change because I was doing virtual Fire Drill Fridays every week and tons of virtual events—so I was still made up a lot. So this look is nothing special for me, just what I wear for interviews. It was done by my glam team that I work with in life and for television and film: David De Leon does my makeup, and Jonathan Hanousek does my hair."
This content is created and maintained by a third party, and imported onto this page to help users provide their email addresses. You may be able to find more information about this and similar content at piano.io
Advertisement – Continue Reading Below
For the Most Natural-Looking Glow, There's Only One Product That Cuts It
I used to be strictly all about powder bronzers, but I recently tried some cream formulas and instantly became obsessed. The creamy consistency makes my skin look even more radiant and dewy. Some powders can look cakey or can crease, especially when it's hot out, but with cream bronzers, I get that effortlessly blended finish.
I normally apply it very lightly with my fingers or a brush on my cheekbones, temples, nose, and chin. Lightly is key here for me so it seems more natural and not like I overdid it. It also gives me more room to build on the color if I want a little bit more.
Take a look at some cream bronzers I love plus other editors' and readers' favorites below.
Zara's Semi-Annual Sale Is Here, and These 45 Pieces Are Too Good to Be True
If you're a Zara fan, you're probably aware of how few big sales it has per year. There are basically just two—one on December 26 and one today. The great thing about this sale is that summer has only just begun, yet tons of pieces from Zara's summer collection are included. So if you still have vacations to go on, picnics to plan, and weddings to attend (some of which I'm sure you do), you might want to take advantage of this opportunity and do some shopping.
Zara sales typically last quite a while—until stock is slim pickings—but it's best to place your order(s) during the first few days of the sale to get the most robust selection. To save you some time, I spent a good chunk of my day devouring the sale and selecting the pieces you'd be smart to snag. I honestly can't believe these 45 pieces are on sale and still in stock. I probably shouldn't waste any more of your time. You need to shop this epic sale. Scroll to do just that.
Lily James Just Re-Created Pamela Anderson's Bikini Wedding—and It's Epic
In case you haven't heard, Lily James and Sebastian Stan are currently filming a Hulu series about Pamela Anderson and Tommy Lee. Thanks to paparazzi photos, we don't have to wait until the show's release to get a sneak peek into the actors' transformations—and they're pretty impressive. 
James looks particularly unrecognizable in new images of her playing Anderson in an iconic scene: her 1995 Cancún beach wedding, in which she wore a white string bikini and a tiny sarong. Oh, and don't forget the fun fact that Anderson and Lee had only met a mere four days earlier. Scroll down to see how James re-created the infamous wedding, complete with a spray tan and a wig, and to revisit the OG version.