General
Johnny Depp and Amber Heard release duelling statements – follow trial latest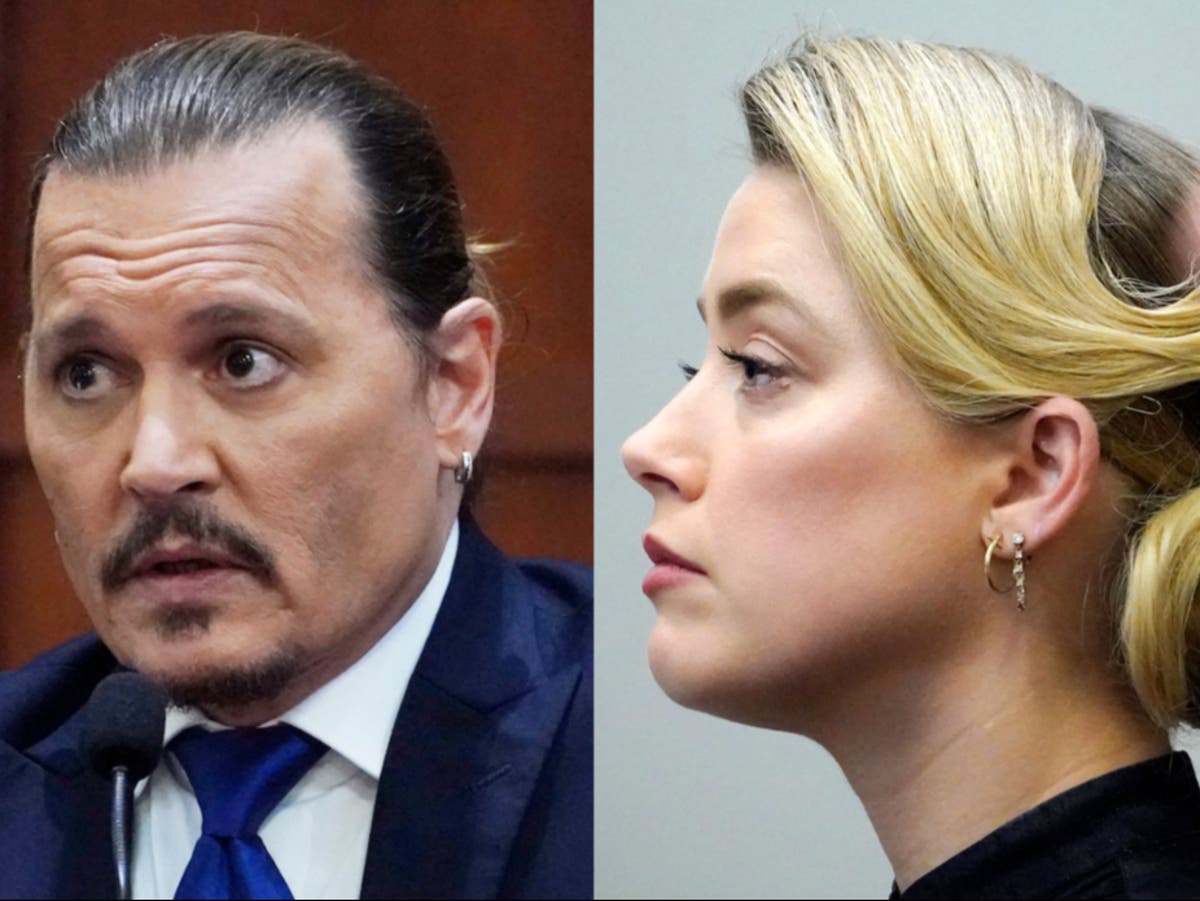 Amber Heard says Depp denied prenup request and told her only way out of marriage is death
WARNING: This article contains allegations of physical and sexual violence that some readers may find distressing.
Amber Heard delivered her second day of testimony on Thursday in the trial over a defamation lawsuit brought against her by ex-husband Johnny Depp.
Heard is being sued by Depp for $50m for implying he abused her in a 2018 Washington Post op-ed. Although she didn't name him, he claims her allegations impacted his ability to work.
The trial is on hiatus for a week with both sides issuing statements of confidence in how proceedings are going.
On Thursday, Heard spoke extensively about her troubled relationship with Depp and detailed alleged physical fights. The court heard a harrowing account of an alleged sexual assault on Heard during a brutal and bloody altercation in Australia in 2015.
Heard had previously described an "unusual and remarkable" first meeting with Depp and a blossoming relationship as she fell "head over heels in love". However, her testimony took a darker turn as she recalled the first time he allegedly hit her, his jealousy, and his drug and alcohol use.
1651950034
Amber Heard's Kate Moss reference, explained
"She threw herself in the line of fire," Heard said. "She was trying to get Johnny to stop. Her back was to the staircase, and Johnny swings at her … I don't hesitate and wait, I instantly think of Kate Moss and stairs."
Heard was referring to a story she told in 2020, during Depp's defamation trial against The Sun, in which she claimed Depp had pushed Moss down a flight of stairs. Depp's lawyers at that trial said the story was a complete fabrication.
Nathan Place7 May 2022 20:00
1651946434
No, Amber Heard did not use movie lines in her testimony
After the Aquaman actor delivered her second day of testimony at the ongoing trial on Thursday, she was accused of taking lines verbatim from director Anthony Minghella's critically acclaimed film.
However, soon after the rumours started surfacing online, fact-checking website Snopes.com promptly debunked the rumour.
Nathan Place7 May 2022 19:00
1651942825
Jennifer Grey comments on ex-fiancé Johnny Depp's trial
Dirty Dancing star Jennifer Grey has shared her verdict on the Johnny Depp-Amber Heard trial.
"All I can say about that trial is that it breaks my heart for everybody involved," Grey told Entertainment Tonight. "I just think it's sad and I wish it was resolved and I just wish everybody well."
Nathan Place7 May 2022 18:00
1651939200
Most damning things Depp said about Heard at her defamation trial
Johnny Depp and Amber Heard have both made damning claims about the other during the proceedings in Virginia with both levelling allegations of both verbal and physical abuse.
Over the course of three and a half days on the witness stand, Mr Depp testified at length about alleged physical and verbal abuse he sustained at Ms Heard's hands, as well as her drug and alcohol use.
Here's a rundown of some of the most damning things Mr Depp testified about Ms Heard:
Oliver O'Connell7 May 2022 17:00
1651937400
Depp and Heard issue duelling statements sharing confidence in trial as court breaks for week
Johnny Depp and Amber Heard have issued duelling statements sharing confidence in their respective legal teams' standing their defamation trial as the Virginia court proceedings take a week's break.
Following incendiary testimony by Ms Heard on Thursday, in which she claimed Mr Depp sexually assaulted her, a spokesperson for Mr Depp said in a statement released to media outlets that "as Mr Depp's counsel correctly predicted in their opening statements last month, Ms Heard did indeed deliver 'the performance of her life' in her direct examination".
A spokesperson for Ms Heard told The Independent that "as evidenced by the statement just released, Mr Depp's defamation claim is falling apart so rapidly that his counsel are turning from prosecutor to persecutor".
Oliver O'Connell7 May 2022 16:30
1651935600
Sexual assault allegations, physical violence, and a stifled career
After two days on the witness stand, here's what we've learned so far from Amber Heard's testimony.
Oliver O'Connell7 May 2022 16:00
1651933800
Depp and Heard: A timeline of their relationship, allegations, and court battles
As Depp's $50m defamation lawsuit plays out in court in Virginia, Clémence Michallon looks at the former couple's legal history.
Oliver O'Connell7 May 2022 15:30
1651931100
What Heard and Depp have each said about Australia fight where he severed finger
Amber Heard and Johnny Depp have both testified about what they each allege happened during a violent incident in Australia in early 2015, when the latter actor severed his finger.
Ms Heard and Mr Depp have both been asked about the alleged incident as part of the defamation trial opposing them in Fairfax, Virginia.
The alleged 2015 incident in Australia has been a key point of the trial, with Ms Heard and Mr Depp each sharing their accounts. Over the course of the evening, Mr Depp's middle finger was cut off. Ms Heard has said she was not awake when the injury happened; Mr Depp has alleged his finger was injured when Ms Heard threw a vodka bottle in his direction.
Here is what Mr Depp Heard and Ms Heard have each told the jury:
Oliver O'Connell7 May 2022 14:45
1651928400
Voices: Why do people blindly support Johnny Depp? I'll tell you why
Charlotte Proudman writes:
As a barrister, I see many victims of domestic abuse being sued for 'defamation', for daring to speak about what their perpetrator did to them. Meanwhile, the world questions whether they're a 'real victim'.
Oliver O'Connell7 May 2022 14:00
1651921200
Heard reveals fight that Depp called a 'disco bloodbath'
Actor Amber Heard has described an incident from 2013 in which she claimed her ex-husband Johnny Depp allegedly physically abused her after he accused her of having an affair with a musician.
Ms Heard described Mr Depp's alleged abusive behaviours during their relationship as she took the witness stand on Wednesday.
Oliver O'Connell7 May 2022 12:00