Kaavia Wade, 2, Crashes Into Mom Gabrielle Union With Her Toy Car To Avoid Naptime — Watch
Gabrielle Union's adorable daughter Kaavia proved she'll be a confident driver in the future when she fearlessly drove toward her mom at full speed after she suggested a nap.
Gabrielle Union's adorable daughter Kaavia, 2, showed off her feisty side on Apr. 7 when she drove her toy car toward her mom! The actress shared a clip of the funny moment to her TikTok and then reposted it on Kaavia's Instagram page and in it, she can be seen wearing white overalls and tan boots as she walks backwards away from the powerful little driver. As she talks about suggesting a nap, her little mini me continues to drive at full speed while wearing a pink and green flowery dress.
She eventually appears to run over Gabrielle's foot with the white car. "Oh, you just ran mommy over! You just going to run me over?" the entertained mom hilariously says to the tot. Although it was quite an eventful drive, Kaavia kept her composure and didn't utter a word.
Soon after the video was posted, fans couldn't help but leave enthusiastic comments that proved they loved it and got a laugh over Kaavia's actions. "Lmaaoooo!! I'm weak at this! She didn't EVEN flinch after damn near taking yo leg off😂😂😂," one follower wrote. "She's actually really good at steering that thing. 🙌🏽💕," another pointed out.
Before Kaavia showed off her driving skills, she showed off her swimming skills while splashing about in a pool. The awesome fun was displayed in a video posted to her Instagram page last month. As the little girl enjoyed the water, she could be heard singing and saying, "My feet are dirty" to which Gabrielle replied, "Your feet are dirty?"
The doting parent referred to the comment in the caption for the post. "I mean, why else do people swim if not to wash their feet?" it read.
Gabrielle often shares memorable times with Kaavia whenever she can so her latest videos are not too surprising. The small gal, whose father is Dwyane Wade, 39, has proven she definitely has a mind of her own and loves to embrace life with her toys and her personality! We can't wait to see more cute videos and pics in the future!
Telugu veteran playback singer G Anand passes away due to COVID 19
G Anand was undergoing treatment at Tirumala Hospital in B.N. Reddy Nagar for COVID-19. He was 67.
Telugu veteran playback singer G Anand passes away due to COVID 19
South Indian film industry has lost another talented singer this week due to COVID-19. Veteran playback singer G. Anand succumbed to COVID-19 on Thursday. According to media reports, his oxygen saturation fell to 55 and he could not get a ventilator on time. He was 67. Several close people and among the circle appealed for help on social media while he was undergoing treatment at Tirumala Hospital in B.N. Reddy Nagar. 
Playback singer Venu tagged RRR movie makers and Pushpa producers Mythri Movie Makers as he appealed for help on Twitter. "Senior Singer #GAnand Garu is in Very Critical condition. He is admitted at Tirumala Hospital B.N.Reddy Nagar. Oxygen levels have come down to 55 & he is in need of a ventilator which is not readily available in that hospital. So kindly RT & help him." 
Take a look at the tweet below: 
Senior Singer #GAnand Garu is in Very Critical condition.

He is admitted in Tirumala Hospital B.N.Reddy Nagar.

Oxygen levels have come down to 55 & he is in need of a ventilator which is not readily available in that hospital. So kindly RT & help him@RRRMovie @MythriOfficial

— venu_music (@venusrirangam) May 6, 2021
G. Anand started his career in Chennai with the movie Amerika Ammayi in 1976. His song Oka venuvu vinipinchenu anuraaga geethika from the film in a G.K. Venkatesh' composition became a huge hit. He also started his musical group called "Swara Madhuri' and did a lot of live shows with his team all over the world. 
RIP, G Anand! 
Also Read: Ovvoru Pookalume fame singer Comagan passes away at 48; Director Cheran says 'He was the eyes of 25 families' 

Your comment has been submitted to the moderation queue
Longtime Grey's Anatomy actor Jesse Williams is leaving the show
SPOILERS: Do not read this article if you have not watched the May 6 episode of Grey's Anatomy.
Jesse Williams, who has played surgeon Jackson Avery on Grey's Anatomy since the show's sixth season, will be leaving the ABC medical drama at the end of this season, its 17th. Williams' final episode, titled 'Tradition,' will air on May 20.
ABC confirmed Williams' departure to Variety and provided statements from the actor and from Grey's Anatomy showrunner, Krista Vernoff.
READ MORE: What happened to Katherine Heigl?
"Jesse Williams is an extraordinary artist and activist," Vernoff said. "Watching his evolution these past 11 years both on screen and off has been a true gift. Jesse brings so much heart, such depth of care, and so much intelligence to his work. We will miss Jesse terribly and we will miss Jackson Avery — played to perfection for so many years."
READ MORE: Grey's Anatomy fans go crazy as iconic TV couple finally get their 'dream wedding'
Over the years, the character of Jackson has evolved from being a privileged plastic surgeon to a caring doctor focusing on inequities in health care, especially during the COVID-19 pandemic.
This season, Jackson has found closure with other Grey's Anatomy characters, including his mother, Catherine Avery (Debbie Allen) — and in Thursday's episode, with his ex-wife April, played by Sarah Drew, who left the show in 2018.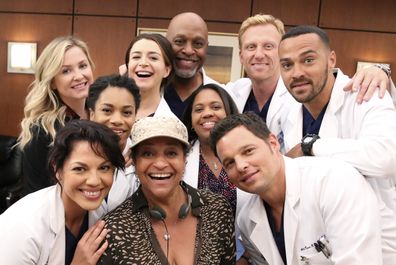 In a statement, Williams said: "I will forever be grateful for the boundless opportunities provided me by Shonda, the network, studio, fellow castmates, our incredible crew, Krista, Ellen, and Debbie. As an actor, director and person, I have been obscenely lucky to learn so much from so many and I thank our beautiful fans, who breathe so much energy and appreciation into our shared worlds.
"The experience and endurance born of creating nearly 300 hours of leading global television is a gift I'll carry always. I am immensely proud of our work, our impact and to be moving forward with so many tools, opportunities, allies and dear friends."
The news that Williams is leaving Grey's Anatomy was first reported by Deadline.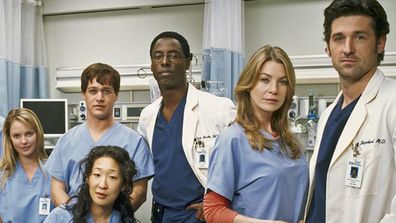 Grey's Anatomy: Then and now
L.A. Pride Parade Canceled For Second Year In A Row, COVID-19 Cited
The L.A. Pride parade, one of the nation's oldest and largest LGBTQ celebrations, is being canceled for the second year in a row.
Although the pandemic is easing in California, parade organizers said the large scale of the event made planning difficult. They vowed to return in 2022 and said they are working on that event now
"Safety was our No. 1 priority," said Sharon-Franklin Brown, board president of Christopher Street West, the nonprofit organization that produces LA Pride. "It takes time to put on a parade, [and] we were not sure we were going to be where we're at now, which is this amazing space where everything is opening up."
The L.A. Pride parade is usually held each June during Pride Month. It was set for June 15 this year, a date when the state plans to fully reopen.
Instead of the parade, producers Christopher Street West will host a concert with TikTok that will livestream on the app June 10. The Thrive with Pride show will feature Charli XCX and LGBTQ artists that have not yet been announced.
There will also be a television special on KABC-TV at 9 p.m. on June 12.