Kanye West Confirms 10th Album "Donda" In Beats By Dre Commercial Starring Sha'Carri Richardson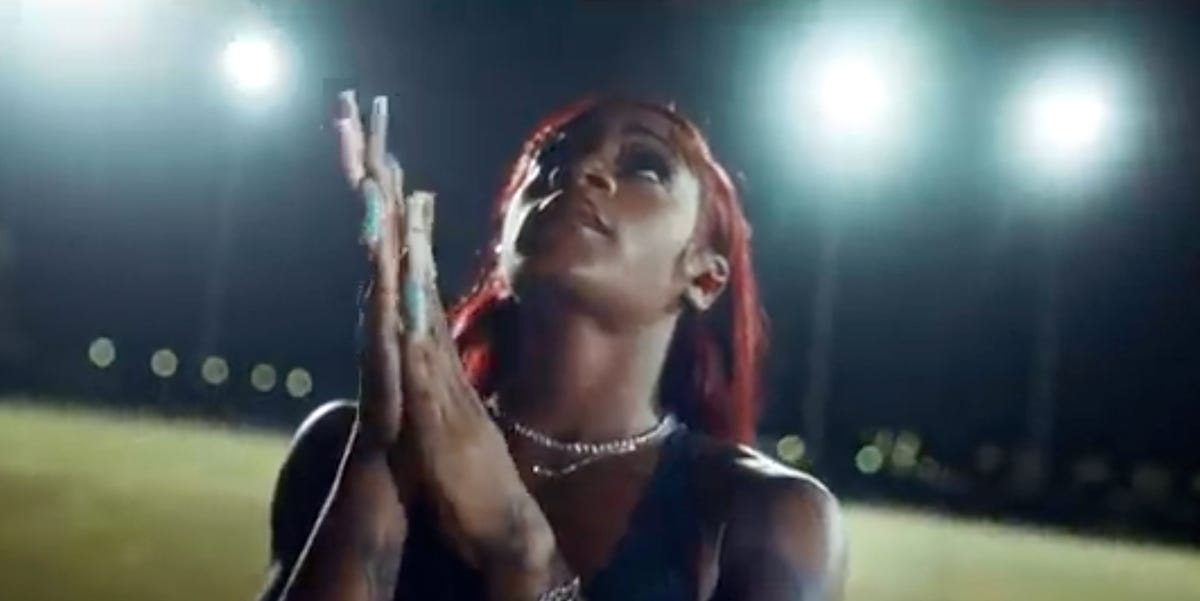 Amid Kanye West's high-profile split from wife Kim Kardashian and his new relationship with Irina Shayk, the rapper has been busy in the studio, working on his long-awaited 10th album, Donda.
West announced the news in a Beats By Dre commercial starring track star Sha'Carri Richardson, which he also directed. In the commercial, Richardson is seen preparing for a race—with Beats Studio Buds in her ear—as West's latest song, "No Child Left Behind," plays in the background.
Richardson recently made headlines when she became the fastest woman in America. Then, in June, the athlete tested positive for THC and was suspended from competing at the 2021 Tokyo Olympic games. The 21-year-old's abrupt suspension sparked an outcry among celebrities, athletes, and politicians, many of whom supported Richardson, along with millions of fans who hashtagged #LetHerRun.
The commercial debuted during Game 6 of the NBA Finals, which resulted in the first championship for the Milwaukee Bucks. The ad notes that West will release his long-awaited follow-up to his 2019 album Jesus Is King this Friday, July 23. A listening event is scheduled to occur at Mercedes-Benz Stadium in Atlanta, and will also be available to stream at home for Apple Music subscribers on Thursday, July 22 at 8 p.m. ET.
This content is imported from Instagram. You may be able to find the same content in another format, or you may be able to find more information, at their web site.
Despite plans to divorce, West and Kardashian recently went on a family trip with their four children, North, Saint, Chicago, and Psalm, to the Asian Art Museum in San Francisco, per Page Six. "They are getting along great, and it was their first public outing together as a family, reconfirming that they are in lockstep when it comes to co-parenting and putting their kids first," a source told the outlet.
As for West and Shayk, rumors fueled the internet claiming that the two had split. "She likes him as a friend but doesn't want a relationship with him," a source told Page Six. "She doesn't want the association that they are dating, which is what would have run in the press if she showed up [in Paris with him]. It would have been another month of news saying that they are dating."
But, according to People, the new couple is still going strong. "Irina is so upset at the lies about her and Kanye," the source told the outlet, also noting that the supermodel is taking legal action to combat the rumors. Reports that "they're cooling off and she turned down his invitation to Paris" are untrue. "Kanye went to Paris for the Balenciaga show to support Demna [Gvasalia]," said the source. "He was in and out, only there for 3 hours."
This content is created and maintained by a third party, and imported onto this page to help users provide their email addresses. You may be able to find more information about this and similar content at piano.io
The Return of the Repressed Is Coming For Fashion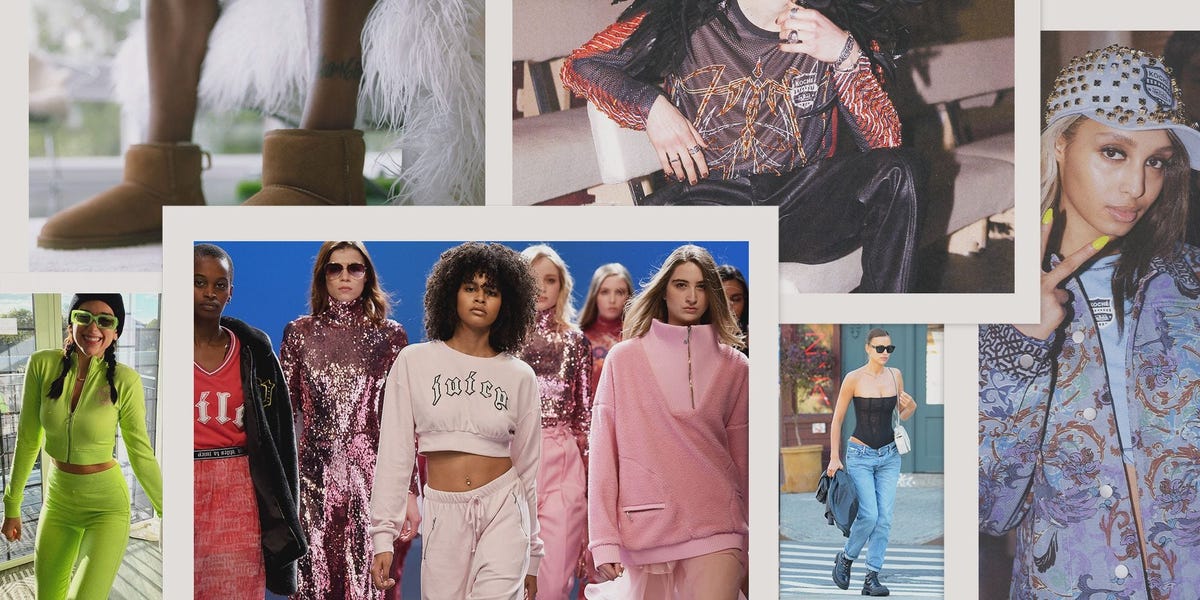 Dua: Instagram; Juicy: Getty Images; Courtesy of the brands.
Style Points is a weekly column about how fashion intersects with the wider world.
It might have been the return of low-rise jeans that broke people. Every other aughts craze, from UGGs to Juicy Couture sweatsuits, had had its high-fashion moment by that point— the former collaborating with "It" names like Telfar and Molly Goddard, and the latter getting a renaissance on the Vetements couture runway and a collab with Parade. TikTokers are even digging into the rich oeuvre of Ed Hardy. And this season, the bleeding-edge-cool Parisian brand Koché linked up with Von Dutch on trucker hats, bowling bags, and T-shirts. (Designer Christelle Kocher said she was inspired by the style of Britney, Justin, and Paris, no last names needed.)
But pelvis-skimming denim was a harder sell. One person on Twitter said she was responding to their revival "like a vampire responds to a tanning bed." A viral three-part TikTok series, by Carly Aquilino, shows an anguished woman lamenting, with an operatic level of vocal fry, "the comically large belts" and "the layering" that constituted Y2K style, as images of low rider-clad Gwen Stefani and Christina Aguilera flash behind her. The era's bizarre looks are less an uncanny valley than a chasm we dread falling back into.
This content is imported from Instagram. You may be able to find the same content in another format, or you may be able to find more information, at their web site.
And yet, there's not much that can be done to fight it. With Gen Z embracing trucker hats for the first time and Gen X'ers like Kim Kardashian returning to the fold of the velour sweatsuit for her SKIMS line, everything uncool is cool again. It's hard to imagine a 2000's trend that hasn't dazzled us like a crystal-bedecked Razr. (For what it's worth, those are back, too.) While no one is compelled to wear anything they don't want to simply because it's newly deemed on-trend again, thinking we can stem the tide of these revivals shows a misunderstanding of how fashion works. This is what always happens: every era brings once-reviled items we'd forsworn to our metaphorical donation pile back to the surface. Freud would have a field day.
Even '10's style seems to be showing an uptick in relevance, challenging the old saw that it takes 20 years for something to be considered "vintage." There was the revival of the hit Isabel Marant wedge sneaker in June and the interest in O.G. Gossip Girl style stirred up by the show's reboot. (Balloon-hemline silk dresses and round-toed Mary Jane heels might be the next castoffs to pop up.)
For those who are encountering these trends for the first time as adults, their novelty seems like the primary appeal: when Addison Rae wears a trucker hat, she's not likely to be aware of the item's Kitson-era history. But for those looking at it from a more distant vantage, part of the concern might be wrapped up in the less-than-enlightened body standards of the time (low-rise jeans were often accompanied by the expectation of Britney abs) or the inherent classism of some of the trends (like trucker hats, worn by celebrities and fashion people as a kind of working-class cosplay) or even their association with the kind of predatory paparazzi culture that has recently led us to re-evaluate pop figures from Britney Spears to Paris Hilton to Jessica Simpson. Our associations aren't just with the clothes themselves, but the context that clings to them.
The time many people had to devote to indulging their nostalgia and re-evaluating what they used to love during the pandemic explains the everything-old-is-new-again quality of recent fashion, where, just as it does in Hollywood, a time-tested reboot so often wins out over something brand-new.
But it's not just nostalgia that's driving this phenomenon. It's our unresolved relationship to the whole epoch. When something pops back up on the horizon like this, it's often a sign that we didn't deal with it properly on the first go-round, and that's why these trends aren't simply random recurrences. It's no coincidence that they're floating back up at a time when we are re-evaluating so much about this time period. The Depression-era styles of the '30's found a surprising new resonance in the recession-stricken '70's, and when old, regressive views of femininity took hold in the Backlash '80's, they brought with them a host of '50's revivals that recalled another repressed time. Now, as we look back at an era that saw the dawn of reality TV and social media as we know it, we're questioning how that era shaped and perhaps harmed us. And now that the past is all easily accessible, a Netflix stream or a Google search or an Instagram rabbit hole away, it's never really past.
To make our peace with, and perhaps even enjoy wearing, these clothes again, we need to grapple with what they once meant, and what they mean to us now. As designer and LVMH Prize finalist Conner Ives told me earlier this year, the Y2K notes he strikes in his work are accompanied by a new, less restrictive approach to fashion, "the shedding of the whole idea of what we can and can't do." Perhaps we can all find a way to make like a TikToker and embrace them like it's the first time.
This content is created and maintained by a third party, and imported onto this page to help users provide their email addresses. You may be able to find more information about this and similar content at piano.io
Off-White, Nanushka, and Alexander Mcqueen Jeans are On Sale At Saks Fifth Avenue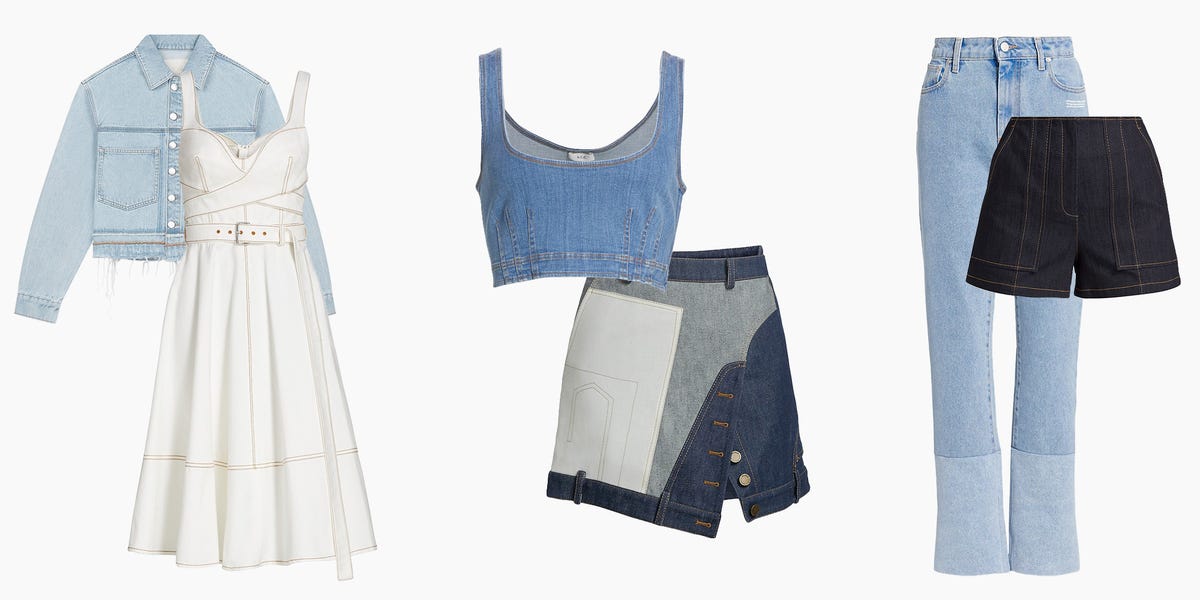 Every closet comes with the essentials. I'm talking about your classic white T-shirts, a trusty go-with-everything sneaker, and a pair of shades that withstand any trend. Yet, no wardrobe feels complete without a good pair of jeans. Since Jacob Davis and Levi Strauss developed denim in 1873, the sturdy twill fabric has been sported from the workplace and beyond, seen on today's (and years past) Hollywood elite, royals, and almost every person under the sun. It's the one piece of clothing that can stand the test of time.
Whether you're a light wash kind of wearer or a hater of skinny jeans, the power of denim is everlasting. Thus making the need of buying a new pair of jeans, jorts, or the pièce de résistance of any closet, the denim jacket, feel all the more necessary, especially when it's on sale. Thankfully, some classic styles (and not-so-classic cuts) from brands like Off-White, Nanushka, and more are on sale at Saks' Fifth Avenue Designer sale. Get ready to add another staple to your closet, now.
1
Crossover Denim Shorts
R13
Saks Fifth Avenue
$365 $219 (40% off)
The asymmetric crossover style of these jean shorts turns one of your favorite wardrobe essentials into something a little edgier.  
2
Two-Tone Straight-Leg Jeans
Off-White
Saks Fifth Avenue
$680 $306 (55% off)
Contrasting color-blocked hemmed jeans from the mind of Virgil Abloh? Yes, please!
3
Le Mini Distressed Denim Skirt
Frame
Saks Fifth Avenue
$195 $136.50 (30% off)
A rough-around-the-edges mini skirt is always a good idea, especially if it comes in a versatile tone like this white option. 
4
Kamila Denim Cropped Top
A.L.C.
Saks Fifth Avenue
$225 $135 (40% off)
Found: your next date night top courtesy of New York brand A.L.Ac.  
5
Brielle Tailored Shorts
Cinq à Sept
Saks Fifth Avenue
$265 $159 (40% off)
The contrasting stitching details on these shorts make them a step above the rest. Wear them with your favorite band tee for an outfit that is as comfortable as it is cool. 
6
Distressed Mid-Rise Boyfriend Jeans
Denimist
Saks Fifth Avenue
$265 $185.50 (30% off)
The '90s fashion revival is here and thriving, and these light wash distressed jeans are further proof. 
7
Relaxed Faux Fur Vivienne Jacket
Paige
Saks Fifth Avenue
$249 $130.72 (48% off)
Take your trusty denim jacket into the cooler months with this ivory-colored trucker option adorned with a plush faux fur collar. 
8
Upside Down Denim Mini Skirt
Monse
Saks Fifth Avenue
$590 $236 (60% off)
It's a classic staple made new thanks to its upside-down and inside-out design while still giving you the silhouette you love, thanks to the concealed side zipper at the waist. 
9
Shayne Lace-Up Ribbon Jeans
Alice + Olivia
Saks Fifth Avenue
$495 $222.75 (55% off)
The ribbon lacing detail down the legs of this pair of these straight-leg jeans is *chef's kiss.*
10
Berga Denim Fray Jacket
Maje
Saks Fifth Avenue
$340 $204 (40% off)
Get one step closer to the Canadian tuxedo 'fit of your dreams with this frayed hem denim jacket from Maje. 
11
Chace Drawstring Jeans
Nanushka
Saks Fifth Avenue
$445 $200.25 (55% off)
It's all in the details. The addition of the built-in drawstring belt in these jeans makes sure you get a flattering fit every time you wear them. 
12
Sasha Belted Mini Denim Dress
Jonathan Simkhai Standard
Saks Fifth Avenue
$395 $276.50 (30% off)
The perfect denim dress doesn't exi—.
13
The Hustler Ankle Fray Jeans
Mother
Saks Fifth Avenue
$228 $159.60 (30% off)
Does your body type lean more on the petite side? Your search for the perfect pair of jeans is finally over as this straight-leg pair rests right at the ankle. 
14
50S Denim Dress
Alexander McQueen
Saks Fifth Avenue
$2,090 $836 (60% off)
If you love to hover between modern and retro, this belted denim wrap dress has your name written all over it. 
This content is created and maintained by a third party, and imported onto this page to help users provide their email addresses. You may be able to find more information about this and similar content at piano.io
All The Details About Marc Jacob's Face Lift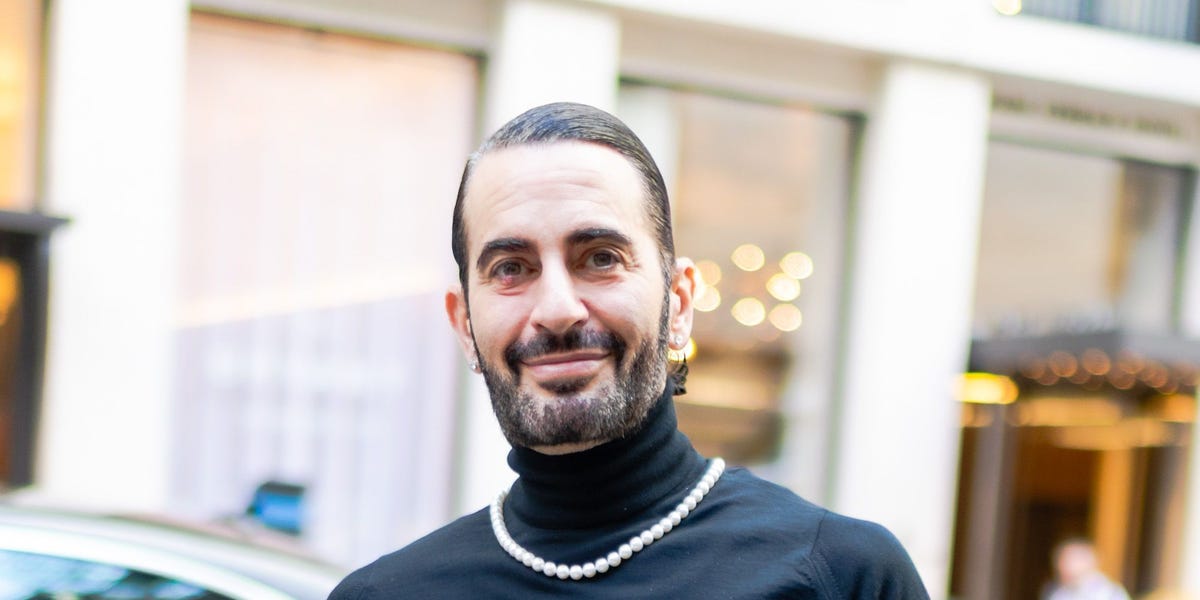 Marc Jacobs has been dictating trends for three decades, but the designer's most recent showstopper wasn't on the runway. Instead, Jacobs dropped a post-face-lift photo (gauze and all!) onto his Instagram feed, and it's all anyone wants to talk about.
This content is imported from Instagram. You may be able to find the same content in another format, or you may be able to find more information, at their web site.
Captioned "Yesterday. #f*ckgravity #livelovelift," the post also tagged Manhattan plastic surgeon Andrew Jacono, MD, who performed the well-documented facelifts of Real Housewives of New York City cast member Sonja Morgan and plastic surgeon and Botched star Paul Nassif, MD.
Jacobs didn't share exactly why he went under the knife, but after 18 months of staring at (and critiquing) ourselves on Zoom screens, the inclination to improve what we see is relatable. For example, the American Society of Plastic Surgeons found in a recent survey that interest in plastic surgery rose 11% in the past year among surgery virgins and that 35% of women who have had prior surgery now plan on doing more.
In the comments under Jacobs' post, friends and followers supported the designer's transparency around a traditionally taboo topic and wished him a speedy recovery. And model Carolyn Murphy wrote what most (including Jacobs) are now thinking: "Can't wait to see the results." So here's hoping for an 'after' selfie in a few weeks.
This content is created and maintained by a third party, and imported onto this page to help users provide their email addresses. You may be able to find more information about this and similar content at piano.io