Leak reveals Microsoft's Surface Duo 2 is on track for a fall 2021 release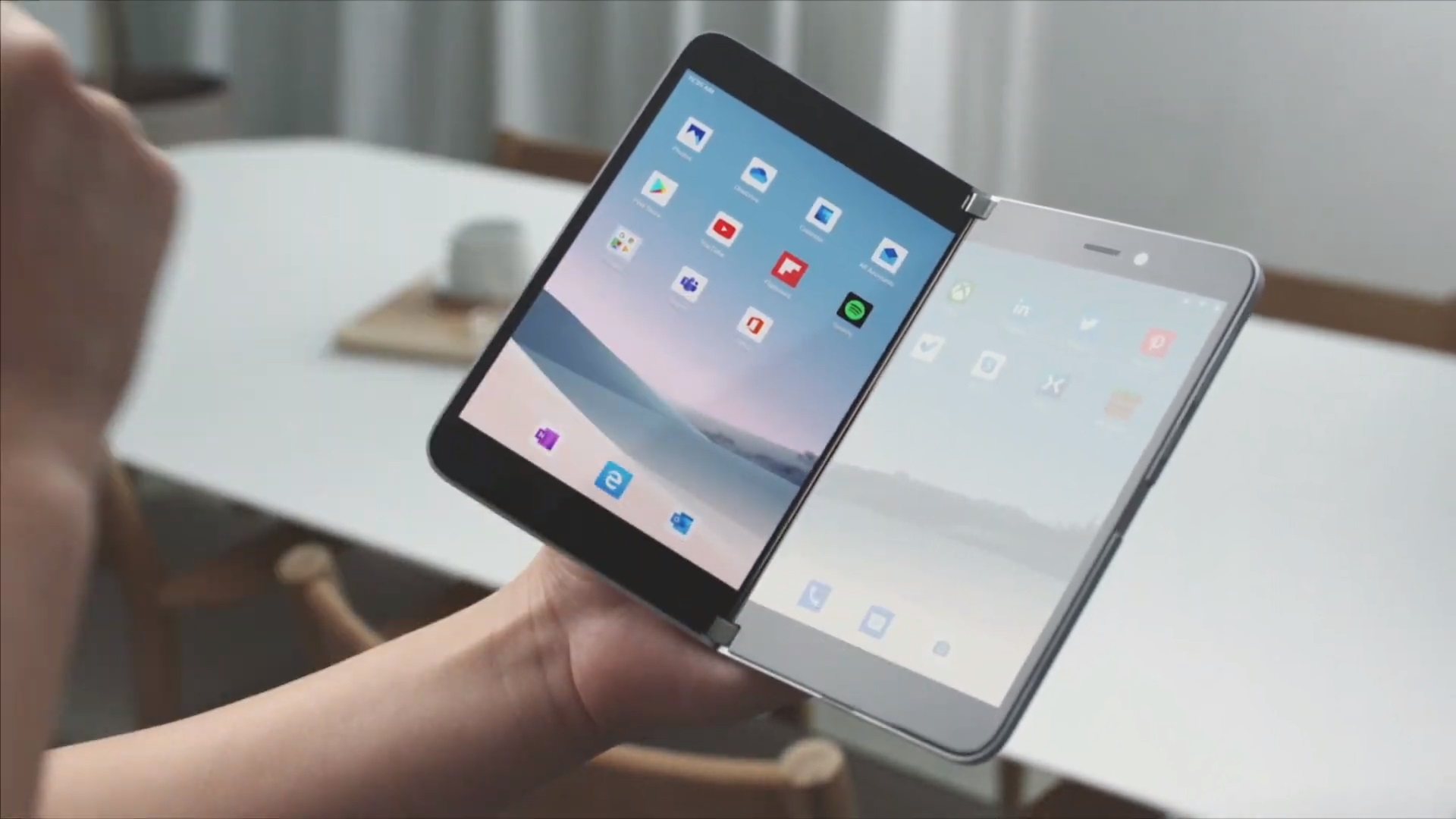 Microsoft's first dual-screen Android smartphone has largely been a flop. Announced months ahead of its summer 2020 launch, the device featured 2019 hardware in an otherwise pleasing design. But add to that the subpar software experience, the lack of a competitive camera, and the $1,399 price tag, and you can understand why reviewers weren't happy with Microsoft's efforts.
Microsoft has since cut the first-gen Surface Duo's price significantly and even gave it an Xbox game streaming feature. The device's second screen turns the handset into a rather formidable portable gaming device.
Microsoft isn't done making smartphones and plans to launch a second-generation Surface Duo this year that will reportedly fix the worst things about the first model. The Surface Duo 2, a name that Microsoft hopefully avoids, will launch in the second half of the year if this leak is accurate.
Today's Top Deal Free Echo Dot with when you buy a $45 Ring Video Doorbell in this crazy early Prime Day deal! Price:Was $100, Now $44.99
Available from Amazon, BGR may receive a commission Buy Now Available from Amazon BGR may receive a commission
Microsoft is currently working on the next Surface Duo phone, reports Windows Central. The device will be a flagship handset sporting the latest available hardware. This suggests the phone might rock the same Snapdragon 888 processor that powers the Galaxy S21, OnePlus 9, and other 2021 Android flagships.
The report says the Surface Duo 2 will have the same form factor as the first-gen handset. Minor design tweaks are expected, but nothing too significant. The overall shape and size of the Surface Duo aren't likely to change significantly, and the modifications will go unnoticed unless you have a Duo 1 to compare the two devices side by side. The new Duo should have slightly bigger displays with rounded corners and slightly thinner bezels.
The handset would still feature two separate displays, even though more Android vendors are preparing to launch foldable handsets this year.
Aside from the latest flagship chip upgrade, the Surface Duo 2 is expected to feature an NFC chip that will enable wireless payments and an external camera system that will offer better photography performance. It's unclear how many lenses Microsoft will employ, but the system will have a camera bump.
Microsoft reportedly aims for a September or October Surface Duo 2 release date. If that's accurate, the device will compete directly against the iPhone 13 series, which should launch in mid-September. Moreover, Google's first foldable Pixel phone is rumored to launch around the same time. Samsung should unveil the Galaxy Z Fold 3 and Flip 3 foldable handsets in August, and launch them in stores by the time the Surface Duo 2 arrives.
As for the Surface Duo 2's price, it's unclear what it'll cost. The original handset was already too expensive at $1,399 when it launched last summer, considering that it featured 2019 hardware. The Surface Duo 2 will deliver significant upgrades if this report is accurate, so the final price might reflect that.
Today's Top Deal
Early Prime Day 2021 blowout: Prime members can get Blink Mini cameras for just $19.99 right now! List Price:$34.99 Price:$19.99 You Save:$15.00 (43%)
Available from Amazon, BGR may receive a commission Buy Now Available from Amazon BGR may receive a commission
Steam Summer Sale: 10 discounted PC games to buy now
Amazon Prime Day is out, Steam's annual Summer Sale is very much in. There are tons of PC games with huge discounts on the Steam store at the moment, such that the store has a choose-your-own-adventure style menu to help you browse through them all. It's worth taking time out to explore it all, especially if you're into indie games. 
To help get you going, we've picked out 10 fantastic games that are discounted on Steam. This include brand-new titles like Mass Effect Legendary Edition as well as games that are slightly older but still great. 
Steam Summer Sale lasts until July 8th, and we'll update this post as new titles are added or new gems unearthed. 
Valve
Half-Life: Alyx isn't just a new Half-Life game — which is like purified air at this point — it's also the best reason to invest in VR yet. A fully-fledged AAA developed from the ground up for virtual reality platforms is exciting, especially when it comes with a pedigree like Half-Life. 
BioWare
Mass Effect Legendary Edition is just over a month old, yet here it is in Steam's Summer Sale. It's $10 off, a 17% reduction, at $49. That's some amazing bang for your buck when you consider the hours and hours and hours (and hours) of content here, which includes the three main Mass Effect games plus all their DLC content. 
Supergiant Games
Hades won many Game of the Year Awards in 2020, and now is a fabulous time to see why. It's a stylish game in every sense, from the art to the combat, and includes many memorable characters. It's absolutely worth playing — especially for just $17.50. 
EA
Battlefield V is the most recent game in the storied franchise, launching back in 2018. It's gotten a bunch of expansions and DLC content, which is all included in the Definitive Edition. It's massively discounted, at just $12.50, and will serve as good target practice ahead of Battlefield 2042. 
Capcom
Video game remakes are very hot right now, and Resident Evil 2 is arguably the best one yet. It's a faithful remake of the PlayStation 1 original (unlike Final Fantasy 7 Remake, which is more of a reimagining), and it's a fantastic one. Racoon City is horrifying, but worth a visit — especially at $16. 
Square Enix
Final Fantasy was a console exclusive for many years, so many PC diehards probably missed out. If you're curious about the franchise and looking for an in, Final Fantasy X is as good a place as any. The remastered combo of X and X-2 are 50% off.
Microsoft Studios
Forza Horizon 4 is on Xbox Game Pass, so you should play it through that service if you haven't already. If you're not into subscriptions though, the excellent open-world racer is 50% off right now. 
Giant Sparrow
What Remains of Edith Finch is a narrative-based game that you can breeze through in about three hours. It explores the traumas experienced by the Finch family and the story of its eponymous character through a series of minigames. That may not sound too exciting — but it's a three hours you won't forget. 
Windows 11 will change how you use your PC
People who want to jump between entirely different desktops can do that, too. Not only can you have different desktops for home, school and work, but they'll also follow you around to whatever Windows 11 computer you're using. Your different computers can sync up over the cloud: Leave work, open your laptop at home, and your screen should be just how you left it — windows, tabs and all. The Start menu even saves your most recent files, so you don't have to click around to reopen them.
BuzzFeed Confirms Plan to Go Public
BuzzFeed, the digital publisher known for viral content, announced on Thursday its plan to go public through a merger with a special purpose acquisition company, signaling a shift in the business strategy of the once high-flying media start-up.
BuzzFeed said it planned to merge with a publicly listed shell company, 890 Fifth Avenue Partners, in what is known as a SPAC deal. It will be valued at $1.5 billion, a decline from its 2016 valuation of $1.7 billion. As part of the proposed transaction, BuzzFeed will raise $438 million, with $150 million of that coming as debt financing.
BuzzFeed also announced that it would acquire Complex Networks in the deal for a total of $300 million, with $200 million in cash and the rest in stock. Known primarily for its pop culture coverage, Complex also hosts events on food, sports and sneaker collecting.
Jonah Peretti, the founder and chief executive of BuzzFeed, announced the merger at a news conference at the company's Manhattan headquarters. "This is a very exciting day for BuzzFeed and a great day for our employees and our partners," he said.
Once seen as the future of the media, BuzzFeed has become something of an outlier in an industry that has lately rewarded subscription-driven publications and newsletter platforms. If the investors in 890 Fifth Avenue vote in favor of the transaction, BuzzFeed expects to close the deal by the end of the year, and the shares will trade under ticker symbol BZFD.
Adam Rothstein, the executive chairman of 890 Fifth Avenue Partners and a venture investor known for investments in Israeli tech start-ups, will join BuzzFeed's board. Made up of veterans from the worlds of finance and media, the board includes current and former executives at ESPN, NBC, Playboy, Martha Stewart Living Omnimedia, Subversive Capital and the A&E cable network.
BuzzFeed's institutional shareholders, which include media giants like NBCUniversal and venture capitalists, will be subject to a six-month lockup period after the deal closes, preventing them from selling shares immediately. But former BuzzFeed employees should be able to cash out any shares they may own as soon as the company goes public. Mr. Peretti said in an interview that he would have majority control over the new BuzzFeed once the merger closes through a special class of shares.
"To me it was important to have the ability to really focus on the long term of the company and balance all the constituencies and stakeholders and to have founder control was a way to do that," he said. Other publicly traded media companies, including The New York Times, have similar arrangements.
Mr. Peretti's growth strategy appears to hinge on acquiring companies — in part to gain leverage over major distributors like Google and Facebook, but also because BuzzFeed has yet to achieve the kind of needed scale on its own.
In 2018, he quietly sought possible mergers with competitors such as Vice Media, Group Nine and Vox Media. In November, Mr. Peretti orchestrated BuzzFeed's acquisition of HuffPost, the site he helped found in 2005 with Arianna Huffington and the investor Kenneth Lerer.
With the addition of Complex, BuzzFeed expects revenue to grow 24 percent to $521 million this year with pretax profit of about $57 million. Next year, it estimates revenue will hit $654 million and pretax profit $117 million.
Still, that may not be enough.
"We'll have opportunities to pursue more acquisitions, and there are more exciting companies out there that we want to pursue," Mr. Peretti said during the news conference on Thursday.
When asked which companies he might look to acquire, he responded: "I don't know. You have any ideas?"
Hatched out of a small office in New York's Chinatown in 2006, when Mr. Peretti was the chief technology officer of The Huffington Post, BuzzFeed started as an experiment in creating content meant to be shared on the web. He left what is now HuffPost in 2011, after AOL bought it for $315 million, and ended up transforming his project into a stand-alone media company with the help of $35 million from investors.
BuzzFeed soon became one of the fastest-growing digital publishers, eventually raising $500 million, and was hailed as the future of news media. But in recent years, it has missed ambitious revenue targets, and some of its investors have agitated for a sale.
After a series of layoffs in 2019, BuzzFeed started to diversify its business, selling branded cookware and ramping up its product recommendation section, garnering a commission on each sale through affiliate agreements with Amazon and other companies. "Our model evolved," Mr. Peretti said in an interview last year.
SPAC deals, once an arcane Wall Street maneuver, have become more common over the last year. Special purpose acquisition companies — shell corporations that list on a stock exchange — are usually created with the goal of buying a private business and taking it public.
Group Nine, the BuzzFeed rival, has gone a different route. It created a SPAC of its own in December, with the aim of finding a company to acquire before going public.