Morrisons to unveil store with no staff where customers can walk straight out
Morrisons is set to trial an unmanned store with no staff under radical new plans.
The tech-driven store will allow customers to grab items from the shelves and bag them up without needing to scan anything at the tills.
All shoppers will have to download a smartphone app prior to their visit and scan it before entering the store.
Cameras will then track the items customers pick up and put in their baskets, before they are charged through the app.
It is understood Morrisons, which is currently at the centre of a bidding war, is planning to unveil the largely unstaffed branch outside its headquarters in Bradford, West Yorkshire.
The first pilot store is not yet open to the public but it is expected to be ready 'within months' with more branches to follow by the end of the year, reported the Daily Mail.
It is hoped the move will rival Amazon Fresh stores, which launched in the UK with its Ealing branch in London in March. The stores use cameras and shelf sensors to tot up the shopping bill.
In a race to become the first supermarket to open a contactless store this year, Tesco revealed last month that it is working on a similar project.
It ran a pilot store at its headquarters in Welwyn Garden City, Hertforshire, and plans to open more.
The plans come after a study found that more than 40% of Britons now want a more contactless shopping experience following the pandemic.
A total of 34% of customers said self-service tills give them anxiety due to cleanliness, while 62% want to get their shopping done in under 20 minutes, found shopping app Ubamarket.
CEO Will Broome said: 'The research clearly shows that the Coronavirus pandemic has completely transformed both retailer and consumer behaviour- in particular when it comes to purchasing their goods.
'The pandemic has raised huge questions around hygiene and safety, with particular concerns around consumer confidence.'
'Ultimately, if retailers are willing to implement retail technology, we could make the weekly shop far more safe and hygienic for everybody in the UK.'
Get in touch with our news team by emailing us at [email protected]
For more stories like this, check our news page.
Get your need-to-know
latest news, feel-good stories, analysis and more
'Ted Lasso' takes over Apple homepage to celebrate second season launch | AppleInsider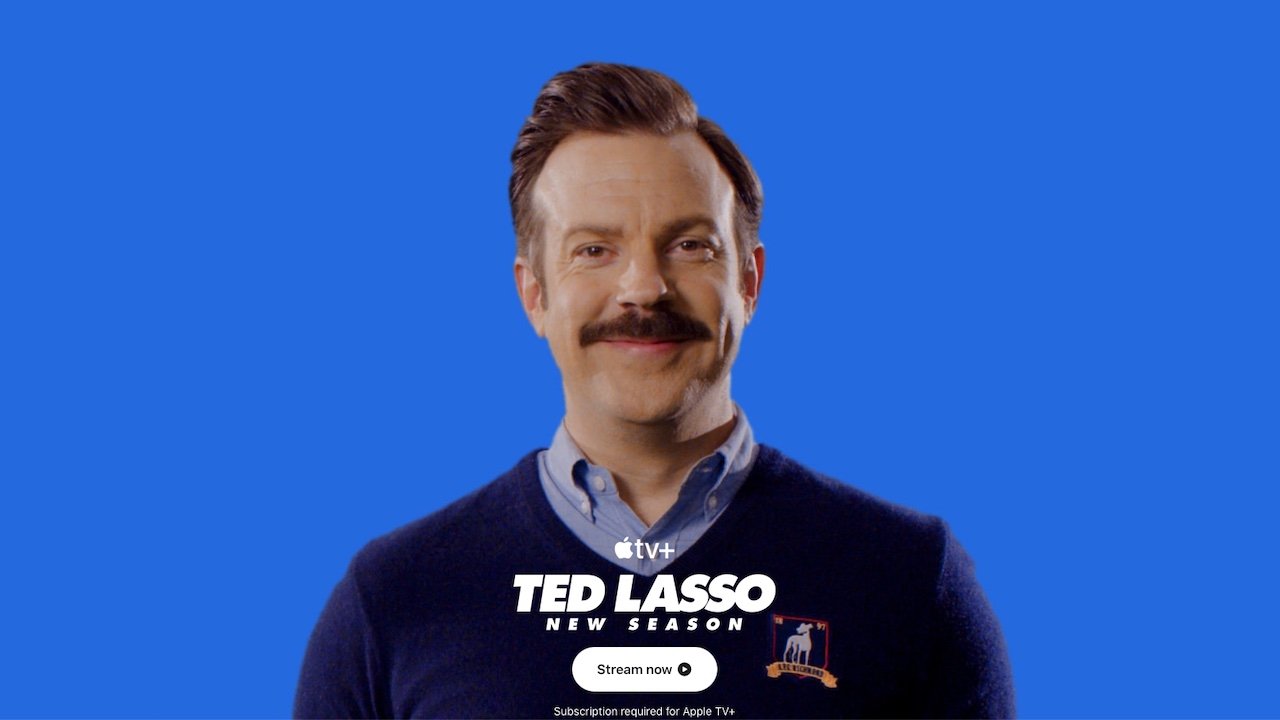 Hit Apple TV+ series "Ted Lasso" has taken over Apple's homepage to celebrate the release of the show's second season on Friday.
The main page at apple.com now features a bright blue background. When you first navigate to it, the season two tagline — "kindness makes a comeback — flashes onscreen before Jason Sudeikis's Ted Lasso character appears.
Once the animations stops, Apple leads users to the second season on Apple TV+ with a "stream now" button.
"Ted Lasso" season two officially premiered in Los Angeles on Friday, July 16. The second season officially launched with its first episode on Apple TV+ on Friday, July 23. New episodes will debut weekly each Friday.
The series has been one of Apple's most successful pieces of original content. It has been nominated for a total of 20 Emmy awards in 2021, and Apple has already renewed the show for a third season.
Apple occasionally uses its homepage to promote services or celebrate other occasions. In 2020, for example, Apple Arcade took over the main website. The "Ted Lasso" promotion is unique because it takes up the entire page and doesn't feature any of the company's hardware products.
The company has also promoted "Ted Lasso" season two with special Memoji stickers at Apple retail locations and Today at Apple sessions focused on artwork inspired by the show.
Wanna squad up in Pokémon Unite? Here's how
Pokémon Unite is a new 5-v-5 free-to-play MOBA on the Nintendo Switch. In this multiplayer Pokémon game, players choose from one of 20 Pokémon and battle it against one another. And what better way to celebrate a hard-fought victory than with your friends? Playing Pokémon Unite with friends is the best way to play, but playing with friends on the Nintendo Switch isn't always the easiest thing to do, but it is possible. Here's how to invite your friends to a play in Pokemon Unite.
How to invite friends to Pokémon Unite on the Nintendo Switch
Inviting friends to Pokémon Unite on the Nintendo Switch is pretty simple.
First, go ahead and exchange friend codes with the person you want to invite.
Open Pokémon Unite.

At the main menu, select Unite Battle and start a lobby.

Source: iMore

Select one of the plus signs around your character or press the Y button to open up your friends list.

Source: iMore

Choose the person you want to invite, and select Player Info.

Source: iMore

Then select Invite Friends.

Source: iMore
All your friend has to do at this point is accept the invitation.
How to invite players using a Lobby ID
If you want to play with someone you're not friends with, you can still invite them to your game without adding their friend code.
VPN Deals: Lifetime license for $16, monthly plans at $1 & more
Start Pokémon Unite.
At the main menu, select Unite Battle and start a lobby.

At the top left of the screen, you'll see a Lobby ID. Share that ID with whoever you'd like.

Source: iMore
That's all it takes. The player joining just has to input the Lobby ID into the Lobby Search option of the main menu.
How to invite cross-platform players
Pokemon Unite is available on the Switch but will come to iOS and Android in September. You won't need their friend code to invite them, but you'll need to share your Trainer ID.
Start Pokémon Unite.

At the main menu, press L to open your Trainer Info.

Source: iMore

Share the code at the bottom of the screen to add your cross-platform friend.
We'll have to put this to the test once the iOS and Android versions release this September.
Unite for the fight
Pokémon Unite is a great multiplayer game, made even better when you're playing with friends. It also has a surprising amount of depth, so be sure to check out our Pokémon tier list to figure out who is the best Pokémon for your play style. And while you're at it, check out all of the free gifts available for Pokémon Unite now. Coordinate with friends and claim victory!
The next MacBook Air: Mid-2022 eyed for mini-LED M2 redesign
Apple made some drastic changes when it launched the new MacBook Air in 2018, but other than the processor and the keyboard, there haven't been any major improvements since. But if we can believe the latest rumors, that could be changing this year, as Apple prepared to launch a drastic overhaul to its cheapest notebook. Here's everything we've heard about the new MacBook Air:
MacBook Air: The latest rumors
July 22: Ming-Chi Kuo reports (via Macrumors) that the redesigned MacBook Air will arrive in mid-2022 with a mini-LED display.
July 5: Twitter user Dyan (@dylandkt) reports that the MacBook Air will get the M2 chip rather than the heavily rumored M1X chip, which he says is "reserved for the Pro Mac devices."
May 18: Mark Gurman of Bloomberg reports the "redesigned, higher-end MacBook Air" will have a new System on a Chip (SoC) that replaces the M1.
MacBook Air: Name and price
We're assuming for the sake of this article that Apple will stick with the MacBook Air name for the next revision, but Prosser noted that his sources haven't confirmed that. So it's possible that Apple reintroduces the MacBook, which was discontinued in 2019 and recently vintaged by Apple. Apple sold the Air alongside the MacBook Air for a short time, so it's also possible that the current Air either gets a price cut to make room for the new model at the $999 tier or sticks around at the same price as a cheaper option for a higher-priced MacBook.
MacBook Air: Design, and colors
It's been reported for months that Apple is working on a lighter and thinner redesign for the MacBook Air. More recently, serial leaker Jon Prosser reported on his Front Page Tech YouTube channel that the new MacBook Air will be switch to a flat design rather than the classic tapered look, but retain its incredible thinness. It could also have full-size function keys, which would make the trackpad slightly smaller.
Apple will be making several colors for the MacBook Air, according to Prosser, likely in hues to match the new iMac, so green, blue, yellow, orange, pink, purple, and silver. Prosser also reports the bezels will be thinner and switch from black to white while the bottom will gain two rubber strips instead of the standard circular feet.
We conducted a twitter poll about the white bezels and the majority of Macworld followers weren't jazzed about it:
MacBook Air: Display
According to Mark Gurman at Bloomberg, Apple considered a larger 15-inch screen for the MacBook Air, but the company decided to shelve that model for the time being. However, even if the new Air sticks with the same size screen, it still could be getting an upgrade. We heard initial rumblings months ago that the same Mini LED in the 12.9-inch iPad Pro could be coming to the MacBook Air, and it looks very likely now. Ming-Chi Kuo, who has an incredible track record with rumors, reports that Apple will debut a mini-LED in the MacBook Air in mid-2022 following a debut of the laptop display tech in the MacBook Pro later this year.
As seen in the new 12.9-inch iPad Pro, mini LED is a backlighting technology for displays, but as its name suggests, uses a higher concentration of smaller LEDs. This results in better control of the backlight, better image contrast, and greater dynamic range. It could also lead to a lighter and thinner design with slimmer bezels.
MacBook Air: MagSafe and ports
The new MacBook Air, which could be released later this year or in early 2022, could mark the return of the MagSafe connector, according to Bloomberg's Mark Gurman. MagSafe was a magnetic power adapter connector that could easily disconnect from the laptop using non-axial force—tugs from angles other than straight away—that was introduced in 2016. Its implementation meant that if someone yanked or tripped over the cable, the connection would break but the laptop would be spared from flying off the work surface. Apple retired MagSafe when it switched to USB-C connectors in 2016, which do not have a breakaway connector.
Apple reintroduced the MagSafe branding as a magnetic charging system for the iPhone 12 and the new iMac has a magnetic power cord that doesn't have the MagSafe branding. Presumably, any MagSafe-related technology for Apple's laptops would be in a similar vein as its implementation starting in 2006 but will likely still use USB-C for charging.
IDG
As for connectivity ports, Apple has transitioned to Thunderbolt/USB 4 ports in its M1 Macs, and it's a good bet that Apple will continue with this in the new MacBook Air. The question then becomes how many ports—traditionally, the MacBook Air has two ports on one side. In his report about the color offerings for a new MacBook Air or MacBook, Jon Prosser said that the new laptop will have two ports but with a better placement—one on each side rather than both on the left edge.
MacBook Air: Processor and memory
Mark Gurman of Bloomberg reported that at the end of 2021, we could see a new MacBook Air with a new System on a Chip (SoC) that replaces the M1. The new SoC will be faster but still reportedly have eight CPU cores (four performance cores, four efficiency cores) like the M1. The graphics cores could increase from seven or eight to nine or ten. While it was originally assumed that the chip would be the same M1X chip that's rumored for the MacBook Pro, a rumor from Twitter user @dylandkt says the MacBook Air might use the next-generation M2 chip instead.
MacBook Air: Price and release date
Apple released the current MacBook in November of 2020, so it's likely that a new model will arrive at around the same time. Prosser said to expect the MacBook Air near "the end of 2021" and Bloomberg has reported it's scheduled to arrive in the "second half of this year at the earliest." Both have suggested that the New MacBook Air could slip to early 2022 as well and a report from Twitter user @dylandkt also says the new laptop won't arrive until 2022. Recently, rumors have suggested that Apple may be prioritizing the redesigned MacBook Pro models, so it's looking more likely that the MacBook Air doesn't launch until next year.
As far as the price goes, Apple might start this new MacBook Air a little higher than the current model. With a mini-LED display and a new colorful design, it's possible that Apple starts the new Air at $1,099 or $1,199 and leaves an older M1 model at the $999 tier, much like it did with the 21.5-inch iMac after the 24-inch model arrived.
Roman has covered technology since the early 1990s. His career started at MacUser, and he's worked for MacAddict, Mac|Life, and TechTV.