Online Dating As an Asian Woman Got Even Worse After Atlanta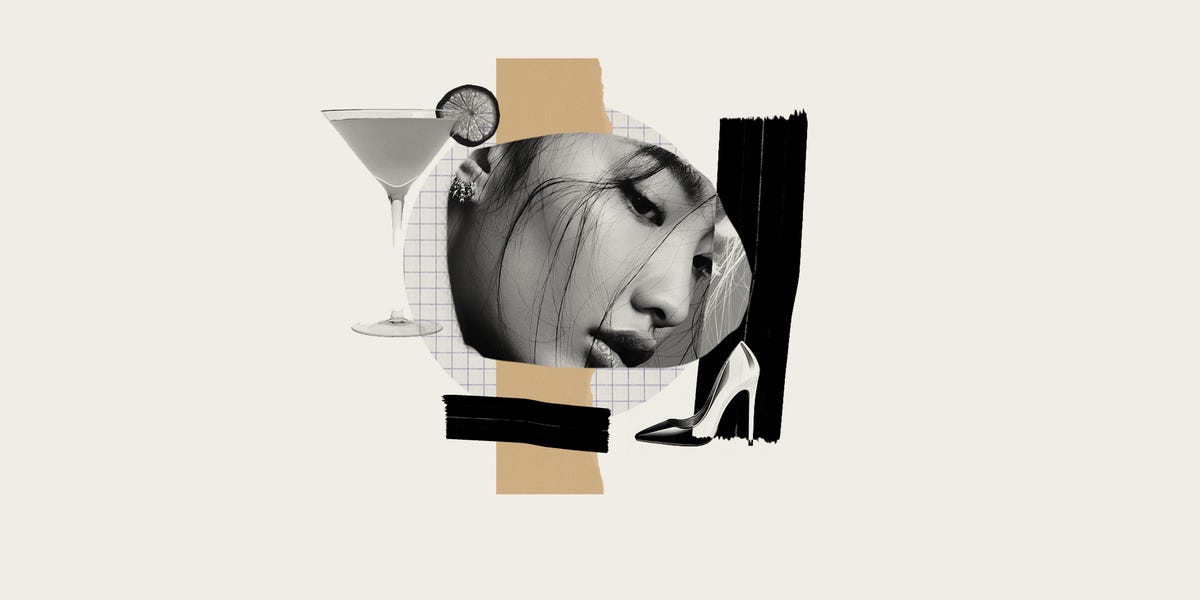 I nursed my gimlet over the next hour, taking a sip every time he said something racist. Whatever he thought, I wasn't going to play along, so I trained my eyes to the bottom of my glass as I drank, avoiding his awaiting gaze.
This was only the third in-person date I'd been on since joining Bumble in January, and despite my better judgment, I convinced myself to show up and give him the benefit of the doubt. Also, I was hurting.
It had been three weeks since the shootings in Atlanta that killed eight people, six of whom were women of Asian descent, at three spa locations. Eight lives were collapsed under a white man's "bad day," and we were just supposed to accept that.
And many people did, without so much as a second thought about what they might've internalized about Asian bodies. No one was returning to their anti-racism reading lists, thumbing through copies of How to Be an Antiracist purchased last summer. Rather, I saw thoughtful, painful essays from Asian American writers who had to perform the thankless task of defending the humanity of the slain while trying to process the tragedy for themselves.
Over the last year, attacks against Asians had become so mundane for us in America that it was hard to imagine this wound going any deeper. Over time, Asian Americans became fluent in exasperation, and I grew inured to my body tensing up every time I stepped outside my apartment.
But the hurt did deepen. And this time, it hit bone.
Before the murders, I had been dating someone. I'm embarrassed to admit how much I liked him in so short a time, a sweet and attentive guy fresh out of a long-term relationship and looking to see what—and who—was out there, much like myself.
Years of therapy separated my last relationship from my first foray on Bumble. I had done the work of healing from a man who relegated my needs beneath his own and deprioritized my safety behind his impulses. After two years, I was ready to pursue joy and explore someone new.
For someone who was only looking for "something casual," he was kind and thoughtful. He celebrated the most minute details about me, things I considered unremarkable. On our first date (after both returning negative COVID-19 tests), we spent hours talking, quietly negotiating moments when touch was consensual and invited. My head on his shoulder. His arm around mine. Our knees meeting. It felt safe, and I didn't think twice about it.
I quickly grew accustomed to his company; it became a reliable serotonin boost that broke up the monotony of lockdown. I delighted in how he made me feel—for the first time, possibly ever, I wasn't ambivalent about someone. I let my excitement run wild.
What stayed with me after that infamous press briefing wasn't the cruelty of trolls ridiculing the women's deaths, or even the lingering residue of that sickening "temptation" narrative. It was the loneliness that their ruptured stories left behind. Who they were, whom and how they loved—we only knew fragments. We would learn later that one of the women, Feng Daoyou, was buried in a cemetery not far from where she was killed, after a funeral organized and attended by strangers. Her brother told NPR that, according to custom, an unmarried woman's remains cannot enter her home village. She would never come home to her family.
Her brother wants to visit her grave in Atlanta someday, but he's afraid to come.
I felt an aperture yawn open, all of the energy I had to remain vulnerable and brave slipping through.
My family wasn't really talking about the shootings. They had no contingency plan other than to keep their heads down and continue surviving. Others in my universe didn't know how to respond to me, so they just didn't.
That same week, the guy I was dating met with his ex and unraveled. He said he needed time to clear his head. I knew I couldn't ask anything of him—I didn't know him well enough—but I wanted him to care about me as a human being, to see and care about the bright pain of my new heartbreak, and the immense weight pressing against my lungs as I carried myself through my days, pretending nothing was wrong.
I craved a response from someone, even if I had to provoke one.
I made a dark joke inviting him out to watch me drink until I could forget how disposable I was in this country. He responded gently, which I mistook for care. Even in his tepid response of, "I'm sorry you feel that way, shit's not right," there was more softness than what anyone had extended to me at the time. I thought that if I showed compassion toward his circumstance, maybe he'd return it.
"Sometimes," Minari actor Steven Yeun said in a New York Times Magazine profile, "I wonder if the Asian American experience is what it's like when you're thinking about everyone else, but nobody else is thinking about you."
I never heard from him again.
Less than two weeks later, grainy surveillance footage showed 65-year-old Vilma Kari ruthlessly attacked in front of a luxury apartment building in Midtown Manhattan. When her attacker finally relents, we see the building's security personnel walk toward Kari, crumpled on the pavement outside, and close the door on her.
For days after, I sat with the thought that, any day now, a stranger could choose me. They could choose my parents, my loved ones. I waited.
I'd often catch myself fantasizing about who I would become when the moment finally came. Would my niece be able to recognize me after? Would I still belong to my parents? I could almost feel my skin breaking open against someone else's rage—or delight. And if previous attacks were any indication, I probably wouldn't even see it coming.
I retreated into the app and continued cycling through the infinite carousel of strangers. I wanted an escape. At the very least, behind a phone screen, I could appear just as uninhibited as everyone else. Entitled, even. I let my longing lead.
In my three-month stint on Bumble, I matched mostly with white guys. Only three of my matches were Asian: One immediately unmatched me as soon as I made contact. One exited during the initial warm-up exchange. And one, with whom I was already loosely acquainted, had a drink with me over Zoom. I told him to let me know if he wanted to "do this again sometime." He didn't get back in touch.
Once, I matched with a white guy who wrote in his profile that he "hates racism" but didn't want to engage with me until we met up in person. After all, racism was abstract to him; he's never had to worry about being hypervisible because of his race and gender in his life. He wasn't showing up on this app bridled with the fear that I had tucked just behind my ribs.
When I expressed my discomfort, he unmatched me.
I started trying out different tones to communicate my safety concerns with my matches. More unmatched with me. Some feigned compassion, until they lost patience—or forgot my boundaries.
"We do not tolerate hate speech, racism, or bigotry of any kind," Bumble assured users in a pop-up on the app after the murders. "If you engage in this behavior, you will be removed from the platform." The company was vocal about "stopping Asian hate," sharing resources on its Instagram Stories. But what remains illegible to the platform, and to those on it, are the many expressions hate can manifest in a racialized body—including desire.
There were so many bright red flags about this man that I'd dismissed because of that gendered trap of kindness: I didn't want to appear rude to the only person I'd met on this godforsaken app who was willing to tolerate my reality. To the contrary, he seemed enthused to talk about it. ("Another Asian was attacked yesterday," he once texted me). At least he was willing to acknowledge what others refused to, I reasoned.
Not long into our date, he told me about how his grandfather fought in the Pacific during World War II. Consequently, the man was racist against Asians and passed it down to his children. I can't say what prompted this confession to me, an Asian person and descendant of a U.S. war in Asia.
He told me he only dates women of color, arguing with the fervor of a National Geographic explorer that not only are certain races overrepresented in the dating pool, but that he also benefited from intimate exposure to cultures he wouldn't otherwise have access to. His last two relationships were with women of Cambodian and Filipino descent, respectively.
White women, he explained, are too bland. "They probably have the same story as me." This amused me because he didn't seem particularly interested in hearing my own story. He did most of the talking. "They'd have to be extraordinary for me to date them."
For two hours, I ached for the date to end. So many times, I wanted to get up and leave, but I wasn't confident that my fantasy would play out safely, and I was wearing heels. I didn't want to provoke, as Jiayang Fan wrote, that hair trigger—that moment when "a smidgen of sexual interest transmutes into racist scorn" suffered verbally or physically. I didn't want to take the chance to find out which.
For women of color, survival often requires mastering de-escalation tactics and learning how to make yourself smaller. And with the compounding misfortune of being perceived as a walking vector of disease for over a year, I've learned at least one thing: Don't draw attention to yourself. Escape has to be discreet if you are to guarantee your own safety. Because, as I know good and damn well by now, Asians can be attacked in broad daylight, unprovoked and in full view of the public, and bystanders won't intervene. Or, worse, they'll close the door.
Not long after, I got off the app. I don't have the bandwidth to date and watch my back at the same time. As much as I want to assert that I'm still entitled to my desire, now is not the time to want things.
As communities of color across the country continue to be besieged by violence and retraumatized with each new tragedy, I'm directing my energy toward our collective wellbeing, leaning into our shared, time-worn rituals for communal mourning, care, and safekeeping. Only there do I feel safe enough to show up as myself and, in that refuge, find my way back to some joy again.
This content is created and maintained by a third party, and imported onto this page to help users provide their email addresses. You may be able to find more information about this and similar content at piano.io
I Played Brie Larson on Mario Kart's Rainbow Road and It Was Chaos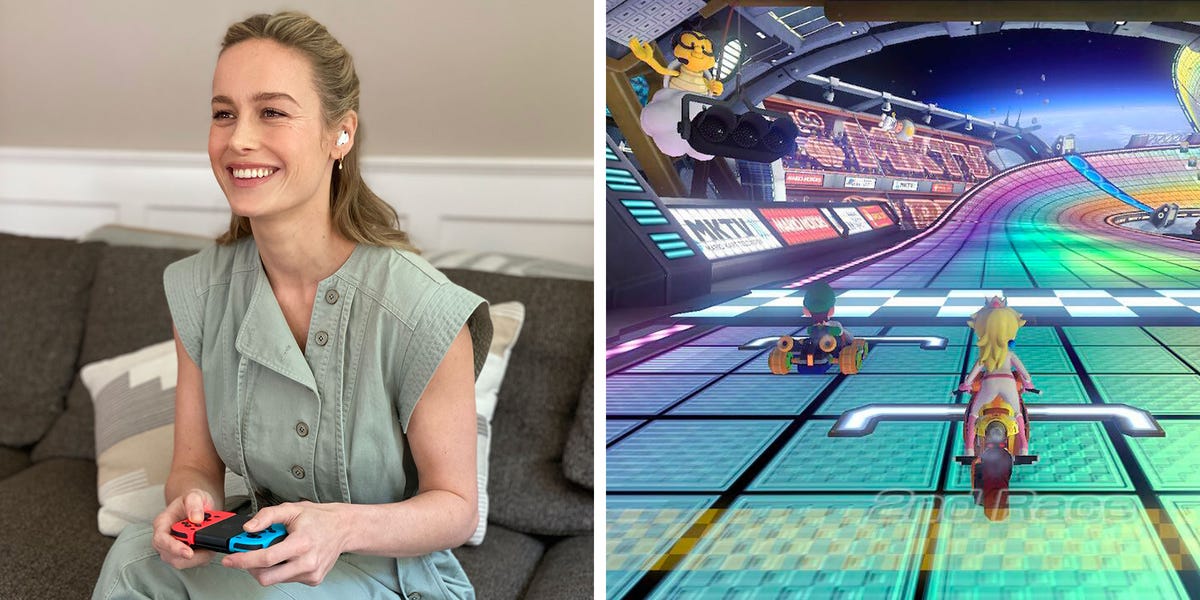 What's it really like to play Mario Kart 8 Deluxe with Brie Larson? Absolute, deliberate mayhem. I had accepted that Larson, a Nintendo ambassador and lifelong fan, would be hard to beat when I learned she was a formidable Mario Kart player who'd just played against college students that afternoon. They beat her, but still, she put in the practice time. And this wasn't just a race; it was an interview, too. We would both have to multi-task.
When we connected on Zoom, I let her choose her favorite course. I decided it would just be our two avatars competing; me as Princess Peach on a motorcycle, her playing as her signature character, Luigi. No computers racing against us. No distractions.
"That's fun. Sounds chaotic. I'm in," Larson said.
I thought if Larson chose something like the Animal Crossing course, maybe I could win. Maybe I could pull it off! I played eight races against my boyfriend—a good Mario Kart player—for practice the night before and won them all. I consider myself to be a decent Mario Kart player. Not pro, but competitive enough.
Then Larson chose Rainbow Road. "We want a hard one," she told me. "We just want chaos." Initially, I thought, good thing I practiced that one. But it wasn't the Mario Kart 8 version I played on. It was the SNES one.
Mario Kart 8 Deluxe has three versions of Rainbow Road: the Mario Kart 64 one, the SNES one, and a new one exclusive to Mario Kart 8. The SNES one has sharp, constant turns and no walls at all. Compare that to the Mario Kart 8 version, which has tricky turns but includes a few walls to break up the tension of the course. As my boyfriend texted me post-race, "The SNES courses were a nightmare lol."
We started driving, I remembered I also had to try to ask questions, and then I hit the first turn. That's when I knew: This was going to be the hardest round of Mario Kart I ever played.
"Oh my gosh. This course is brutal," I told her.
"I know, but it's beautiful," Larson replied.
"Beautiful, but it's brutal," I stressed.
We kept driving, and I didn't fall off, but only because I was carefully taking each turn at the cost of speed. You can't have both unless you're really, really good at dashing, a skill mechanic in the game that gives you a speed boost but can be tricky to execute correctly on back-to-back sharp turns. If you turn too much to the right or left, you'll fall off.
Brie Larson playing Mario Kart on her Nintendo Switch
As we raced, I asked Larson about her kart versus bike preference. "I feel I just don't trust myself with the bike," she explained. "But I also haven't played that much with it."
I asked her what her first Mario Kart game was (it was Mario Kart 64) and why she liked Rainbow Road so much. "It's really just the nostalgic factor for me," she said. "I just remember from the very first Mario Kart, it seemed like insanity. It felt to me and my sister, 'This is impossible. This is crazy.' I think it became…I don't know, lore, in my family: being on a track with no edges."
Halfway through the race, I looked down at the screen's mini map. Larson was slightly ahead of me. It wasn't impossible to catch up, but I knew if she drove the course perfectly, I would have to use some mushrooms (which can be used as speed boosts)—and also avoid falling off the course while using them.
We were on our last lap. Larson was still ahead…and then she struggled with a turn. "It was almost really bad," she said. Then she did fall off. "This is giving you a really good opportunity," she encouraged me. "You should take it."
I had a banana and a mushroom, and a sharp turn ahead that I knew I could easily fall from if I didn't take it carefully.
"I'm trying," I told her. "It's just… I'm so afraid of falling off, too."
"Oh yeah. It's scary," Larson commiserated.
Winning wasn't impossible, though. It all depended on how long it took her to recover from her fall. I inched closer to the finish line and saw her, too—recovered and ahead of me. She crossed the line a few seconds ahead of me. And that was it.
"I was close, but you got it," I said.
"Well, I lost every game earlier today, so it was good for my ego," Larson replied.
I thanked her for giving me my own ego check. She laughed. "I chose a hard track," she admitted. True.
Larson may be competitive on Mario Kart, but she's so nice to race, you can forgive her for choosing essentially the hardest course in the game.
Our interview time was running short, so our second race on the Mario Kart 8 version of Rainbow Road had to be put on hold. Before I hung up, I asked Larson about her tips for new players. Here's what she offered:
Well, obviously start at 50cc first. Start on the easiest versions possible. And it really just takes practice. And if you are playing against somebody who's new to it, I would slow down on my drifting and allow them to have—not target them maybe as much with items. Be a little bit kinder, not so brutal to them, just to get them some time in the game. But a lot of my friends who've gotten into gaming recently through my obsession, they've just wanted solo time. They're like, "I'm not ready to play with you. I'll just play on my own. I want to put some hours in on my own before we play together."
And how does Larson feel about Captain Marvel meeting Ms. Marvel in The Marvels, the upcoming sequel to Captain Marvel? "I'm super excited." she said. "It's a dream come true."
Larson revealed the director of the film, Nia DaCosta, is a gamer like her. "That's the first time I've worked with somebody who also games like I do," Larson said. She added that she doesn't usually play Nintendo Switch with her coworkers on set, but she will bring her system with her. "Usually it's just a solo thing. When I'm at work, it's not a social thing. It's a way for me to stay focused and to stay present in the scene while I'm waiting for them to change the camera around or move lights around. I can stay focused, but I'm playing Mario Tennis [Aces]."
Larson also shared her hopes for tomorrow's Nintendo E3 presentation, where the company will be announcing its upcoming projects. "I'm excited about the future of Zelda," she said. "I feel there's just been bits of information [about the Breath of the Wild sequel] and I want to know more about it. And yeah, I'm interested in some surprises. I feel it's always been fun when new characters get their own spinoff solo series. I would be stoked for that."
Our call ended with kind goodbyes, and I knew as I turned my off Nintendo Switch that even though I lost, I still accomplished something truly insane. The outcome doesn't matter: You'll never forget the race.
This content is created and maintained by a third party, and imported onto this page to help users provide their email addresses. You may be able to find more information about this and similar content at piano.io
These Drugstore Moisturizers Will Nourish Skin Without Breaking the Bank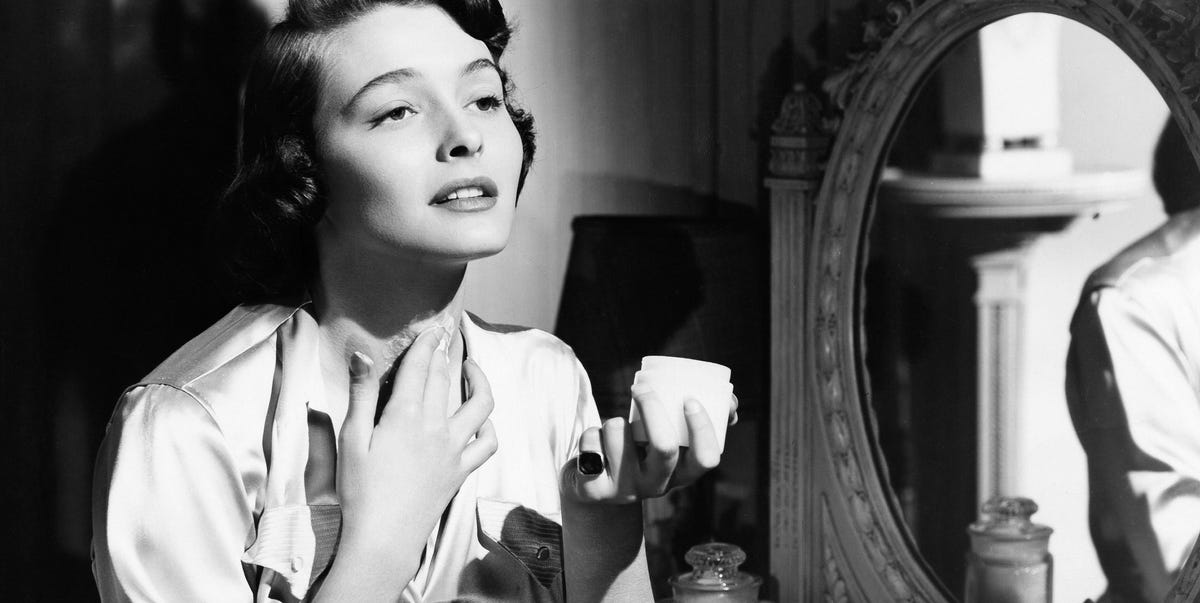 You don't have to spend a ton of money on a moisturizer for it to give you the results you're after. (Read that again.) Your local drugstore is a treasure-trove of complexion-improving formulas. The proof: When asked, "What makes a good moisturizer?" Joshua Zeichner, M.D., board-certified dermatologist and Director of Cosmetic and Clinical Research in Dermatology at Mount Sinai Hospital, concluded that it isn't the money that you spend on it. Instead, it's finding the right formula for your skin type.
He explains that moisturizers typically have three different ingredients: occlusives, which form a protective film on skin and lock in moisture, emollients (which he says "softens the outer layer and fill in cracks between rough skin cells"), and humectants (moisture-retainers). So finding a moisturizer with the right concentration of each of these ingredients for your skin type is totally possible at the drugstore. Ahead, our picks for the best drugstore moisturizers out there.
1
Dry Skin Cream
It's Zeichner's pick for dry skin. "It is rich in emollient and occlusive ingredients like petrolatum and fatty alcohols to soften and protect the skin," he says. "Glycerin gives a plumping effect and can help minimize skin irritation."
2
Intensive Moisture Facial Cream
3
Drench & Quench Moisturizer
This water-based moisturizer is Zeichner's pick for all skin types—especially if you have combination or oily skin. "It has high levels of hyaluronic acid to pull in hydration to the skin," he says. His pro tip: "Whenever you're using a product with hyaluronic acid, apply it with damp fingertips to give it the water it needs to do its job." 
4
Hydro Boost Hydrating Water Gel Face Moisturizer
Neutrogena
target.com
$14.49
It's a moisturizer for those who hate moisturizers. This water-based gel quickly absorbs and deeply hydrates skin without feeling heavy or greasy.
5
AM Facial Moisturizing Lotion with Sunscreen, SPF 30
Spiked with SPF 30, this comfortable-wearing lotion will keep skin feeling silky soft and hydrated all day. 
6
Retinol Correxion Max Daily Hydration Crème
If you're looking to address visible signs of aging, opt for this multitasking formula. "This moisturizer does double-duty—improving skin hydration while also addressing wrinkles," Zeichner says. "In addition to it's moisturizing ingredients, it contains a stabilized form of retinol, which is a great option for people who are concerned with aging skin, fine lines and wrinkles."
7
Deep Hydration Healthy Glow Daily Cream
Cetaphil
target.com
$16.99
Revive drab-looking skin with this pick, which contains niacinamide to help bring out your complexion's radiance over time and hyaluronic acid (a.k.a. a moisture magnet).
8
SuperHydrate Moisturizer
e.l.f cosmetics
elfcosmetics.com
$12.00
Infused with squalane—which can help strengthen your skin barrier—this gel moisturizer will nourish skin and give it a juicy bounce.
9
Regenerist Retinol 24 Night Facial Moisturizer
Cap your night routine with this emollient cream, which uses retinol to help alleviate fine lines and hyperpigmentation.
This content is created and maintained by a third party, and imported onto this page to help users provide their email addresses. You may be able to find more information about this and similar content at piano.io
Gigi Hadid on How She and Zayn Malik Are Raising Khai to Navigate Her Multiethnic Identity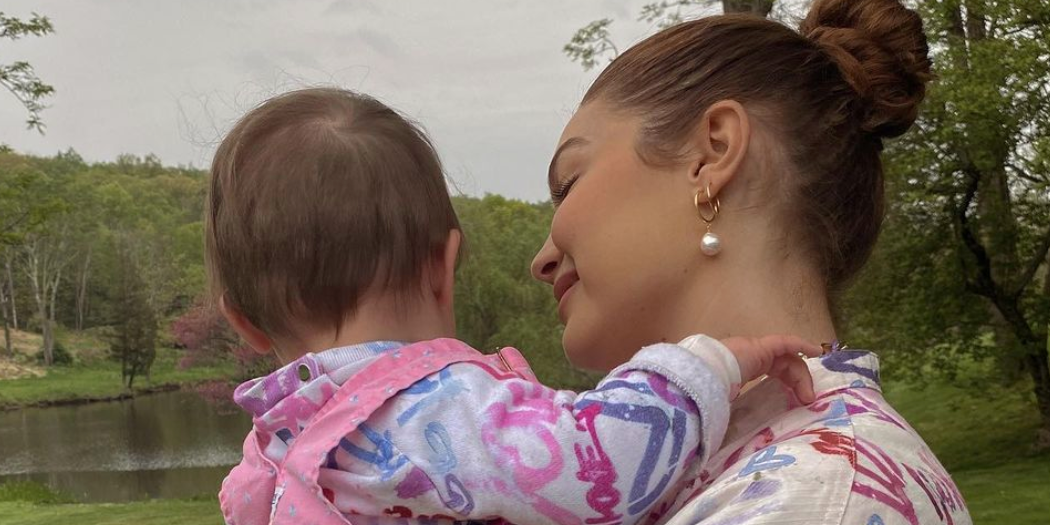 Gigi Hadid is i-D's summer cover star, and in her interview with the outlet, Hadid candidly reflected on her experience being pregnant during the coronavirus pandemic and how she is approaching raising her and Zayn Malik's daughter Khai.
i-D's reporter Osman Ahmed asked Hadid about "how you're approaching parenthood. So much of it is instinctive, but I find with raising a mixed-race child, lots of it is actively thinking about how to address that."
Hadid responded at length, reflecting on her own experience growing up in a multiethnic household. (Hadid's mother Yolanda is Dutch, while Hadid's father Mohamed is Palestinian.)
This content is imported from Instagram. You may be able to find the same content in another format, or you may be able to find more information, at their web site.
"We [Zayn and me] think about it and talk about it a lot as partners and it's something that's really important to us, but it's also something that we first experienced ourselves," she started. "Because both of our parents are their own heritage. We are that first generation of those mixed races, and then that comes with that first generational experience of being like, 'Oh damn, I'm the bridge!'. That's not something that my parents experienced or that they can really help me through. It's something I've always thought about my whole life."
"In certain situations, I feel–or I'm made to feel–that I'm too white to stand up for part of my Arab heritage," Hadid continued. "You go through life trying to figure out where you fit in racially. Is what I am, or what I have, enough to do what I feel is right? But then, also, is that taking advantage of the privilege of having the whiteness within me, right? Am I allowed to speak for this side of me, or is that speaking on something that I don't experience enough to know? Do you know what I'm saying?
"I think that Khai will grow up feeling out the way that she can or wants to be a bridge for her different ethnicities," Hadid said. "But I think that it will be nice to be able to have those conversations, and see where she comes from [with] it, without us putting that onto her. What comes from her is what I'm most excited about, and being able to add to that or answer her questions, you know?"
This content is created and maintained by a third party, and imported onto this page to help users provide their email addresses. You may be able to find more information about this and similar content at piano.io