Please Consider Storm Reid's 'Gram an Official Application to Be in Normani's Next Music Video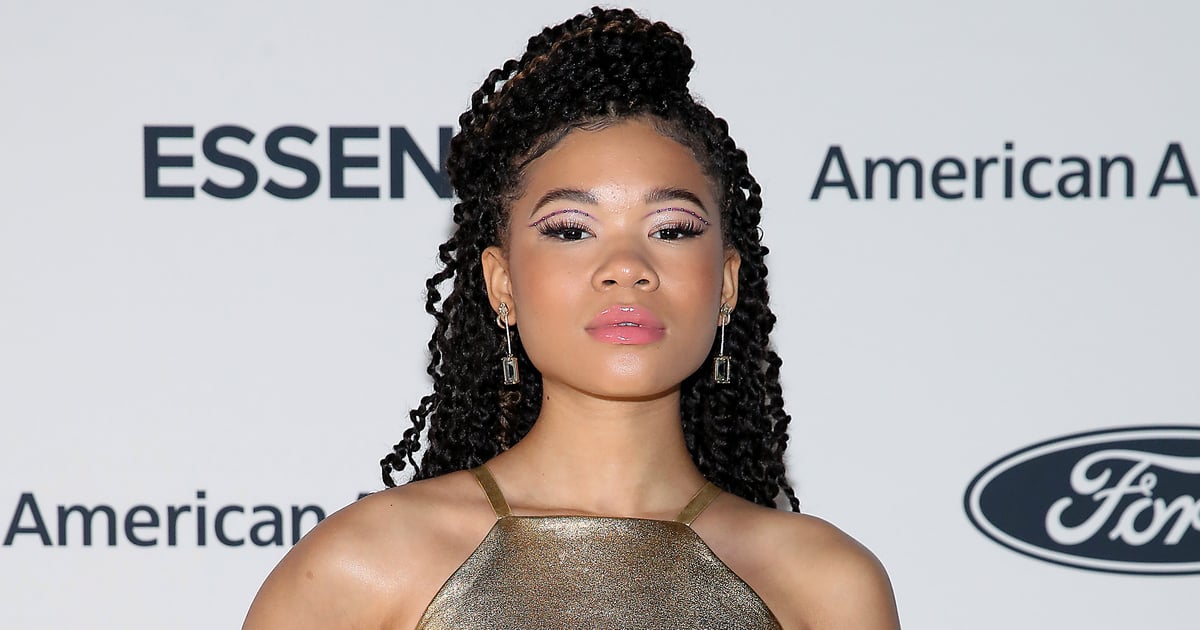 We're going to need a collaboration between Storm Reid and Normani ASAP. On July 21, the Euphoria actress posted an Instagram video of herself dancing to Normani's new "Wild Side" track. Reid's energy (and her animal print outfit) was flawless, despite throwing together the at-home video in a matter of minutes before she started work. Clearly, she can keep up with the best of the best, so let's get her on a stage with Normani right away.
Even Reid's makeup artist, Joanna Skim, was amazed to see what she pulled off in such a short time. "Ma'am. You stepped away for three minutes and shot a whole music video. How," Skim commented on Reid's video. Hey, when inspiration strikes, you have to go for it, especially if you're "shooting [your] shot" like Reid was. Here's to hoping this duo connects soon, and we finally get to see them work together as Normani rolls out new music.
Justin Hartley Shares Loving Message to 'Beautiful' Wife Sofia Pernas on Her Birthday
Justin Hartley is wishing his wife Sofia Pernas a happy birthday!
On Saturday (July 31), the 44-year-old This Is Us actor took to his Instagram to send love to his wife on her 32nd birthday.
Click inside to see his post!
"Happy Birthday to my beautiful Sofia! This amazing woman makes me laugh out loud every single day. Here's to taking down oysters all over the world! I love you very much!" Justin captioned the post, while sharing a bunch of photos of he and Sofia.
Sofia then took to the comments, writing, "Can't wait. I love you! 💕"
It was revealed back in May that Justin and Sofia had very quietly tied the knot.
The former Young and the Restless co-stars began dating in early 2020 at the beginning of the pandemic.
Make sure you check out the sweet tribute Justin wrote to daughter Isabella on her 17th birthday!
Kathy Hilton Talks Paris' Documentary and Depression After Learning of Her Abuse, RHOBH Prank and New Show Concept
Kathy Hilton shares what caused her to fall into a depression before revealing what concerned her about her martini prank and dishing on the type of show she'd love to star in.
Kathy may just have a friend role on Real Housewives of Beverly Hills, but she's quickly become a fan favorite due to her unexpected goofy behavior. In fact, some of her one-liners, including, "Who is Hunky-Dory," have quickly become iconic in the Bravo world.
Nevertheless, the new reality star got serious for a moment in a new interview when she was asked about her eldest daughter's troubling documentary titled This Is Paris. If fans recall, Kathy took some heat from Paris Hilton's fans after The Simple Life alum revealed she was abused while attending a school for troubled youth in Provo, Utah, that her parents had sent her to.
Kathy has never really discussed Paris' revelation in great detail, but she got candid about the situation when asked if she knew about the alleged abuse prior to the documentary.
"No," she quietly told Bustle. "I don't think at that point that she even knew the question [about her schooling] would be asked. I kept thinking to myself, 'Why wouldn't [Paris] say something? Why would she not say something?' I also got into such a depression. I didn't want to talk to Paris about it too much until I had talked to a therapist."
Kathy, who says she has also heard from close friends whose kids also suffered abuse at that school, admits she hasn't been able to bring herself to watch the documentary.  "Let's just put it this way: I've seen the little trailer things, and I would not watch that documentary," shared Kathy, adding that she is very proud of her daughter for speaking out. "She's already passed laws and helped people."
Meanwhile, she also discussed RHOBH and the epic martini prank she played on her co-stars. Though she knew the joke would be funny, the 62-year-old admitted she was also a bit concerned about how the women would react.
"I knew it would be hysterical, but then again I took the chance," she explained. "What if they got mad at me? That worried me a little bit."
Speaking of pranks, Kathy isn't quite sure if she'll return for season 12 just yet, but she thinks she has a great concept for another show.
"I would love to be an Uber driver, and sell treats in the front seat," she explained while pitching the show idea. "I'd like to have a thermos of coffee, gifts in the trunk, snacks, food, LA Dodgers hats, things that they could shop. And I would love for them to tell me where to turn. And then I'm just going to go the wrong way and drive them crazy. And then ask them if they would like a coffee or a treat, and then say to them, 'That will be 35 cents for the coffee.' And we have gifts. Where are you going? You're going down to the beach, you need sunblock? Towels? A beach hat? And have all these things, but then give these very minimal prices. And then explain to them that we're going to pull over, because we have to kind of settle this up, because this is not part of the Uber. Twenty-five cents, 10 cents for the doughnut. Wouldn't it be funny?"
The Real Housewives of Beverly Hills season 11 airs Wednesday nights on Bravo at 8/7c.
Kriti Sanon on pay disparity in Bollywood: Patriarchal mindset is so normal but we're slowly growing
Actress Kriti Sanon has some quite interesting projects lined up ahead, including Om Raut's Adipurush, Bachchan Pandey and more. While she is busy working on her projects, she took some time out and in a recent interview opened up on the pay disparity between actors and actresses. The Luka Chuppi actress believes that the patriarchal mindset is so normal that it will take a little time to alter and grow. 
In an interview with ETimes, Kriti Sanon said, "Yeah, when I do pulling the audience specially when the festival revolves more around my character, its on me, there will be more and more producers, who would feel the confidence of banking the film on me. I feel like its a circle, it kind of will even get that pay disparity. That's how you grow I feel, in life. The only thing that I had pointed out which happens is when a male and a female actor have a similar kind of role, I feel like men don't have to prove by having the film solely on them, to grow and to increase their price and somewhere females, sometimes have to prove it more by such kind of films, which is what I felt is a very weird difference. But I think we're slowly growing and things are changing". 
The actress further added the patriarchal mindset is so normal that it will take a little time to change and to grow. During her interview, Kriti was pointed out that the actresses like Deepika Padukone, Vidya Balan, Anushka Sharma have fought for pay disparity and getting women-centric roles, Kriti said, "That's what I was about to say, the day we'll stop saying female-centric because we never say male-centric. So, I think these small changes when they start coming and it kind of actually becomes equal in our heads when we don't have any difference, these other differences of pay parity will also somewhere start balancing." The actress further added that it should be content-centric. 
Also Read: EXCLUSIVE VIDEO: Kriti Sanon on working with Prabhas in Adipurush: 'He is very chilled out and humble'