Quantum technology emerges from the lab to spark a mini start-up boom
Quantum technology seeks to harness the peculiar laws of quantum mechanics to build more powerful tools for processing information. Quantum computers are the most headline-grabbing form of the technology, but quantum particles are also being deployed to build more secure communications networks and more powerful sensors for imaging and measurement.
The technology has obstacles to overcome before it achieves widespread use, but the pace of progress is akin to the dawn of the electronics industry, said David Awschalom, a University of Chicago physicist and molecular engineering professor who helped create the new accelerator, Duality, alongside the University of Illinois and Argonne National Lab.
"We are at the birth of a new field of technology. It's like we're at the point where the transistor is being invented," Awschalom said in an interview. "People are beginning to think about systems, software, applications," and are starting to found companies, he said. "Every month or two we're seeing something appear."
Existing computers and communications networks store, process and transmit information by breaking it down into long streams of what are known as bits, which are typically electrical or optical pulses representing a zero or one.
Quantum bits, or qubits, are units of data that differ fundamentally from the bits in today's electronics. Often atoms, electrons or photons, they can exist as zeros and ones at the same time, or in any position between, a flexibility that allows them to process information in new ways. Some physicists compare them to a spinning coin that is simultaneously in a heads and tails state.
Qubits are finicky and have the propensity to stop functioning at the slightest disturbance, such as a minor change in temperature. But companies including IBM, Google, Honeywell and IonQ are making progress harnessing qubits for early stage computers, some of which users can access online.
IBM now has about 20 quantum computers hooked up to the cloud and is offering free access to about half of them so researchers and the general public can experiment, said Bob Sutor, the company's "chief quantum exponent."
IBM's higher-end machines are available to paying customers, which have included ExxonMobil, Goldman Sachs, Daimler and Boeing, Sutor said. Large companies are using the computers to try to crack difficult problems, like finding better chemical reactions to make new materials, or identifying the best way to allocate funds in an investment portfolio.
IBM is also laying plans to start installing the machines on-site to its customers. Last week the company announced a health-care research partnership with the Cleveland Clinic, which will involve the delivery next year of a quantum computer to the hospital's labs.
The availability of the computers is helping spark new software ventures to write code for the machines. Other entrepreneurs are setting up companies to develop quantum sensors and communications equipment.
The Chicago area is already a hub of quantum technology, serving as a base for three of eight federally funded quantum research centers launched last year. Now the city is aiming to be a center of the start-up scene.
The Duality accelerator is hoping to leverage the physics and engineering expertise from its university partners, and from the nearby Argonne and Fermi national labs, to support commercial ideas bubbling up from PhD students and others.
Based at the University of Chicago's Booth School of Business, the accelerator program will invest $20 million over the next decade to help up to 10 quantum start-ups a year. The ventures will receive $50,000 grants, access to lab and office space and close mentoring by science and business faculty members.
Pranav Gokhale, a recent recipient of a computer-science PhD from the university, says he's hoping his software start-up will receive one of the Duality awards. Gokhale founded the company, Super.tech, with one of his professors, Fred Chong, who runs a federally funded group that is developing new algorithms, software and machine designs for quantum computers.
Chong said that while quantum computers are beginning to emerge, "there is very little on the software side."
"For the first time we have real hardware, real machines that have been built. At the same time those machines are very error prone," he said. "While there is a lot of potential, it is extremely hard to get them to solve real problems right now."
The challenge for software developers, he said, is to design programs that work "for imperfect quantum machines" and are "aware of the physics of the machines."
Gokhale said Super.tech's aims include designing software to help power companies most efficiently allocate their energy resources. "A utility has to figure out which generators to turn on to satisfy demand," he said. "You can imagine that 4 p.m. might have a different demand for energy than 4 a.m., when people are asleep."
Awschalom said his own PhD students recently came to him with a start-up idea that they are now mulling over. Their idea, for a new type of quantum sensor, grew out of research done by their lab.
Brian DeMarco, a physics professor at the University of Illinois Urbana-Champaign who helped get Duality off the ground, said he sees sensors as one of the nearest term applications for quantum technology. The sensitivity of qubits could make them powerful tools for applications such as looking down at Earth or out at space from satellites, or identifying new underground mineral deposits, he said.
Investor interest in the field has been growing. Maryland-based IonQ, founded by the physicists Chris Monroe and Jungsang Kim in 2015, has raised tens of millions of dollars from various investment funds — most recently from Breakthrough Energy Ventures, the fund backed by Bill Gates that invests in technology related to clean energy.
Breakthrough Energy is interested in quantum computing as a tool for finding new materials to enable carbon sequestration, said Monroe, chief scientist at IonQ, which has announced plans to go public on the New York Stock Exchange.
ColdQuanta, another venture based in Boulder, Colo., is hoping to raise hundreds of millions of dollars in investor funding in the near term, said Dan Caruso, executive chairman at the company.
"I kind of liken what's going on with quantum right now to what was going on with the Internet in the early '90s," he said. "Quantum is going from being something most people haven't heard about … to rapidly transitioning into the beginning of the commercial phase."
New Trailers: Cruella, The Woman in the Window, Loki, and more
So yesterday I watched the first episode of the Netflix documentary This is a Robbery, about the 1990 heist at the Isabella Stewart Gardner Museum in Boston and the accents alone made me homesick.
For those who did not grow up in the land of dropped R's: two thieves dressed as cops stole 13 works from the museum, valued at a total of $500 million. The art, which included paintings by Rembrandt, Vermeer, Degas, and Manet, has never been found and no arrests have ever been made. The museum is offering a $10 million reward for information leading to the recovery of the stolen works. I'm trying to avoid spoilers because even though I grew up in Boston and I'm familiar with the story, a few headlines about the doc have teased that it "solves" the case. Very interested to see the filmmakers' theory of what happened!
The trailer roundup for this week has villains, shut-ins, and Ghostbusters. You're welcome.
The Woman in The Window
Getting strong Rear Window vibes from the second trailer for this movie, which was supposed to premiere in theaters last May. Amy Adams stars as Anna Fox, a severely agoraphobic woman who suspects she witnessed the murder of her friend (played by Julianne Moore) in the neighboring building. Some serious gaslighting ensues. The Woman in the Window also stars Brian Tyree Henry, Jennifer Jason Leigh, Anthony Mackie, Tracy Letts, and Gary Oldman. It hits Netflix May 14th.
Cruella
This is the second trailer for the upcoming origin story of the villainess from 101 Dalmatians and it makes me think we're supposed to be rooting for Cruella? Even though in the original movie she wanted to make a coat out of puppies? And is literally named "cruel devil"? I'm still not totally sold on the whole notion of an origin story for a movie villain (and more are coming), but if Emmas Stone and Thompson are involved (Thompson's character is the Baroness von Hellman… literally has "hell" right in her name) then it's worth a look. Cruella will be in theaters and on Disney Plus (for an additional fee) on May 28th.
Ghostbusters: Afterlife
OK so this is a character-specific teaser trailer for the upcoming Ghostbusters sequel with Paul Rudd, introducing us to some cute? Scary? Menacing? Stay-Puft marshmallow… creatures. Mckenna Grace, Finn Wolfhard, Carrie Coon, and some of the original Ghostbusters will be in Ghostbusters: Afterlife, which is slated for release in theaters November 11th.
Loki
The next spinoff series from Marvel is all about Loki, the trickster god of Asgard, and introduces the Time Variance Authority and Owen Wilson as Mobius. Tom Hiddleston is so good as Loki that perhaps I should retract or at least rethink my earlier statement about movie villains. Loki comes to Disney Plus on June 11th.
Where to find a PS5: All you need to know about buying Sony's new gaming console
If you've been trying to get your hands on the PlayStation 5 for months — but still miserably failing — you're not alone. Even though Sony launched the new console five months ago, it's still extremely hard for anyone to get their hands one. The pandemic and the global chip shortage have definitely contributed to this lack of inventory, but demand for the PS5 has also been sky high. In fact, it was recently named the fastest-selling console in US history. 
As of April 11, both versions of the PS5 — the $500 model with Blu-ray and the less expensive $400 digital-only edition with no optical drive — are out of stock at every major retailer, including Target, Best Buy, Amazon, GameStop and Walmart, but that shouldn't stop you from trying to find one. Those retailers are restocking the PS5 console on a fairly consistent basis.
If you're willing to shell out far more than the sticker price, you can get a PlayStation 5 or PS5 bundle at a reseller like eBay or StockX, but our advice is to wait for PS5 availability at other retailer options. PS5 inventory drops are starting to happen on a more frequent basis, so be sure to check back here often for the latest updates on when retailers might have restocks.
You can monitor PS5 stock updates on your own; Twitter, for example, is a good source for restock rumors. But we occasionally get word directly from retailers and tipsters about upcoming PlayStation 5 console inventory restocks, and we update this post immediately. Again, be aware: It likely could be months before anything approximating normal inventory levels appears in stores, so getting your own PS5 gaming console is likely to be a challenge until summer, at the earliest. Below you'll find a list of all the major retailers (and a few high-profile resellers) where you can monitor the video game console's stock and availability. 
More on next-gen consoles
PS5 restock options at major retailers
You can check out Amazon's page for the $400 Digital Edition via the button below, or, if you'd rather, get in line for the PS5 with Blu-ray for $500.
When in stock, Target offers the PS5 with Blu-ray for $500, in addition to the PS5 Digital Edition, which you can find by clicking the button below.
You can check on availability of the $400 Digital Edition at Walmart by clicking the button below, or you can try to snag the pricier PS5 with Blu-ray for $500.
When in stock, Best Buy offers the PS5 with Blu-ray for $500 along with the $400 Digital Edition (which you can find by clicking the button below). The retailer is also offering a slew of accessories on its PS5 landing page.
We don't recommend spending more than retail to get a PS5, but if you must have a console right now, eBay is your shortcut to getting a console. That said, expect to pay hundreds over list; the average PS5 price on eBay is about $800. 
If you've exhausted all of the usual retail options and you're willing to pay hundreds over list price, you might want to check out StockX, an eBay alternative that made its name in the secondary market for sneakers and designer clothing. Last time we checked, prices for the PS5 were hovering just below $650. We don't think it's worth it, but let your conscience (and your wallet) be your guide). 
More PS5 coverage
This article is regularly updated with the latest PS5 stock news.
---
CNET's Cheapskate scours the web for great deals on tech products and much more. For the latest deals and updates, follow the Cheapskate on Facebook and Twitter. Find more great buys on the CNET Deals page and check out our CNET Coupons page for the latest promo codes from Best Buy, Walmart, Amazon and more. Questions about the Cheapskate blog? Find the answers on our FAQ page.
Brazil's virus outlook darkens amid vaccine supply snags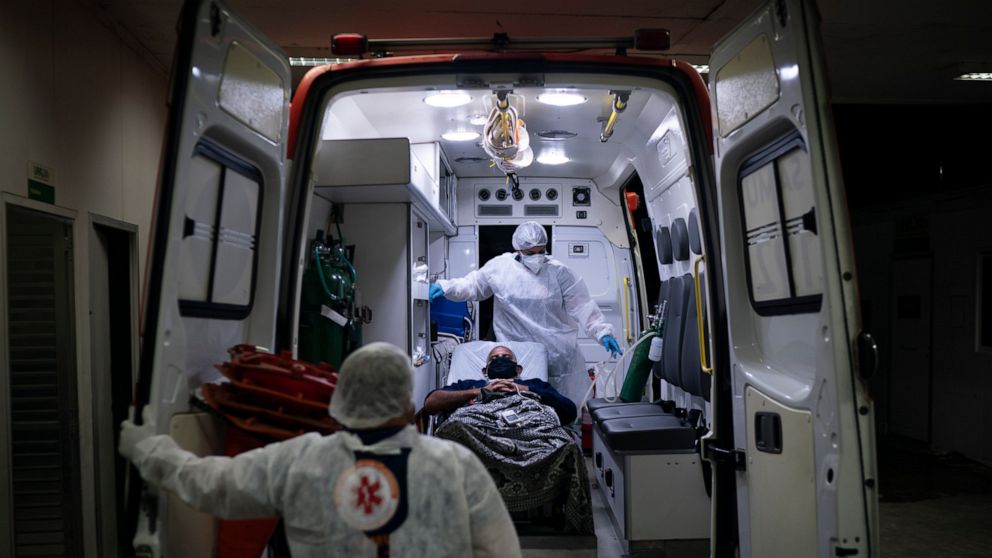 RIO DE JANEIRO — April is shaping up to be Brazil's darkest month yet in the pandemic, with hospitals struggling with a crush of patients, deaths on track for record highs and few signs of a reprieve from a troubled vaccination program in Latin America's largest nation.
The Health Ministry has cut its outlook for vaccine supplies in April three times already, to half their initial level, and the country's two biggest laboratories are facing supply constraints.
The delays also mean tens of thousands more deaths as the particularly contagious P.1 variant of COVID-19 sweeps Brazil. It has recorded about 350,000 of the 2.9 million virus deaths worldwide, behind only the U.S. toll of over 560,000.
Brazil's seven-day rolling average has increased to 2,820 deaths per day, compared with the global average of 10,608 per day, according to data through April 8 from Johns Hopkins University.
The death toll is forecast to continue rising in the next two weeks to an average of nearly 3,500 per day before receding, according to the University of Washington's Institute for Health Metrics and Evaluation.
Public health experts blame President Jair Bolsonaro for refusing to enact strict measures to halt infections and for clashing with governors and mayors who did.
Failure to control the spread has been compounded by the Health Ministry betting big on a single vaccine, AstraZeneca, then buying only one backup, the Chinese-manufactured CoronaVac, after supply problems emerged. Authorities ignored other producers and squandered opportunities until it was too late to get large quantities of vaccine for the first half of 2021.
With extensive experience in successful, massive vaccination programs, Brazil should have known better, said Claudio Maierovitch, former head of Brazil's health regulator.
"The big problem is that Brazil did not look for alternatives when it had the chance," he said. "When several countries were placing their bets, signing contracts with different suppliers, the Brazilian government didn't even have vaccination on its agenda."
For months, Bolsonaro's administration ignored pleas to sign more than one contract for vaccines. The president publicly questioned the reliability of other shots and scoffed at contractual terms, suggesting that recipients of the Pfizer vaccine would have no legal recourse were they to transform into alligators. He insisted he wouldn't force anyone to get vaccinated and only recently said he might get a shot himself.
Denise Garrett, vice president of the Sabin Vaccine Institute that advocates for expanding global vaccine access, said she despaired at the government strategy. Brazil has been far and away Latin America's immunization front-runner, so much so that she hadn't seen it in the same league as the region's other countries.
Given the problems in vaccine development and distribution, "it's definitely not a good idea to put all your eggs in one basket," she said from Washington.
Stalled supplies of the AstraZeneca vaccine in January amid pressure for Brazil to begin its vaccination campaign prompted the Health Ministry to acquire tens of millions of shots from Sao Paulo state's Butantan Institute, which is mixing an active ingredient from China with a sterile solution and bottling it. The shots were the fruit of the state's negotiations with Chinese company Sinovac and went ahead despite Bolsonaro's criticisms.
Brazil's government also dragged its feet in signing on to the World Health Organization's COVAX initiative providing vaccines to poorer nations. It ultimately bought the bare minimum — enough for 10% of its population of 210 million.
"I was so anxious when that was going on; I couldn't believe they weren't going to sign it," said Garrett, who is Brazilian. "When I heard they signed, I was relieved. We were all relieved. But they signed for the minimum amount possible. … Brazil isn't in a better vaccination position now because of the incompetence or inactivity of the federal government."
In February, Brazil began signing contracts with other pharmaceutical companies, but none of their shots have been administered. Of the 10% of people who received one dose so far, the vast majority received Butantan's shot and the rest got the AstraZeneca shot, which government health institute Fiocruz is bottling.
Both Brazilian labs face supply problems. Butantan said Wednesday it was suspending production while it awaits shipments of the active ingredient from China. Fiocruz has produced only 4 million of the 50 million doses it agreed to deliver by the end of April.
That threatens to reduce the speed of vaccinations, which finally hit 1 million doses per day last week, according to a consortium of local media that compiles data from state health secretariats.
Intensive care units for COVID-19 patients in most Brazilian states are above 90% capacity. Seven of every 10 hospitals in the country risk running out of supplemental oxygen and anesthetic in the next few days, the newspaper Folha de S. Paulo reported April 8.
At the municipal hospital of Sao Joao de Meriti, a city in Rio de Janeiro's metropolitan area, the ICU ward is almost full, with many patients sharing space and oxygen bottles while being treated. Hospital director Altair Soares Neto said health professionals scarcely find time to sleep.
"Will we have the medicines, the oxygen, the conditions to care for this patient accordingly? Today we do. But, if cases keep growing, sometime we will fight chaos," he said.
The surge of deaths has brought widespread outcry. Brazil's Association of Collective Health, which has nearly 20,000 members including doctors, nurses and health experts, published an open letter this week demanding a three-week national lockdown, echoing increasingly urgent calls from others.
Bolsonaro has refused proposed lockdowns, arguing their economic impact would be even more devastating than the virus. He even took three states to the Supreme Court last month for adopting such restrictions.
"If we just wait for the vaccine to reach all risk groups, many people will die," said the health association's president, Gulnar Azevedo e Silva. "There is no national coordination. And if we don't have that, what happens? Chaos."
An agreement for FioCruz to acquire AstraZeneca's technology would allow Brazil to produce an entirely locally made vaccine and make the nation less vulnerable to constraints on imported active ingredients. Fiocruz forecasts deliveries will start in September. But that date could be pushed back due to the complexity of the process and strict quality control, its press office said in an emailed response to questions.
While visiting Fiocruz on Friday, health minister Marcelo Queiroga told reporters there are other countries that are also experiencing problems with their supply of active ingredients, and that vaccines won't remedy Brazil's high level of COVID-19 deaths in the short-term. He said the government doesn't have a "magic wand to fix all the problems."
Carla Domingues, former coordinator of Brazil's national immunization program, praised the country for approaching 1 million doses per day but said it had the infrastructure for a stronger campaign if only the government had secured the vaccines.
"Of course, we would like to vaccinate more, like in the U.S., but we can't," she said. "We're going to have to live with this virus for a long time." ——— Associated Press photographer Felipe Dana contributed to this report.