Rory McIlroy Drills Dad In Leg With Wayward Shot At Masters, 'Fore Right!'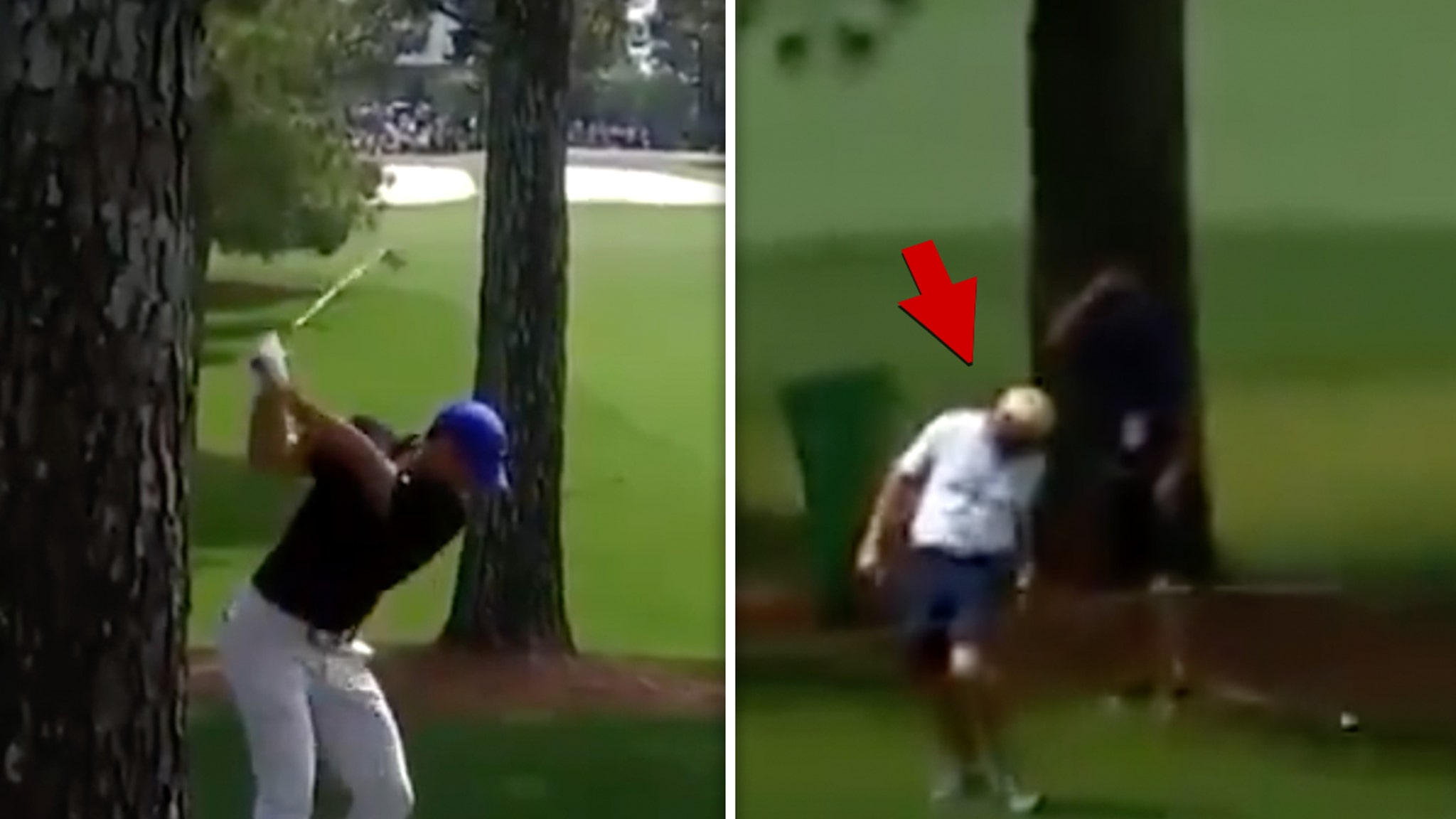 A tradition unlike any other turned into a pain unlike any other for Rory McIlroy's dad at The Masters on Thursday … 'cause the dude got drilled in the leg by one of his son's wayward shots!!
The surreal moment all went down on the 7th hole of McIlroy's opening round … when the golf superstar tried to bend a shot around a tree to hit the green from the rough.
The problem? McIlroy's approach never turned — and it made a beeline right for his dad!!
Rory tried to give his pops a heads up … he shouted "Fore right!" as soon as the ball left his clubface — but it was too late, and just moments later, Gerry McIlroy's poor calf ate the golf ball.
Gerry was seen limping shortly after the strike … but it seems he's OK — 'cause he joked with reporters after the direct hit, "I should ask for an autographed glove."
Was standing on No. 7 when Rory flared one out to the right and hit his dad in the leg. As he limped away, laughing, he looked over at us and said, "I should ask for an autographed glove."

— Kyle Porter (@KylePorterCBS) April 8, 2021
@KylePorterCBS
The shot sucks for both McIlroys … but Rory's currently got some bigger issues on his hands — he's +3 through 10 so far, and a possible missed cut seems to be on the horizon.
Rough day at the office for sure.
Courteney Cox Channels Monica Geller in Hilarious Instagram Video
Courteney Cox is showing how much she has in common with her Friends character Monica Geller!
The 56-year-old actress posted a hilarious Instagram reel on Thursday (April 15) where she revealed that she shares a love of organization with her iconic character.
"Tell me you're a Monica without telling me you're a Monica," Courteney says at the start of the clip, before pulling out a drawer of perfectly arranged cooking utensils, her uniform spice drawer and neatly organized pantry.
She ends the video by giving the camera a little shrug and saying, "I know."
The video was a hit with some of Courteney's famous friends.
Erin Foster commented, "Classic Monica," while comedian Whitney Cummings wrote, "Hahahahhaha."
Sarah Hyland was very impressed by Courteney's organization skills, writing, "I had an orgasm when that drawer opened."
The cast of Friends just wrapped filming for their HBO Max reunion special. Check out the details here!
You can also grab a Friends-themed face mask just in time for the reunion.
Gabrielle Union's Latest Look Is Making Her Fans Excited – Check It Out Here
Gabrielle Union shared her latest look on social media, and her fans cannot have enough of her. Check out her post here.
'It's the curlssssss for me. It's the curlssssss. @flawlessbygu curls 🖤💥🔥When I'm asked how @flawlessbygu was able to come out the gate performing so well and to continue to have healthy sales growth month after month, it comes down to company values 1) The Products Actually Work 🤷🏾‍♀️ 2) Accessible @sallybeauty @amazon 3) AFFORDABLE everything is 4-10$ 4) The #LiftAsWeClimb initiative to ensure we use our platform and access to amplify and empower other Black-owned businesses ✊🏾🙏🏾👑 5) We listen and embrace feedback,' Gabrielle captioned her post.
RELATED: Gabrielle Union Shows Support To Another Strong Young Woman – See Her Emotional Message
Someone said: 'Okay…the curlssssss & the BABYFACE for me.🔥' and a commenter said: 'Its the dimples for me splash🌹💦💦'
RELATED: Gabrielle Union Posts Adorable Pic Of Daughter Kaavia On The Set Of AGT
One other follower said: 'So beautiful here is a challenge you and Brandy should be each other for Halloween!!! The girls would eatt.'
A commenter said: 'Whoa!! Gabby is glamorous, not that she was already drop-dead gorgeous but Wow this look is a KILLA,' and someone else posetd this: 'Your book is so amazing! One of my favourites! ❤️'
Gabrielle Union   just praised an amazing young and talented poet. Check out her impressive message.
'Today's #WCW I want to celebrate in honour of #NationalPoetryMonth, @ajamonet. She is a poet, writer, lyricist, activist, and a voice we all desperately need. She is the youngest poet to become the Nuyorican Poets Café Grand Slam Champion at the age of 19, and is the last woman to have won this title since,' Gabrielle began her post.
She continued and said: 'She is a true artist in every sense and has so much soul, depth and truth to offer. She has also been a leading force through her activism, working with the Say Her Name campaign to highlight police brutality against black women. Please take a moment today to read her words, and let her poetry sink in. Let us lift her up in the light of goodness and hold her there.'
The artist appreciated her message.
bitchy | Prince Philip's 'friend & companion' Penny Knatchbull will attend his funeral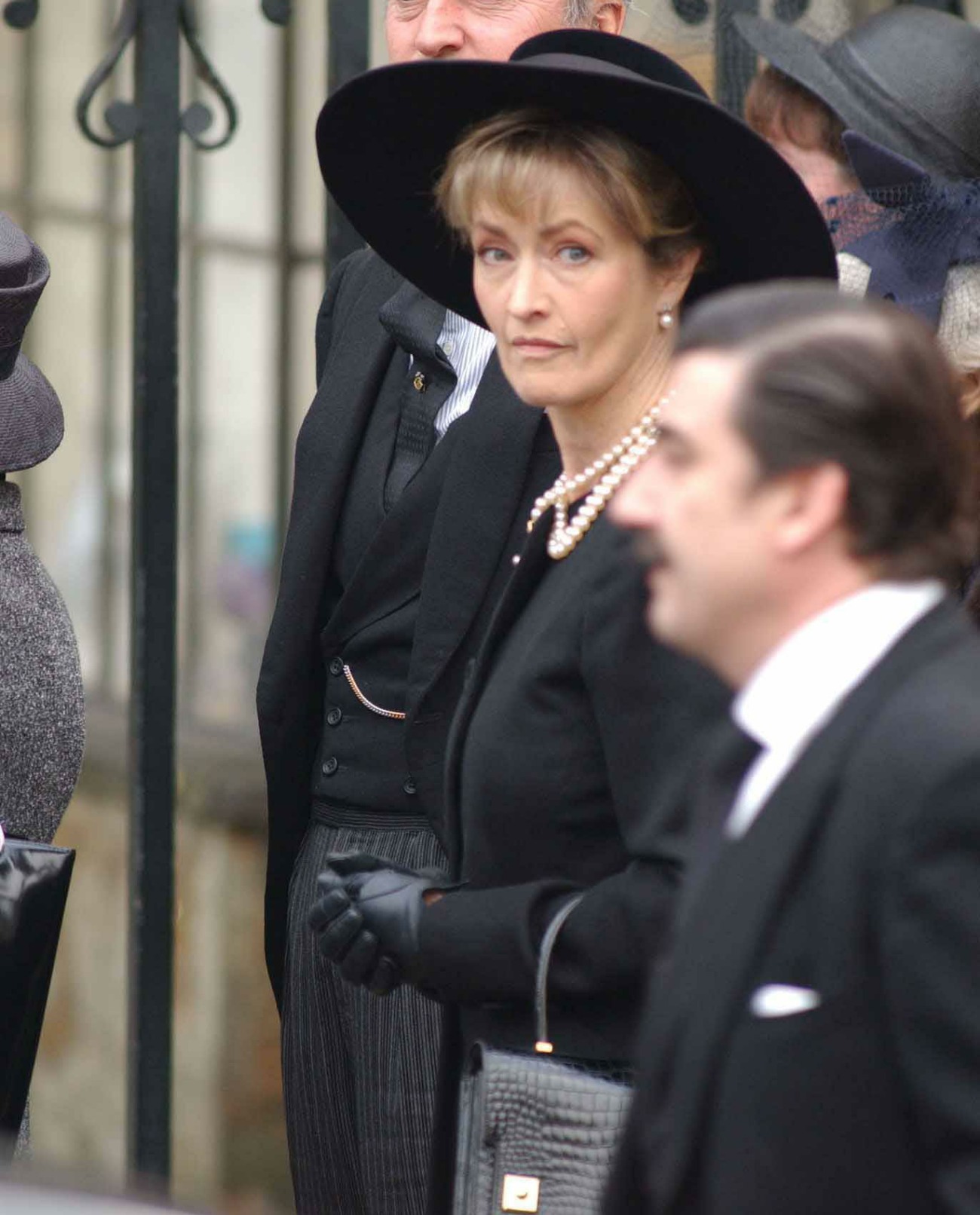 Well, the final list has been approved and sent out. Because of Covid protocols for funerals and public gatherings, the Windsor klan could only have 30 people at Prince Philip's funeral. The list of 30 has been debated heavily in the British media, so much so that I would guess that people were actually wagering money on who would make the cut. In the end, all of Philip's children and grandchildren will be there and none of the great-grandchildren will attend. Prince William won't be able to lay his head on Carole's lap at the funeral because the Middletons will not be attending. Two of Philip's "German relations" will attend but we're not supposed to talk about how his sisters married Nazis. But the most interesting revelation on the list: Penny Knatchbull, Philip's "companion" and "dear friend" who was mourning "privately" this week.
Prince Philip will be surrounded by his wife of 73 years, four children, eight grandchildren and other close family members and friends at his funeral. Due to the COVID-19 pandemic, the Duke of Edinburgh will be laid to rest at St. George's Chapel in Windsor Castle on Saturday surrounded only by close family members and friends. Queen Elizabeth had to "make some difficult decisions" about who could be there keeping with the 30-person limit, a Buckingham Palace spokesman says.

"We are dealing with a family funeral and at its heart it is still a family event," the spokesman adds. The spokesman did not elaborate on whether Prince Philip was involved in choosing who he wanted to attend his funeral before his death.

Queen Elizabeth will be joined at the funeral by her and Prince Philip's four children — Prince Charles, Princess Anne, Prince Andrew and Prince Edward — along with Charles's wife Camilla, Duchess of Cornwall, Anne's husband Timothy Laurence and Edward's wife Sophie, Countess of Wessex.

Philip's eight grandchildren — Peter Phillips, Zara Tindall, Prince William, Prince Harry, Princess Beatrice, Princess Eugenie, Lady Louise and James, Viscount Severn — will also attend the funeral.

Prince William's wife Kate Middleton, Zara Tindall's husband Mike Tindall, Princess Eugenie's husband Jack Brooksbank and Princess Beatrice's husband Edoardo Mapelli Mozzi will join their spouses. Other family members of the Queen attending include Princess Margaret's daughter Lady Sarah and her husband Daniel Chatto, Prince Richard of Gloucester, Prince Michael of Kent and Princess Alexandra.

Prince Philip will also have some of his German relatives, two great-nephews and a cousin, in attendance: Prince Bernhard, Hereditary Prince of Baden; Prince Donatus, Landgrave of Hesse; and Prince Philipp of Hohenlohe-Langenburg.

Penelope Knatchbull, Countess Mountbatten of Burma, who joined the royal family through her relationship with Norton Knatchbull, 3rd Earl of Mountbatten, will also attend.
[From People]
The AP Style Guide reminded everyone this week that we're not supposed to use "mistress" to describe women like Penny. We can call Penny the companion and friend to Philip and say that they enjoyed many carriage rides together and that she was a frequent visitor to Wood Farm when he was in residence over there. Anyway, I'm glad she'll be there. I'm also surprised that so many spouses made the cut! I didn't think Jack Brooksbank, Edoardo Mapelli Mozzi and Mike Tindall would attend.
Don't use the term mistress for a woman who is in a long-term sexual relationship with, and is financially supported by, a man who is married to someone else. Instead, use an alternative like companion, friend or lover on first reference and provide additional details later.

— APStylebook (@APStylebook) April 13, 2021
Embed from Getty Images
Embed from Getty Images
Photos courtesy of Avalon Red, WENN and Getty.