Sarah Silverman, José Andrés And More Celebs Are Helping Siblings Get 'Orbisculate' Into The Dictionary
There is now, unofficially, a word for when a citrus fruit squirts you in the eye.
On Thursday's "The Ellen DeGeneres Show", the host welcomes siblings Hillary and Jonathan Krieger, who have been campaigning to get the word "orbisculate" into the dictionary.
RELATED: Ellen DeGeneres Confirms Which Cartoon Characters Are 'Obviously Gay'
The duo launched Project Orbisculate in order to honour their late father, who made up the word to describe that annoying moment when you're peeling open a grapefruit and it squirts right in your eye.
As Hillary and Jonathan grew up, they heard their father using the word around the house, never realizing that it wasn't a real word. Only discovering the truth when using "orbisculate" around some friends.
Their goal to get the word into the dictionary requires more and more people using "orbisculate" in everyday speech. They are also raising money for a charity to help people who need help with expenses after a loved one passes away.
RELATED: Don Johnson Reminisces About Co-Starring With Ellen DeGeneres In 'Goodby Lover'
To help in their effort, DeGeneres rolled out a billboard on the side of their studio promoting the word. She then shared video featuring celebrities talking about how they are using "orbisculate".
Tiffany Haddish, Jake Tapper, Sarah Silberman and Chef José Andrés demonstrating their usage of the word.
Comments
Medical Minute: Brain tumors, risk factors, signs & symptoms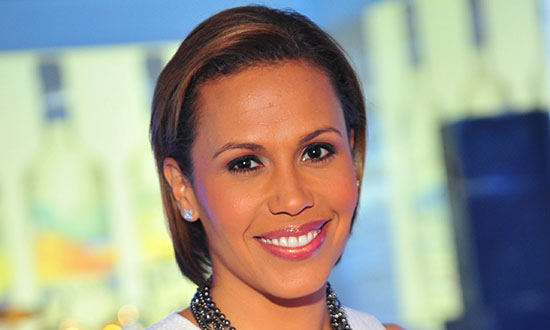 Emmy-winning news anchor Jovita Moore underwent surgery to remove two small brain tumors early Friday morning.
Jovita worked as a news reporter and anchor at Channel 2 Action News for two decades.
[Click here to leave your well wishes for Jovita]
Just before going on the air Monday, Jovita told Channel 2's Justin Farmer that she wasn't feeling well.
Later, as she walked through a grocery store parking lot, she felt lightheaded. "I was walking. I remember walking across parking lot and feeling like I wasn't going to make it to the door. I was walking like in quicksand," Jovita said.
She was rushed to an emergency room, where a brain scan revealed two small brain masses.
Jovita told co-workers she was sometimes "forgetful, disoriented and just not feeling myself."
What is a Brain Tumor?
A brain tumor occurs when abnormal brain cells clump together to form a mass. As the tumor grows, it presses on the surrounding tissue. Eventually, the pressure on surrounding structures causes symptoms, such as in Jovita's case.
Brain tumors can remain in the brain or metastasize (spread) elsewhere in the body.
Cancer in other parts of the body, such as the lungs, can metastasize to the brain.
Tumors may be benign (non-cancerous) or malignant (cancerous).
What are the risk factors for a brain tumor?
A family history of cancer is one of the risk factors. About 5 to 10 percent of all cancers are hereditary.
Brain tumors are diagnosed more often in Caucasians and biracial, mixed people.
Certain chemicals, such as industrial cleaners, solvents, or medications can increase your risk for brain cancer.
Exposure to radiation can also increase risk.
According to the American Brain Tumor Association, people who never had childhood chicken pox are at greater risk of getting brain tumors.
Signs and symptoms of a brain tumor
Signs and symptoms of a brain tumor depends on the type, size, and location of the tumor within the brain. The space surrounding the brain inside the skull doesn't allow for much wiggle room. A tumor, or even an aneursym, will press on surrounding tissues causing noticeable signs and symptoms.
Signs & symptoms include:
Headache
Dizziness, lightheadedness, vertigo
Blurred or double vision
Loss of balance
Nausea and vomiting
Seizures
Confusion, disorientation
Change in mental status
Memory loss
Hand tremors
Difficulty walking
Numbness or tingling on one side of the body
Difficulty speaking
How are brain tumors diagnosed?
Your doctor will order diagnostic tests and perform a physical exam. The doctor will use an ophthalmoscope to visualize your optic nerves inside your eues. The scope shines a light in your eyes to see if your pupils are unequal or dilated.
Diagnostic tests include CT scan, MRI, angiography and skull X-rays.
How are brain tumors treated?
Treatment depends on the type, size, and location of the tumor. The most common treatment is surgery to remove the tumor.
Surgery can also be combined with chemotherapy and radiation.
There are risks involved with brain surgery, such as loss of mobility, loss of speech and paralysis. Post-surgical infection is also likely.
Patients may temporarily lose the ability to walk or speak after surgery, depending on the location of the tumor that was removed.
Some patients will require physical therapy or speech therapy after surgery.
This has been your Medical Minute.
 
DISCLAIMER
Any medical information published on this blog is for your general information only and is not intended as a substitute for informed medical advice. You should not take any action before consulting with your personal physician or a health care provider. Sandrarose.com and its affiliates cannot be held liable for any damages incurred by following information found on this blog.
Courteney Cox Channels Monica Geller in Hilarious Instagram Video
Courteney Cox is showing how much she has in common with her Friends character Monica Geller!
The 56-year-old actress posted a hilarious Instagram reel on Thursday (April 15) where she revealed that she shares a love of organization with her iconic character.
"Tell me you're a Monica without telling me you're a Monica," Courteney says at the start of the clip, before pulling out a drawer of perfectly arranged cooking utensils, her uniform spice drawer and neatly organized pantry.
She ends the video by giving the camera a little shrug and saying, "I know."
The video was a hit with some of Courteney's famous friends.
Erin Foster commented, "Classic Monica," while comedian Whitney Cummings wrote, "Hahahahhaha."
Sarah Hyland was very impressed by Courteney's organization skills, writing, "I had an orgasm when that drawer opened."
The cast of Friends just wrapped filming for their HBO Max reunion special. Check out the details here!
You can also grab a Friends-themed face mask just in time for the reunion.
Gabrielle Union's Latest Look Is Making Her Fans Excited – Check It Out Here
Gabrielle Union shared her latest look on social media, and her fans cannot have enough of her. Check out her post here.
'It's the curlssssss for me. It's the curlssssss. @flawlessbygu curls 🖤💥🔥When I'm asked how @flawlessbygu was able to come out the gate performing so well and to continue to have healthy sales growth month after month, it comes down to company values 1) The Products Actually Work 🤷🏾‍♀️ 2) Accessible @sallybeauty @amazon 3) AFFORDABLE everything is 4-10$ 4) The #LiftAsWeClimb initiative to ensure we use our platform and access to amplify and empower other Black-owned businesses ✊🏾🙏🏾👑 5) We listen and embrace feedback,' Gabrielle captioned her post.
RELATED: Gabrielle Union Shows Support To Another Strong Young Woman – See Her Emotional Message
Someone said: 'Okay…the curlssssss & the BABYFACE for me.🔥' and a commenter said: 'Its the dimples for me splash🌹💦💦'
RELATED: Gabrielle Union Posts Adorable Pic Of Daughter Kaavia On The Set Of AGT
One other follower said: 'So beautiful here is a challenge you and Brandy should be each other for Halloween!!! The girls would eatt.'
A commenter said: 'Whoa!! Gabby is glamorous, not that she was already drop-dead gorgeous but Wow this look is a KILLA,' and someone else posetd this: 'Your book is so amazing! One of my favourites! ❤️'
Gabrielle Union   just praised an amazing young and talented poet. Check out her impressive message.
'Today's #WCW I want to celebrate in honour of #NationalPoetryMonth, @ajamonet. She is a poet, writer, lyricist, activist, and a voice we all desperately need. She is the youngest poet to become the Nuyorican Poets Café Grand Slam Champion at the age of 19, and is the last woman to have won this title since,' Gabrielle began her post.
She continued and said: 'She is a true artist in every sense and has so much soul, depth and truth to offer. She has also been a leading force through her activism, working with the Say Her Name campaign to highlight police brutality against black women. Please take a moment today to read her words, and let her poetry sink in. Let us lift her up in the light of goodness and hold her there.'
The artist appreciated her message.