Someone Please Hire Ayo Edebiri to Write the 'Frasier' Reboot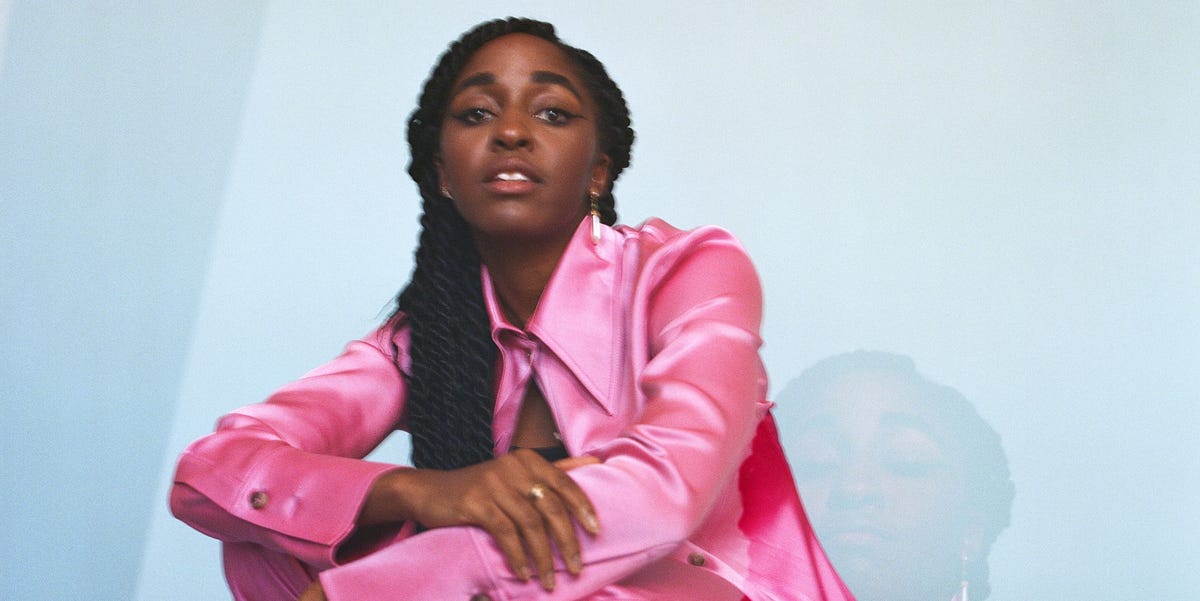 Ayo Edebiri suspects that I have her confused with someone else. Her PR team "sent me examples of your stories with Kathryn Hahn and Jonathan Majors," she says, stressing their surnames as if they are an entirely different caliber of celebrity. "I mean, if you want to talk to me, no worries. I don't mind talking to people! But, like… please justify why?"
Here's why: Few young comedians have Edebiri's versatility. She's a wunderkind who hasn't realized it yet. It's true that, at age 25, Edebiri's not a household name in the vein of Michael Che, Chelsea Peretti, or John Mulaney. (For one, she's not having burgers with Olivia Munn.) But she is a deft master of an extremely particular brand of ironic, almost absurdist humor that plays well on Twitter, and her drawn-out gags have landed her in the corrections section of BuzzFeed, an accolade in and of itself. She's taken a refreshingly creative approach to comedy, depending less on flashy stand-up specials and more on podcasts and television, appearing as Hattie in Apple TV+'s Dickinson while growing into the new voice of Big Mouth's Missy, following Jenny Slate's departure in 2020. She's just as talented a writer as she is an actress: A co-producer on the upcoming Tina Fey-led Netflix animated series Mulligan, she's also set to star in an FX pilot led by Shameless's Jeremy Allen White, called The Bear. This week, you can find her in Zoe Lister-Jones's pre-apocalyptic dramedy How It Ends. It's hardly a stretch to call her a burgeoning star. And yes, whether or not she believes it, she can exist in the same conversation as someone like Hahn.
But perhaps what's most intriguing about Edebiri right now, in this moment, is that she's not yet a true celebrity—she can giggle at her own relative obscurity and spin it into material. One of her most infamous bits resides in her Twitter bio: She claims to be "Showrunner of The Kominksy [sic] Method—now streaming on Netflix, Vudu, and the ITV app."
In case it wasn't already obvious, Edebiri does not, in fact, run the Michael Douglas comedy, in which two aging white men deal with the travails of, well, aging. She simply thought the idea of her, a young Black female comedian, helming a show about two old white dudes was too good to pass up. It's "like a little joke for me," she explains. Yet it quickly became a joke on her audience, and she can't help but relish in those who stumble into her realm.
"I got in trouble for that the other day on the set of The Bear," she says, grinning. "I was in a car with these other actors who were on the show and are a little bit older—I don't think they're on Twitter. One of them was like, 'I didn't even realize you were the showrunner at The Kominsky Method! I love that show, that's so impressive, I'm so proud of you!' And I was like, 'I don't know how to say… Like, has this joke gone too far?'"
But of course it hasn't—because the whole point of a running joke is to see just how far it can go. Edebiri thoroughly enjoys testing these boundaries, riffing on the millennial tendency for hyperbole ("no pronouns // do not refer to me ever," reads one of her most popular tweets).
Edebiri's also enviously good at taking the nonlinear path, riding it like a rollercoaster rather than forcing a track change. Even during her time as an undergraduate at New York University, she was aware of how "so many things about this industry can feel so amorphous," so she simply started throwing darts at the wall: writing, doing stand-up, going to open mics, acting, and voice acting. She developed a love of animation after renting her first VHS of Sailor Moon at Blockbuster (RIP). The animated world is now one of her primary art forms, capable of transforming her hyperboles into new (and even funnier) territory. "It's fun to have an idea that physically does not make sense, but there are a group of talented people who understand the insane things you say and can make it make sense and make it look beautiful and make it look cool," she says.
Even her own career has been something of an exercise in longevity. Raised in Boston by two immigrant parents—her mother from Barbados, her father, Nigeria—she grew up watching a very specific genre of Christian stand-up. I ask what attracted her to a career making people laugh, and she deflects: "If I knew the true answer, I probably wouldn't be doing comedy. I'd be living on a farm raising chickens and doing pottery. If I truly knew the answer, I would not have social media; I would read eight books a day."
Part of what allowed Edebiri to continue down this path was a realization that the comedy world was changing. She could see the shift in her inspirations (and, in several cases, real-life friends): Naomi Ekperigin, Maria Bamford, Jacqueline Novak, Petey DeAbreu, Patti Harrison, and Mitra Jouhari, to name several. The industry didn't feel as misogynistic nor as cutthroat as it once had. "[Comedy] was a lot less isolating and ego-based than I thought it was," she says. "There's a lot more collaboration and community."
And social media meant she could reach anyone, instantly, with a well-timed post. I ask what the difference is between a joke tweet and a joke she saves for stand-up or TV. How does she know the best place to slot good material?
"I don't know if there's an actual thought process," she admits. "My brain is, like, 'This is just a thought that I want to fire off,' and I know that it's meant to be read and processed for 30 seconds."
"Are you ever like, 'This is going to kill on Twitter?'" I ask.
"Anytime I do think, 'This is a banger,' I get 50 likes. I have to move; I need to change my name."
I don't tell her that 50 likes is good for some of us. It's clear that Edebiri is still too self-effacing—or perhaps too self-deprecating—to recognize she's winning.
---
In the writers' room for season 2 of Dickinson, Edebiri made such an impression that she was brought out from behind the camera and cast as Hattie, one of the Dickinson family servants whom Emily Dickinson asks to join a seance. With perfect deadpan delivery—and her signature touch, a note of absurdity—Edebiri replies, "I don't need to talk to any more dead white people."
What she does need is more opportunities and more space to play. She possesses a wild imagination, and an eagerness to chase it to extremes. Take her pitch for the upcoming Frasier reboot, for instance. She recently tweeted that she wanted to cancel the titular character. I ask if she'd care to elaborate.
"Paramount, if you want to reach out, I'm at CAA," Edebiri says as an aside, before launching in: Dr. Frasier Crane (Kelsey Grammer) has left Seattle, but upon the death of his father, he returns to a changing, rapidly gentrifying city. Realizing "there's no more radio, basically," he's forced to take a meeting with Edebiri, a successful podcast host. He wants her to teach him how to podcast so he can recapture his hit radio audience, but he hasn't learned the internet's lingo and "says a bunch of things that are really insulting to millennials."
Edebiri adds, "And obviously, I cancel him."
Sure, Frasier's cancellation is probably overdue. But then what?
"Well, when we're done feuding, I help him make a podcast. I'm his new producer."
In other words, in the end, Edebiri's the one laughing. She follows the joke until she's the one on top.
To be fair, she's keenly aware that her peak is a long ways off. A few days ago, she recalls telling a local driver that she was an actress; he asked what she'd been in.
"Well, some things," she said. "But I don't think you've seen them. Because you told me the only things you watch are Marvel shows."
"Well, what have you been in? Don't be so doubtful."
"I'm not being doubtful. I'm just working with the information I've been given."
Try me, he dared. So she told him: Dickinson, How It Ends, Big Mouth.
"I don't watch any of that."
"Yeah, I know."
Alas, Edebiri gets a kick out of her own embarrassment. Perhaps she's her own best gag, an up-and-comer with an as-yet-uncertain endpoint. Stardom isn't exactly synonymous with happiness, anyway. "I don't think I have any desire to, I don't know, be riding a horse for Givenchy perfume," she says. "I'd actually be falling off the horse, being dragged, riding sideways."
But, hey, if it got a good laugh? Giddy up.
This content is created and maintained by a third party, and imported onto this page to help users provide their email addresses. You may be able to find more information about this and similar content at piano.io
How Misha Nonoo Made Meghan Markle's Favorite Button Down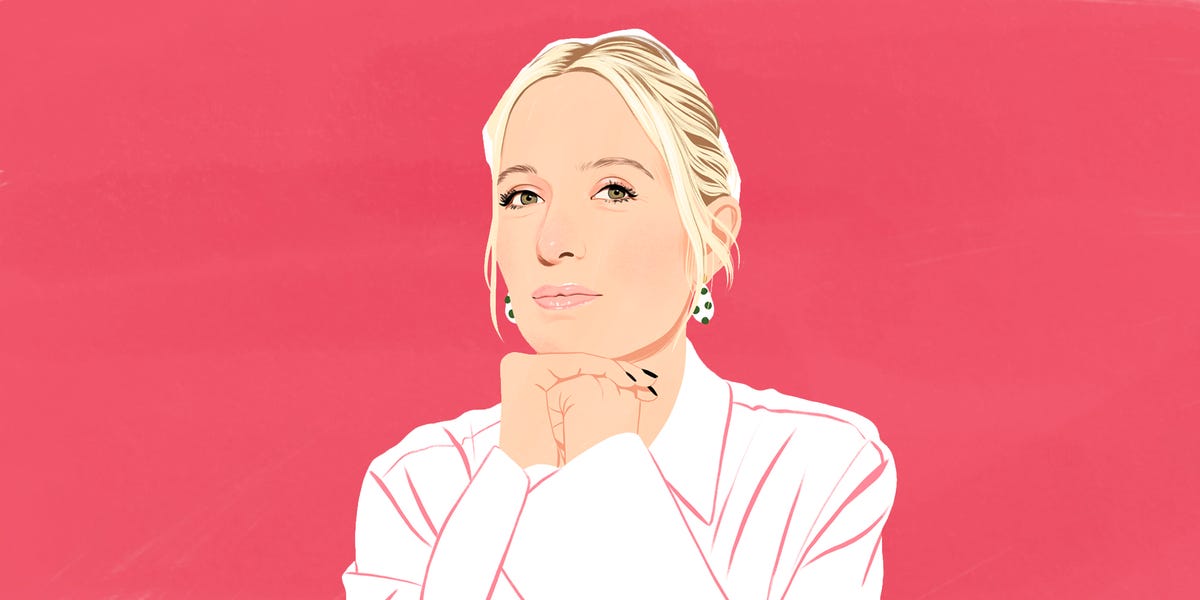 For her first public appearance with Prince Harry in 2017, Meghan Markle famously manifested her future by wearing an oversize white button down called the "Husband" shirt. Designed by her close friend Misha Nonoo—who, coincidentally, is rumored to have set the couple up—the shirt got the "Markle Sparkle" sheen, a highly coveted phenomenon that occurs after Markle wears a particular designer. Nonoo's Husband shirt went on backorder almost immediately and has consistently been one of her best-selling items ever since. The iconic basic now comes in a variety of colors, fabrics, sizes, and is even part of her new maternity collection.
In ELLE's series Clothes of Our Lives, we decode the sartorial choices made by powerful women, and explore how fashion can be used as a tool for communication. Below in her own words, Nonoo (who recently debuted a swimwear capsule collection with Vitamin A and a maternity line for her eponymous label) recalls how her life was turned upside down by a simple white shirt.
---
When a person of note—particularly someone that is so closely associated to myself or to the brand like Meghan is, and it's well documented that we have a long, enduring, and very close friendship—wears your design, there's an almost instant shift in interest and sales.
Her platform gave a great level of awareness to our brand and our mission. I think that's just a natural phenomenon that occurs when you are fortunate enough to have a like-minded person publicize your collection, like Meghan has done with the Husband shirt. People buy the original in white, and then come back for more in different colors because they love it so much.
The shirt has taken on a life of its own at this point—becoming a very important and meaningful piece not just for me, but in other peoples' lives.
The Husband shirt was borne from the sense that you always want to wear an item from a significant other to feel close to them. I love wearing stuff from my husband's closet because there's really nothing sexier than borrowing from the boys.
About five years ago, I went to the mannequin and tailored a shirt from an existing collection to be oversized in certain places. It took at least a couple of weeks to finish—from my initial idea of draping it to creating a muslin—and part of what made the project extra special was the fact that it was an amalgamation of a few different parts. The studs on the prototype shirt actually came from a piece of footwear that I designed for a collaboration a few years prior. It's funny how sometimes the best things in life happen when you build upon something that's already there.
As a designer, I'm always creating new things, so it can be hard to predict which pieces will gain traction and when. The fact that I loved this concept of a "borrowed" shirt so much (and that I identified with the woman who was going to wear it) should have been a dead giveaway that it would be popular. But in hindsight I had no idea.
We launched the Husband shirt in September of 2016 as part of a larger collection called The Easy Eight. All my friends and family loved the idea—and its tongue in cheek name. My president at the time and I had a bet as to what would be the most popular piece. I said something else, but he bet on the Husband shirt. He was right, of course.
From the start it was one of our most sold items, because everyone needs a good white button down. The studs make it sexy, almost like a piece of jewelry, and the oversize cuffs mean it can be worn in multiple ways. Tuck it in, or wear it with jeans. It's very flexible.
The Husband shirt now comes in a lot of colors, patterns, and fabrics. We have organic cotton and linen. We have various stripes and solid colors. We've done embroidered versions. You can even send it as a gift with somebody else's monogrammed initials on it. There's so many ways to personalize the shirt, and it'll continue to be there for people who have grown to love it over the years.
---
I often think to myself: what would I do if I didn't have the Husband shirt? It's become a backbone in my own collection. I personally wear it four to five times a week, whether it's the blue and white stripe version, or the olive green linen version. I love separates, so I pair it with trousers or a skirt. I used to love miniskirts too, but now that I'm a mother they are harder to wear, and not quite as practical.
Not only do I love wearing it, but the Husband shirt has also become a solid part of my business. We have been able to do so much with it—including working with different charitable organizations.
In 2019, Meghan and I teamed up to design a white shirt for a collaboration called The Smart Set. For every shirt sold, we donated the same shirt to a philanthropic organization based in the U.K. called Smart Works, which helps women who have been out of the workforce for a prolonged period of time. Not only does Smart Works offer guidance to women anything from coaching to interview techniques, but they also help them dress for interviews. The Duchess of Sussex was a patron of the organization in the U.K., and she created a capsule wardrobe for them. We ended up contributing several thousand shirts, and it an amazing partnership.
More recently, my team and I found a way to use the Husband Shirt to help restaurants affected by COVID-19. For every shirt sold (they cost $185), we donated $100 to a charitable organization that supported restaurants battered by the pandemic.
It's been four years since we launched the very first iteration of the Husband shirt, and I'm still very, very proud. We've been able to dress women from all walks of life and from all around the world. The shirt practically has its own personality at this point.
There's something really gratifying about creating a traditional piece of clothing, a classic piece of clothing, that people can wear in a very modern way—because it means it has longevity. And that's pretty amazing.
This interview has been lightly edited and condensed for clarity.
This content is created and maintained by a third party, and imported onto this page to help users provide their email addresses. You may be able to find more information about this and similar content at piano.io
These Are the Best Purses on Amazon to Shop Before They're Sold Out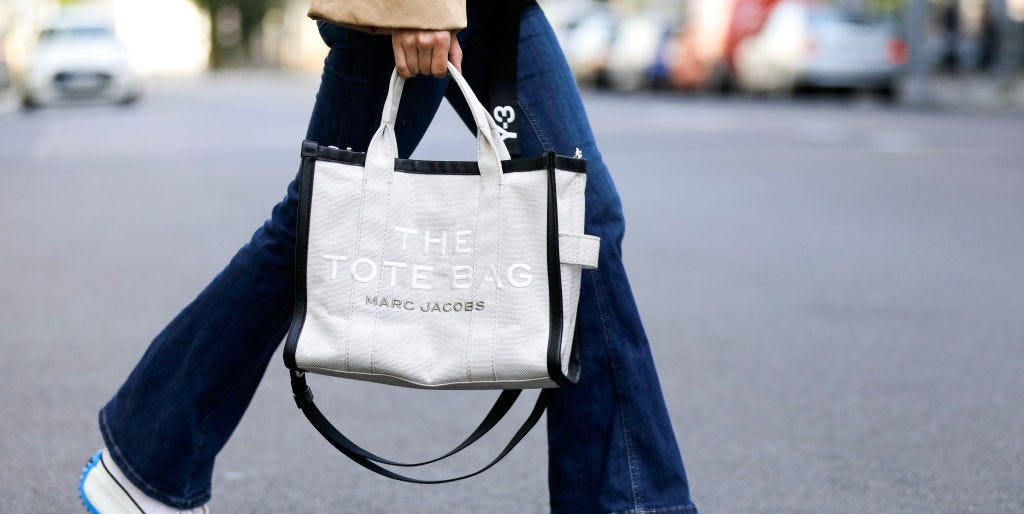 StreetstyleshootersGetty Images
We're back with another I-can't-believe-I-got-this-on-Amazon roundup, and trust us, you won't be disappointed. You already know the spiel. Where do you go for trendy and affordable pieces? Shoes and dresses for your next summer wedding? Or Oscar de la Renta's latest collaboration with Cle de Peau? That's right. Amazon. This time, we've rounded up a bunch of cute bags you can find on the site, including some luxe designer options, too. From crossbody bags to chic top-handles, there are a ton of styles to freshen up your wardrobe. Shop 13 of the best-reviewed purses we found on Amazon, ahead.
Advertisement – Continue Reading Below
1
This Little Black Bag
Jerilini Top Handle Bag
A must-have in everyone's wardrobes is a little black bag. This one from Aldo is both stylish and has great ratings.
2
This famous baguette
Vegan Leather Crocodile Purse
JW Pei is taking the internet by storm with its affordable and stylish bags. And according to the reviews you can trust the hype: it has a solid five-star rating and over 780 reviews. 
3
This Mini Crossbody Bag
Kuei Mini Crossbody Belt Bag
Brandon Blackwood
$385.00
We love a simple crossbody bag. Brandon Blackwood's Kuei style is so sleek with its zipper and silver hardware. 
4
This Trendy Straw Purse
Tort Bag, Natural, Tan, One Size
The beach is calling, and this bag is answering. Straw bags are staple pieces that are totally worth the investment. Match this style with some black sandals and a white dress, and you've got the summer 2021 look down pat. 
5
This Vegan purse
Gabbi Bag Chic Pouch
Back with another JW Pei bag that stole our hearts this season. Celebs like EmRata and Gigi Hadid could not get enough of this style. Plus, this piece is made with vegan leather so you can feel good about your purchase.
6
This medium-sized Bag
Mademoiselle Bag
It's the olive color for me. This miniature bag is just what you need for those quick runs into town when you only need a handful of items, but still want to look stylish.
7
this coin purse
Shweshwe Small Zipper Coin Pouch
Though it doesn't have any straps, it still counts as a purse! Tuck any coins or loose items into this printed bag to keep everything safe.  
8
this top-rated zip purse
Fern Toffee One Size
HOBO's Fern bag is one of its most popular styles, thanks to the double zippers and the array of colors. It has a 4.4-star rating and so many great reviews, which makes it hard to resist. 
9
this logo Tote
The Large Tote Bag
I can't leave out everyone's favorite tote bag, could I? Use this cult-favorite purse to throw in all your essentials for a weekend getaway.
10
This Olive Crossbody
Sara Crossbody
Liebeskind Berlin
$107.38
This Berlin-born brand crafts sturdy and stunning pieces you can wear every day, like this olive-hued style with multiple compartments. (I happen to have a couple of its bags myself and get so much use out of them.) 
11
This Bucket Bag
Natural Camel Bucket Bag
A bag like this should take you to beautiful places, like dreamy picnics and romantic strolls into the sunset. Am I romanticizing a purchase too much? Probably.
12
This Structured Mini purse
We Are Original Shoulder Flap Bag
A light pink bag with a thick chain feels fun and flirty. When you need to add a little statement piece to your outfit, this should be the bag you reach for. 
13
This neutral purse
Purses for Women Satchel Bags
While this bag looks expensive, she's only $55.99 and just what you need on your next excursion. Just a heads up though, it does run a little smaller than pictured. 
This content is created and maintained by a third party, and imported onto this page to help users provide their email addresses. You may be able to find more information about this and similar content at piano.io
Advertisement – Continue Reading Below
House of Gucci Unveils Character Posters of Its Star-Studded Cast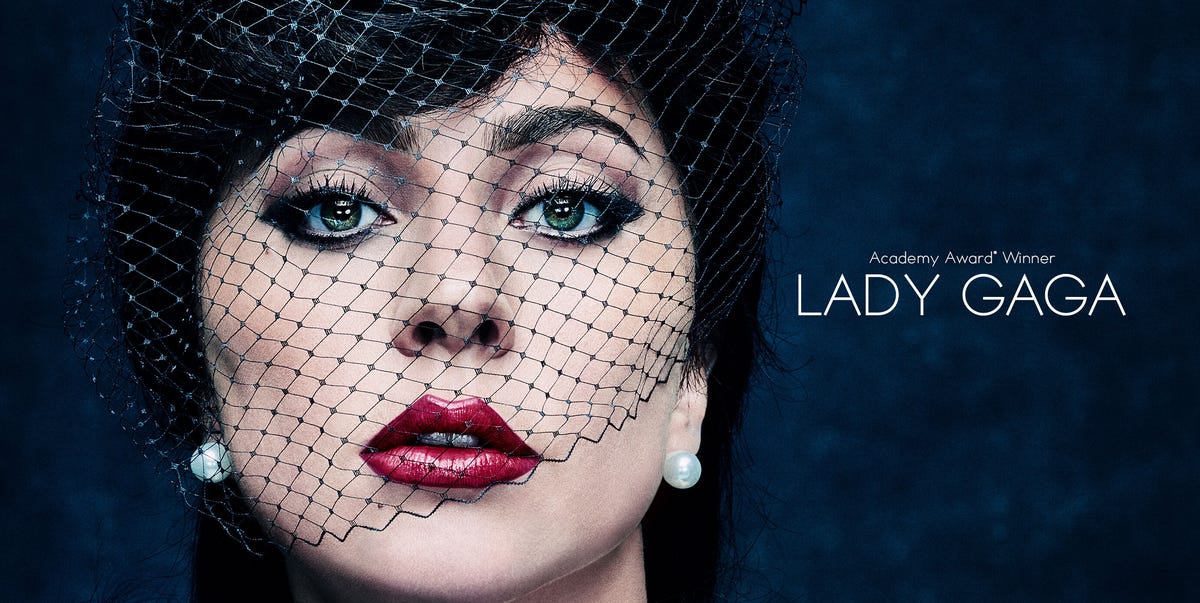 Ridley Scott's highly anticipated biopic, House of Gucci, is officially on the way. MGM Studios released the official character posters of the upcoming movie, starring Lady Gaga and Adam Driver. The film is set to hit theaters on Nov. 24, 2021.
Gaga shared the poster with her 48.4 million followers on Instagram. "Stasera," she captioned the post–which translates to "this evening," possibly hinting at a trailer release. House of Gucci will be Gaga's first film since her award-winning performance in A Star Is Born.
This content is imported from Instagram. You may be able to find the same content in another format, or you may be able to find more information, at their web site.
The film will portray the life of Maurizio Gucci (Adam Driver), the grandson of the founder of the Gucci fashion house, Guccio Gucci, and his relationship with his wife, Patrizia Reggiani (Lady Gaga). Reggiani was convicted of murdering Gucci in 1998.
Scott's biopic is based on the book House of Gucci: A Sensational Story of Murder, Madness, Glamour, and Greed by Sara G. Forden. The film boasts a star-studded cast alongside Gaga and Driver. Suicide Squad actor Jared Leto will play Paolo Gucci, with Justice League actor Jeremy Irons as Rodolfo Gucci, famed actor Al Pacino as Aldo Gucci, and Frida actress Salma Hayek as Pina Auriemma.
MGM posted official posters of the film on Instagram this morning, captioning the photos, using the same caption as Gaga. Leto's look in particular sent fans into a frenzy, with the actor's transformation making him almost unrecognizable.
This content is imported from Instagram. You may be able to find the same content in another format, or you may be able to find more information, at their web site.
MGM posted Driver's, Irons' and Pacino's characters as well:
This content is imported from Instagram. You may be able to find the same content in another format, or you may be able to find more information, at their web site.
This content is imported from Instagram. You may be able to find the same content in another format, or you may be able to find more information, at their web site.
This content is imported from Instagram. You may be able to find the same content in another format, or you may be able to find more information, at their web site.
On March 6, Gaga shared her own first look at the film on Instagram. "Signore e Signora Gucci #HouseOfGucci," the actress captioned the picture of her and Driver in full character.
This content is imported from Instagram. You may be able to find the same content in another format, or you may be able to find more information, at their web site.
This content is created and maintained by a third party, and imported onto this page to help users provide their email addresses. You may be able to find more information about this and similar content at piano.io