'Star Wars: The Bad Batch' Premiere Episode: [Spoiler] From 'Rebels' Makes A Cameo
Warning: The following article contains spoilers from episode 1,"Aftermath", of the new Disney+ animated series Star Wars: The Bad Batch 
Here's a big deal for fans of the Dave Filoni-created Star Wars animated canon: An old character (actually, much younger here) made an appearance on the first episode of the new Star Wars animated series The Bad Batch which dropped in the middle of the night. And, it's the Freddie Prinze Jr. voiced Star Wars Rebels character Kanan Jarrus. Except here, he's known by his padawan name Caleb Dume.
Jarrus was a Jedi Knight and the leader of the Ghost crew on Rebels. During Kanan's run on the series, he is blinded by Darth Maul, the dark Jedi introduced in the 1999 feature Star Wars: Episode I, The Phantom Menace.
Related Story
Maggie Simpson Joins Galaxy Far, Far Away In New Disney+ 'Star Wars' Short
At the onset of "Aftermath", Caleb survives Order 66; that's when all the clone troopers at the end of Star Wars: Revenge of the Sith turned their guns and wiped out most of the Jedis per Emperor Palpatine's edict. BTW, the Bad Batch aka Force Clone 99 is comprised of  five rogue troopers –Hunter, Echo, Tick, Ricket and Crosshair– who refused to obey Order 66.
Bad Batch begins with Caleb calling in the five rogue members in a skirmish against the Republic's Separatist droids. He is under the tutelage of Jedi master Dep Billaba (Archie Panjabi). Caleb soon witness Order 66 in its full effect as Billaba becomes a target of the clone troopers. It's her sacrifice that Caleb absorbs. For you see, Caleb ultimately sacrifices himself to save the Ghost Crew in Rebels. Caleb sees his Jedi Master being ganged up on by the clone troopers, but she tells him to run. He follows her orders and winders up running into the Bad Batch. "Stay away from me!" Caleb yells at them and dashes into the forest, and then up a tree. Ultimately, the rogue troopers see Order 66 has been put into place, however, they have Caleb's back and protect him from the main troupe. Hunter tries to help Caleb, but the kid winds up jumping over a huge canyon and flees. To be continued…
EW reports that it was Filoni's idea to draw a young Caleb into the Bad Batch kickoff. The series takes place post 2005's Star Wars, Episode III: Revenge of the Sith and before the animated Rebels.
Bad Batch EPs Jennifer Corbett and Brad Rau didn't make any big promises to EW that Caleb would return, but they didn't shut any doors either.
Rau said, "We don't run across familiar faces every single episode, every single time, but when we do, we want to make sure that it's worth it."
Princess Beatrice Sports Chic Outfit for Lunch with a Friend
Princess Beatrice is enjoying a day out with a friend!
The 32-year-old royal shared a laugh with a friend as they ate lunch outside of Scott's Restaurant on Tuesday afternoon (May 4) in the Mayfair neighborhood of London, England.
PHOTOS: Check out the latest pics of Princess Beatrice
Princess Beatrice looked super chic in a stylish tan coat over a black dress paired with black stockings and black boots while carrying a bright blue handbag.
After lunch, Princess Beatrice was spotted chatting on the phone as she continued on with her day.
Princess Beatrice's latest outing marks the first time she has been spotted out since attending her grandfather Prince Philip's funeral last month.
She attended the funeral with husband Edoardo Mapelli Mozzi, whom she married in July 2020.
In a rare interview, Princess Beatrice spoke candidly about being a stepmom to Edoardo's 5-year-old son. Here's what she said.
Telugu veteran playback singer G Anand passes away due to COVID 19
G Anand was undergoing treatment at Tirumala Hospital in B.N. Reddy Nagar for COVID-19. He was 67.
Telugu veteran playback singer G Anand passes away due to COVID 19
South Indian film industry has lost another talented singer this week due to COVID-19. Veteran playback singer G. Anand succumbed to COVID-19 on Thursday. According to media reports, his oxygen saturation fell to 55 and he could not get a ventilator on time. He was 67. Several close people and among the circle appealed for help on social media while he was undergoing treatment at Tirumala Hospital in B.N. Reddy Nagar. 
Playback singer Venu tagged RRR movie makers and Pushpa producers Mythri Movie Makers as he appealed for help on Twitter. "Senior Singer #GAnand Garu is in Very Critical condition. He is admitted at Tirumala Hospital B.N.Reddy Nagar. Oxygen levels have come down to 55 & he is in need of a ventilator which is not readily available in that hospital. So kindly RT & help him." 
Take a look at the tweet below: 
Senior Singer #GAnand Garu is in Very Critical condition.

He is admitted in Tirumala Hospital B.N.Reddy Nagar.

Oxygen levels have come down to 55 & he is in need of a ventilator which is not readily available in that hospital. So kindly RT & help him@RRRMovie @MythriOfficial

— venu_music (@venusrirangam) May 6, 2021
G. Anand started his career in Chennai with the movie Amerika Ammayi in 1976. His song Oka venuvu vinipinchenu anuraaga geethika from the film in a G.K. Venkatesh' composition became a huge hit. He also started his musical group called "Swara Madhuri' and did a lot of live shows with his team all over the world. 
RIP, G Anand! 
Also Read: Ovvoru Pookalume fame singer Comagan passes away at 48; Director Cheran says 'He was the eyes of 25 families' 

Your comment has been submitted to the moderation queue
Longtime Grey's Anatomy actor Jesse Williams is leaving the show
SPOILERS: Do not read this article if you have not watched the May 6 episode of Grey's Anatomy.
Jesse Williams, who has played surgeon Jackson Avery on Grey's Anatomy since the show's sixth season, will be leaving the ABC medical drama at the end of this season, its 17th. Williams' final episode, titled 'Tradition,' will air on May 20.
ABC confirmed Williams' departure to Variety and provided statements from the actor and from Grey's Anatomy showrunner, Krista Vernoff.
READ MORE: What happened to Katherine Heigl?
"Jesse Williams is an extraordinary artist and activist," Vernoff said. "Watching his evolution these past 11 years both on screen and off has been a true gift. Jesse brings so much heart, such depth of care, and so much intelligence to his work. We will miss Jesse terribly and we will miss Jackson Avery — played to perfection for so many years."
READ MORE: Grey's Anatomy fans go crazy as iconic TV couple finally get their 'dream wedding'
Over the years, the character of Jackson has evolved from being a privileged plastic surgeon to a caring doctor focusing on inequities in health care, especially during the COVID-19 pandemic.
This season, Jackson has found closure with other Grey's Anatomy characters, including his mother, Catherine Avery (Debbie Allen) — and in Thursday's episode, with his ex-wife April, played by Sarah Drew, who left the show in 2018.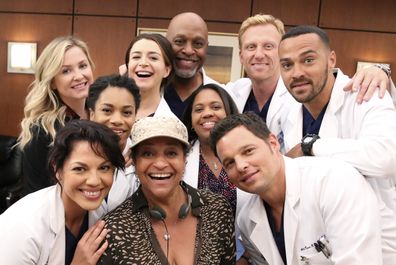 In a statement, Williams said: "I will forever be grateful for the boundless opportunities provided me by Shonda, the network, studio, fellow castmates, our incredible crew, Krista, Ellen, and Debbie. As an actor, director and person, I have been obscenely lucky to learn so much from so many and I thank our beautiful fans, who breathe so much energy and appreciation into our shared worlds.
"The experience and endurance born of creating nearly 300 hours of leading global television is a gift I'll carry always. I am immensely proud of our work, our impact and to be moving forward with so many tools, opportunities, allies and dear friends."
The news that Williams is leaving Grey's Anatomy was first reported by Deadline.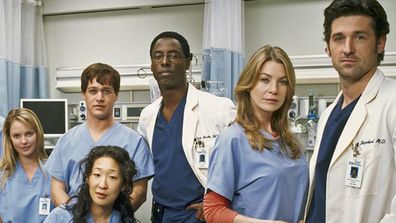 Grey's Anatomy: Then and now