Sword Reverie is a Bright Beginning for VR JRPGs | Hacker Noon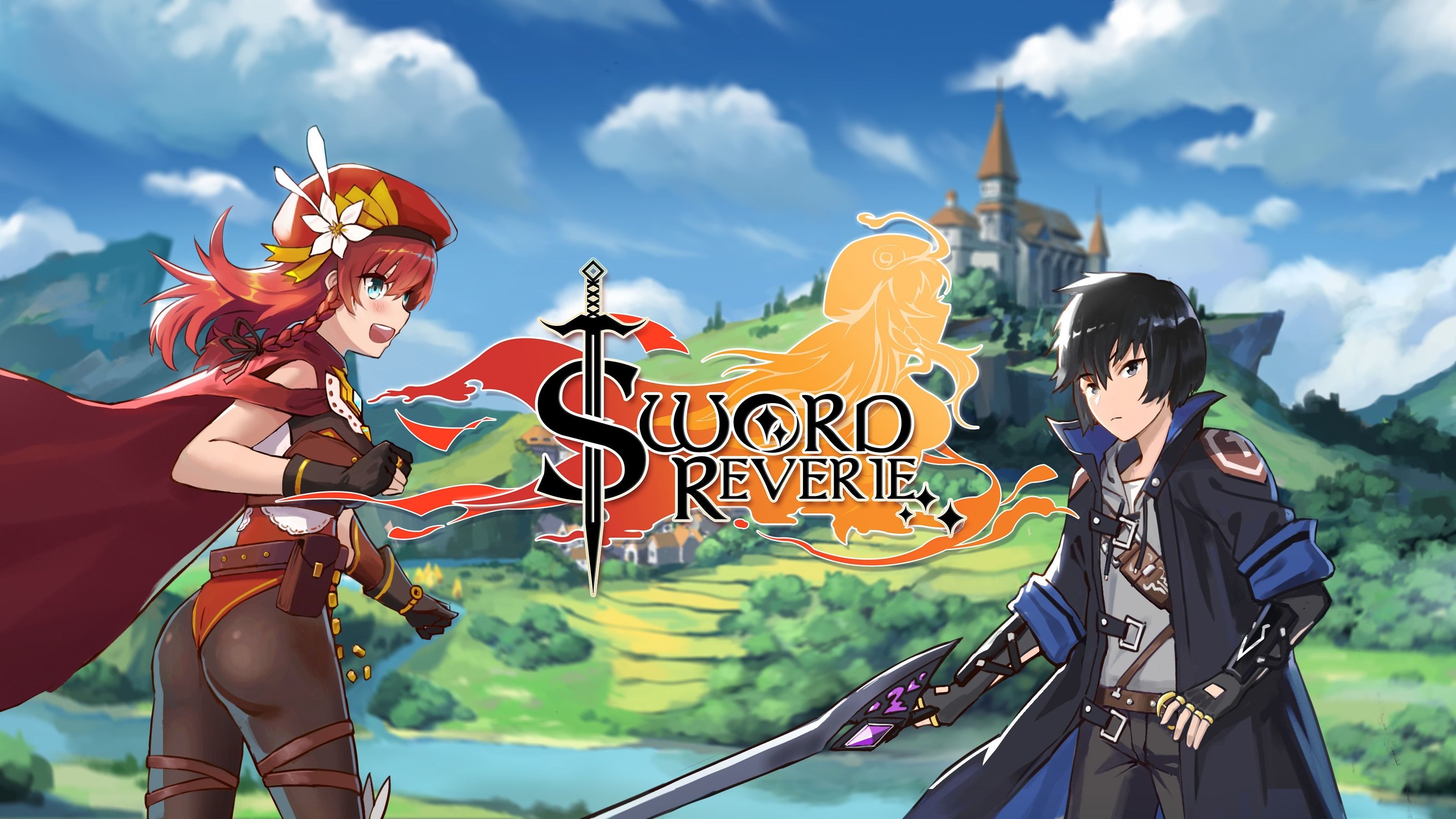 JRPGs, Japanese role-playing games, have a dear place in my heart. Games like Final Fantasy and Pokemon sucked me in from an early age and have never let go. To this day, JRPG series like Fire Emblem or Persona have a large player base pouring hundreds of hours into each new installment of the series.
However, a new genre or medium of gaming that is slowly taking up more and more of the market is virtual reality. Luckily for me, the Kickstarter-funded Sword Reverie is a marriage between VR and JRPGs, giving us the best of both worlds.
Illustrating the demand for such a game, the project managed to raise nearly 200% of its funding goal within 72 hours!
Naturally, I couldn't resist messaging the creators and checking it out for myself.
What is Sword Reverie?
Sword reverie is an action JRPG in virtual reality, set to come out on PCVR and possibly the Oculus Quest and PSVR.
The game uses hand-drawn graphics to create an anime art style and bring life to the amazing world Isekai Entertainment has created.
Frank Zhang, Founder of Isekai Entertainment, describes Sword Reverie as, "A single player JRPG inspired VR action game [where] players use body motions to launch unique abilities and fight off hordes of enemies by taking advantage of different elements."
The game is still very much in its early stages, but the demo the company sent me to try showed some very promising signs.
Story and Setting
The game is set in a fantasy world filled with medieval combat, elemental magic, and enemy monsters/creatures known as elementals.
"In Sword Reverie," Zhang says. "The player will take on the role of an anime-like protagonist to stop the incoming invasion of elementals and help Stella uncover the truth behind her parent's tragic death." 
While there wasn't much more of the story shown off in the demo, the game is definitely off to a great start. I hope to see a deeper narrative develop, as one of my main issues with VR games is the lack of a story that truly helps players become immersed.
Here is an excerpt from the Sword Reverie website to give you a feel of what they have so far in terms of story and setting:
After thousands of years of peace, tensions between Humans and Elementals continue to escalate. Catastrophic war with the Elemental lords is imminent. When the previous Guardian died by the hands of the Elementals, Magnus vowed to carry on the role of the Guardian and put a stop to the threat of the Elementals once and for all. The Guardian Magnus summons you, a "Hero", from a faraway land to save his people. 
Joining you on your adventure is Stella, the daughter of the last Guardian. Her father, the last Guardian, was murdered by one of the Elemental Lords under mysterious circumstances and her mother perished alongside him. Adopted and raised by Magnus, Stella has spent her life training with a bow and arrow to avenge her parents' deaths and to make sure no other child needs to suffer her fate.
As the Hero, will you rise up to the challenge and free the world from the tyranny of the Elementals?
Sword Reverie Gameplay: An Action JRPG in VR
The game features fully voiced characters, and (relative to other VR games) has large open maps to explore.
Within the game, players wield two swords which they use to parry enemy attacks and launch strikes of their own.
The enemies in the game each belong to a certain element: fire, water, grass/earth, and lightning. Players can switch the elemental property of their swords at any time to match enemy weaknesses.
In addition to traditional melee combat, the player learns special abilities such as ranged blast attacks and 360 bursts. These abilities allow the player to target enemies at a distance or deal with multiple enemies surrounding the player from all sides.
When asked about the inspirations for the gameplay mechanics, Zhang said, "We wanted to build a combat system that takes advantage of VR, but also has over the top abilities like in JRPG games."
"We referenced a lot of VR action games such as Gorn, Blade and Sorcery, and Until You Fall for their melee combat. For the different elements and abilities, we referenced games such as Final Fantasy 7 and Ni No Kuni 2. "
How Sword Reverie Does Combat Right
In my opinion, after playing dozens of games and pouring countless hours into VR, too many games focus too much on realism and not enough on creating a fun experience.
Do I really care that a sword in real life is heavy and thus can't be swung as quickly as I swing an Oculus Quest controller? Do I really care that in real life I'd be fatigued if I ran 400 meters? Of course not. And when I have a heavy headset on my face, I don't want to stand still to wait for my character to catch his breath.
What I care about is having a fun experience.
If we wanted pure reality in terms of sword combat, we'd join a Kendo class.
Sword Reverie doesn't get bogged up on creating a realistic experience. It focusses on creating exciting and empowering gameplay.
The game knows what it is and plays to its strengths. It's an isekai story where the protagonist has magical powers.
For fans of isekai anime like Sword Art Online, Sword Reverie gives you the fantasy of being the character transported to another world and the only one who can save it.
Sword Reverie Playtime
Sword Reverie will have 2 hours+ gameplay for Early Access and ~10 hours when the game is complete.
Inspirations Behind the Game
When asked why they decided to take the plunge and bring the JRPG genre to life in VR, Zhang had much to say.
"We at Isekai Entertainment are all huge weebs," says Zhang. "And we love JRPG games and other anime-style games such as Final Fantasy or Dragon Quest."
"Most of the current anime-style VR games either lack gameplay elements or are in the music game genre. It's only natural that we wanted to bring our favorite genre of games to VR."
"VR is the perfect medium for exploring fantasy worlds, and I'm sure many anime fans can't wait for the day they can be like Kirito from Sword Art Online and use VR to live out their fantasy." 
Current Challenges in Development
"One of the things we love about JRPGs are the large explorable maps. However, creating large explorable maps is a lot of work," says Zhang.
"To add to the challenge, VR games need to run smoothly with minimal frame rate drops. This is very challenging when you have a large map filled with lush vegetation and complex buildings to render. We needed to find ways to solve all these technical challenges and build a lot of map content with a very small indie team."
Will JRPGs Become a Common VR Genre?
With the early success of games like Arcaxer and the potential Sword Reverie has shown, I sure hope so.
Nothing would excite me more than seeing a full-fledged Final Fantasy title in VR. With Half-Life Alyx, triple-A studio Valve set the bar for redesigning a triple-A franchise for VR. I hope that larger JRPG studios can bring themselves to do the same.
Zhang also had a similar opinion. "JRPGs are one of the top genres on Steam, and with the huge global success of anime-style games such as Genshin Impact, it is only natural that other developers will look into ways to bring this genre to VR," says Zhang.
"I think as the VR market matures and more anime fans buy a VR headset, it will attract more Chinese and Japanese developers to launch VR games in their franchises."
Sword Reverie Release Date Set for Late 2021
The game will launch in Early Access for PC VR (SteamVR and Oculus Rift) later this year (Late 2021) with the full launch expected in 2022.
The team is still looking into bringing the game to Quest and PSVR, and has not confirmed a release date for either platform.
In the meantime, you can check out Sword Reverie and stay up to date with the game's progress on the official website: https://swordreverie.com/
Thanks for reading! To keep up to date with all the latest in virtual reality, be sure to subscribe to our newsletter in the footer below!
Join Hacker Noon
Create your free account to unlock your custom reading experience.
Tourists fined $500 for touching Hawaiian monk seals
U.S. authorities say a Louisiana woman who was honeymooning in Hawaii has been fined $500 after a social media video showed her touching an endangered Hawaiian monk seal
HONOLULU — A woman from Louisiana who was honeymooning in Hawaii has been fined $500 after a social media video showed her touching an endangered Hawaiian monk seal, U.S. authorities said.
The National Oceanic and Atmospheric Administration launched an investigation last month and found the woman violated the Endangered Species Act, said Dominic Andrews, a spokesperson for the agency's Office of Law Enforcement.
A video posted on TikTok and other social media showed a woman touching the seal at a Kauai beach in June. The video showed her running away after the seal snapped at her, the Honolulu Star-Advertiser reported Thursday.
The Associated Press wasn't immediately able to reach the couple Thursday. The couple previously apologized and told the Star-Advertiser earlier this month that they love Hawaii and didn't mean to offend anyone.
There are an estimated 1,100 Hawaiian monk seals in the Northwestern Hawaiian Islands and 300 in the main Hawaiian Islands.
Under state and federal laws, it's a felony to touch or harass a Hawaiian monk seal. Penalties can include up to five years in prison and a $50,000 fine.
Authorities warn people must remain at least 50 feet (15 meters) away from the animals or 150 feet (45 meters) away from pups with their mothers.
NOAA also fined another traveler $500 for touching a resting Hawaiian monk seal. It is unclear when that encountered occurred, but an Instagram account shows the visitor recently visited Oahu in May, the newspaper reported.
Climbing at the Tokyo Olympics: Start times, how to watch and how it works
Sport Climbing is about to make its long awaited (by me) debut at the Tokyo Olympics. We're extremely excited.
Regular old rock climbing has been around since — well, since the first time someone tried to climb something rocky. But modern recreational climbing started in the 19th century, with sport climbing only emerging in the 1970s and '80s. 
In the Olympics, climbing will take place on engineered or indoor routes. They practice in pursuit of physical perfection and strategy as opposed to vertical height.
Rock climbing has evolved as a catch-all term for many different sports, including everything from free soloing to bouldering. With that in mind, here's everything you need to know about sport climbing at the 2020 Olympics.
When to watch climbing at the Tokyo Olympics 
The Olympic master schedule has already been released, with sport climbing qualifying events on Aug. 3 and 4. 
Here's the breakdown for the men…
Qualifiers for men's speed climbing take place August 3 at 4 a.m. EDT (1 a.m. PDT).
Qualifiers for men's bouldering takes place August 3 at 5 a.m. EDT (2 a.m. PDT).
Qualifiers for men's lead climbing takes place August 3 at 8 a.m. EDT (5 a.m. PDT).
And for the women…
Qualifiers for women's speed climbing take place August 4 at 4 a.m. EDT (1 a.m. PDT).
Qualifiers for women's bouldering takes place August 4 at 5 a.m. EDT (2 a.m. PDT).
Qualifiers for women's lead climbing takes place August 4 at 8 a.m. EDT (5 a.m. PDT).
The finals will be on Aug. 5 and 6. In the US, NBC will broadcast events, with the BBC securing rights in England and Channel Seven, 7Mate and 7Two in Australia. All events will take place at the Aomi Urban Sports Park in Tokyo.
How climbing works at the Olympics
Sport climbing will be broken up into three separate disciplines: speed climbing, lead climbing and bouldering. Not every country will be represented; only 20 athletes per gender (40 climbers total) will be allowed to compete at the Games, and only 2 athletes per gender per country will compete in any given event.
FYI, the International Olympic Committee currently recognizes only two genders — female and male. There are currently stipulations for athletes that identify as transgender, both female and male, to compete. But there aren't any guidelines or rulings for athletes who don't identify as female or male — including those who are nonbinary, agender and genderqueer.
The combined nature of climbing at the Olympics has been somewhat controversial. Speed climbing requires a completely different skillset compared to bouldering and lead climbing. In the next Olympics speed climbing is being broken out as a separate event, leaving bouldering and lead climbing as a combined event.
Speed climbing
Speed climbing is relatively simple: there are two climbers with safety ropes and one 15-meter wall set at a 95-degree angle. The climbers race against each other to get to the top, with the fastest one winning. The speed route is the exact same at all times: the same holds in the same position at the exact same angle. The addition of speed climbing has been somewhat controversial in the climbing community, because it requires a completely different skillset compared to other climbing disciplines.
Bouldering
Bouldering takes place on an shorter wall, where climbers take turns attempting to scale as many routes on a four-meter-tall wall in 4 minutes. Each route (also called a bouldering problem) is laid out with hand and foot holds in a specific color, and they vary in difficulty based on the size of the holds and the way they are spaced out. A climber completes a problem by grabbing the top hold with both hands.
Bouldering has traditionally been about power and finger strength, but recently competition route setters have been creating problems that require delicate co-ordination and explosive gymnastic movements. This one will be fun to watch. 
Lead climbing
Lead climbing is arguably the most recognizable of the three events. The climber has six minutes to climb as high on a wall that is taller than 15 meters. They use safety ropes that attach to quickdraws on their way up, allowing the rope to run freely while they stay anchored to the wall. If two athletes reach the same point on the wall, the person who got there first is the winner. 
In both bouldering and lead climbing, climbers are not allowed to practice climbing on the routes before they compete or watch each other scale the wall, and they only have a couple of minutes to study the routes and decide their strategy before the timer begins.
Medaling system
If you thought the qualifying system was a bit complicated, take a deep breath. There's only one set of medals awarded per gender, so all three events will go into determining which country gets the gold, silver and bronze.
The speed climbing discipline will be done in a bracket format, with athletes competing head to head, while bouldering is in a leaderboard format. Lead climbing will have a point system in which each hold on the wall counts as one point and the athlete who climbs the highest will obtain the highest score.
Once all the athletes are ordered by placement per event, their placement numbers will be multiplied, and the climbers with the lowest scores will win medals. Because of the scoring format, each climber will compete in each event. For example, if an athlete gets second place in speed climbing, third in bouldering and first in lead climbing their overall score would be six (2 times 3 times 1 equals 6). 
AMD's new Radeon RX 6600 XT offers 1080p RDNA 2 gaming for $379
AMD has a new entry-level RX 6000-series GPU: the $379 RX 6600 XT, which is still based on the same RDNA 2 architecture as its beefier cousins, but it offers a more wallet-friendly price point. The new card promises the "ultimate 1080p gaming experience," for customers who don't necessarily need a next-gen 4K gaming setup.
At a suggested retail price of $379 (AMD isn't selling its own version of the card), the RX 6600 XT slots at an even cheaper price point than the $479 RX 6700 XT that the company released earlier this year, which targeted 1440p gaming.
The RX 6600 XT features 32 compute units, 8GB of GDDR6 RAM, a 2359 MHz base clock, 2589 MHz boosted clock, and draws 160W of power. For comparison, the top-of-the-line RX 6900 XT 80 compute units, while the RX 6700 XT offers 40 compute units.
AMD's logic here, though, is that most players don't actually have the setup necessary for a full 4K gaming rig, which requires not only the latest and greatest in GPUs but also a processor and a display that can pump out enough pixels. The company cited research from IDC that claimed that roughly two-thirds of gaming displays sold last year were 1080p panels — but also that growth in high-refresh displays was 20 times higher than lower-refresh rate models.
The RX 6600 XT is meant to slot into those trends perfectly, promising to be able to run AAA titles like Battlefield 5 or Cyberpunk 2077 at high frame rates on maximum 1080p settings. The new card isn't meant for someone who wants the latest and greatest GPU — it's for customers using an outdated GPU like the aging GTX 1060 (which still accounts for almost 10 percent of all graphics cards in Steam's hardware survey and can struggle with more recent games).
The new RX 6600 XT also offers a big boost over AMD's 5000-series cards, offering 1.4x or greater improvements in FPS rates compared to the RX 5600 XT and RX 5700 for titles like Assassin's Creed Valhalla and Doom Eternal. AMD also claims that the new card outperforms Nvidia's similarly entry-level RTX 3060 GPU, which (at least in theory) starts at $329.
AMD is also aware that supply may be an issue for the new card, commenting at a press briefing that "we're doing our best to get supply, but the demand is unprecedented, and also the supply constraints are real, so we are working with those situations at hand." Given the general difficulty in buying new GPUs these days, it might be best to prepare for another round of hard-to-find cards, though.
The RX 6600 XT will be available starting on August 11th from AMD's usual slate of partners, including ASRock, Asus, Biostar, Gigabyte, MSI, PowerColor, Sapphire, XFX and Yeston, with prebuilt systems set to arrive sometime in August, too.