The Insta-famous pan that sold out ten times over (by the brand described as "Le Creuset for millennials") is finally available in the UK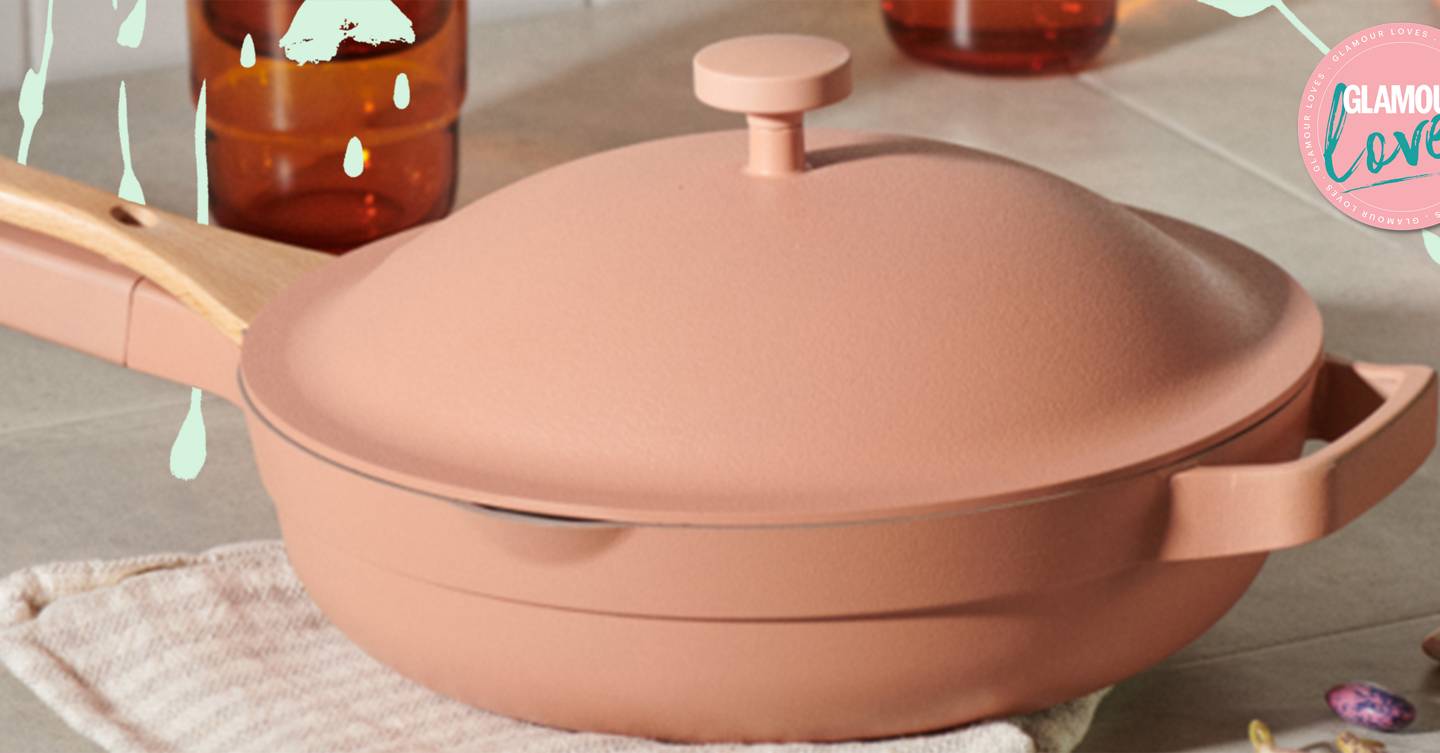 Freedom Day has officially landed, and while much remains uncertain (whether lockdown is *actually* gone for good/how many people will continue to wear face masks), one thing's for sure: our lockdown-induced obsession with cooking is here to stay. If you're anything like me, investing in fancy cookware, serving up meal delivery service creations on pretty dinnerware and dressing your dining table within an inch of its life (even for breakfast) were the mainstays of your lockdown routine. And the things that just about kept you sane.
You can relate? Then during your virtual culinary travels through Instagram and TikTok, you likely stumbled across cult and female-founded American cookware brand Our Place. You'd have stopped to admire how damn photogenic their famed Always Pan is – (and how nifty it sounds – eight kitchen utensils in one?!) – before letting out a huge sigh of disappointment upon realising you couldn't get it shipped to the UK.
Well today, fellow foodies, I greet you with some EXCELLENT news: the Our Place Always Pan UK launch has officially happened. Yep: you can now get you mitts on the Always Pan in the UK. Why should you care? It claims to do the job of eight pieces of kitchenware in one, has sold out 10 times over and racked up a 50,000-person waitlist. Plus, it looks so damn pretty.
In true GLAMOUR fashion, we decided to test the Always Pan ahead of the UK launch to see what all the fuss was about. Here's everything you need to know.
The best cookware sets to inspire your inner chef that are *actually* worth your money
What is Our Place?
Our Place is an American-born cookware brand marketed as "Le Creuset for millennials" (you bet we're all ears already). It was founded Shiza Shahid who has built a leadership team composed primarily of women and people of colour after little over one year in business. Our Place stocks ethically-made and stylish cookware that is designed to be fuss-free for home cooks of every level, and it has some epic sustainability credentials to boot. In fact, Our Place has already reached carbon neutrality and is committed to non-toxic products, sustainable packaging, and working with eco- and socially-conscious factories across the world. So. Damn. Cool.
Browse Our Place
What is the Our Place Always Pan?
The Always Pan is perhaps the product Our Place is best known for: an all-singing-all-dancing non-stick frying pan that was recently nicknamed the "kitchen magician" by Oprah Winfrey. We say frying pan… but that actually doesn't do it any justice. The Always Pan promises to become your frying pan, saute pan, steamer, skillet, saucepan, spatula and spoon rest in one, braising, steaming, boiling, storing and searing your culinary creations without the need for 74822 different kitchen gadgets. Impressive, right?
The Always Pan has been designed to be deep enough to cook pasta, but shallow and wide enough to fry an egg. It comes with a removable steamer basket and includes a nesting spatula so that you don't need to dirty another plate with a messy spatula. It also includes a pour spout to easily pour out excess grease or transfer a sauce, comes in six very chic colour-ways (from blush pink to a muted beige hue and powder blue) and is stylish enough to leave out on your stove – or even your table.
Always Pan, £140, Our Place
Buy It Now
We've reviewed the 21 best meal delivery services in the UK and these are our honest thoughts
Is the Our Place pan worth it? Our Place Always Pan review:
As expected, the Always Pan is quite spenny, coming in at £140. So is it worth the hype? Should you add to cart immediately along with every other influencer in the land? In short: yes. The Our Place Always Pan is really, *really* good.
First impressions: the pan arrived with all of the parts slotted neatly inside the pan base itself. Very on brand. It also came with a natural sponge to "scrub away at the dishes you 'left to soak' in the sink" – you just have to soak it in water to activate it – and a wooden spatula which, ingeniously, slots onto a built-in spoon rest on the handle. It saved a tonne of mess when I was cooking.
Made from aluminium, the pan is pretty heavy – but not so heavy that you wouldn't be able to easily cook with it, and definitely lighter than my Le Creuset stoneware casserole dish. It's just heavy enough to feel sturdy and really durable. And to be honest? I'd question its quality if it wasn't. As for the finish, it's matte, oozes Scandi appeal and the pastel pink hue is very aesthetically pleasing. I'm not at all surprised that Instagram is obsessed.
Top of my criteria when it comes to judging good cookware is whether it actually lives up to its non-stick claims, and the Always Pan definitely does. I cooked a few different meals in it: spag bol, scrambled eggs, stir fry… and I didn't struggle with food burning to the bottom on any occasion. The pan heat up quickly and evenly on my gas hob. As such, the pan was easy to wash up afterwards, no rigorous scrubbing required if you're on dish duty. Top marks.
Size-wise, it's the perfect depth for searing, sautéing, and frying without any mess. I cooked enough broccoli for myself and three friends in a single layer with room to spare, as well as five portions of pasta in one go on another occasion. Sure, if I had six(+) people round (I never do – my flat is tiny), I might want to whack out another casserole dish… but for cooking for myself and a few others? The space offered is plentiful.
That takes me onto the steam feature, which worked like a total dream. I steamed broccoli, carrots, green beans… the lot, and they were all cooked to perfection with a little bit of a crunch. If you want to mix things up, you can snap-up the brand's bamboo steamer, which has also been designed to fit comfortably inside the pan. I haven't tried it myself, but can't imagine being disappointed.
Other features worth shouting about? The pouring lips on both sides of the pan enabled me to pour sauce without any spills and the handle stayed cool at all times. All-in-all? I'd urge you all to hop over to the Always side. I use mine everyday, and while I won't be ditching *all* other cookware anytime soon (I might put on an actual dinner party one day… and you can't cook up too many components to a dinner simultaneously), it's versatile, easy-to-clean and a joy to use. Run, don't walk, if you want to avoid potential waiting lists. If its launch in the States is anything to go by, this bad boy will sell out.
Buy It Now
The best dinnerware sets that will make you feel like a fully-fledged adult (and last for years)
After more kitchen content? Head this way for the best coffee machines, over here for the best juicers and in this direction for kettles that are just as stylish as the rest of your home. We've also got bread makers for some deliciously doughy goodness, cutlery sets to elevate mealtimes and drinking glasses for your dinnertime bev.
For more from Glamour UK Commerce Writer Sophie Cockett, follow her on Instagram @sophiecockettx.
Justin Hartley Shares Loving Message to 'Beautiful' Wife Sofia Pernas on Her Birthday
Justin Hartley is wishing his wife Sofia Pernas a happy birthday!
On Saturday (July 31), the 44-year-old This Is Us actor took to his Instagram to send love to his wife on her 32nd birthday.
Click inside to see his post!
"Happy Birthday to my beautiful Sofia! This amazing woman makes me laugh out loud every single day. Here's to taking down oysters all over the world! I love you very much!" Justin captioned the post, while sharing a bunch of photos of he and Sofia.
Sofia then took to the comments, writing, "Can't wait. I love you! 💕"
It was revealed back in May that Justin and Sofia had very quietly tied the knot.
The former Young and the Restless co-stars began dating in early 2020 at the beginning of the pandemic.
Make sure you check out the sweet tribute Justin wrote to daughter Isabella on her 17th birthday!
Kathy Hilton Talks Paris' Documentary and Depression After Learning of Her Abuse, RHOBH Prank and New Show Concept
Kathy Hilton shares what caused her to fall into a depression before revealing what concerned her about her martini prank and dishing on the type of show she'd love to star in.
Kathy may just have a friend role on Real Housewives of Beverly Hills, but she's quickly become a fan favorite due to her unexpected goofy behavior. In fact, some of her one-liners, including, "Who is Hunky-Dory," have quickly become iconic in the Bravo world.
Nevertheless, the new reality star got serious for a moment in a new interview when she was asked about her eldest daughter's troubling documentary titled This Is Paris. If fans recall, Kathy took some heat from Paris Hilton's fans after The Simple Life alum revealed she was abused while attending a school for troubled youth in Provo, Utah, that her parents had sent her to.
Kathy has never really discussed Paris' revelation in great detail, but she got candid about the situation when asked if she knew about the alleged abuse prior to the documentary.
"No," she quietly told Bustle. "I don't think at that point that she even knew the question [about her schooling] would be asked. I kept thinking to myself, 'Why wouldn't [Paris] say something? Why would she not say something?' I also got into such a depression. I didn't want to talk to Paris about it too much until I had talked to a therapist."
Kathy, who says she has also heard from close friends whose kids also suffered abuse at that school, admits she hasn't been able to bring herself to watch the documentary.  "Let's just put it this way: I've seen the little trailer things, and I would not watch that documentary," shared Kathy, adding that she is very proud of her daughter for speaking out. "She's already passed laws and helped people."
Meanwhile, she also discussed RHOBH and the epic martini prank she played on her co-stars. Though she knew the joke would be funny, the 62-year-old admitted she was also a bit concerned about how the women would react.
"I knew it would be hysterical, but then again I took the chance," she explained. "What if they got mad at me? That worried me a little bit."
Speaking of pranks, Kathy isn't quite sure if she'll return for season 12 just yet, but she thinks she has a great concept for another show.
"I would love to be an Uber driver, and sell treats in the front seat," she explained while pitching the show idea. "I'd like to have a thermos of coffee, gifts in the trunk, snacks, food, LA Dodgers hats, things that they could shop. And I would love for them to tell me where to turn. And then I'm just going to go the wrong way and drive them crazy. And then ask them if they would like a coffee or a treat, and then say to them, 'That will be 35 cents for the coffee.' And we have gifts. Where are you going? You're going down to the beach, you need sunblock? Towels? A beach hat? And have all these things, but then give these very minimal prices. And then explain to them that we're going to pull over, because we have to kind of settle this up, because this is not part of the Uber. Twenty-five cents, 10 cents for the doughnut. Wouldn't it be funny?"
The Real Housewives of Beverly Hills season 11 airs Wednesday nights on Bravo at 8/7c.
Kriti Sanon on pay disparity in Bollywood: Patriarchal mindset is so normal but we're slowly growing
Actress Kriti Sanon has some quite interesting projects lined up ahead, including Om Raut's Adipurush, Bachchan Pandey and more. While she is busy working on her projects, she took some time out and in a recent interview opened up on the pay disparity between actors and actresses. The Luka Chuppi actress believes that the patriarchal mindset is so normal that it will take a little time to alter and grow. 
In an interview with ETimes, Kriti Sanon said, "Yeah, when I do pulling the audience specially when the festival revolves more around my character, its on me, there will be more and more producers, who would feel the confidence of banking the film on me. I feel like its a circle, it kind of will even get that pay disparity. That's how you grow I feel, in life. The only thing that I had pointed out which happens is when a male and a female actor have a similar kind of role, I feel like men don't have to prove by having the film solely on them, to grow and to increase their price and somewhere females, sometimes have to prove it more by such kind of films, which is what I felt is a very weird difference. But I think we're slowly growing and things are changing". 
The actress further added the patriarchal mindset is so normal that it will take a little time to change and to grow. During her interview, Kriti was pointed out that the actresses like Deepika Padukone, Vidya Balan, Anushka Sharma have fought for pay disparity and getting women-centric roles, Kriti said, "That's what I was about to say, the day we'll stop saying female-centric because we never say male-centric. So, I think these small changes when they start coming and it kind of actually becomes equal in our heads when we don't have any difference, these other differences of pay parity will also somewhere start balancing." The actress further added that it should be content-centric. 
Also Read: EXCLUSIVE VIDEO: Kriti Sanon on working with Prabhas in Adipurush: 'He is very chilled out and humble'