The 'Never Have I Ever' Season 2 Trailer is Here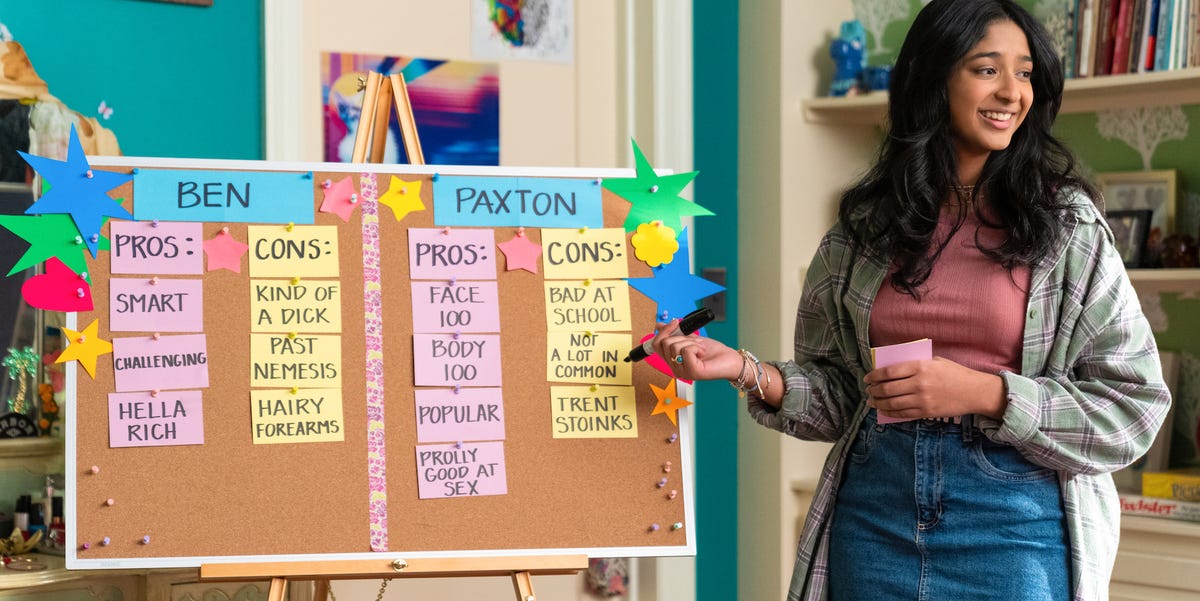 Netflix's Never Have I Ever premiered on Netflix in late April and instantly became the must-watch of quarantine. The coming-of-age comedy from co-creators Mindy Kaling and Lang Fisher follows a first-generation Indian American girl growing up in Southern California. Eighteen-year-old Maitreyi Ramakrishnan plays our heroine Devi Vishwakumar, and will return for a second season.
The series joins Sex Education, Atypical, and The End of the F*ing World as another teen show gripping the attention of audiences looking to relive (or not) their long-ago days of angst, puberty, and general anger and confusion about the world. Speaking as a full adult woman living in the middle of a pandemic, a lot of my feelings right now mirror those I dealt with as a 13-year-old in a landlocked state. When will I ever see the ocean? When can I leave this isolation?
Anyway. A lot of those same feelings were channeled into uncertainty about when Never Have I Ever season 2 would begin filming. Now, the cast is officially back to work and welcoming a few new members to the fold. So, what will the new installment look like, and which cast members are returning? We unpack it all, below.
The trailer is out.
The trailer, which released on Thursday, brings us up to date with Devi (Maitreyi Ramakrishnan), who is trying to figure out which of her crushes, Ben Gross (Jaren Lewison) and Paxton Hall-Yoshida (Darren Barnet), she should date before she has to move to India.
This content is imported from YouTube. You may be able to find the same content in another format, or you may be able to find more information, at their web site.
Or, she decides, she could just have two boyfriends. While she is trying to figure out how she is going to handle two secret relationships, a girl Devi describes as an "Indian girl who's prettier and cooler" transfers to her high school, effectively ruining her teen life.
Who doesn't miss high school?! What we did miss, though, was this show—and Devi—here's to counting down the days until we get them both back.
Never Have I Ever season 2 will premiere in July.
The series is slated to return on July 15.
Here's how Netflix describes the new season: "Indian American teenager Devi (Maitreyi Ramakrishnan) continues to deal with the everyday pressures of high school and drama at home, while also navigating new romantic relationships."
Netflix announced it renewed Never Have I Ever for a second season in July 2020. The cast shared the news on a scripted Zoom call, which was posted to the show's social media accounts. Kaling shared on Instagram, writing, "It's official, people! @neverhaveiever Season 2 is happening @loulielang and I are incredibly grateful for our entire cast, crew, and the team at @netflix. Thank you for watching, sharing and connecting with this show."
This content is imported from Twitter. You may be able to find the same content in another format, or you may be able to find more information, at their web site.
Kaling had been repping the show hard on Instagram, and she's clearly delighted to see it get renewed. "I felt lucky to be able to do a show about an Indian nerd who's also badly behaved, to show that because I'm deeply familiar with it," Kaling told Newsweek in April 2020.
All your favorite cast members are returning.
Netflix confirmed that Maitreyi Ramakrishnan will reprise her leading role as Devi Vishwakumar, with other returning cast members including Poorna Jagannathan as Nalini, Richa Moorjani as Kamala, Jaren Lewison as Ben, Darren Barnet as Paxton, Lee Rodriguez as Fabiola, and Ramona Young as Eleanor.
Sendhil Ramamurthy will return as the Internet's Favorite Father™ Mohan in flashbacks, as revealed by Kaling in an ELLE.com interview. "One of the things people were responding to in the first season was that [Devi] is a really flawed character, but she's relatable because she's been through a lot of stuff, like losing a parent at a young age," the creator explained. "But also, she has a big personality: She wants to have sex and wants to have a boyfriend. Seeing what people liked, Lang and I went into our second season [knowing] we're still going to see flashbacks of her father. I think people really loved that relationship, and we're going to see if they end up moving to India or not."
No word on if a new celebrity cameo will top John McEnroe's season 1 narration.
The theme of the new season is "moving on."
If the first season of Never Have I Ever was about coming to terms with grief, season 2 is about finding a path forward, showrunner Lang Fisher explained to Entertainment Weekly. "Both Nalini and Devi had pushed it off and not dealt with their feelings about Mohan dying," he said. "And this season, it's about moving on. It's about life without him and how to bounce back."
Four new characters are joining Never Have I Ever season 2.
The series confirmed that filming had resumed in a November 23 social media video. It was also revealed Megan Suri would be joining the second season as a student. "The cast of Never Have I Ever is hard at work on Season 2 and want to introduce you to their newest co-star: @megansuri! She plays a new student at Sherman Oaks High, whose confidence and radiance will pose an immediate threat to Devi," the official Netflix account tweeted.
This content is imported from Twitter. You may be able to find the same content in another format, or you may be able to find more information, at their web site.
Suri is a newcomer who has appeared in other Netflix shows including Atypical and 13 Reasons Why. Suri tweeted shortly after news of her casting was revealed: "I couldn't have imagined being welcomed into a new show and family any better – you all are so sweet and I wish I could hug you all this support means the world to me, THANK YOU @neverhaveiever."
Another new addition to the cast is American Vandal's Tyler Alvarez. He reportedly joins Never Have I Ever in a recurring role as Malcom, a teen actor who returns to school after being cast in a Disney Channel show. The outlet describes Alvarez's character as "a 'Young Hollywood' type" who "went to elementary school with Devi and her friends but left when he was cast in a Disney Channel show. He's recently returned to Sherman Oaks High whilst continuing his acting career."
This content is imported from Instagram. You may be able to find the same content in another format, or you may be able to find more information, at their web site.
By mid-December another pair of actors was announced for season 2. Utkarsh Ambudkar (The Mindy Project, Brittany Runs a Marathon) will play Mr. Kulkarni, who is described as "the coolest teacher on staff at Sherman Oaks High" by Deadline. Kulkarni teaches English and reportedly forges a bond with Devi.
P.J. Byrne (The Boys, The Wolf of Wall Street) will also join the second season, Deadline reports. He'll play Evan, head research assistant of Kamala's Caltech program, and will reportedly feel threatened by her.
Common will romance Nalini in season 2.
Devi's mom is getting in on the dating game this season—with a rival dermatologist. Common will play the role of Dr. Chris Jackson, a derm who conducts business a little different than Nalini. Netflix describes the character as "a suave and debonair dermatologist who works in Nalini's building. His high-end practice and celebrity clients are impressive to everyone—except Nalini."
And as Dr. Jackson woos Nalini, Devi is sure to view it as a threat, Fisher told Entertainment Weekly. "It becomes a real chasm between Nalini and Devi, because Devi feels like it's a betrayal."
Devi will continue working on her anger issues in season 2.
Kaling also opened up about Devi's journey to finding herself in the second season, telling ELLE.com, "[Devi's] figuring out how not to rage out, because that's her problem. She has this really bad temper. And seeing if she actually does end up having a boyfriend, or whether she can even be a good girlfriend to these guys."
Maitreyi Ramakrishnan has hopes and dreams for Devi's future.
The show's star has very clear ideas about what her character should explore next season.
"Three main things—understanding that she needs to be more appreciative of her family and her friends because her friends do a lot for her," Ramakrishnan told Variety. "Her friends really are her day ones. And also understanding where her mother's coming from. That is something that we'll be able to have a lot of audiences relate to, understanding where our parents are coming from even though they might not go about doing certain things the best way possible."
Ramakrishnan continued, "Then also the idea of approaching that grief—confronting it, having that battle, even though it's something uncomfortable to think about, [but] actually just running toward it and facing it, dealing with it head on. And then number three, of course, embracing her culture because that is so important in a world where identity is everything. It's how you portray yourself. It's how you show yourself to the world and how everybody will view you, but also how you accept yourself. And I think if Devi does those magic three, she might be a little bit more at peace with herself."
This content is created and maintained by a third party, and imported onto this page to help users provide their email addresses. You may be able to find more information about this and similar content at piano.io
Prada, Burberry, and More Are Massively Discounted at Nordstrom's Anniversary Sale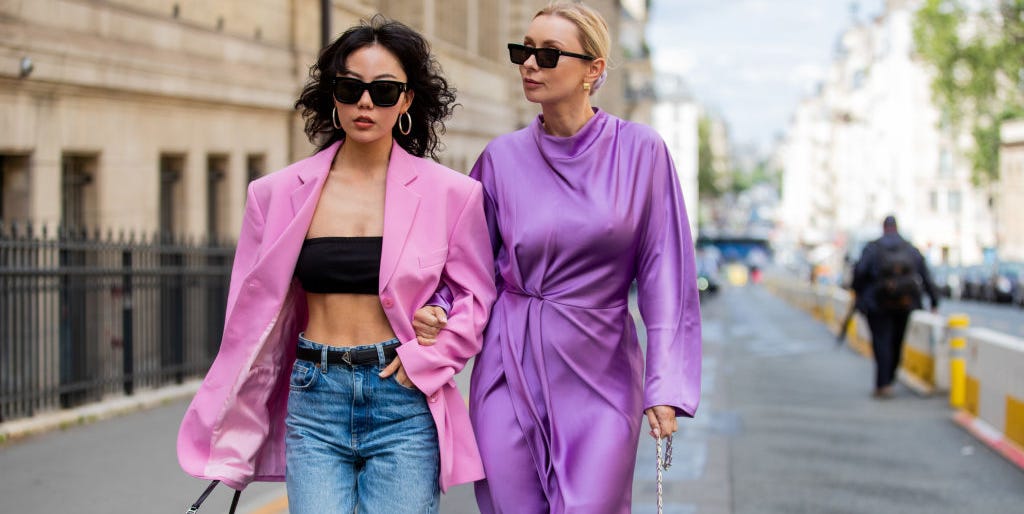 Christian VierigGetty Images
Nordstrom's biggest sale of the season is in full swing. While the Nordstrom Anniversary Sale kicked off on July 16 for Nordy Club cardmembers, as of today the public officially has access to shop offers from brand-new arrivals from hundreds of brands. Whether you're scouring the pages for home finds, summer styles, or prepare for a new fall wardrobe, now's the time to take advantage before prices go back up on August 9.
With incredible styles hailing from top designer labels like Off-White, Isabel Marant, and Prada, the Nordstrom Anniversary Sale is packed with deals on designer duds. From your new favorite sunnies to Manolo Blahnik heels and luxe trench coats perfect for stepping back into the office, we curated the best of the best that's worth your attention
Ahead, check out our curated picks boasting up to 70 percent off on luxury designers, and be sure to check out the full sale on Nordstrom to keep the shopping high going.
1
Slingback Pointy Toe Flat
2
iPhone 11 Pro Leather Case on a Chain
SAINT LAURENT
nordstrom.com
3
Mirror Swiss Leather Flap Bag
4
Check Woven Leather Bucket Hat
6
Bamboo Safari Tie Dye Pants
Stella McCartney
nordstrom.com
7
Double Layer Trench Coat
Junya Watanabe
nordstrom.com
8
Verda Crystal Buckle Slide Sandal
Manolo Blahnik
nordstrom.com
9
Luliette Western Boot
Isabel Marant
nordstrom.com
10
Magdeline High Waist Pleated Leather Pants
11
Oversize Tie Dye Leather Tote
Mansur Gavriel
nordstrom.com
12
Alexander Mcqueen 61mm Geometric Sunglasses
Alexander McQueen
nordstrom.com
13
Oversize Woven Blazer
Proenza Schouler
nordstrom.com
14
Women's Molly Goddard Ruffle Peplum Cotton Top, Size 8 US – Pink
Molly Goddard
nordstrom.com
15
Lilum Floral Embellished Crochet Cardigan, Size Small – Green
16
Women's Victoria Beckham Double Layer Silk Cami, Size 4 US – Black
Victoria Beckham
nordstrom.com
17
Golden Goose Leopard Seamless Adult Face Mask
Golden Goose
nordstrom.com
This content is created and maintained by a third party, and imported onto this page to help users provide their email addresses. You may be able to find more information about this and similar content at piano.io
10 Facts About U.S. Olympic Gymnast Jade Carey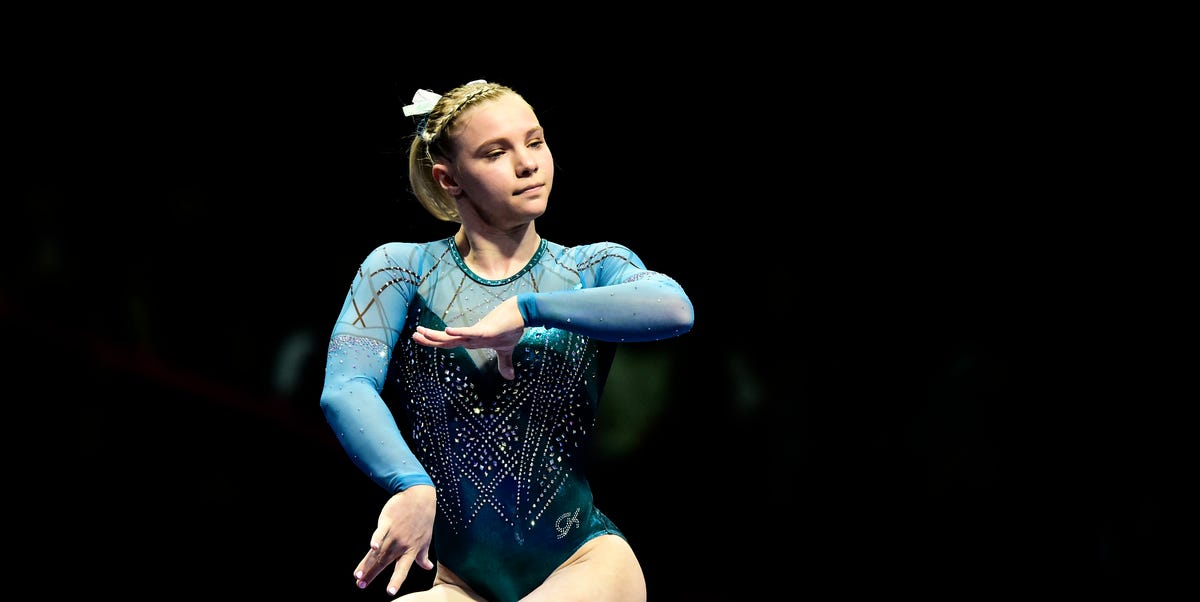 Jade Carey, 21, is a 5'1″ Phoenix native competing at the 2021 Tokyo Olympics. This week, Carey qualified for the Sunday, Aug. 1 floor exercise and vaulting. After Simone Biles withdrew from tomorrow's individual all-around, it was announced that Carey would take her place in the competition, alongside Suni Lee.
Here is everything to know about the four-time medalist and her road to the Olympics.
Carey has committed to Oregon State University.
In 2017, Carey officially signed to Oregon State University but deferred enrollment to pursue the chance to win Olympic gold. She is expected to join the OSU Gymnastics team for the 2022 season. Carey told Inside Gymnastics Magazine that she has already begun taking classes. "I'm sad I won't be able to be up in Oregon this year, but I've been in touch with the coaches a lot, and they've been great helping me set a new plan," Carey told the outlet. "I'm going to start some classes so that I will have some classes done before I get there."
Carey helped fellow gymnast Riley McCusker after she alleged misconduct by a former coach.
Riley McCusker is a fellow member of the U.S. national team who trained with gymnastic coach Maggie Haney at MG Elite in Marlboro, N.J. McCusker and another gymnast filed a lawsuit late last year against Haney, their former coach, alleging, as NJ.com put it, that "screaming, body shaming, discouraging girls from getting their periods, and unsafe training conditions" led to serious injuries. Former Olympian Laurie Hernandez also testified against Haney.
With McCusker coach-less and unsure about her future in gymnastics, Carey invited her to come train with her in Arizona. In an interview with Olympics.com, McCusker said her new gym gave her a new lease on the sport. "I love gymnastics again. I am so happy in the gym every day, doing what I love. I'm really actually thankful that I got an extra year out here training in Arizona. I'm just so happy, and I love the sport. I think that's the biggest difference," she said.
Carey told Inside Gymnastics Magazine that she loves training with McCusker. "We really push each other to be better and help each other in every way we can. It's nice to have a training partner that knows exactly what you're going through," she said.
This content is imported from Instagram. You may be able to find the same content in another format, or you may be able to find more information, at their web site.
The vault is Carey's favorite event.
Carey also revealed that vault is her favorite event, per PopSugar. In 2016, Carey had a skill named after her called "The Carey" in the Junior Olympic Code of Points, which is also referred to as "tucked Kasamatsu full."
Carey's father is her gymnastics trainer.
Carey and her father, Brian, are a gymnastic father and daughter duo. Since her parents owned a gym when she was growing up, Carey was around the sport from a young age.
In September, Carey posted an Instagram tribute for her father's birthday. She posted two photos of her and her father at a gymnastics meet. "Happy birthday, dad!! Thanks for being by my side every step of the way❤️❤️ I love you," she captioned the post.
This content is imported from Instagram. You may be able to find the same content in another format, or you may be able to find more information, at their web site.
Carey's mother is her 'number one' supporter.
As she shined in her performance at the Olympics preliminary round in Tokyo, Carey's mother, Danielle, supported her daughter thousands of miles away in Gilbert. In an interview with People.com, Carey's mother said, "I talked to Jade after the competition, and she said, 'I guess today was a good day to have the best day ever!' "
She went on to say how proud she is of her daughter. "The whole experience has just been amazing! I am so proud of her and her accomplishments on this wonderful journey! I was so excited about her going out and hitting all four routines in the biggest competition of her life!!" she told the outlet. "I was even more proud of her character and the way she presented herself on the competition floor. The sacrifices she has made, her strong work ethic, her dedication to this difficult sport, and her perseverance are all the qualities that helped shape her into the athlete she is today!"
Carey posted about her appreciation for her mother on Instagram. "To the best momma ever, thank you for being my #1 supporter and teaching me to always believe in myself❣️ happy birthday!! I love you," she captioned the post.
This content is imported from Instagram. You may be able to find the same content in another format, or you may be able to find more information, at their web site.
Carey showed an interest in gymnastics at a young age.
On the "Today Show" earlier this month, Carey's mother talked about how Jade's passion for gymnastics started when she was a toddler. "I believe she was about four years old; her dad and I were watching TV, and all of a sudden, oop, there goes a cartwheel," she explained. "We looked at each other, and I said, 'Did you teach her that?' and he said, 'No, did you?' and I said 'no,' and so I think we kind of knew at that point."
She will perform as an individual for the U.S. at the Olympics.
The gymnast is a four-time world championship medalist.
On July 25, Carey qualified for the Olympics women's gymnastics floor exercise and vault finals. She earned the second-highest vault score of 15.166 and the third-highest score on floor. The vault finals will take place on Aug. 1 and the floor exercise is scheduled for Aug. 2.
She is "besties" with U.S. Olympic teammate Grace McCallum.
In October, Carey posted a sweet birthday tribute for her best friend and fellow gymnast, Grace McCallum. "Happy birthday to my bestie, roomie for life, and travel buddy!! I love you so much, grace💓💓 miss you," Carey wrote as the caption.
This content is imported from Instagram. You may be able to find the same content in another format, or you may be able to find more information, at their web site.
Carey is a Gemini.
Carey was born on May 27, 2000 to Brian Carey and Danielle Mitchell-Greenberg. She has three siblings: Alexis, Taeva, and Xandon. She was born and raised in Phoenix, AZ and still resides there as she lives with her family.
She does an intense ab workout.
In an interview with PopSugar, Carey revealed the intense ab routine that prepared her for the Olympics. "It's pretty quick, but it's still pretty hard and a good workout," the gymnast said. You can read the full workout over at PopSugar.
Watch the Olympics on NBC
This content is created and maintained by a third party, and imported onto this page to help users provide their email addresses. You may be able to find more information about this and similar content at piano.io
How Jennifer Garner Feels About Her Ex Ben Affleck and Jennifer Lopez's 'Serious' Relationship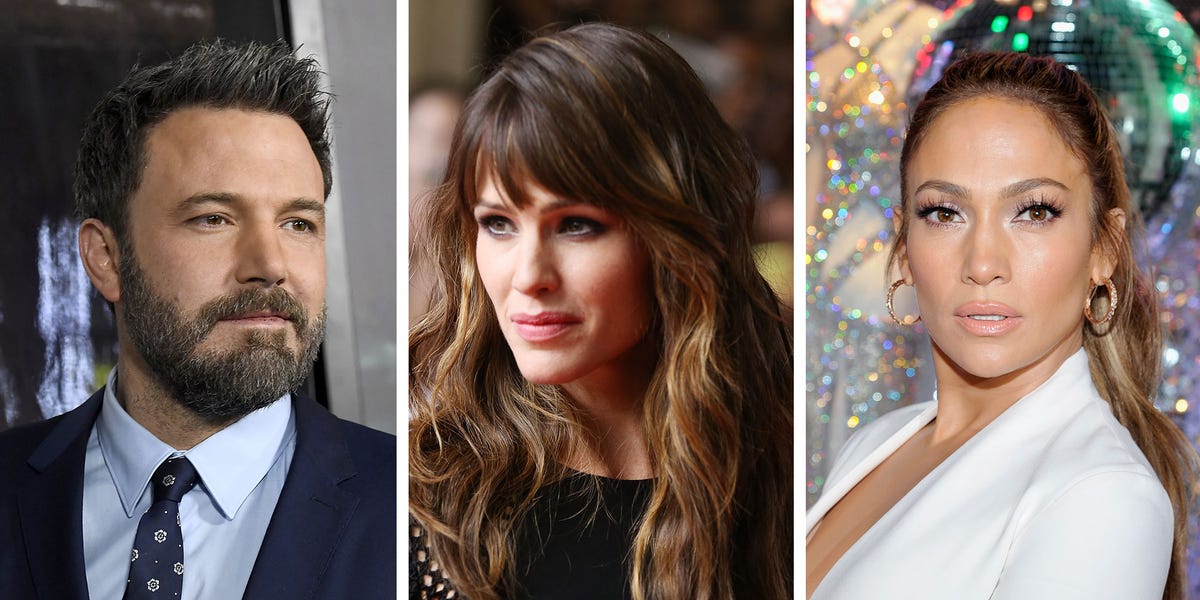 Jennifer Lopez and Ben Affleck's rekindled relationship has become Hollywood's most all-in, public romance of the summer. As the two continue their European vacation in Italy this week, Entertainment Tonight got an update from a source about how Lopez and Affleck feel about each other now—and how their exes Marc Anthony (Lopez's ex-husband) and Jennifer Garner (Affleck's ex-wife) feel about their "serious" relationship.
They aren't against it, the source said: "Jen Garner and Marc Anthony are continuing to be supportive and there doesn't seem to be any ill will across the board, They all just want what's best for each other and their families."
Almost three months into dating again, Bennifer is utterly in love, and their relationship is "serious," ET's source said: "They are both super passionate and are head over heels with each other, just like they once were. This time around, however, they both really feel like this is it."
"Everything feels 100 percent natural with them," the source continued. "Once they rekindled, it was like no time had passed. They couldn't be more in agreement. They feel at this point in their lives they were undeniably made for each other. Things between Ben and Jen have been easy and that's what makes their relationship work so well. They work seamlessly together and it's like their relationship hardly takes any effort."
E!, meanwhile, got a dispatch from an eyewitness about how the couple's time in Italy has been. They were photographed there on Tuesday and spent time in Capri.
"They held hands and laughed together as they walked through the narrow streets," the source said. "They stopped in to Ristorante Faraglioni, where they were seated across from each other at a table. They held hands across the table, and J.Lo rubbed Ben's arms as she smiled at him. They had water to drink and checked out the menu, but then decided to skip the meal before eating. They left holding hands and were followed by security."
This content is created and maintained by a third party, and imported onto this page to help users provide their email addresses. You may be able to find more information about this and similar content at piano.io