Why did 'completely healthy' Jeremiah Owusu-Koramoah's past heart issue cause him to plummet in NFL draft?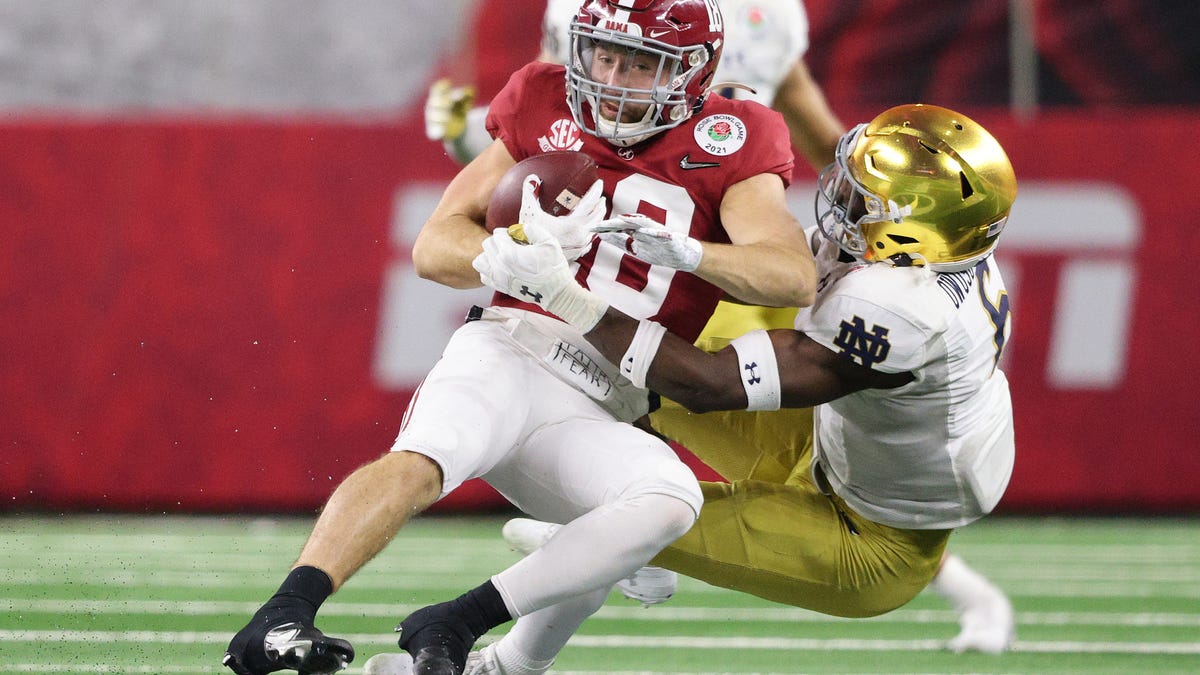 When Day 1 of the 2021 NFL Draft concluded, several first-round talents had yet to be taken. Many viewers were shocked to see names like Asante Samuel Jr., Teven Jenkins, Trevon Moehrig, Jevon Holland, Christian Barmore, and Levi Onwuzurike still available after 32 picks. However, the most notable exception from the Day 1 selections was Notre Dame linebacker, Jeremiah Owusu-Koramoah.
According to multiple reports, JOK dropped on many teams' draft boards because of a "heart issue that came up late in the process," per Adam Schefter. That sounds serious. That definitely warrants teams being skeptical of selecting him, right? Well, here's the thing…..JOK had already been cleared by medical professionals prior to the draft. After selecting Owusu-Koramoah with the 52nd overall pick, Browns GM Andrew Berry said "He's completely healthy. There's nothing really in his background that would suggest he can't have a nice, long career."
JOK's talent is obvious to everyone. The selection has been universally praised by damn near everyone. I mean, he's a linebacker with slot cornerback speed. That will always be a valued asset in the National Football League. Despite being the 23rd defensive player taken in the draft, most sites give Jeremiah Owusu-Koramoah top-5 odds to win the Defensive Rookie of the Year Award in the upcoming NFL season. Some sites believe JOK should be the top choice for the award. JOK won the Dick Butkus Award in 2020, awarded each season to college football's best linebacker (other notable recipients of the award include Patrick Willis, Von Miller, Luke Kuechly, and Devin White). He also earned the distinction of 1st team All-American, 1st Team All-ACC, and ACC Defensive Player of the Year. With a resume like that, it makes you wonder why any team would wait until Day 2 of the NFL Draft to take the 21-year-old despite the health concern.
Other prospects with more serious injury concerns haven't fallen nearly as far in the past. Take Jaylen Waddle, the number 6 overall selection in the most recent NFL Draft. Waddle, a former Alabama wide receiver, missed almost the entire 2020 college football season with a fractured right ankle. Ankle injuries are particularly worrisome for wide receivers as being able to push off your foot and change direction on a dot are keys to getting open. However, that injury didn't hurt Waddle's draft stock. In fact, Waddle went before his teammate and 2020 Heisman Trophy winner, DeVonta Smith. Smith did suffer a dislocated finger, but that injury barely kept him out of one game.
Even more egregious is the NFL's concern over JOK compared to guys with non-drug related off-field issues. Prior to the draft, Alabama quarterback Mac Jones was held in high regard for his good decision-making. Now, I think we all can agree that drinking and driving is never a good decision to make. So, why didn't that hurt Jones's draft stock at all?
G/O Media may get a commission
Maybe comparing quarterbacks to linebackers is a bit of a stretch — apples to oranges. So then let's compare JOK to another recent linebacker with an injury history. Reuben Foster had a torn right rotator cuff surgically repaired two months before the 2017 NFL Draft. He also had a history of aggressive behavior and anger management issues, even having to be removed from the 2017 NFL Combine after getting into an altercation with one of the medical staff on the premises. Foster did fall in the draft, but was still selected in the first round with the 31st pick by the San Francisco 49ers. Foster fell approximately 10-15 spots from where he was projected. Owusu-Koramoah, despite having no such history with surgeries or aggression, and after playing every single game for Notre Dame last season, fell approximately 35-40 spots.
It boggles my mind that a player everyone knew was fantastic and every fan, analyst, and general manager acknowledges as an incredible talent, would drop so far for such a minor health concern. Coming into the draft, Owusu-Koramoah was my number one defensive prospect. I am still absolutely confident that he will win Defensive Rookie of the Year. And when he does, hopefully teams won't pass on the next guy to play an incredible season of football with a seemingly resolved health issue in their past.
Denis Radovan: 'I never cry. I only sweat out of my eyes' – Boxing News
Paul Wheeler talks to Denis Radovan, a middleweight who wishes he could eat like a heavyweight
When and why you started boxing:
I started boxing at the age of seven. My father was always a big boxing fan. One time he took me to a boxing club in our city of Cologne and I just fell in love with the sport.
Favourite all-time fighter:
I couldn't name just one fighter, as this sport has so many incredible athletes. But one boxer who is always in my top five is Bernard Hopkins. I loved to watch him fight.
Best fight you've seen:
It'd have to be the first meeting between Andre Berto and Victor Ortiz. That was an all-action fight.
Personal career highlight:
Winning my quarter-final bout at the Youth World Championships in 2010 was a great moment for me. With that win I made history because I became one of the first German athletes to qualify for the inaugural Youth Olympic Games later that year.
Toughest opponent:
The toughest person that I've been in the ring with is George Groves. I sparred with him before his fight with Chris Eubank Jnr. He was a very hard and skilful fighter.
Best and worst attributes as a boxer:
I'd say that my willpower and work ethic are the attributes that have taken me places. My worst attribute? Maybe sometimes I can be a bit too hotheaded!
Training tip:
Always try to have fun, even when the sessions are difficult.
Favourite meal/restaurant:
I don't have just one favourite meal. I like food in every way. Food is life!
Best friends in boxing:
One of my best friends in the sport is Artur Mann. He's a very special guy. I hope to see him back in the ring soon.
Other sportsperson you would like to be:
I'd like to be a heavyweight boxer. No weight-making issues – only training and eating!
Last film/TV show you saw:
The last TV series I watched was Money Heist.
Who would play you in a film of your life:
Tom Hardy could play me in an action film!
Have you ever been starstruck:
One time I met Evander Holyfield at a gym in Louisville, Kentucky. It was a surreal experience – meeting a legendary champ who fought in so many big fights, including the two famous ones against Mike Tyson. He's a true legend of the sport. Of course, I had to get a photo with him. That was definitely my most starstruck moment!
Last time you cried:
I never cry. I only sweat out of my eyes!
Best advice received:
Take care of the people that you love.
Worst rumour about yourself:
I've never heard any rumours about myself.
Something not many people know about you:
Not many people know that I love to watch trash TV!
Valencia sign shirt sponsorship deal with Socios – SportsMint Media
La Liga club Valencia has replaced Bwin with Socios.com fan and will be the first team to promote the company on the kit. This will be a one-season deal and the fans will see Valencia's official fan token '$VCF' display on the shirt.
The Spanish side also joins some of the major football clubs like Barcelona, Paris Saint-Germain, Manchester City, AC Milan, Juventus, Atlético de Madrid, AS Roma, Galatasaray to work with Socios. The Argentina national team also works with the firm. 
The company first began to expand its sponsorship portfolio in the United States of America, building an alliance with teams like the National Hockey League's New Jersey Devils and Philadelphia 76ers of NBA. Both the teams were owned by Harris Blitzer Sports & Entertainment. Alexandre Dreyfus, chief executive of blockchain provider Chiliz and Socios.com revealed that partnership with Valencia is the most valuable milestone in the company's evolution. 
 "This world-first partnership, our fourth with a major Spanish club and 38th overall, will bring incredible visibility to fan tokens and the Socios.com platform, accelerating our mission to shift passive fans into active contributors and create a brighter future for sport – where clubs and fans alike are able to enjoy the rewards created by unlocking the potential of global fan engagement."
Socios will replace Bwin with the shirt sponsor. Bwin is a betting operator company and had a three-year deal with the club till 2022 but the club was forced to terminate the contract with them as Spain's new law does not allow to promote gambling in relation to sports and other events. 
Valencia had quite a disappointing season as they finished 13th in La Liga with only 43 points. The Spanishonce used to challenge for the top four spots every year but the new ownership has been a bane for them in the past few years. 
WTC final | Indian players wear black armbands in memory of late Milkha Singh
Indian cricketers have worn black armbands in the WTC final against New Zealand in the memory of late sprinter Milkha Singh, who passed away Friday night owing to complications caused by the deadly Covid-19 virus. India were put into bat in the game, and they ended session one at 69/2.
Indian players paid tribute to the late Milkha Singh by donning black armbands on the second day of the inaugural WTC final against New Zealand at Ageas Bowl, Southampton, on Saturday. 
The Board of Control for Cricket in India's (BCCI) official twitter handle announced that Indian team wore black armbands in the memory of the swashbuckling athlete.
"#TeamIndia is wearing black armbands in remembrance of Milkha Singhji, who passed away due to COVID-19. 🙏 #WTC21," the Board tweeted. 
#TeamIndia is wearing black armbands in remembrance of Milkha Singhji, who passed away due to COVID-19. 🙏#WTC21

— BCCI (@BCCI) June 19, 2021
The 1958 Commonwealth Games gold medalist Milkha Singh passed away on late Friday night in Chandigarh, a month after he contracted COVID-19. And according to a family statement, The Flying Sikh had fought hard in his final days. 
The World Test Championship final kicked off on the second day after day one was completely washed out due to rain. New Zealand skipper Kane Williamson won the toss and opted to field first in the all-important contest. 
Follow us on Facebook here

Stay connected with us on Twitter here

Like and share our Instagram page here