Wildfire smoke clouds sky, hurts air quality on East Coast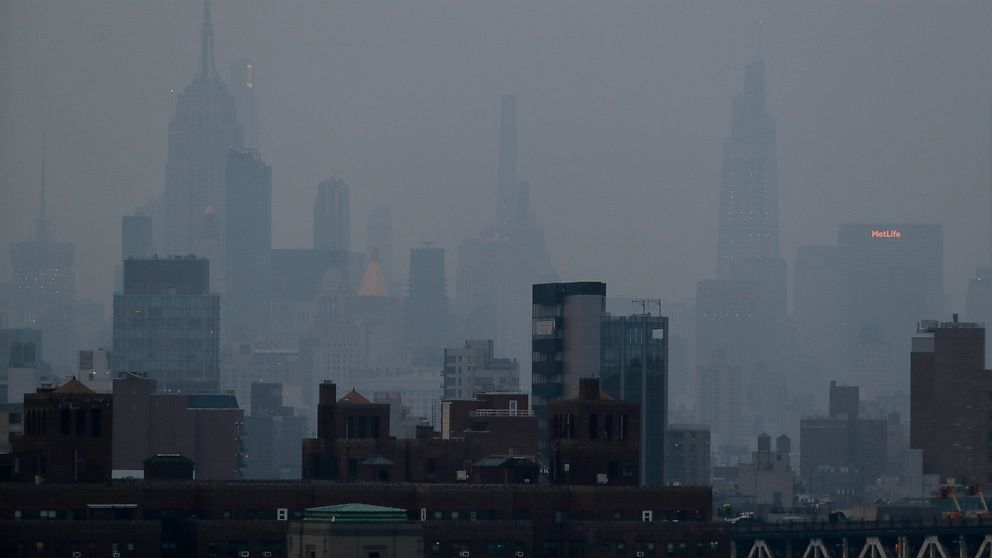 PORTLAND, Ore. — Smoke and ash from massive wildfires in the American West clouded the sky and led to air quality alerts Wednesday on parts of the East Coast as the effects of the blazes were felt 2,500 miles (4,023 kilometers) away.
Strong winds blew smoke east from California, Oregon, Montana and other states all the way to other side of the continent. Haze hung over New York City, New Jersey and Pennsylvania.
The nation's largest wildfire, Oregon's Bootleg Fire, grew to 616 square miles (1,595 square kilometers) — just over half the size of Rhode Island. Fires also burned on both sides of California's Sierra Nevada and in Washington state and other areas of the West.
The smoke blowing to the East Coast was reminiscent of last fall, when large blazes burning in Oregon's worst wildfire season in recent memory choked the local sky with pea-soup smoke but also affected air quality several thousand miles away. So far this year, Seattle and Portland have largely been spared the foul air.
People in parts of New Jersey, Pennsylvania and elsewhere with heart disease, asthma and other health issues were told to avoid the outdoors. Air quality alerts for parts of the region were in place through Thursday.
"One of the things about this event that makes it so remarkable is that the smoke is affecting such a large swath of the U.S," said Jesse Berman, an assistant professor at the University of Minnesota School of Public Health and an expert on air quality. "You're not just seeing localized and perhaps upstate New York being affected, but rather you're seeing numerous states all along the East Coast that are being impacted."
David Lawrence, a meteorologist with the National Weather Service, said wildfire smoke usually thins out by the time it reaches the East Coast, but this summer it's "still pretty thick."
In California, a wildfire burning completely uncontained south of Lake Tahoe crossed the state line into Nevada. New voluntary evacuation orders were issued for portions of Douglas County, Nevada.
The Tamarack Fire, started by lightning in Alpine County, California, has now burned more than 65 square miles (168 square kilometers). Authorities say more than 1,200 firefighters are battling the blaze, which has destroyed at least 10 structures.
Meanwhile, Oregon on Wednesday banned all campfires on state-managed lands and in state campgrounds east of Interstate 5, the major highway that is commonly considered the dividing line between the wet western part of the state and the dry eastern half.
The regulation includes the designated fire rings at campsites, as well as candles and tiki torches. Propane grills are still allowed, but the state still urged campers to pack food that doesn't require heating or cooking.
The Oregon fire has ravaged the sparsely populated southern part of the state and has been expanding by up to 4 miles (6 kilometers) a day, pushed by gusting winds and critically dry weather that's turned trees and undergrowth into a tinderbox.
Fire crews have had to retreat from the flames for 10 consecutive days as fireballs jump from treetop to treetop, trees explode, embers fly ahead of the fire to start new blazes and, in some cases, the inferno's heat creates its own weather of shifting winds and dry lightning. Monstrous clouds of smoke and ash have risen up to 6 miles (10 kilometers) into the sky and are visible for more than 100 air miles (161 kilometers).
Authorities in Oregon said lower winds and temperatures Tuesday allowed crews to improve fire lines, and they hoped to make more progress Wednesday. The fire was approaching an old burn area on its active southeastern flank, raising hopes it would not spread as much.
The blaze, which is being fought by more than 2,200 people, is about one-third contained. It was within a few hundred acres of becoming Oregon's third-largest wildfire in modern history.
At least 2,000 homes have been evacuated at some point during the fire and an additional 5,000 threatened. At least 70 homes and more than 100 outbuildings have burned, but no one is known to have died.
Extremely dry conditions and recent heat waves tied to climate change have made wildfires harder to fight. Climate change has made the West much warmer and drier in the past 30 years and will continue to make weather more extreme and wildfires more frequent and destructive.
While Berman is hopeful that the smoke will last only a couple of days, he said we may see more of it due to climate change.
"We fully expect that you're going to see more situations where smoke, from fires occurring farther away, is going to travel long distances and affect people in other parts of the country," Berman said. "I would not be surprised at all if these events did become more frequent in the future."
———
Associated Press video journalists Haven Daley in Minden, Nevada, and David Martin in New York City contributed to this report. Follow Flaccus on Twitter at http://www.twitter.com/gflaccus.
Wanna squad up in Pokémon Unite? Here's how
Pokémon Unite is a new 5-v-5 free-to-play MOBA on the Nintendo Switch. In this multiplayer Pokémon game, players choose from one of 20 Pokémon and battle it against one another. And what better way to celebrate a hard-fought victory than with your friends? Playing Pokémon Unite with friends is the best way to play, but playing with friends on the Nintendo Switch isn't always the easiest thing to do, but it is possible. Here's how to invite your friends to a play in Pokemon Unite.
How to invite friends to Pokémon Unite on the Nintendo Switch
Inviting friends to Pokémon Unite on the Nintendo Switch is pretty simple.
First, go ahead and exchange friend codes with the person you want to invite.
Open Pokémon Unite.

At the main menu, select Unite Battle and start a lobby.

Source: iMore

Select one of the plus signs around your character or press the Y button to open up your friends list.

Source: iMore

Choose the person you want to invite, and select Player Info.

Source: iMore

Then select Invite Friends.

Source: iMore
All your friend has to do at this point is accept the invitation.
How to invite players using a Lobby ID
If you want to play with someone you're not friends with, you can still invite them to your game without adding their friend code.
VPN Deals: Lifetime license for $16, monthly plans at $1 & more
Start Pokémon Unite.
At the main menu, select Unite Battle and start a lobby.

At the top left of the screen, you'll see a Lobby ID. Share that ID with whoever you'd like.

Source: iMore
That's all it takes. The player joining just has to input the Lobby ID into the Lobby Search option of the main menu.
How to invite cross-platform players
Pokemon Unite is available on the Switch but will come to iOS and Android in September. You won't need their friend code to invite them, but you'll need to share your Trainer ID.
Start Pokémon Unite.

At the main menu, press L to open your Trainer Info.

Source: iMore

Share the code at the bottom of the screen to add your cross-platform friend.
We'll have to put this to the test once the iOS and Android versions release this September.
Unite for the fight
Pokémon Unite is a great multiplayer game, made even better when you're playing with friends. It also has a surprising amount of depth, so be sure to check out our Pokémon tier list to figure out who is the best Pokémon for your play style. And while you're at it, check out all of the free gifts available for Pokémon Unite now. Coordinate with friends and claim victory!
The next MacBook Air: Mid-2022 eyed for mini-LED M2 redesign
Apple made some drastic changes when it launched the new MacBook Air in 2018, but other than the processor and the keyboard, there haven't been any major improvements since. But if we can believe the latest rumors, that could be changing this year, as Apple prepared to launch a drastic overhaul to its cheapest notebook. Here's everything we've heard about the new MacBook Air:
MacBook Air: The latest rumors
July 22: Ming-Chi Kuo reports (via Macrumors) that the redesigned MacBook Air will arrive in mid-2022 with a mini-LED display.
July 5: Twitter user Dyan (@dylandkt) reports that the MacBook Air will get the M2 chip rather than the heavily rumored M1X chip, which he says is "reserved for the Pro Mac devices."
May 18: Mark Gurman of Bloomberg reports the "redesigned, higher-end MacBook Air" will have a new System on a Chip (SoC) that replaces the M1.
MacBook Air: Name and price
We're assuming for the sake of this article that Apple will stick with the MacBook Air name for the next revision, but Prosser noted that his sources haven't confirmed that. So it's possible that Apple reintroduces the MacBook, which was discontinued in 2019 and recently vintaged by Apple. Apple sold the Air alongside the MacBook Air for a short time, so it's also possible that the current Air either gets a price cut to make room for the new model at the $999 tier or sticks around at the same price as a cheaper option for a higher-priced MacBook.
MacBook Air: Design, and colors
It's been reported for months that Apple is working on a lighter and thinner redesign for the MacBook Air. More recently, serial leaker Jon Prosser reported on his Front Page Tech YouTube channel that the new MacBook Air will be switch to a flat design rather than the classic tapered look, but retain its incredible thinness. It could also have full-size function keys, which would make the trackpad slightly smaller.
Apple will be making several colors for the MacBook Air, according to Prosser, likely in hues to match the new iMac, so green, blue, yellow, orange, pink, purple, and silver. Prosser also reports the bezels will be thinner and switch from black to white while the bottom will gain two rubber strips instead of the standard circular feet.
We conducted a twitter poll about the white bezels and the majority of Macworld followers weren't jazzed about it:
MacBook Air: Display
According to Mark Gurman at Bloomberg, Apple considered a larger 15-inch screen for the MacBook Air, but the company decided to shelve that model for the time being. However, even if the new Air sticks with the same size screen, it still could be getting an upgrade. We heard initial rumblings months ago that the same Mini LED in the 12.9-inch iPad Pro could be coming to the MacBook Air, and it looks very likely now. Ming-Chi Kuo, who has an incredible track record with rumors, reports that Apple will debut a mini-LED in the MacBook Air in mid-2022 following a debut of the laptop display tech in the MacBook Pro later this year.
As seen in the new 12.9-inch iPad Pro, mini LED is a backlighting technology for displays, but as its name suggests, uses a higher concentration of smaller LEDs. This results in better control of the backlight, better image contrast, and greater dynamic range. It could also lead to a lighter and thinner design with slimmer bezels.
MacBook Air: MagSafe and ports
The new MacBook Air, which could be released later this year or in early 2022, could mark the return of the MagSafe connector, according to Bloomberg's Mark Gurman. MagSafe was a magnetic power adapter connector that could easily disconnect from the laptop using non-axial force—tugs from angles other than straight away—that was introduced in 2016. Its implementation meant that if someone yanked or tripped over the cable, the connection would break but the laptop would be spared from flying off the work surface. Apple retired MagSafe when it switched to USB-C connectors in 2016, which do not have a breakaway connector.
Apple reintroduced the MagSafe branding as a magnetic charging system for the iPhone 12 and the new iMac has a magnetic power cord that doesn't have the MagSafe branding. Presumably, any MagSafe-related technology for Apple's laptops would be in a similar vein as its implementation starting in 2006 but will likely still use USB-C for charging.
IDG
As for connectivity ports, Apple has transitioned to Thunderbolt/USB 4 ports in its M1 Macs, and it's a good bet that Apple will continue with this in the new MacBook Air. The question then becomes how many ports—traditionally, the MacBook Air has two ports on one side. In his report about the color offerings for a new MacBook Air or MacBook, Jon Prosser said that the new laptop will have two ports but with a better placement—one on each side rather than both on the left edge.
MacBook Air: Processor and memory
Mark Gurman of Bloomberg reported that at the end of 2021, we could see a new MacBook Air with a new System on a Chip (SoC) that replaces the M1. The new SoC will be faster but still reportedly have eight CPU cores (four performance cores, four efficiency cores) like the M1. The graphics cores could increase from seven or eight to nine or ten. While it was originally assumed that the chip would be the same M1X chip that's rumored for the MacBook Pro, a rumor from Twitter user @dylandkt says the MacBook Air might use the next-generation M2 chip instead.
MacBook Air: Price and release date
Apple released the current MacBook in November of 2020, so it's likely that a new model will arrive at around the same time. Prosser said to expect the MacBook Air near "the end of 2021" and Bloomberg has reported it's scheduled to arrive in the "second half of this year at the earliest." Both have suggested that the New MacBook Air could slip to early 2022 as well and a report from Twitter user @dylandkt also says the new laptop won't arrive until 2022. Recently, rumors have suggested that Apple may be prioritizing the redesigned MacBook Pro models, so it's looking more likely that the MacBook Air doesn't launch until next year.
As far as the price goes, Apple might start this new MacBook Air a little higher than the current model. With a mini-LED display and a new colorful design, it's possible that Apple starts the new Air at $1,099 or $1,199 and leaves an older M1 model at the $999 tier, much like it did with the 21.5-inch iMac after the 24-inch model arrived.
Roman has covered technology since the early 1990s. His career started at MacUser, and he's worked for MacAddict, Mac|Life, and TechTV.
Explained: History of IPCC, the international body that reviews climate change effects-World News , Firstpost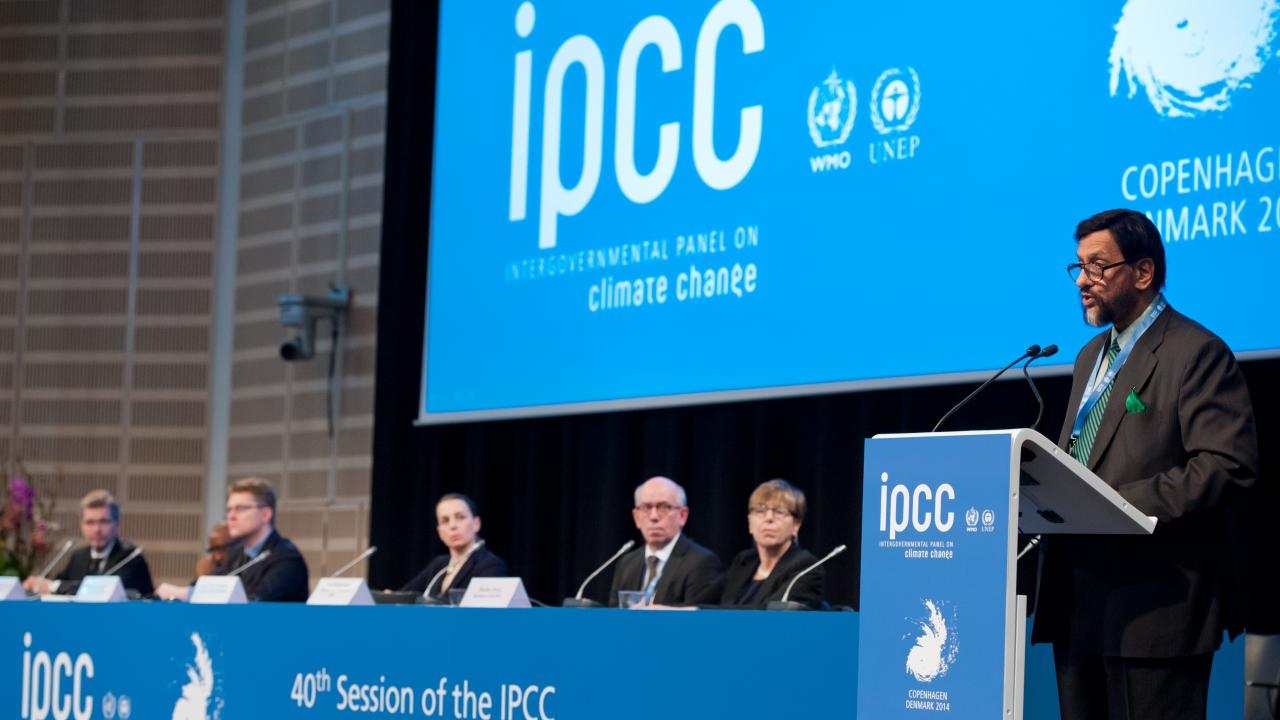 The body meets next week to vet and validate a summary of part one of its first major assessment in seven years.
The United Nations' Intergovernmental Panel on Climate Change (IPCC) compiles comprehensive reviews of scientific literature on climate change, past and future.
The body meets next week to vet and validate a summary of part one of its first major assessment in seven years. Here's a thumbnail profile of the panel.
History
The IPCC was set up in 1988 by the UN's World Meteorological Organisation (WMO) and Environment Programme (UNEP).
Its mandate is to give policymakers neutral, science-based updates about global warming — physical science, climate impacts, and scenarios for bringing the problem under control. Providing explicit policy recommendations is not part of its mandate.
An intergovernmental body, the IPCC currently counts 195 member countries.
Organisation
Based in Geneva, the panel is chaired by South Korea's Hoesung Lee, an expert on the economics of climate change.
Its reports are compiled by thousands of atmospheric scientists, climate modellers, oceanographers, ice specialists, economists and public health experts, mostly drawn from universities and research institutes. They work on a volunteer basis.
The IPCC does not conduct new research but trawls through thousands of published studies and summarises key findings, indicating degrees of likelihood and confidence.
It is often described as the biggest peer-review exercise in the world.
Assessment reports
Every five or six years the IPCC produces vast overviews, typically several thousand pages long. The first came out in 1990, the most recent in 2014.
Three separate teams, or "working groups", look at the physical science of global warming, climate change impacts and options for tackling the problem. Each working group's report is published separately, followed by a final "synthesis report".
The sixth assessment cycle, like those before it, will produce reports in four instalments: working group one's findings will be made public on August 9; working group two's in February 2022; working group three's in March 2022; and a final synthesis in the autumn of 2022.
Summary for policymakers
The IPCC concludes each review with a crucial summary for policymakers that undergoes multiple rounds of editing, first by scientists and then by government officials.
The last draft is submitted to an IPCC plenary, which vets it line-by-line before approval by consensus.
Governments can seek amendments to the summary, which are approved if the argument is supported by what is in the underlying report written by the scientists.
Special reports
Member nations can request so-called "special reports" between major assessments. Since 2014, there have been three.
A special report on global warming of 1.5 degrees Celsius came out in October 2018; one on land use, agriculture and food security in August 2019; and another on oceans and Earth's frozen regions, known as the cryosphere, in September 2019.
Nobel prize & critics
Defenders of the IPCC say that its exhaustive work, and a summary for policymakers endorsed by the world's governments, give it exceptional clout.
"It's unique in science, and it's uniquely powerful in science," Peter Thorne, a lead author of the sixth assessment and a professor at Maynooth University in Ireland, told AFP.
"There is no other field that has for decades undertaken such a robust assessment process."
Its 2014 report provided the scientific underpinning for the landmark Paris Agreement, inked outside the French capital in 2015.
The 2007 edition earned the IPCC a share of the 2007 Nobel Peace Prize, alongside former US vice president and climate campaigner Al Gore.
The IPCC's image was later dented by several minor errors uncovered in the report that provided ammunition for sceptics who claim the IPCC is flawed or biased.
More recently, some scientists have said the panel is too conservative, leading it to underestimate the climate change threat.
The last published report, for example, did not factor in potential contribution to sea-level rise — widely recognised today — from melting ice sheets in West Antarctica and Greenland.