WrestleMania 37 date, start time, matches, PPV cost, location & more on WWE's 2021 event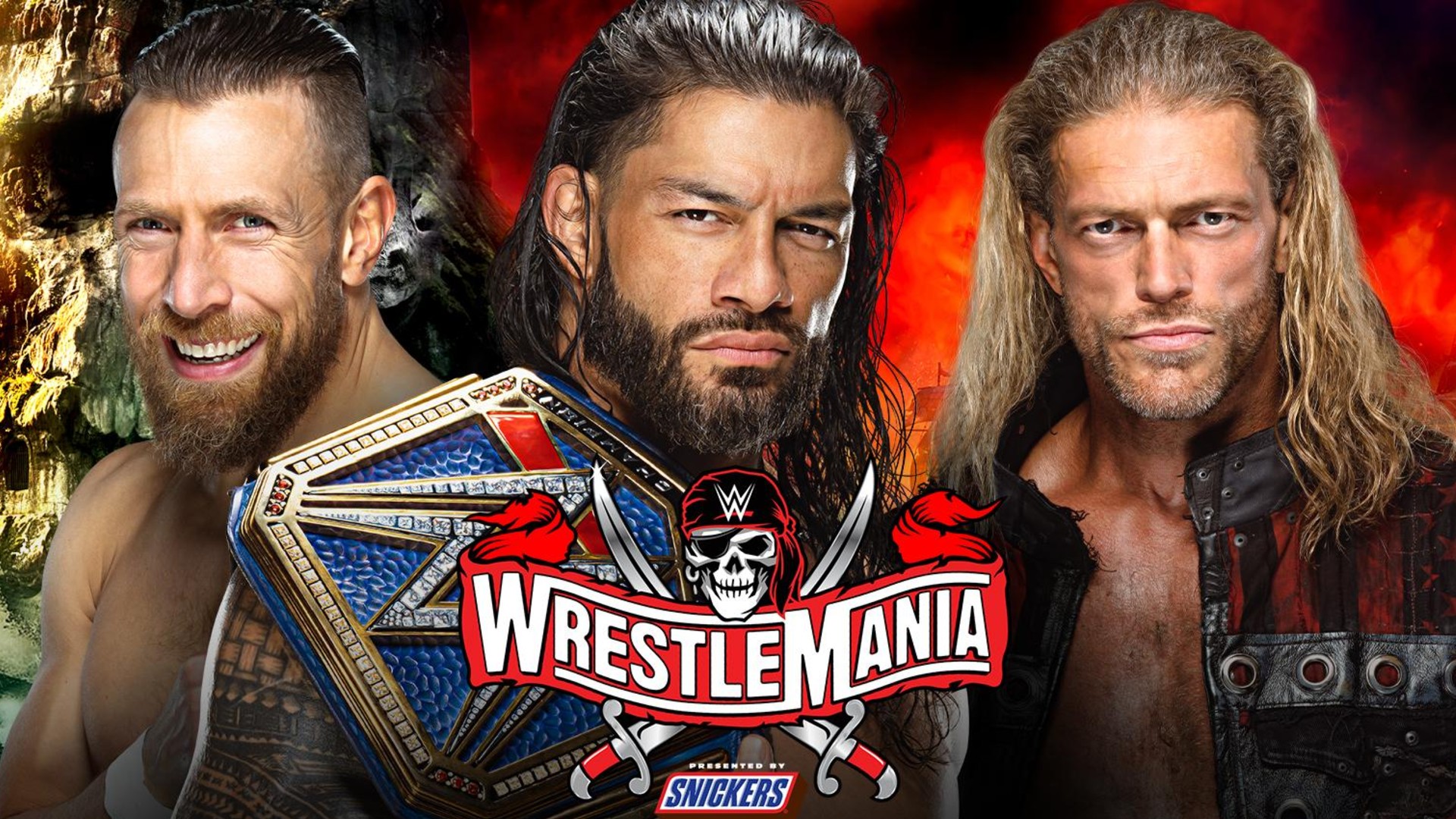 WrestleMania week is here.
A little bit of wrestling normalcy is return to WWE this weekend, with the company showcasing its crown jewel event, WrestleMania 37, with 14 matches scheduled to take place over the course of the event.
WrestleMania 36 was derailed by the coronavirus pandemic, with WWE opting to hold the show over two nights in the WWE Performance Center in Orlando, Fla. This year, it's more of the same, with the event happening over a two-night span this weekend.
The "Showcase of the Immortals" does move back to a big stage this year, with the home of the defending Super Bowl champion Buccaneers hosting one of the biggest wrestling — and sports — events of the year.
Here's what you need to know about WrestleMania weekend festivities: 
When is WrestleMania 37 in 2021?
Night 1: Saturday, April 10
Night 2: Sunday, April 11
Once again, WWE is stretching WrestleMania over a two-night span, starting on Saturday, April 10 and ending on Sunday, April 11. The trend started last year as the company had to adjust in the midst of the coronavirus pandemic.
What time does WrestleMania 37 start?
Night 1: Saturday, April 10, 8 p.m. (main card) 7 p.m. (kickoff show)
Night 2: Sunday, April 11, 8 p.m. ET (main card) 7 p.m. (kickoff show)
Both nights of WrestleMania 37 start at 7 p.m. ET on Peacock, with the main show underway at 8 p.m. ET. 
Both cards are expected to last around four hours, meaning the show will likely end around midnight ET.
How to watch WWE WrestleMania 37
Network: Peacock, PPV
Price: $5 per month (Premium subscription), $29.99 (PPV, per night)
The WWE Network is no more — at least, not on its own. Fans looking to watch WrestleMania 37 will have to hop over to NBC's Peacock streaming service and purchase a $5 per month premium subscription, which is cheaper than the $10 per month WWE Network sub.
For those looking to order WrestleMania 37 through traditional means, the price for the PPV showing is $29.99 per night.
Where is WrestleMania 37?
WrestleMania 37 takes place from Raymond James Stadium in Tampa, Fla., the home of the Tampa Bay Buccaneers.
The venue was originally going to play host to WrestleMania 36 until the coronavirus pandemic 
WWE WrestleMania 37 match card
Night 1
— Sasha Banks (c) vs. Bianca Belair for the WWE SmackDown Women's Championship
— Bobby Lashley (c) vs. Drew McIntyre for the WWE Championship
— Bad Bunny and Damian Priest vs. The Miz and John Morrison
— The New Day (Kofi Kingston and Xavier Woods) (c) vs. AJ Styles and Omos for the WWE Raw Tag Team Championship
— Braun Strowman vs. Shane McMahon in a Steel Cage Match
— Cesaro vs. Seth Rollins
— Lana and Naomi vs. Dana Brook and Mandy Rose vs. The Riott Squad (Liv Morgan and Ruby Riott) vs. Natalya and Tamina, No. 1 contenders match
Night 2
— Roman Reigns (c) vs. Edge vs. Daniel Bryan for the WWE Universal Championship
— Asuka (c) vs. Rhea Ripley for the WWE Raw Women's Championship
— The Fiend vs. Randy Orton
— Big E (c) vs. Apollo Crews for the WWE Intercontinental Championship in a Nigerian Drum Fight
— Kevin Owens vs. Sami Zayn (with Logan Paul)
— Riddle (c) vs. Sheamus for the WWE United States Championship
— Nia Jax and Shayna Baszler (c) vs. winners of Tag Team Turmoil match
WrestleMania 37 live match grades, results, highlights from WWE's Night 2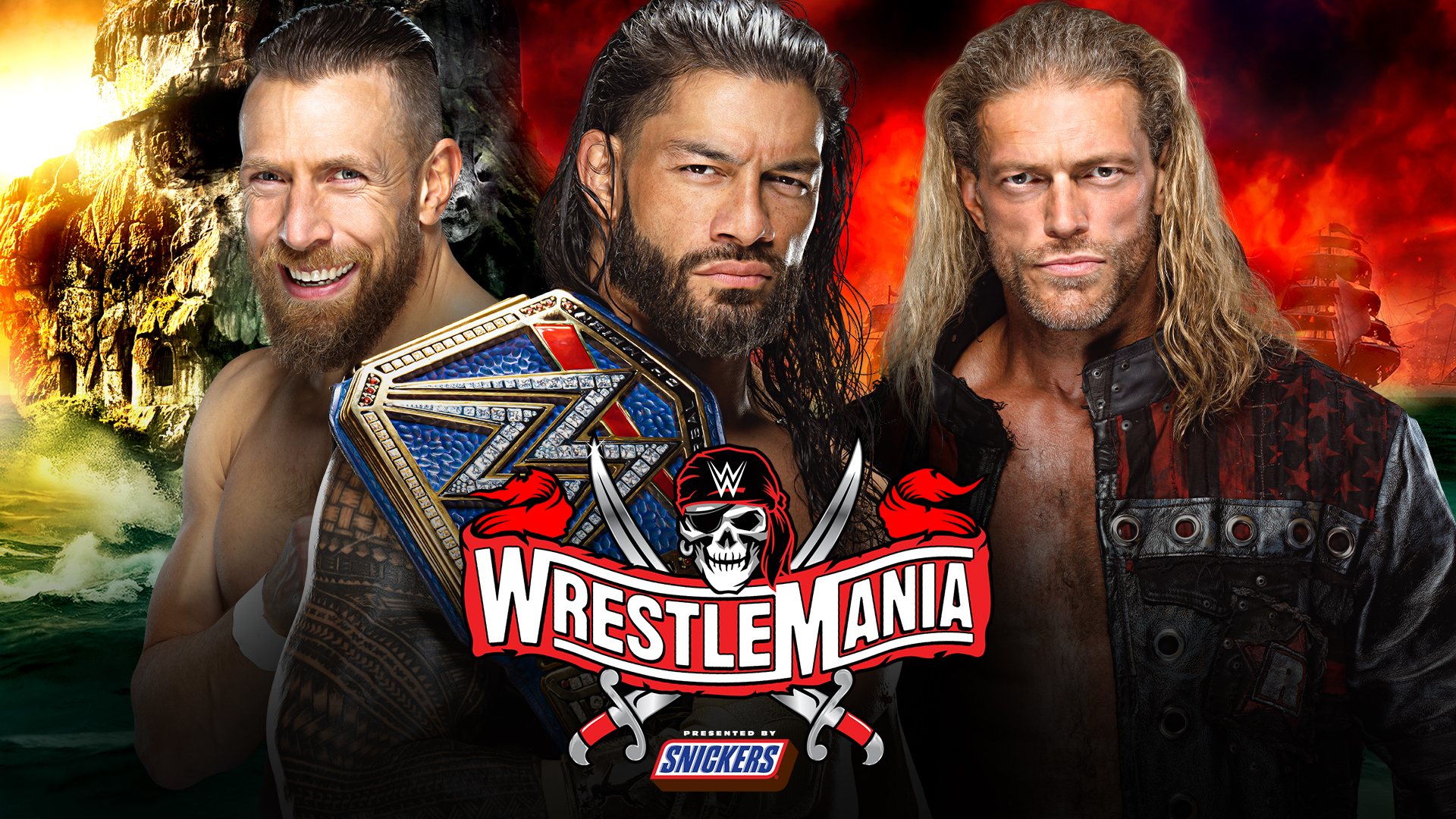 After a historic Night 1, WrestleMania 37 will conclude Sunday night with a highly anticipated WWE Universal championship triple-threat match between defending champion Roman Reigns, 2021 Royal Rumble winner Edge and Daniel Bryan.
Reigns has had a stranglehold on the title since returning to WWE last summer but he finds new opposition in Edge, who made his comeback from an injury to win the 30-man over-the-top battle royal last January and get his shot at WWE gold. Bryan has also found his way into the match after giving Reigns hell over the past month, much to Edge's chagrin.
MORE: Daniel Bryan on title match and whether this is his last WrestleMania
This fantastic rivalry will culminate with a showdown in WWE's annual "Showcase of the Immortals," between three competitors who have something in common. 
Edge and Bryan have made remarkable comebacks after retiring because of career-threatening injuries, while Reigns overcame leukemia to make his way back to the squared circle. Nobody in this trio will take anything for granted, but only one can come out on top. 
Other matches include Big E defending his Intercontinental championship against Apollo Crews in a Nigerian Drum Fight, Riddle putting his United States championship on the line against Sheamus, The Fiend looking to get his revenge against Randy Orton, and plenty of other action.
Stay tuned as Sporting News provides live updates following each match with a recap and grades. 
MORE: Full match grades from Night 1 of WrestleMania 37
WrestleMania 37 Night 2 match grades
Sporting News' coverage will begin at 8 p.m. ET
How to watch WrestleMania 37
One of the latest streaming services to hit the market, Peacock, is an NBC-driven vehicle. In January, WWE Network and its library were sold to Peacock, which is now home to WWE streamed content.
Peacock has three separate pricing tiers: the free tier, the Premium tier and the Premium Plus tier. In order to watch WWE Network and WrestleMania 37, you'll have to subscribe to the Premium tier, at $4.99 per month. This will also grant you unlimited access to the WWE Network library available on Peacock, as more content is uploaded to Peacock over the coming months.
Peacock is available on gaming consoles, Roku, Chromecast, Android TV and Apple TV. After logging in, there is a WWE category across the top bar — navigate over to it, and away you go.
MORE: How to watch WrestleMania on Peacock
WrestleMania 37 matches Night 2
Roman Reigns (c) vs. Edge vs. Daniel Bryan for the WWE Universal championship
Asuka (c) vs. Rhea Ripley for the "WWE Raw" women's championship
The Fiend vs. Randy Orton
Big E (c) vs. Apollo Crews for the WWE Intercontinental championship in a Nigerian Drum Fight
Kevin Owens vs. Sami Zayn (with Logan Paul)
Riddle (c) vs. Sheamus for the WWE United States championship
Nia Jax and Shayna Baszler (c) vs. Natalya and Tamina
The Masters: Hideki Matsuyama survives late mistakes to win first men's major for Japan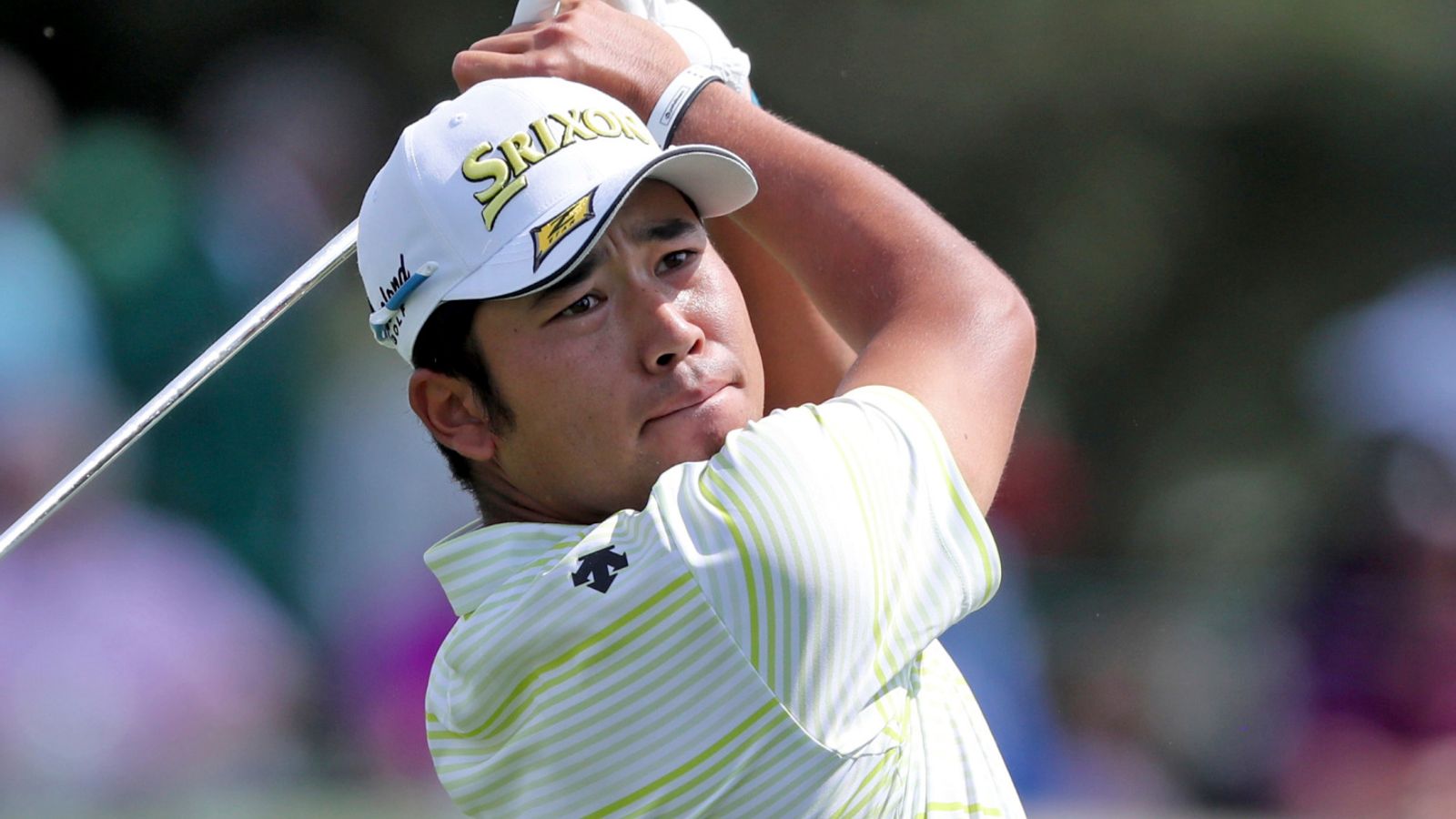 After being six clear with seven holes to play, Hideki Matsuyama survived a nervy finish and a last charge from Xander Schauffele to create Masters, and major history at Augusta National.
By Keith Jackson
Last Updated: 12/04/21 12:10am
Hideki Matsuyama overcame a nervy start and a pressure-induced back-nine stutter to become the first Japanese player to win a men's major with a one-shot victory at the 85th Masters
His overnight four-stroke lead was quickly reduced to one when he bogeyed the first and Will Zalatoris started with a pair of birdies, but Matsuyama restored his composure and looked set for a back-nine procession when he led by six with seven holes to play.
But Schauffele then made four straight birdies from the 12th while Matsuyama made a huge error with his second to the 15th, airmailing the green with his adrenaline-fuelled second and finding the water over the back, leading to a bogey-six which had his lead whittled down to just two.
However, Schauffele then took an aggressive line to the short 16th and came up a fraction short, his ball kicking left, missing the bunker and finding the lake, easing the pressure on the long-time leader as he knocked a safe tee shot to the right side of the green, although he then three-putted from the top tier.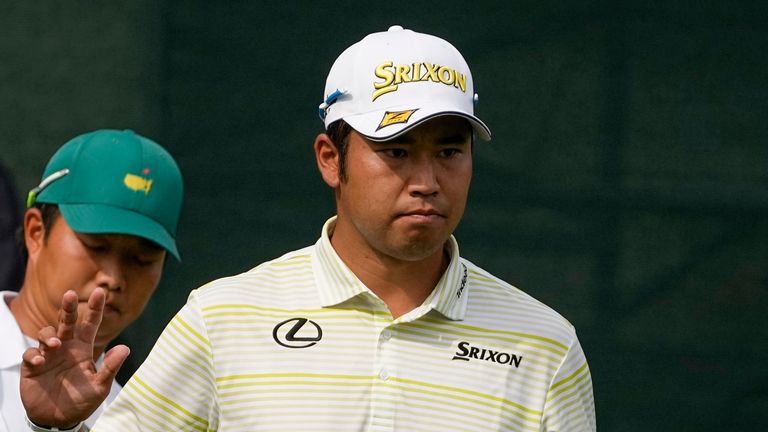 Schauffele compounded his initial error by going over the back of the green with his third and he needed three more to get down, running up a triple-bogey six which ended his Masters hopes for another year, while Matsuyama looked to regroup having slipped to 11 under with Zalatoris in the clubhouse on nine under par.
The leader steadied himself with a rock-solid par at the 17th, hammered a perfect drive up the last before causing himself more consternation when he blocked his tentative approach into the bunker to the right of the green.
But he was all smiles moments later after splashing out to six feet, and missing the par putt mattered little as he left a tap-in for a momentous win, 10 years on from his first visit to the Butler Cabin as the leading amateur in the 2011 Masters.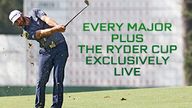 Sky Sports Golf for £10 a month
All four days of The Masters exclusively live. Get our £10 golf offer. Find out more here.
Any expectations of coasting to victory were quashed as early as the opening hole, when Matsuyama carved a fairway-wood way right and started with a five, just after Zalatoris had made birdie at the second from the front bunker to close within one.
But the American erred at the next and Matsuyama replied with a four of his own at the second, and he was content to grind out the pars as his rivals fell away one by one, with Jordan Spieth, Justin Rose and Marc Leishman unable to match the scoring of Jon Rahm, who raced round in 66 to close on six under.
Matsuyama pulled further ahead with birdies at the eighth and ninth to go five clear at the turn, although he would not get through Amen Corner unscathed as he dropped his second shot of the day at the 12th, only to get it back at 13th despite a wild drive and a pulled second that threatened to disappear into the Azaleas.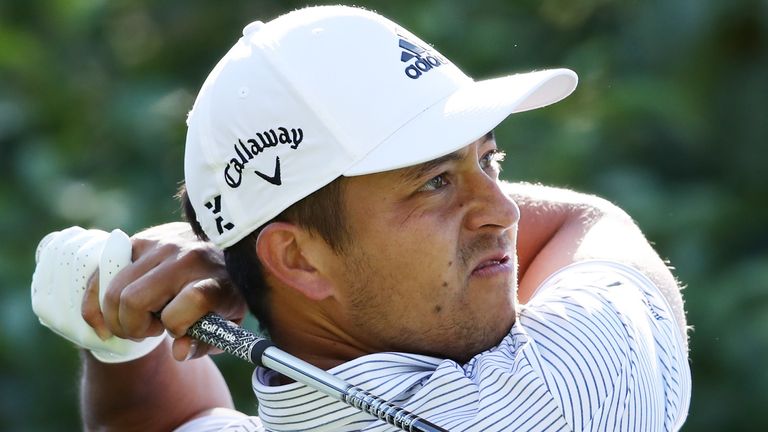 The 29-year-old pitched it close and made the putt to get back to 13 under in the midst of Schauffele's valiant charge, which came to an abrupt halt three holes from home.
More to follow …
Shane Lowry expects to be without regular caddie for next two majors and may stay in US until The Open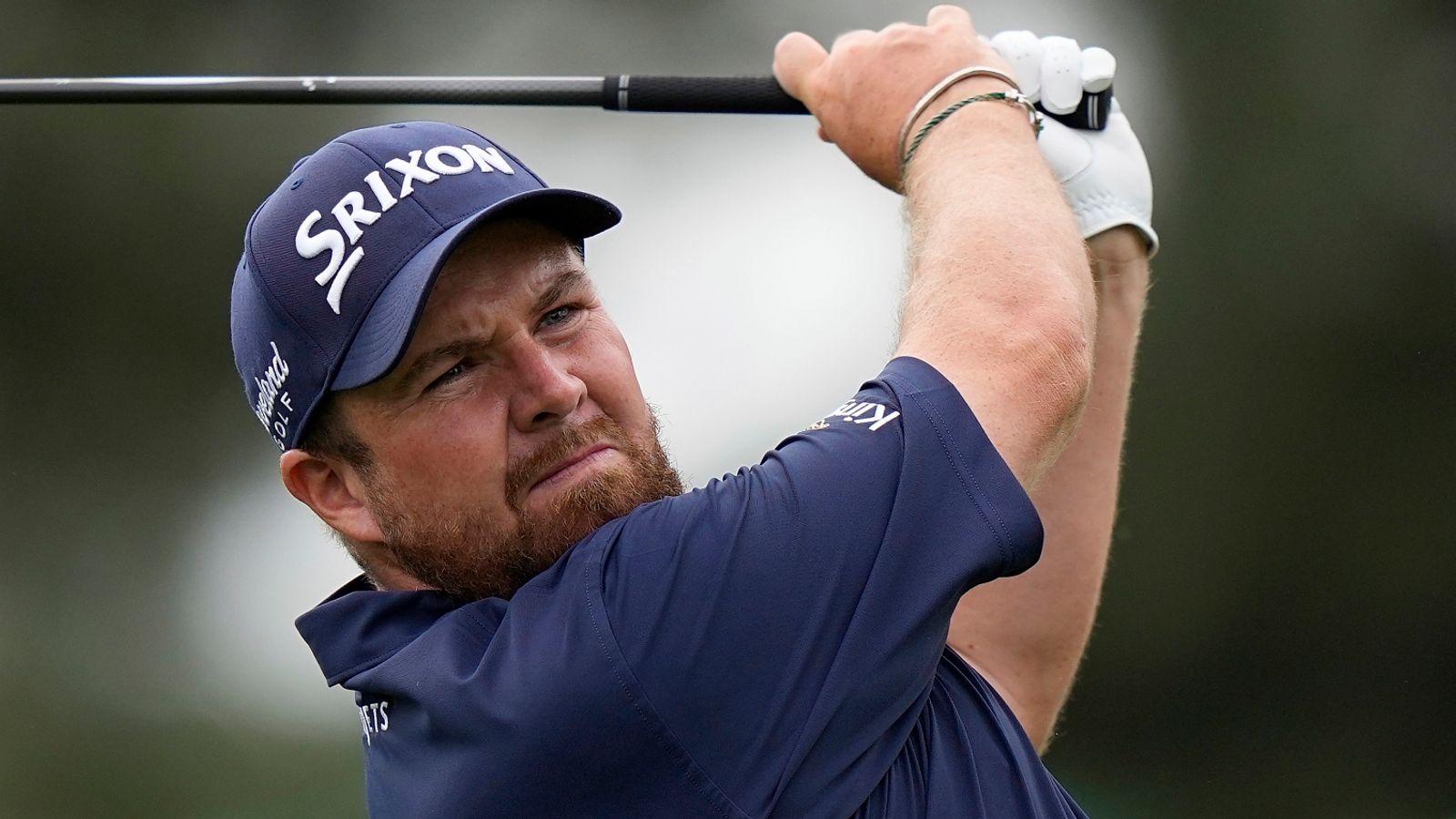 Shane Lowry expecting to be without his caddie and support team until he defends his Open title in July due to coronavirus restrictions that could jeopardise the Irish Open.
By Keith Jackson
Last Updated: 11/04/21 11:04pm
Shane Lowry doubts he will return to Europe until he defends his Open title in July and feels his home Irish Open "could be in trouble" due to Covid-19 restrictions.
Lowry closed out the Masters with a 72 to finish on level par for the week at Augusta National, but he is now looking for a replacement caddie with Bo Martin heading home to Ireland along with other members of Lowry's support team.
The Open champion now resides in Florida and plans to remain on the PGA Tour until heading to Royal St George's in July, appearing resigned to the Irish Open being in doubt due to quarantine regulations.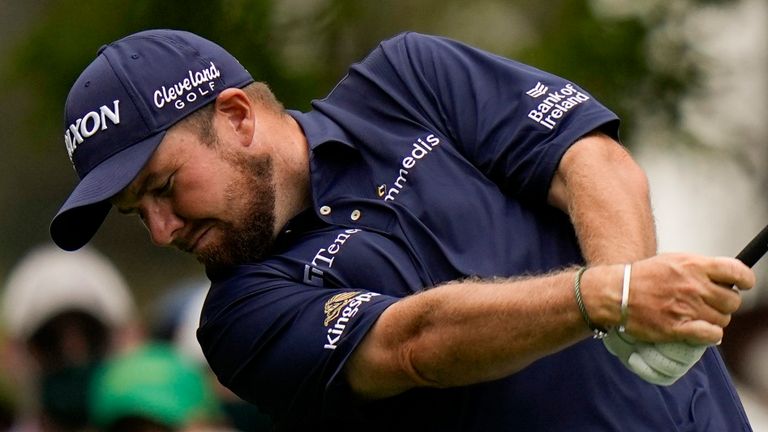 "I'm playing at Hilton Head next week, but I have no idea what I'm going to do after that," said Lowry. "My caddie has to go home, and he can't work next week because of this new quarantine they've brought in in Ireland from the States. Who knows when I'll be able to go home to Ireland, and if I'll be able to go home to Ireland?
"So I have no idea what my schedule is going to be leading up to The Open, but it's definitely going to be mostly over here. I don't know if I'll get back to play in Europe at all.
"If you look at what the Irish government are out there doing, I think the Irish Open is going to be in trouble because they are out there putting France, Germany, and the US on a quarantine for two weeks. So I don't know what's going to happen there."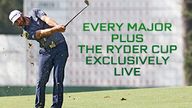 Sky Sports Golf for £10 a month
All four days of The Masters exclusively live. Get our £10 golf offer. Find out more here.
Lowry is now in the market for a temporary caddie until he can reunite with Martin at The Open, insisting he would not want his long-time bagman to spend two weeks in quarantine if he returned to the US ahead of the PGA Championship.
"I know things are tough for everybody at the minute, but my coach and my team are going home, and I probably won't see them until The Open," he added. "It's not great, because I want them over here for the big tournaments, the PGA and the US Open. We'll see what happens. I don't know.
"Maybe there will be exemptions or something. We are an Olympic sport now. Maybe we should get an exemption. I have no idea.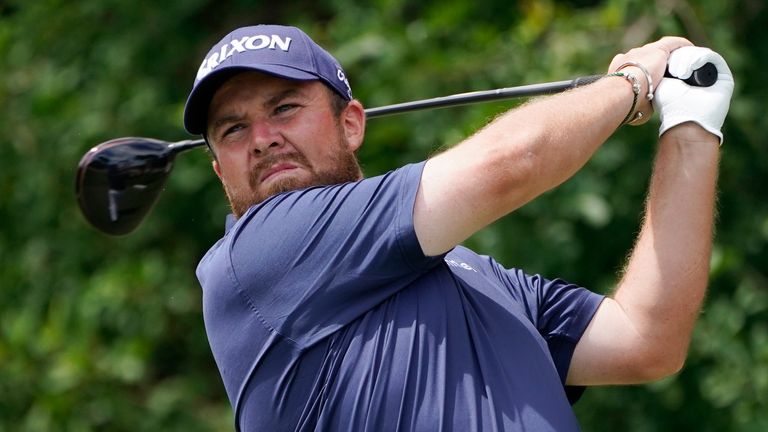 "Bo is waiting on his second dose of vaccine back home, I think, and he needs to go home and get everything sorted. I don't expect anyone to spend two weeks in a hotel for me in quarantine. I'm not going to do it, so I don't expect anyone else to do it.
"There's a couple of guys who aren't playing next week and they're out there looking for a job. So I'll find a caddie out there somewhere."