WWE Raw Results: Eva Marie RETURNS & promises 'The Eva-lution'; Fans left OUTRAGED bringing up recent releases
While this week's Monday Night Raw saw plenty of action take place, all eyes were on the returning Eva Marie as WWE played a special vignette ushering in 'The Eva-lution.' Check out WWE Raw's full results below.
WWE Raw, this week, was jam-packed with some repetitive matches, furthering the storylines for WrestleMania Backlash. However, what got WWE Universe talking was actually the return of a former WWE diva and it"s none other than Eva Marie. Announcing her arrival in a scintillating vignette which was shared during Monday Night Raw, we see the 36-year-old wrestler posing in front of a red Ferrari shedding light on what fans can expect.
"Do I have your attention? I've been thinking about where I've been and where I'm going. Do I have your attention now? Good," Eva began before elaborating, "You know, on the road of life, there are twists and turns and I have always tried to be the one in control of my own life and the independence that comes with it. But part of that is giving back. Now, I have your attention. I want to be someone others look up to. I want to influence others to go after their own ambitions. Like I did. So, I'm back where my journey started. This is Eva-lution."
While Marie definitely has everyone's attention now, it's not for the right reasons! Unsurprisingly, fans weren't excited in the least and unleashed their outrage over Eva's WWE return on Twitter. Their bone of contention was with WWE's decision to fire talented wrestlers like Mickie James, The IIconics (Billie Kay and Peyton Royce) and even Samoa Joe, only to hire Eva, who fans didn't think was a good in-ring wrestler during her previous WWE tenure.
Check out Eva Marie's 'Eva-lution' vignette and how fans reacted to the same on Twitter below:
This is #EvaLution @WWE #WWERaw #AllEverything pic.twitter.com/0N0PiL1Aay

— Eva Marie (@natalieevamarie) May 4, 2021
WWE fired Mickie James, Peyton Royce & Billie Kay But bringing back Eva Marie?  #WWERAW pic.twitter.com/PXAZKCWqz6

— Arindam  (@TheArchitect032) May 4, 2021
WWE are about to milk the heat Eva Marie had almost 5 years ago, but still refuse to push Naomi who literally trends on social media like every 6 months. Y'all see the problem too, right?

—  Lou Sifer  (@ThePunxNation) May 4, 2021
Fired THEE Mickie James to make room for Eva Marie. pic.twitter.com/G1JtqgtY60

— disgruntled black man (@ROUSEYSHIRAl) May 4, 2021
Only WWE could release The IIconics and Mickie James to re-sign Eva Marie

The women's division is actually going backwards#WWERaw pic.twitter.com/v035PQVidM

— Wrestle Views (@TheWrestleViews) May 4, 2021
Fire Samoa Joe and hire Eva Marie #WWERaw pic.twitter.com/coT8P3V7UJ

— DRADA LEE (@2Sweet4Lyfe) May 4, 2021
Lost The IIconics and Mickie James and got Eva Marie in return.  pic.twitter.com/RzYVpllw8K

—  (@asukascity) May 4, 2021
It will be interesting to see what direction Eva Marie's current WWE journey takes her with many theorising a possible 'manager' role rather than an in-ring performer.
Moreover, Check out the full results from WWE Raw below:
The Strowman Express made an unexpected detour!#WWERaw pic.twitter.com/AcLX25j3V5

— WWE (@WWE) May 4, 2021
AJ Styles & Omos vs. The New Day
Winners: AJ Styles & Omos
Charlotte Flair vs. Dana Brooke
Winner: Charlotte Flair (added to Rhea Ripley vs. Asuka WrestleMania Backlash Raw Women's Title Match making it a Triple Threat Match)
John Morrison vs. Damian Priest
Winner: Damian Priest
Lucha House Party (Gran Metalik & Lince Dorado) vs. Shelton Benjamin & Cedric Alexander
Winners: Lucha House Party
Drew Gulak vs. Drew Gulak
Winner: Angel Garza
RKBro (Randy Orton & Riddle) vs. Elias & Jaxson Ryker
Winners: RKBro
Sheamus vs. Mansoor
Winner: Sheamus (by disqualification)
Shayna Baszler & Nia Jax vs. Naomi & Lana (WWE Women's Tag Team Title Match)
Winners: Shayna Baszler & Nia Jax
Bobby Lashley vs. Braun Strowman
Winner: Bobby Lashley
ALSO READ: WWE Raw Results: Braun Strowman DEFEATS Drew McIntyre; Charlotte Flair gets reinstated thanks to Sonya Deville
Which was your favourite match from WWE Raw? Share your personal picks with Pinkvilla in the comments section below.

Your comment has been submitted to the moderation queue
Jennifer Aniston Said She Had To Cut Off A Few Of Her Friends Who Didn't Want To Get Vaccinated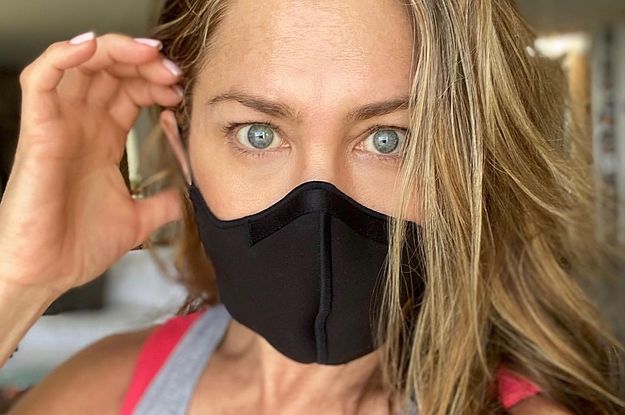 "I've just lost a few people in my weekly routine who have refused or did not disclose [whether or not they had been vaccinated]," she said, "and it was unfortunate."
"I feel it's your moral and professional obligation to inform, since we're not all podded up and being tested every single day," Aniston continued.
"It's tricky because everyone is entitled to their own opinion — but a lot of opinions don't feel based in anything except fear or propaganda."
The Morning Show star said "it's a real shame" that "there's still a large group of people who are anti-vaxxers or just don't listen to the facts."
When the U.S government encouraged people to wear face masks during the pandemic, Aniston tried to get her 37 million followers to do the same.
The actor spoke out against people who criticized wearing face masks by talking about her friend Kevin who was hospitalized with COVID-19.
"Just think about those who've already suffered through this horrible virus," she wrote on Instagram. "Do it for your family. And most of all yourself. COVID affects all ages."
Aniston couldn't be any more right. She's doing what she has to do to stay healthy, even if it means losing a few friends along the way.
BuzzFeed Daily
Keep up with the latest daily buzz with the BuzzFeed Daily newsletter!
Frontier Airlines Suspends Flight Attendants For Duct Taping Passenger Who Allegedly Assaulted Them – The Shade Room
Whew, talk about flying the unfriendly skies! With all the drama surrounding travel right now, it doesn't seem like things are getting better after a Frontier Airlines flight crew was temporarily relieved of duty for duct taping an unruly passenger.
The passenger in question is accused of inappropriately touching two flight attendants and assaulting another during a recent flight from Philly to Miami.
The airline told TMZ that the passenger "needed to be restrained" until the flight landed and police arrived.
Despite the guy's wild actions, members of that flight crew were suspended as their bosses reportedly felt they may have crossed a line by duct taping the man.
In the video, you see the young guy going off on passengers, yelling at them saying that his parents are worth $2 million among other ramblings.
He's also seen cussing out the flight attendants who were trying to get him to calm down.
Eventually, the dude throws hands with a male flight attendant and was then restrained to a seat with a ton of duct tape as the rest of the passengers watched and cheered in relief.
The man was later identified as Max Berry. The whole incident began when Berry exited the airplane bathroom shirtless after he allegedly spilled a drink on himself. As some attendants helped him get a new shirt from his bag, he allegedly groped some female flight attendants' breasts, which was right before the camera started filming him.
When the plane landed, Berry was arrested and booked on several charges.
Frontier says it's working with law enforcement to prosecute the passenger, and the airline says the crew members' paid leave is in line with their policies as it investigates the incident.
Want tea directly in your text inbox? Hit us up at 917-722-8057 or  click here to join!
John Corbett & Bo Derek Are Married: 'Sex & The City' Star Reveals Ring & Secret Wedding
John Corbett just dropped breaking news about his romance with Bo Derek!
Congratulations are in order for John Corbett, 60, and actress Bo Derek, 64. The Sex and the City star, who may be reprising his role in the show's HBO Max revival series, appeared on the Aug. 3 episode of The Talk and told his buddy, Jerry O'Connell, that he and Bo secretly "got married" around Christmas.
"Jerry, I can't believe that I forgot to tell you that around Christmas time we got married. Bo and I got married!", John said. And as you can see in the video below, Jerry O'Connell was shook. "I noticed your ring and I was gonna say something but not on live television, but wow, congratulations!" he said.
🚨Breaking News!🚨
John Corbett reveals exclusive breaking news about his relationship with Bo Derek to the hosts, including his good pal @MrJerryOC 💍 pic.twitter.com/tP1lfjmPL7

— The Talk (@TheTalkCBS) August 3, 2021
John then added, "You know, we're pretty private people. We didn't make an announcement. All our friends and family knew but, this is the first time either one of us has said anything publicly about it because really we haven't had an opportunity. So, you're my buddy, and now I guess I'm telling all of America or the world. After 20 years, we decided to get married. We didn't want 2020 to be that thing that everybody looks back at and hated…let's get one nice this out of it."
Jerry then joked: "I can't wait to have our bachelor party!"
Bo is best known for her breakout role in the film 10, and playing Jane Parker in the 1981 film, Tarzan, the Ape Man, while her famous boyfriend is best known as Aiden Shaw to fans, who remember him from the original HBO series Sex and the City, as well as the 2010 film, Sex and the City 2. Bo and John have been dating since 2002, and they first met after being set up on a blind date. So romantic, right?