Your ultimate guide to hairdresser lingo to ensure you get the exact look you've been dreaming of (from flob to keratin)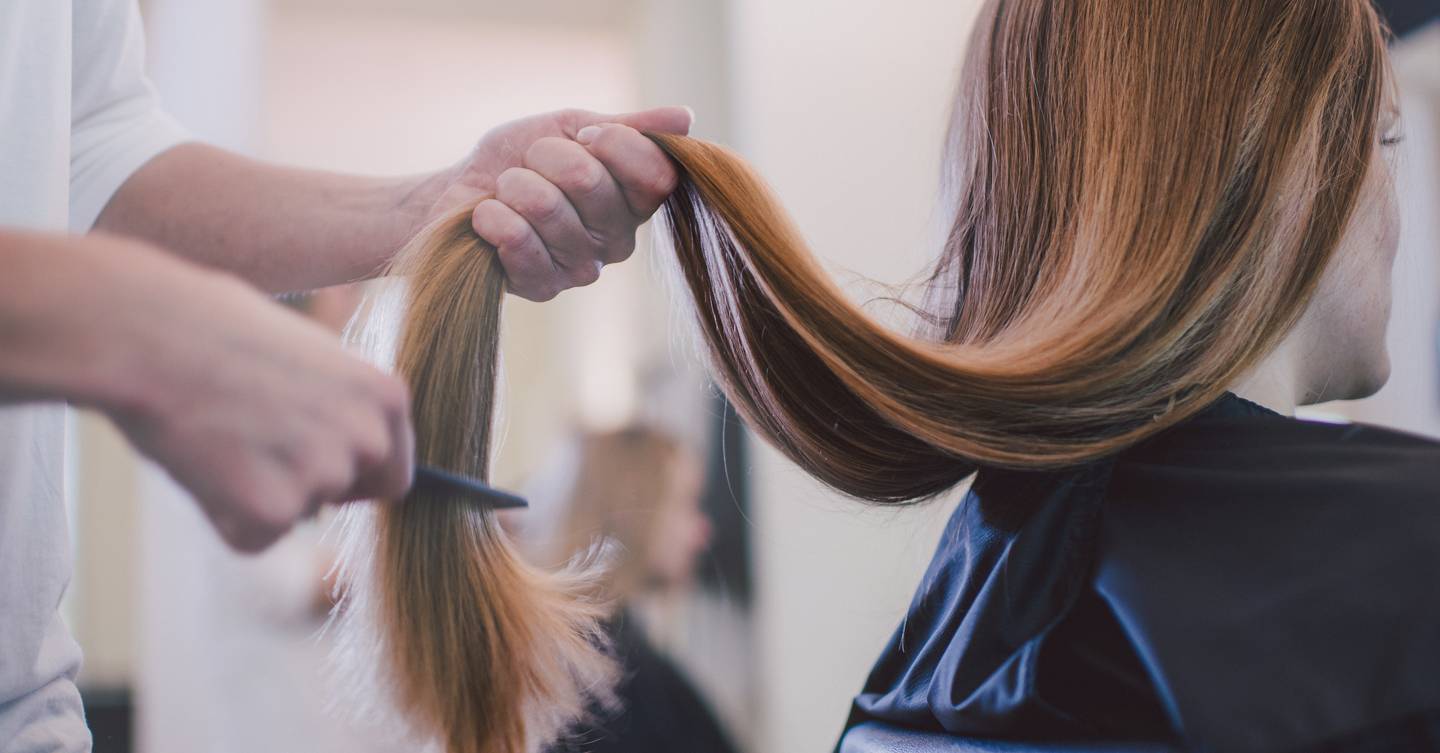 Happy Beauty Salon Unofficial Independence Day! Okay, so hair salons are finally opened, your Out Of Office (OOO) automated messages are already scheduled for the next few weeks and you've booked the first appointment available at your trusty hairdressers, now what?
It's been so long since a lot of us have had some good quality time with our hairdressers and only the lucky ones had the hands of a professional keepings their hair in tip top condition. It's only natural you would forget some of the lingo. In fact, some of us would have made a panic booking without even knowing exactly what to ask for.
The best hairdressers in London for your post-lockdown trim
For example, layers! We know you're probably gagging to ask your hair stylist for layers, however according to the experts, layers are one of the most misunderstood terms requested by customers looking for more 'body' on their hair. We have asked a-List Hairdresser George Northwood, also famously known for styling The Meghan Markle, Duchess Of Sussex's hair, and he tells GLAMOUR this can actually have a counterproductive result. "Layers can actually thin the hair out and can make the style look a little dated."
If you're going through a dramatic experimental phase it is normal, but do beware. The first time you hit the hairdressers after a life changing moment or after being away for so long can cause you to make decisions that you wouldn't usually make. Northwood added: "Sometimes we see clients that want a dramatic new hair style after a major life event. As a general rule, we tend to be cautious around any major style changes. If someone finds themselves in an emotional flux, there can be a higher risk of potential 'hair regret'."
11 London hair salons that know how to work an Afro
However as a good compromise, Northwood suggests asking for a range of clever cut and colour techniques from your hair stylist to give you a new and refreshed look without going down the route of anything too dramatic and regretful.
Northwood also believes that many of us will ask for lots more hair cut off than usual to refresh our looks. "After previous lockdowns, we had so many requests for their hair to be cut into a bob. It's so nice to have an easy, carefree style that you can leave to air dry, particularly with summer around the corner. It's also a great style for these uncertain times," says Northwood.
We're all going to be getting the 'modern Diana bob' when we come out of lockdown
However, it's probably a good idea to consider the right style of bob, so make sure you're using the right language so that you don't come out of the salon feeling disappointed and with lots of regret. Opt for a style that isn't too precise or polished, with longevity and that grows out well, because prevention is always better than cure.
Here's how to cut your boyfriend's hair without ruining his life (from someone who nearly did)
Whether you're looking for more body, a miraculous restorative keratin treatment, some fun colourful styles or your routine by-monthly trims, you need to know what your roots, midshaft and ends will need to get you ready for post-lockdown life. If you feel like you've forgotten all the hair lingo, here are the most commonly used terms you need to know, to get exactly what you need from the hairdressers post-lockdown.
Welcome to your very own Hairdressers Encyclopedia
Cuts:
Blunt – A blunt cut is a chic way to wear short or long hair and works with all hair types. It's essential a layer-less sharp cut done to throw more attention to the face.
Feathered – This look compromises of grown out layers that move fluidly and require little styling. The It girl cut.
Layered – Layered cuts are the lightest form of hair cutting where sections of hair are held out and cut vertically from the head to reduce weight.
Micro Fringes – This super low-maintenance micro fringe cut is a mid to long haircut with a variation in fringe part. So ideal if you are one of those people that leaves hair to grow out, as it can be worn either way without too much attention.
Modern Mullets – The mullet is the anti-fashion hair cut, but that's not to say, that is not something you should be asking of your hairdresser. The modern mullet differs then the OG version as instead of the short fringe, short sides and longer, wispier length at the back, it's a departure from its traditional counterpart. This time, it's a bit more relaxed and gradiated.
Sexy shag – It's an updated version of the 70s shag haircut and the mullet. This hairstyle works on long and short hair making it a versatile multi-layered haircut. A mixture of a feathered cut around the face and lots of choppy layers adds volume, and to keep the style looking great day-to-day, you simply need a salt spray to add texture.
Short back and sides – This is an edgy, chic and sleek, short back and sides cut ideal for those looking for a dramatic chop. With a longer front section and some colour, like Ruby Rose. It's a chance to remix the classic pixie with something a bit more rebellious.
Lob – The lob is a slightly longer version of bob, where the length sits just above your shoulders. It's a popular style because it gives you a striking look without having to commit to having short or long hair."
Styles:
Balayage Bob – A trendy summer bob, that leaves your hair looking thick and healthy, whilst giving you highlight dreams. The balayage leaves the illusion of layering and the length frees up your shoulders but framing your neck wonderfully.
Bantu knots – Bantu knots are a retro and stylish protective hairstyle for curly / afro hair that wrap coils into small, tight knots to keep them feeling nourished, protected and looking fierce.
Boyfriend bob – The boyfriend bob is a square outlined, shorter, blockier bob, that can be ironed smooth and glossy to get it looking super sharp, or it can be left looking tousled.
Bubble Braid – Bubble braids offer up a cool twist on simple ponytails or classic plaits and they only take a few seconds more to create. So after your wash and dry, if you want your hairdressers to style your hair up. This is a great thing to ask for. Plus they should be able to share with you the best tips for the ultimate bubble braid.
Crown braid – They say hair is your crown. Why not turn your hair into an actual crown. This is a sophisticated, structured and royal-like hairstyle that will be a great one to add to the hair appointment wishlist.
Face Framing Layers – Accentuate the face by framing it with your hair, seems simple enough. This face framing layers style helps to keep your luscious hair away from your lovely face and maintain as much length as you want.
FLOB – Coined by Northwood. This is a grungy, 90's inspired flat iron wave. that gives a bob a real modern update. The flat iron creates a subtle wave in the hair, producing a casual yet sophisticated, undone style which doesn't look too studied. It's the opposite of big and bouncy waves, like a no make-up make-up, but for hair.
French twist – The classic ballerina up-do. Perfect for those weddings that have been pilling up for the past year, a brunch outdoors, and instantly dresses up any outfit.
Glossy Blow-out – Rather than messy beach waves, the glossy blow-out is deliciously slick. It feels immaculate and modern and is the sort of 'occasion' hairstyle we're looking forward to once we break back out into the world.
Sporty high ponytail – If we're going to wear a ponytail, then its going to be sporty. Something messy, but that also looks effortless, wrapped tightly, with roots loosened out.
Waterfall Braid – Beachy waves, with precious detail that doesn't go unnoticed. Perfect to keep your hair off of your face whilst still wearing it down.
Wrapped Chignon – Another formal yet effortless looking bun beautifully executed and elegant twisty bun that is styled by dividing the hair into two parts first for a chic and simplistic for a post-lockdown event.
XXL mane – To really push the limits, fantasy Rapunzel hair has emerged with celebs like JLo and Kim K rocking hip-length hair. So call in the extensions and the long-long wigs and that XXL mane from your stylist.
Treatments:
Detox – Detox hair treatments get rid of the buildup on the hair shaft that come as a result from product build-up or usage of chemicals such as chlorine. This is a clarifying treatment sent directly down the hair shaft improves the health of the hair and scalp and can stimulate hair growth.
Hair Glossing Treatment – For long lasting instant shine a hair glossing treatment is ideal. It smooths the shaft and adds a reflective sheen. This hair enhancing service can be done after a colour treatment or on virgin hair to boost the radiance. Ask your hair salon if this is on available, or if they offer anything similar.
Hot Oil treatment – Hot oil treatments also provide instant shine and seal the cuticle, resulting in silky hair that feels nourished and smooth. It's best for dry / damaged and coloured hair types benefit from hot oil treatments, so do ask your hair stylist if this is ideal for you.
Keratin treatment – The Keratin treatment is designed to tackle frizz if that is something you want to work around. It's a popular hair smoothing service that can smooth out your hair without getting heat on it everyday. It is also known as the Brazilian Blowout.
Moisture Treatment – This treatment is also ideal for dry and parched and over processed hair, that has suffered heat damage as is in desperate need of a protein conditioning treatment. It will tackle lack of shine and split ends. Olaplex is one of the most popular brands that offer this.
Relax Treatment – Much like the Keratin treatments, this relaxing treatment will aid tackling frizz if it's something that you're concerned about and will effectively and make hair sleek for months on end. Results can be customised to reduce curl, remove frizz, and control movement, but it's quite an abrasive treatment, so might not be suitable for all types of hair and shouldn't be done regularly.
Scalp Treatment – This treatment is ideal for dry and itchy scalp. The scalp treatment can be a beneficial service that not only feels wonderful, it can also correct scalp oil production and improve hair growth and general hair health.
Toning Treatment – Toning treatments are used to correct the color of the hair like blonde that got a little too golden or fading reds. It can be applied after the initial colour service to correct colour, or in-between a full colour service as maintenance.
Colours to know:
Peek-a-boo: Peek-a-boo is a colouring technique which is used to allow you to have colour on the bottom half of your hair, which will only peak out when you sweep your hair behind your ear or into a ponytail.
Ombre hair – This is a hair colouring technique where a darker base colour is gradually lightened along the lengths, usually starting around mid-way, giving a sunkissed effect.
Reverse Ombre – Similar to ombre hair, however for the reverse ombre, the base / roots of the hair start off lighter and get gradually darker along the lengths. Although Billie Eilish's 'Green Eyes Monster' hair is not necessarily reversed, it is one that many of us will be using as hair inspo to take to the salon.
For more from Glamour UK Beauty & Features Assistant Shei Mamona, follow her on Instagram @sheimamona
Receptionist Excluded From Pizza Order At Work Sued And Won $32,000 In Court – The Shade Room
TSR Cut The Foolery: Sometimes it pays to be petty, $32,000 to be exact for a car dealership receptionist who was feeling a way when she apparently got left out during the office pizza order.
A court recently described Malgorzata Lewicka's experience as a "campaign of victimization," and that she had been deliberately excluded from "Pizza Fridays" at the car dealership she worked at before being laid off in January of 2019, Newsweek reports.
Managers at Hartwell, a Ford car dealership in Watford, U.K., would ask their staff which takeaway food they would like to order every month, but Lewicka told the court that she was not asked what she would like to eat.
Sis explained that "other employees were asked but she was not asked if she wanted to order food or participate." Lewicka added that this occurred after she had accused one of the staff members of sexual discrimination back in March of 2018.
Her colleague was investigated following the complaint and Hartwell found that gross misconduct had been committed. The colleague was issued a written final warning.
That wasn't the only issue Lewicka had with her former employer. She also complained about her working hours and pay.
After speaking out, Lewicka says she was left out of the office festivities including the company-wide lunch, which took place on the last Friday of every month.
Hartwell claimed that Lewicka was not invited to the lunches because she was a part-time worker, finishing daily at 1 p.m., but the court ruled that this was not a reasonable excuse.
Judge Jennifer Bartlett said: "We accept that the lunches may have been ad hoc and they were informal. However (Lewicka) gave clear evidence that at Hemel a manager went around the site taking lunch orders and that she was included. However when she moved to Watford she was not asked if she wanted to order or participate whereas other colleagues were…She could have been asked if she wanted to join in."
The judges added: "We find that her exclusion was victimization which continued until around the time of her dismissal."
It's bigger than the pizza though, y'all. The court also heard testimony that some of Lewicka's colleagues would not speak to her and hang up the phone if she picked up their call.
The judge ruled that she received less favorable treatment as a part-time employee because she is a single mother, and this amounted to sexual discrimination.
Lewicka was awarded the £23,079 ($32,078.31) for loss of earnings and injury to her feelings.
We can all benefit from being kinder, and if you're not, Ms. Lewicka just taught us it might cost ya!
Want tea directly in your text inbox? Hit us up at 917-722-8057 or  click here to join!
Jill Biden Shows Support For Melania Trump After Posting A Photo Of Her Rose Garden – See Pic
First Lady Jill Biden took to Twitter to show off a gorgeous pic of the White House's Rose Garden that Melania Trump controversially renovated last summer.
Jill Biden, 69, is appreciating the renovated Rose Garden that Melania Trump, 51, left behind after leaving the White House earlier this year. The First Lady shared a new pic of the flower-filled area to her Twitter page on May 7 and added an exciting caption to it. "Spring is here at the @WhiteHouse!" the caption read.
Spring is here at the @WhiteHouse! pic.twitter.com/n87JOlJ7NN

— Jill Biden (@FLOTUS) May 7, 2021
Although she didn't mention Melania directly, the tweet could be seen as a sign of support for the wife of former President Donald Trump, 74. After she renovated the garden in Aug. 2020, it received a lot of controversy from critics. Private donations were used to return the garden back to its roots and honor the original design by Bunny Mellon, which President John Kennedy requested in 1962, but people spoke out against the results once they noticed Melania got rid of the crabapple trees that were originally put there during Kennedy's time at the White House.
Some online users also complained that Melania's chosen flowers were too pale compared to the brightly colored ones that were there during the Obama administration and an online petition on change.org even garnered more than 75,000 signatures to try and get the Biden administration to undo her changes. Former first lady Jackie Kennedy was the one to originally restore the garden in the early 1960s after years of neglect and the description of the petition states that the late political figure's "legacy was ripped away" when Melania renovated the garden. At the time of the changes, the White House responded and explained that the flowers just needed time to grow before they would eventually flourish.
After Jill shared her latest photo of the Melania-approved Rose Garden, some followers brought up the ongoing controversy and asked her to change it back to the way it was prior to Melania's changes. "Sadly scarred by concrete and the loss of beautiful trees. Please restore our Rose Garden," one follower wrote while another urged her to "take out the wretched cement and return the rose garden to its former glory!" A third pleaded, "Please replace the beautiful rose garden & crabapple trees that were horrendously & callously destroyed. Return it to the beauty it once was."
Please restore Jackie Kennedy's rose garden. It would make many of us very happy. It's such a same someone felt the need to destroy it.

— Native (@802Vermont59) May 7, 2021
Despite the command for changes, there's no confirmation that the Rose Garden will undergo any renovations anytime soon. The South Lawn of the White House, however, is currently undergoing a massive renovation which is reportedly part of a security and infrastructure upgrade.
'SNL' Broadcasting Elon Musk Episode Globally with YouTube Stream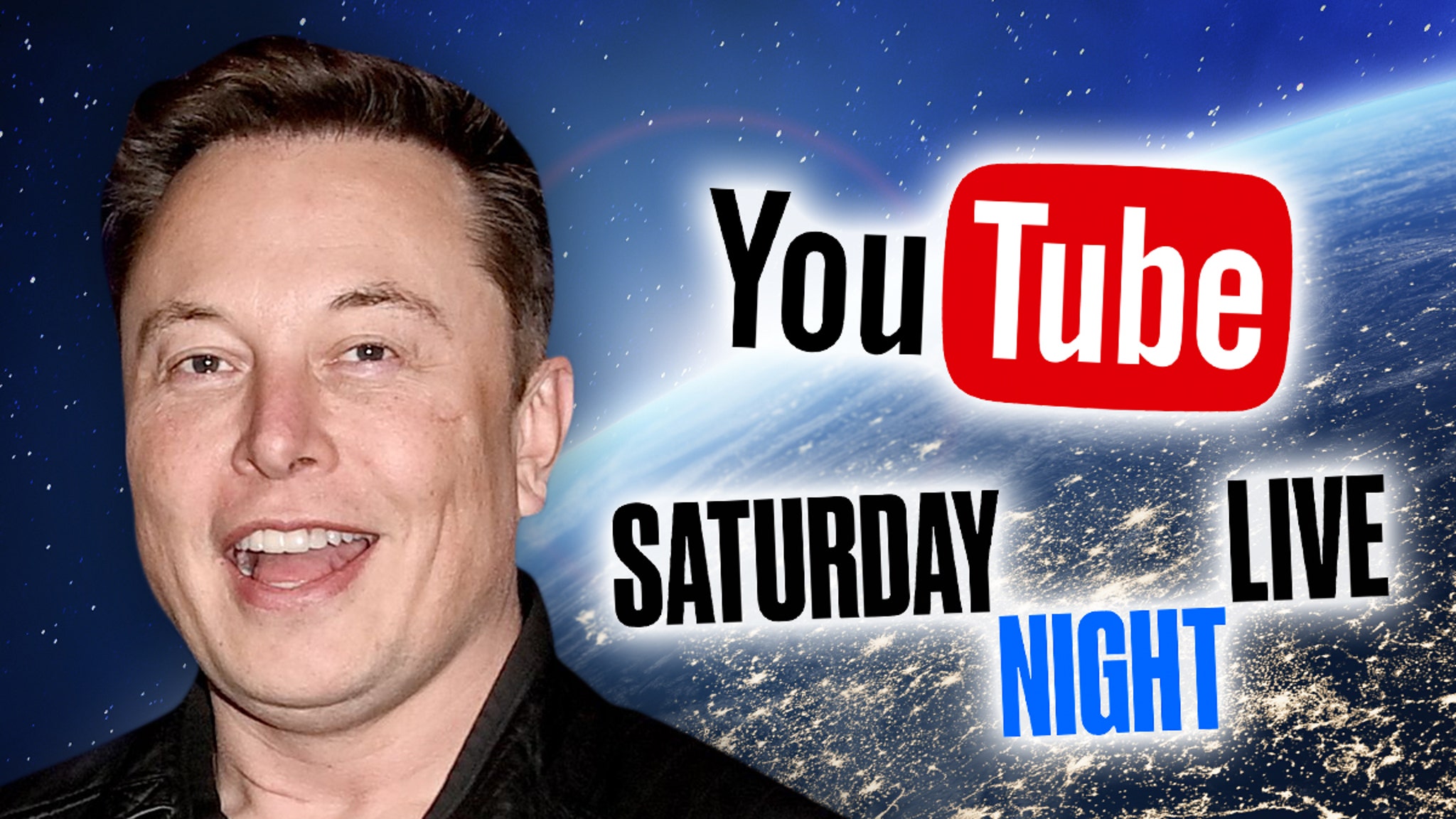 "Saturday Night Live" thinks Elon Musk hosting is an international affair — they're doing something brand new to get as many eyeballs as possible watching … around the whole dang world.
NBC made a massive announcement Saturday … saying that tonight's episode — starring Musk — would be live streamed on YouTube, so different countries could tune in altogether. This appears to be the first time the network has done this, BTW … so it's a big deal.
This stream will be available to over 100 countries, from down under to Africa … and presumably, everything else in between. NBCU's chairman, Frances Berwick, says 'SNL' is a global phenomenon … and this move highlights that.
She adds, "It's incredibly exciting to create this worldwide event with host Elon Musk and musical guest Miley Cyrus." Unclear if this is the start of a regular thing, or just a one-off — it appears to be the former, though. If that's the case … talk about pressure, huh?!?
Elon's episode already promised to be one the most watched episodes in a long time … as many think it'll either be a home run or a train wreck. Either way, people wanna watch.
Now … it looks like that hype has been multiplied by 10, since there'll be potentially hundreds of millions (maybe even billions?!?) of people tuning in. And, of course, that means the skits better be damn good too … maybe even a little better than Baby Shark Tank, a brainchild of Elon's.
Waiting for your permission to load the Instagram Media.
There's no telling what's in store as far as content — but a lot of folks are anticipating a major Dogecoin plug from the Tesla wiz … who's kinda stepped in as a shepherd of sorts for the meme cryptocurrency, which many think is "going to the moon" with more exposure.
Looks like there's definitely gonna be some Doge-themed material … at least based on Miley's not-so-subtle tease earlier Saturday. She posted a throwback clip of herself speaking gibberish … which she said is what Elon sounds like trying to explain Dogecoin to her.
Waiting for your permission to load the Instagram Media.
Welp, if they wanted publicity and fanfare … they got it and then some. 'SNL' is set to begin at 8:30 PM PT, with a live broadcast on the East Coast as well. So if you're on the other side of the world and sleeping at that time … ya better wake your ass up.
Live from New York … it's high expectations!!!