Role of Saudi fathers shifting as women join the workforce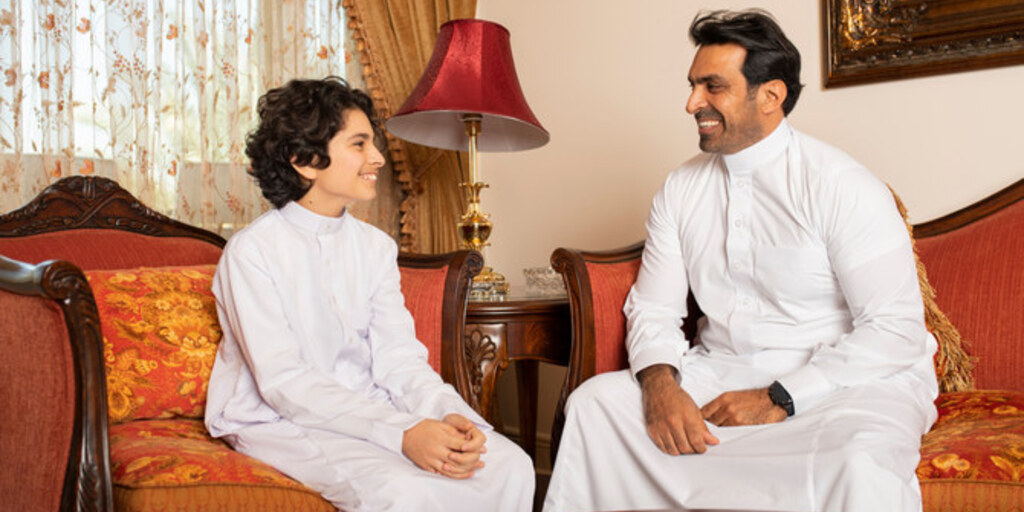 RIYADH: A breadwinner, protector, leader, teacher and helper — these roles were historically perceived as the roles of a father, but cultural and social reforms in Saudi Arabia and the increased participation of women in the labor force have redefined fatherhood in the Kingdom.
Ahead of Father's Day, which falls on June 18, Saudis celebrate the changing role of fathers in society amid social and cultural shifts in the Kingdom.
"Nowadays, we rarely see fathers who spend the majority of their time at work and see their children only on the weekends. My father, may Allah bless him, was like that," said 37-year-old Hala Al-Subaie, a mother of two and an accountant.
"Back then fathers solely held the responsibility of being the main provider in the family, and they wanted to make sure that their kids have everything they need. I guess that was their way of love then," she added.
Modern-day fatherhood comes in various forms. Gone are the binary roles of a father being the breadwinner and a disciplinarian, and a mother being a homemaker.
"It is common to see a father at the community park with his kids or pushing a stroller down the street," said Remaz, a mother and a pharmacologist based in Dhahran.
She added: "After my long shift in the hospital, I take my daughter to the park out of guilt of not seeing her all day, and there I see fathers with their kids, some playing with their kids, others watching their kids while sitting on the bench."
Women's empowerment under Vision 2030, which includes measures to expand women's economic inclusion, and promote cohesive equality between men and women in society, has altered the traditional role of a Saudi father.
During the 52nd session of the UN Human Rights Council, Saudi Human Rights Commission President Hala Al-Tuwaijri revealed that the share of women employed in the Kingdom increased from 21 percent to 35 percent in five years as a result of the Kingdom's efforts to boost women's participation in the labor market.
With mothers also being essential providers today, fathers have started to take on roles vastly different from men of previous generations.
Today, besides contributing as one of the providers in the family, fathers are seen more actively participating in parenting, from being with their wives during childbirth to simply being more involved on a daily basis.
"Being called a father and being a father are two different things — something I realized becoming a father myself," said Omar Al-Khaldi.
He added: "I love being involved with all aspects of my daughter's life. I want to be able to create core memories with her, and I want her to be proud of me, and this surely requires love, trust and affection, something beyond just being one of the providers in the family."
Today's fathers welcome the changes in the Kingdom and are strongly motivated to father their children differently from how they were raised.
Having an involved father means having a figure who is emotionally engaged and is involved in childcare, and exerts influence in child-rearing decisions. An involved father also cooks, changes nappies and ensures that all the children's needs are met.
Fathers' involvement in the lives of their children, such as in education, can have a lasting and positive impact on their school performance.
"It was important for me to have an involved father for my children. Specializing in child development and teaching second-grade kindergarten, I can spot children who have an involved father figure from those who don't," said Raghad Saeed, a mother and kindergarten teacher based in Riyadh.
"The impacts, positive or negative, can have aftereffects on their lives, too."
Other positive impacts of an involved father include higher levels of sociability, confidence and empathy, strengthened family bonds, and an improvement in a child's cognitive abilities, particularly in early childhood development.
A father's role is irreplaceable, and their loving presence is needed in the lives of children.