Tunisia's president urges aid to stem migration as European leaders visit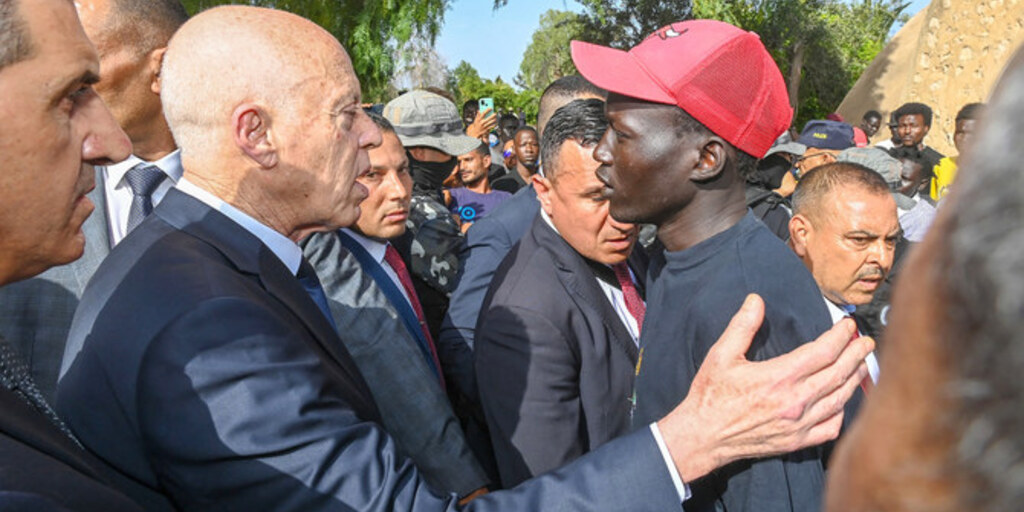 TUNIS: Tunisia's president hosted the leaders of Italy, the Netherlands and the EU on Sunday for talks aimed at smoothing the way for an international bailout and restoring stability to a country that has become a major source of migration to Europe.
Meanwhile, the EU on Sunday offered major financial support to Tunisia. The EU is ready to offer Tunisia a €900 million package plus €150 million in immediate support, European Commission head Ursula von der Leyen said on a joint visit with the Italian and Dutch prime ministers.
Aside from trade and investment, it would help Tunisia with border management and to combat human trafficking, with support worth 100 million euros this year, she said.
On the eve of the talks, Tunisian President Kais Saied made an unannounced visit to a migrant camp in the coastal city of Sfax, a central jumping-off point for boat journeys crossing the Mediterranean to Italy. Saied spoke with families living in the camp, and pleaded for international aid for Africans who converge on Tunisia as a transit point to reach Europe.
Support from Tunisia's president is crucial to any European deal to curb migration. Tunisian Prime Minister Najla Bouden met Sunday with Italian Premier Giorgia Meloni, Dutch Prime Minister Mark Rutte and Ursula von der Leyen, according to images released by Meloni's office.
Stemming migration is a top priority for the far-right Meloni, who was making her second trip in a week to Tunisia. Italy is the destination for most Europe-bound migrants leaving from the North African nation, whose economy is teetering toward collapse.
Saied has balked at conditions for $1.9 billion in stalled International Monetary Fund support, which includes cuts to subsidies on flour and fuel, cuts to the large public administration sector, and the privatization of loss-making public companies.
The president warns such moves would unleash social unrest, and bristles at what he calls Western diktats. The population is already restive, and disillusioned with both Saied's leadership and the country's decade-long experiment with democracy.
That has pushed more and more Tunisians to risk dangerous boat journeys across the Mediterranean to seek a better life in Europe. Tunisia is also a major transit point for others seeking to migrate: sub-Saharan Africans make up the majority of those who leave from Tunisia's shores.
"Tunisia is a priority, because destabilization in Tunisia would have serious repercussions
on the stability of all Northern Africa, and those repercussions inevitably arrive here," Meloni
said Thursday.
The European leaders brought a packet of initiatives to improve security in Tunisia, easing the way for the IMF's help, Meloni said. The European Commission said talks would center on making progress on an EU-Tunisia agreement focused on the economy, energy and migration.
Saied has said that addressing his country's problems requires not only improved security but also "tools to eliminate misery, poverty and deprivation.
The Fitch ratings agency further downgraded Tunisia's default rating from CCC+ to CCC- on Friday, meaning the country is inching closer to potentially defaulting on its debt. The agency cited the government's failure to pursue the reforms needed to free up the IMF funds.
Tunisia's budget deficit was aggravated by the COVID-19 pandemic and fallout from Russia's war in Ukraine, and the IMF aid was stalled amid political tensions and Saied resistance to the required reforms. Saied disbanded parliament and had the constitution rewritten to give more power to the presidency.
Saied said Tunisia is struggling to cope with migrants from other African countries who settle in Tunisia or transit through, and called for international aid to fight migrant smuggling networks that "consider these immigrants as merchandise thrown into the sea or the sands of the desert."
During his visit to the Sfax camp Saturday, the president described African migrants as "victims of a global system that treats them not as human beings, but as mere numbers, and it is unacceptable for us to play the policeman for other countries. The solution must be collective … (and) this situation that Tunisia is going through is abnormal, and we must put an end to this inhuman situation."
For years, Tunisia has been one of the few countries with repatriation agreements with Italy, and so Tunisians who enter illegally and do not have grounds to seek asylum are sent back. A migrants' advocacy group, the Tunisian Forum for Economic and Social Rights, held a demonstration when Meloni visited the country on Tuesday and planned another for Sunday.