Turkiye won't back Swedish NATO bid unless it stops anti-Turkish protests -Erdogan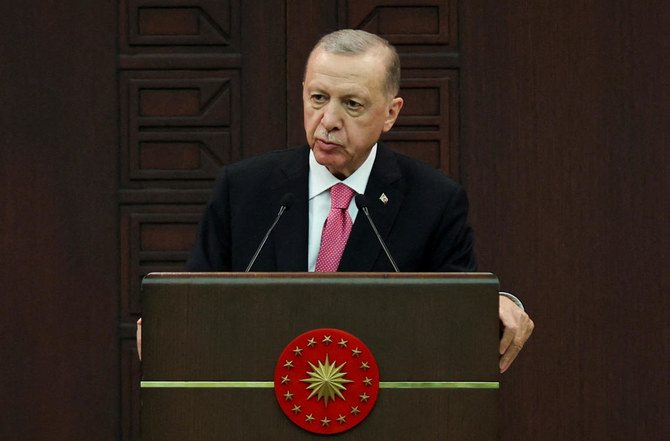 ANKARA: Sweden should not expect a green light from Ankara on its NATO membership bid at the Western alliance's summit next month unless it prevents anti-Turkiye protests in Stockholm, Turkish President Tayyip Erdogan was quoted as saying on Wednesday.
Turkiye cannot approach Sweden's NATO bid positively while "terrorists" were protesting in Stockholm, and Turkiye's position would be made clear once again in talks with Swedish officials in Ankara on Wednesday, Erdogan was quoted as telling reporters on a flight returning from Azerbaijan on Tuesday.
Erdogan spoke as officials from Turkiye, Sweden, Finland and NATO met on Wednesday in Ankara for talks to try to overcome Turkish objections holding up Sweden's NATO membership bid.
Sweden's chief negotiator Oscar Stenstrom said the talks with Turkish officials had been good and that discussions aimed at overcoming Ankara's objections would continue, though no fresh date was yet set.
"It's my job to persuade our counterpart that we have done enough. I think we have," Stenstrom said. "But Turkiye is not ready to make a decision yet and thinks that they need to have more answers to the questions they have."
In a statement, the Turkish presidency said the level of progress by Sweden under a trilateral deal agreed in Madrid last year was discussed in the meeting. The parties agreed to continue working on the "prospective concrete steps" for Sweden's NATO membership, the statement said.
In March, Turkiye ratified Finland's bid for membership of the North Atlantic Treaty Organization, following Russia's invasion of Ukraine, but still objects to Sweden joining the alliance, as does Hungary.
In justifying its objections to Swedish membership, Turkiye has accused Stockholm of harboring members of Kurdish militant groups it considers to be terrorists.
Sweden says it has upheld its part of a deal struck with Turkiye in Madrid aimed at addressing Ankara's security concerns, including bringing in a new anti-terrorism law this month. It says it follows national and international law on extraditions.
Turkish-Swedish tensions were most recently fueled by an anti-Turkiye and anti-NATO protest in Stockholm last month, when the flag of the Kurdistan Workers Party (PKK) militant group, outlawed in Turkiye as well as in the European Union, was projected on to the parliament building.
Commenting on Sweden's recent legal changes Erdogan said: "This is not only a matter of a law amendment or a constitutional change. What is the job of the police there? They have legal and constitutional rights, they should exercise their rights. The police should prevent these (protests)."
While he was having talks with NATO Secretary-General Jens Stoltenberg earlier this month, a similar protest was held in Stockholm, Erdogan said. He added that he also told Stoltenberg Sweden should prevent such actions to secure Turkiye's approval for its NATO membership.
After meeting Erdogan, Stoltenberg said a deal on Sweden joining the alliance could be reached before the NATO summit in Vilnius next month.